Disclaimer: We sometimes use affiliate links in our content. For more information, visit our Disclaimer Page. 
When the big day finally arrives, the day you step into a new professional journey, it's important to hit the ground running. Your first day at work is like an open book, and you're the author. Understanding the art of making a good first impression can set the stage for success and make a lasting impact.
Making an exceptional first impression isn't an art preserved for a selected few. It's a skill that can be learned and perfected over time. The initial impression you create can have a substantial influence on your career growth, relationships with coworkers, and overall job satisfaction. As such, it's crucial to get it right, and this guide is here to help you do just that.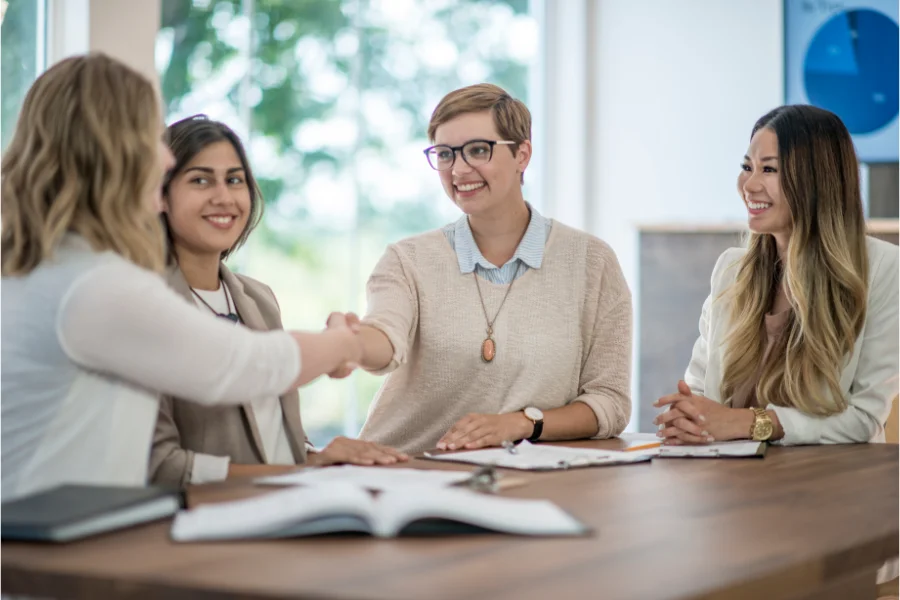 What Should You Say on Your First Day of Work?
Coming up with the right things to say on your first day can be challenging, especially when you're keen on creating a favorable impression. Here's a handy roadmap to guide you:
Self-introduction
Prepare a succinct yet impactful self-introduction, ideally covering your professional background, your role in the company, and something personal like a hobby or interest. This would give others a rounded view of who you are. For instance, the new employee self-introduction speech guide can serve as a useful resource.
Building Connections
When interacting with your new coworkers, show genuine interest in their roles and experiences in the company. Asking thoughtful questions such as, "What do you enjoy most about working here?" can help you create bonds and learn more about the company culture.
Expressing Gratitude
Remember to thank your team members, supervisor, and anyone else who helps you navigate your first day. Expressing gratitude doesn't only show good manners, but also positivity and appreciation, qualities that are highly valued in the workplace.
How Do You Make a Good First Impression on Your First Day of Work?
A positive first impression can set the tone for your entire professional journey within a company. It can help build strong relationships with your colleagues and superiors right from day one. It's not just about what you say, but it's also about what you do and how you carry yourself. Here are some key strategies to help you put your best foot forward:
Dress Appropriately
The dress code might seem like a minor detail, but it speaks volumes about your professionalism. Align your outfit with the company's culture and standards.
Be Punctual
Arriving on time, or better yet, early, demonstrates your commitment and respect for others' time. It allows you to familiarize yourself with the workspace and get settled before your day officially starts.
Show Willingness to Learn
Demonstrate an open mindset, willingness to learn, and curiosity. It's okay not to know everything. Show that you're ready and excited to learn about the company and your new role.
Display Positive Body Language
Maintain eye contact, give firm handshakes, stand or sit upright, and always carry a smile. Positive body language can instantly make you seem approachable and confident.
Listen More Than You Speak
Being an attentive listener can help you absorb important information and display respect toward others' ideas and experiences.
How Do You Motivate Yourself on the First Day of Work?
Navigating through your first day of work can feel overwhelming, but self-motivation can help you turn this challenge into an exciting adventure. Here's how:
Set Personal Goals
Establishing what you aim to achieve on the first day can provide a sense of direction and purpose. It could be as simple as getting to know your team members or understanding your key job responsibilities.
Stay Positive
Maintain a positive mindset. View this as an opportunity to learn, grow, and contribute your skills and experiences to the team.
Practice Self-Affirmations
Practicing self-affirmations can boost your confidence. Phrases such as "I am capable, and I will do great," can set the tone for the day and help reduce nervousness.
How Can I Impress My Boss on the First Day?
Impressing your boss on the first day involves demonstrating your professionalism, competency, and enthusiasm. The following tips can guide you in making a lasting impression:
Show Preparedness
Understand the nature of your job and your duties beforehand. Familiarize yourself with the company's products, services, values, and culture. This level of preparation shows commitment and eagerness.
Display Professionalism
Maintain a professional demeanor throughout the day. This includes how you dress, interact, and address tasks. Respect everyone's time, contribute constructively during meetings and follow office etiquette.
Be a Team Player
Offer your assistance to team members and show a willingness to collaborate. This reflects your ability to work well with others, a trait highly valued in any professional setting.
Seek Feedback
Towards the end of the day, ask your boss for feedback on your performance. This shows that you value their opinion and are keen on improving.
Related: How To Introduce Yourself to Your New Boss
Strategies for Making a Good First Impression
While the aforementioned tips offer a good starting point, making a strong first impression often requires more. Let's delve into some more in-depth strategies that can help you stand out.
Strategy 1: Master the Art of Communication
Effective communication is key to making a good first impression. This includes both verbal and non-verbal communication.
Verbal Communication
The words you choose, your tone, and your conversation style all contribute to the image you project. Be clear, concise, and courteous in all your conversations. Additionally, demonstrate active listening – acknowledge what the other person is saying, respond appropriately, and ask relevant questions.
Non-verbal Communication
Your body language, facial expressions, and eye contact play a vital role in communication. Aim for a firm handshake, maintain good posture, and make sure your facial expressions align with the message you're trying to convey.
Strategy 2: Embrace a Growth Mindset
Embracing a growth mindset – the belief that you can improve and learn – can greatly enhance your first impression. Display curiosity and eagerness to learn, view challenges as opportunities and show resilience in the face of difficulties. This mindset is usually admired by employers and coworkers alike.
Strategy 3: Leverage Emotional Intelligence
High emotional intelligence can make you more likable and easier to work with. Show empathy towards your coworkers, manage your emotions effectively, and understand the emotions of others. This can foster better relationships and ultimately contribute to a positive first impression.
Your First Day: A Step-by-step Run-through
While every job and company is unique, the following step-by-step guide provides a general idea of what your first day might look like and how you can leverage each step to make a good impression.
Step 1: Arrival
Arrive early. Use this time to familiarize yourself with the environment. On your arrival, make sure to greet everyone you meet with a warm smile and a polite hello.
Step 2: Orientation
Most companies provide an orientation session for new employees. Pay attention, take notes, and don't hesitate to ask questions. This shows your enthusiasm and commitment to learning.
Step 3: Introduction to the Team
When meeting your team, present a brief but compelling self-introduction. Remember, this introduction is your opportunity to tell your story.
Step 4: Familiarization with Job Role
As you've walked through your responsibilities, listen carefully, and take notes. Clarify any doubts you may have – it's better to ask now than to make avoidable mistakes later.
Step 5: Socialization
Some companies may organize a casual gathering, like a team lunch, on your first day. Use this opportunity to engage with your new colleagues on a personal level. Learn about their roles and experiences in the company and share a bit about yourself too.
Step 6: Wrap-up
At the end of the day, express your gratitude to your boss and coworkers. Briefly review the day and identify your takeaways and action items for the following day.
Practical Examples of Good First Impressions on Your First Day of Work
Creating a positive first impression can seem abstract until you've seen it in action. Let's examine some practical examples:
Jane, the Proactive Problem Solver: On Jane's first day as a project manager, she observed a minor issue in the team's project planning tool. Rather than ignoring it, she researched possible solutions and proposed them to her supervisor, showcasing her proactive approach and problem-solving skills.
David, the Eager Learner: David joined as a junior marketer. During his introduction, he expressed his excitement to learn from the experienced marketers on the team and asked for recommended resources to better understand ongoing projects. This highlighted his enthusiasm and willingness to learn.
Laura, the Positive Communicator: Laura started in customer service. During her orientation, she maintained a positive tone and displayed active listening, which put her colleagues at ease and made them feel valued.
One crucial yet often overlooked aspect of the first day is understanding the social dynamics within the office. This understanding goes beyond knowing everyone's names and positions. Every workplace has its unique culture, unwritten rules, and social norms. Paying attention to these subtleties can help you quickly adapt and integrate into your new environment.
Be a Good Listener
Active listening not only facilitates learning but also helps build stronger relationships. Pay attention to what your colleagues are saying and show interest by asking relevant follow-up questions.
Understand the Office Politics
Every workplace has its politics. Observing the dynamics between different individuals and departments can help you navigate your new environment effectively.
Excelling in Your First Project
Your first project is a fantastic opportunity to showcase your skills and make a lasting impression. Here are some tips to help you excel:
Understand the Project Objectives Clearly
Before diving into the tasks, ensure you understand the project's goals, expectations, and timelines clearly. Don't hesitate to ask for clarification if needed.
Show Your Teamwork Skills
Effective collaboration is key to success in any project. Show your willingness to cooperate, respect for diverse opinions, and ability to compromise when necessary.
Be Solution-Oriented
Challenges are inevitable in any project. Instead of dwelling on the problem, focus on finding solutions and learning from the experience.
Seek Feedback
Regularly seek feedback from your team members and superiors. Constructive feedback can help you improve your work and demonstrate your commitment to continuous learning.
Continuous Learning and Improvement
Making a good first impression is only the start. To sustain that positive impression and progress in your career, you must show a commitment to continuous learning and improvement.
Be Open to New Experiences
Each job comes with its unique set of challenges and opportunities. Embrace new experiences and be ready to step out of your comfort zone.
Seek Mentorship
Identify potential mentors in your workplace, people who have the experience and wisdom to guide you in your career journey. Good mentorship can be invaluable for your professional development.
Keep Up with Industry Trends
Stay updated with the latest trends and developments in your industry. This knowledge can help you contribute more effectively to your organization and stay ahead in your career.
Related: Introducing Yourself in a Virtual Setting
Conclusion
Making a good first impression on your first day of work isn't as daunting as it seems. With preparation, a positive attitude, and a willingness to learn, you're well on your way to making your first day a success. Remember, your first day is about setting the foundation for your journey ahead. Be authentic, approachable, and professional, and you're sure to leave a lasting impression.
FAQs
How can I deal with nervousness on my first day?
Feeling nervous is normal. To deal with it, ensure you're well-prepared. Do your research about the company, know the commute route, and get a good night's sleep. Confidence often comes from preparation.
How do I handle a situation where I don't understand what's being asked of me?
It's perfectly okay not to know everything on the first day. If you don't understand something, ask for clarification. It shows your eagerness to learn and get things right, which is always appreciated.
How do I connect with my colleagues on my first day?
Start with small talk during breaks. Ask about their roles, and how long they've been with the company, or talk about shared interests. Showing genuine interest in them can help you connect on a personal level.
What should I do if I finish my first-day tasks early?
Instead of browsing the internet or leaving early, ask your supervisor if there's anything else you can help with. This shows your initiative and dedication.
What if I make a mistake on my first day?
Everyone makes mistakes, especially when they're new. If you make a mistake, own up to it, apologize if necessary, and ask for help in correcting it. This shows your integrity and commitment to learning.