Disclaimer: We sometimes use affiliate links in our content. For more information, visit our Disclaimer Page. 
Have you ever been in a situation where you are asked to introduce yourself, and suddenly your mind goes blank? Whether attending a job interview, making new connections at a networking event, or introducing yourself professionally, a self-introduction is crucial to leave a lasting impression.
A self introduction template can help you craft a memorable introduction that showcases your personality, highlights your achievements, and establishes rapport with your audience. In this article, we'll guide you through creating the self-introduction template you can use in various scenarios.
Read on to learn about the importance of a self-introduction, why it matters in different contexts, and how to craft a winning introduction that leaves a lasting impression.
Key Takeaways:
A self-introduction is crucial in various scenarios, such as in a professional setting or interview.
Using a self-introduction template can help you create a memorable first impression.
Crafting a concise and impactful self-introduction can showcase your personality and achievements.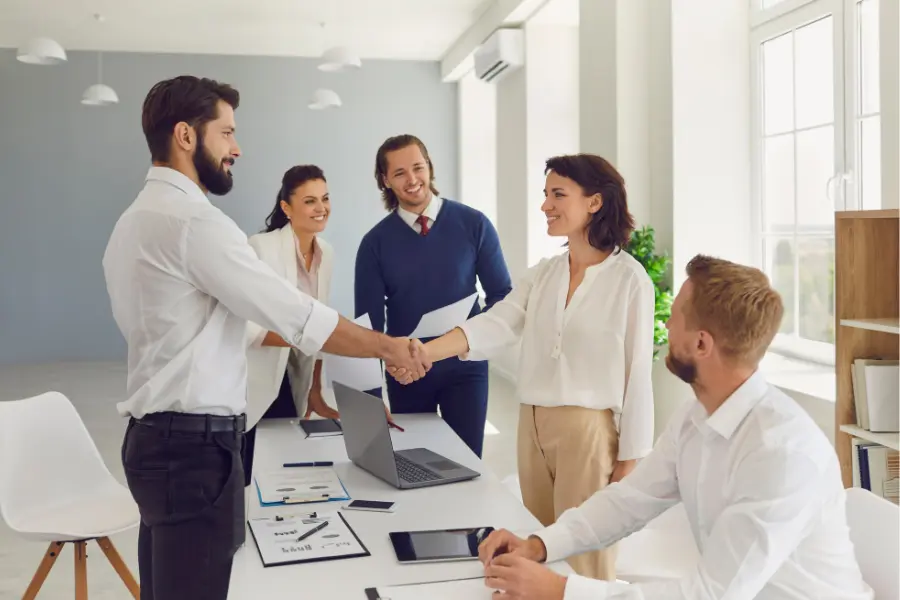 Why is a Self Introduction Important?
A self-introduction is vital to establishing a connection with others in various settings. Whether meeting new people at a networking event or introducing yourself during an interview, a self-introduction helps make a positive first impression.
One of the primary benefits of a self-introduction is establishing rapport with your audience. Sharing about yourself and showing interest in others creates a foundation for a conversation or professional relationship.
A self-introduction also allows you to showcase your personality and unique qualities. It's an opportunity to concisely highlight your skills, experiences, and achievements.
Types of Self Introductions
There are different types of self-introductions, depending on the situation or context. A self-introduction speech is a more formal and structured introduction, often used in public speaking engagements. A self-introduction essay is a written piece that provides more detail about your background, interests, and goals. In contrast, a simple self-introduction may be appropriate for casual encounters or introductions during social events.
No matter the type of self-introduction, making it memorable and impactful is important. By considering your audience, tailoring your introduction to the situation, and practicing your delivery, you can make a lasting impression with your self-introduction.
Crafting Your Self Introduction Template
Creating a memorable self-introduction requires careful thought and planning. A template can help you structure your introduction and make a lasting impression. Here's how to get started:
| | |
| --- | --- |
| Step 1: | Introduce yourself: Start with a friendly greeting and your name. |
| Step 2: | Provide some background: Share a brief overview of your background and experience. |
| Step 3: | Highlight your unique value: Emphasize what sets you apart and why you're a valuable addition to the conversation. |
| Step 4: | End with a call to action: Finish with a clear next step, whether it's scheduling a follow-up meeting or asking for feedback. |
When crafting your introduction, tailor your tone and style to the situation. For example, a self-introduction for a job interview may be more formal than an introduction at a networking event. Consider using humor or personal anecdotes to make your introduction more engaging and memorable.
Example Self Introduction
Hi, my name is Jane Doe and I'm excited to be here today. I have over five years of experience in marketing, working with brands to develop effective campaigns that drive results. What sets me apart is my creative approach to problem-solving and my passion for storytelling. I'm looking forward to connecting with others in the industry and learning more about your experiences.
Remember, practice makes perfect when it comes to self-introductions. Take time to rehearse your introduction and make adjustments as needed. With the right approach, your self-introduction can help you make a great first impression and open doors to new opportunities.
The Format of a Self Introduction
A well-crafted self-introduction should follow a basic format that allows you to deliver your message effectively and professionally. This format comprises three essential sections: the opening, body, and closing.
| Section | Description |
| --- | --- |
| Opening | This should aim to capture your audience's attention and establish rapport. You should start with a greeting and a brief introduction of yourself. |
| Body | This is the section where you share relevant information about yourself, such as your background, education, or experience. Keep it concise and focused on the key points that align with your goals. |
| Closing | Here, you should wrap up your self introduction with a memorable closing statement. It can be a summary of your unique value proposition or a call to action. You should also thank your audience for their attention and invite any questions or feedback. |
In addition to the format, paying attention to the tone and language of your self-introduction is crucial. Avoid using jargon or overly technical terms that may confuse your audience. Instead, use simple and clear language that highlights your strengths and aligns with your audience's needs.
If you introduce yourself via email, follow a formal tone and use a clear subject line summarizing your purpose. Keep the email concise and focused, and respect the recipient's time by avoiding unnecessary details.
Self Introduction in a Professional Setting
Introducing yourself in a professional setting can be daunting, but it's an essential skill to master. A strong self-introduction can create a positive first impression and establish credibility, whether attending a networking event or meeting new colleagues.
Here are some tips for crafting an effective self-introduction in a professional setting:
1. Keep it concise
Avoid rambling or providing excessive detail. Stick to key points, such as your name, job title, and relevant accomplishments.
2. Tailor your introduction to the situation
Consider the specific context in which you'll introduce yourself and tailor your message accordingly. For example, if attending a job fair, focus on your skills and experience related to your desired career field.
3. Practice beforehand
Rehearse your self-introduction in advance to ensure a confident delivery. Consider timing yourself to ensure that your introduction fits within a reasonable timeframe.
Remember that your self-introduction is an opportunity to showcase your professionalism, confidence, and expertise. You can make a strong impression on those you meet professionally with practice and preparation.
Self Introduction in an Interview
When it comes to job interviews, self-introduction plays a crucial role. It's your chance to make a great first impression and showcase your relevant qualifications and experiences to the interviewer. Here are some tips to help you craft a winning self-introduction:
Structure your introduction
Start with a brief introduction, including your name and the position you're applying for. Then, highlight your relevant skills and experiences that make you a strong candidate for the job. Be concise and focus on the most important details.
Showcase your achievements
Use this opportunity to highlight specific accomplishments demonstrating your abilities and work ethic. For example, if you're applying for a sales position, you could mention a successful sales campaign you led in your previous job. This helps the interviewer understand what you can bring to the role.
Align with the job description.
Ensure your self-introduction aligns with the job description and the company's values. This shows that you've researched and are genuinely interested in the company. Use keywords and phrases from the job listing to describe your skills and experiences.
Practice makes perfect
Practice your self-introduction beforehand to ensure a smooth and natural delivery. You want to come across as confident and well-prepared, not rehearsed or robotic. Consider recording yourself and analyzing your performance.
Remember, the self-introduction is just the beginning of the interview process. Use it as an opportunity to make a strong impression and set the tone for the rest of the interview.
Mastering Your Self-Introduction Speech
If you get nervous while speaking in front of a group, delivering a self-introduction speech can be overwhelming. However, with proper planning and practice, you can master the art of self-introduction speeches.
Here are some tips to help you deliver a powerful and engaging self-introduction speech:
Capture Attention: Begin your speech with a strong opening that captures the audience's attention. You can start with a thought-provoking question, a personal anecdote, or a surprising fact.
Share Personal Anecdotes: Including personal anecdotes in your speech helps you connect with the audience personally, making it easier to establish rapport.
Convey Your Unique Value Proposition: Your self-introduction speech should convey your unique value proposition. Highlight your skills, experiences, and accomplishments that set you apart from others.
Practice and Rehearse: Practice your speech multiple times before delivering it. Practice in front of a mirror, record yourself and ask someone to give you feedback.
Overcome Nerves: It's natural to feel nervous before delivering a speech. To overcome nervousness, take deep breaths, visualize success, and focus on the message you want to deliver.
Remember, the key to a successful self-introduction speech is to be confident, authentic, and engaging. You can deliver an impactful self-introduction speech that leaves a lasting impression with practice.
Writing a Self-Introduction Letter
A self-introduction letter is a formal way to introduce yourself to a potential employer or business partner. It's your chance to showcase your skills, experience, and enthusiasm for the opportunity. A well-crafted self-introduction letter can help you stand out from other applicants and leave a positive impression on the recipient.
Here are some tips for writing a strong self-introduction letter:
| Tip | Description |
| --- | --- |
| State your purpose | Begin your letter by stating the reason for your introduction. Be concise and clear about your intentions. |
| Show your qualifications | Highlight your relevant education, work experience, skills, and achievements. Make sure to tailor your qualifications to the specific opportunity. |
| Express your enthusiasm | Show your excitement and interest in the opportunity. Explain why you are a good fit for the role or the project. |
| Be professional | Use a formal tone and format for your letter. Address the recipient appropriately and proofread for errors. |
Dear [Recipient's Name],
I am writing to introduce myself and express my interest in the [Position/Project] at [Company/Organization]. With [Number] years of experience in [Industry/Field], I am confident I have the skills and expertise necessary to excel in this role.
I have a [Degree/Certification] in [Field] from [University/Institution] and have worked in [Company/Organization] as a [Previous Position]. During my time there, I [Achievement/Responsibility]. I believe these experiences have prepared me well for the challenges of this opportunity.
I am particularly drawn to the [Mission/Values] of [Company/Organization] and would be honored to contribute to its success. I am excited by the potential to [Goal/Project].
Thank you for your time and consideration. I look forward to the opportunity to further discuss my qualifications with you.
Sincerely,
[Your Name]
Perfecting Your Self Introduction Online
In today's digital landscape, your online presence is as important as your in-person self-introduction. Whether using social media, professional networking sites, or personal websites, making a strong first impression is crucial. Here are some tips to help you perfect your online self-introduction:
Create a Professional Profile
Make sure your online profile accurately reflects your professional identity. Use a professional headshot as your profile picture, and write a detailed bio highlighting your skills and experiences. Add your contact information and links to your website or portfolio if applicable.
Showcase Your Expertise
Share your professional achievements and insights by posting relevant social media or blog content. This will help you establish yourself as a thought leader in your industry and attract potential employers or clients.
Network with Peers
Connect with other professionals in your field and build meaningful relationships online. Engage in conversations, support their content, and offer your expertise. This will help you expand your network and increase your visibility.
Maintain a Consistent Brand
Make sure your online presence aligns with your brand. Use the same tone, style, and message across all platforms. This will help you build a cohesive and recognizable brand that resonates with your target audience.
These tips can create a powerful online self-introduction that complements your in-person introduction. Remember to present yourself professionally, authentically, and positively to make a lasting impression.
Conclusion
Introducing yourself can be intimidating, but using a self-introduction template can help you create a memorable first impression. Whether in a professional setting or interviewing for a new opportunity, a well-crafted self-introduction can help establish rapport, showcase your personality, and concisely overview your achievements.
Remember to tailor your self-introduction to suit different situations and audiences. Consider your introduction's format, tone, and content; don't be afraid to practice beforehand. Perfecting your self-introduction can open doors to new opportunities and help you achieve your goals.
FAQs
How do you write a self-introduction?
To write a self-introduction, start with a brief greeting and your name. Then, provide some relevant personal and professional background information, such as your education, work experience, and skills. Mention your achievements and goals, and conclude with a friendly closing.
What is a good self-introduction example? 
A good self-introduction example includes a warm greeting, your name, a concise summary of your background and accomplishments, and a positive note about your enthusiasm for the opportunity. Keep it brief, engaging, and relevant to the context.
What is the best introduction lines? 
The best introduction lines are those that capture attention, provide essential information, and create a positive impression. Start with a friendly greeting and your name, followed by a succinct overview of your expertise, experiences, and interests that relate to the situation. Make it memorable and tailored to the audience.
How to introduce yourself in an email with 14 samples and a template? 
To introduce yourself in an email, use a clear and concise subject line. Begin with a polite salutation and provide your name and relevant details, such as your current role and organization. Mention your purpose for reaching out and any shared connections or interests. Keep the email professional and engaging.
Learn what's the best way to self-introduce yourself?
The best way to self-introduce yourself is to start with a friendly greeting, state your name, and provide a brief overview of your background, skills, and experiences. Focus on what makes you unique and relevant to the context. Maintain a positive and confident tone, and conclude with an invitation for further conversation or engagement.