Disclaimer: We sometimes use affiliate links in our content. For more information, visit our Disclaimer Page. 
Do you struggle with starting conversations? Are you looking to improve your social skills and make meaningful connections with others? The key to effective communication lies in having good conversation starters. By asking interesting and engaging questions, you can break the ice, establish rapport, and create a comfortable environment for conversation.
This article will explore the importance of conversation starters and offer practical tips for using them effectively. We will provide examples of different types of conversation starters for various settings, including social events and professional settings. By the end of this article, you'll have the tools to initiate conversations and build lasting relationships confidently.
Key Takeaways:
Having good conversation starters is essential for diplomatic communication.
Conversation starters help break the ice and create a comfortable environment for conversation.
There are different types of conversation starters for various settings.
Using conversation starters effectively requires active listening and genuine interest.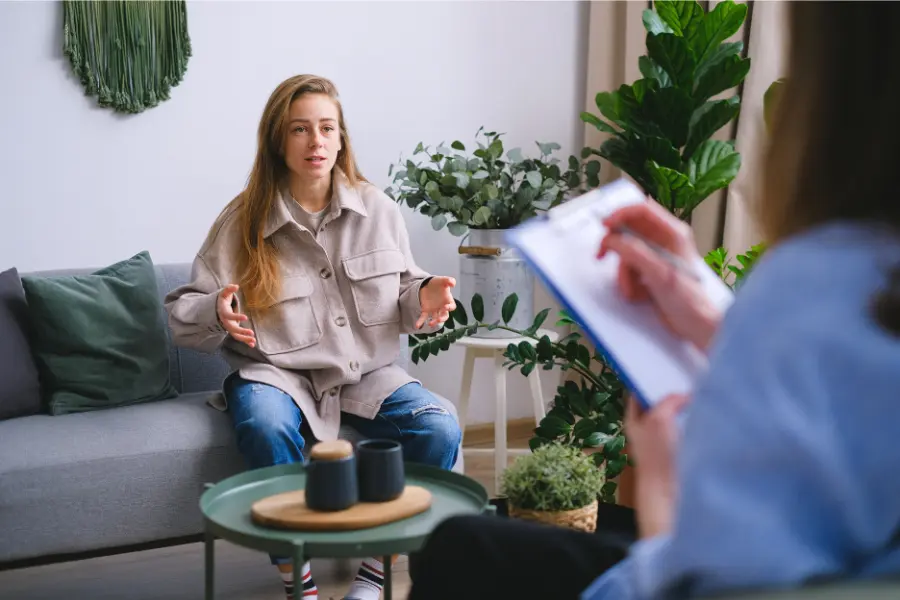 Why Is It Important To Ask Questions to Start Conversation?
Starting a conversation can be challenging, especially when meeting new people or in an unfamiliar environment. This is where conversation starters come in handy, giving you a foundation for meaningful dialogue. Conversation starters are important for a variety of reasons:
Breaking the Ice: Conversation starters help break the ice and create a comfortable environment for communication. They make it easier to approach others and initiate dialogue.
Establishing Rapport: By using conversation starters, you can establish rapport with others and create a connection. This is especially important when meeting new people, as it helps build a foundation for future interactions.
Getting to Know Others: Conversation starters allow getting to know others on a deeper level. You can learn more about their interests, values, and experiences by asking meaningful questions and listening actively.
Getting to know your questions are another important aspect of conversation starters. These questions help initiate a meaningful dialogue that can lead to more in-depth conversations. They allow you to learn about others' personal and professional lives, helping you build stronger relationships.
Types of Conversation Starters
Conversation starters can vary depending on the situation and the people you are speaking with. To help you get started, we've compiled a list of great conversation starters for different contexts.
Networking Events
Attending a networking event can be intimidating, but having a few conversation starters can help break the ice and make great connections. Try asking:
What brings you to this event?
What line of work are you in?
Have you attended this event before?
These questions can help establish common ground and lead to more meaningful conversations.
Parties or Social Gatherings
When meeting new people at parties or social gatherings, use conversation starters that are light-hearted and fun. Some examples include:
What's your favorite movie or TV show?
Do you have any pets?
What's your favorite type of food?
These questions can help create a comfortable and enjoyable atmosphere for conversation.
Professional Settings
Conversation starters in professional settings should be appropriate and respectful. Try asking:
Is there anything that inspired you to pursue your career?
How does your field challenge you?
What do you think sets your company apart?
These questions can help you establish a professional relationship and expand your industry knowledge.
Engaging Conversation Starters for Socializing
Are you looking for conversation starters to spark interesting discussions and help you stand out in social gatherings? Here are some unique and thought-provoking questions that can encourage others to share their thoughts and create a lively atmosphere:
What's the most interesting thing you've learned recently?
What would it be if you could have any superpower for one day?
What's your favorite way to unwind after a long day?
If you could only listen to one musician for the rest of your life, who would it be?
What's your favorite book or movie, and why?
Who would it be if you could have dinner with anyone, living or dead?
What's the best piece of advice you've ever received?
If you could travel anywhere in the world, where would you go?
What's your favorite hobby or pastime?
What's the most adventurous thing you've ever done?
These interesting conversation starters provide a glimpse into the personalities and interests of the people you're conversing with. Remember that the key to engaging in conversation is actively listening and responding with genuine interest.
Conversation Starters for Professional Settings
Networking events, job interviews, and conferences can be intimidating, but with the right conversation starters, you can break the ice and establish meaningful connections. Here are some conversation starters to use in professional settings:
| Conversation Starter | Usage |
| --- | --- |
| What led you to your current position? | A great question to ask during a job interview or at a networking event. It shows you are interested in the individual and their career journey. |
| What are the biggest challenges you face in your industry? | Use this question to engage with colleagues at a conference or networking event. It can lead to interesting discussions about the industry and potential opportunities for collaboration. |
| What inspired you to attend this event? | A good way to start a conversation with someone you meet at a professional event. It shows you are interested in their reason for attending and can lead to discovering shared interests or goals. |
In addition to these conversation starters, it's also important to be an active listener, make eye contact, and maintain an open body posture. These non-verbal cues show that you are engaged in the conversation and make the other person feel heard and appreciated.
Tips for Using Conversation Starters
Using conversation starters can be a great way to break the ice and initiate meaningful dialogue. However, to effectively use them, there are some essential tips to keep in mind:
Listen actively: Give the other person time to answer once you ask a question. Listen carefully to their response, and show interest in what they are saying. This will help build trust and establish a deeper connection.
Use appropriate body language: Your body language can convey a lot about your attitude and interest in the conversation. Face the person you're talking to, maintain eye contact, and avoid crossing your arms or legs, as this can make you appear closed off.
Show genuine interest: People can tell when someone is not genuinely interested in what they are saying. Ask follow-up questions and actively listen to show that you are truly interested in the conversation.
Choose appropriate conversation starters: The conversation starters you choose should be appropriate for the setting and the people you are talking to. Avoid asking overly personal or sensitive questions; instead, focus on relevant and interesting topics for the group.
Be yourself: Above all, it's essential to be authentic to yourself. Don't try to impress others by pretending to be someone you're not. Show your personality and interests, and the conversation will flow more naturally.
Additional Tip:
Remember, conversation starters are just the beginning of a conversation. The real connection and engagement happen when you actively listen, show genuine interest, and respond authentically.
Common Mistakes to Avoid
Using conversation starters can be a great way to connect with people, but you should avoid some common mistakes to ensure they have a positive impact.
Don't ask too personal or sensitive questions. While getting to know someone is important, avoiding questions that could make people uncomfortable or invade their privacy is essential. Stick to open-ended questions that allow people to share what they feel comfortable with.
Don't dominate the conversation. Conversation starters should be used to initiate dialogue, not to dominate it. Always actively listen to others and show genuine interest in what they say. Engage in a back-and-forth conversation to ensure everyone has a chance to participate.
Avoid using conversation starters that are inappropriate for the setting. While some conversation starters might be great for social situations, they might not be suitable for professional settings. Ensure that your conversation starters are appropriate for the setting and the people involved.
Show genuine interest in the conversation. It's important to show genuine interest in the conversation and the people you are speaking with. This means actively listening, responding thoughtfully, and asking follow-up questions that show you are actively engaged in the conversation.
By avoiding these common mistakes, you can ensure that your conversation starters have a positive impact and lead to meaningful connections.
Practice Makes Perfect: Role-Playing Scenarios
Improving your conversation skills takes practice. Role-playing scenarios can help you build confidence in initiating conversations. Below are some sample scenarios you can use to practice using conversation starters:
| Scenario | Conversation Starter |
| --- | --- |
| Meeting new people | "Hi there! I'm [your name]. What brings you here today?" |
| Networking event | "What inspired you to get into [industry/profession]?" |
| Casual social situation | "So, what have you been up to lately? Any interesting hobbies or projects?" |
As you practice, focus on speaking clearly and maintaining eye contact. Pay attention to the other person's body language and respond accordingly. Remember to ask open-ended questions to keep the conversation flowing. With time and practice, you will become more comfortable initiating conversations and engaging in meaningful dialogue.
Conclusion
Conversation starters are essential for enhancing social skills and meaningful connections with others. By breaking the ice, establishing rapport, and creating a comfortable environment for conversation, you can open up the opportunity for interesting and engaging dialogue.
This article explored the importance of conversation starters and provided various examples for different contexts, such as socializing and professional settings. We also gave practical tips for using conversation starters and highlighted common mistakes to avoid.
FAQs
How should I respond when someone asks me to "Tell me about yourself"? 
When asked to tell about yourself, you can provide a concise overview of your background, including your name, where you're from, your profession or field of study, and a brief mention of your interests or hobbies.
How can I start a conversation by asking about the best part of someone's day? 
To start a conversation using this question, simply ask the other person, "What's been the best part of your day so far?" This encourages them to share a positive experience and sets a friendly tone for the conversation.
What kind of response can I expect when I ask about the most interesting thing someone has read lately? 
When you ask about interesting things someone has read, they might share recent books, articles, or news stories that caught their attention. Be prepared to engage in a discussion about the topic they bring up.
How do I approach the question about scrolling a newsfeed from 2017? 
This question is meant to be light-hearted and humorous. You can ask it playfully and follow up with a laugh, encouraging the other person to make a guess. It's a creative way to spark a fun conversation.
How can I tactfully ask someone about their fashion blunders? 
When using this question, make sure to keep the tone light and non-judgmental. You can say, "We've all had our fashion moments, what's the biggest fashion blunder you've ever made?" This approach shows empathy and invites them to share without feeling embarrassed.