Disclaimer: We sometimes use affiliate links in our content. For more information, visit our Disclaimer Page. 
As an introvert, initiating conversations and engaging with others can be daunting. Whether at a social gathering or in a professional setting, it's not always easy to break the ice and start talking. Fortunately, conversation starters can help you build confidence and connect with others effortlessly.
In this article, we'll explore the benefits of using conversation starters for introverts and provide practical tips and strategies to help you easily navigate social situations. From icebreaker questions to introvert-friendly conversation topics, we've got you covered.
Key Takeaways
Conversation starters can boost confidence for introverts.
Icebreaker questions and introvert-friendly conversation topics are effective ways to initiate conversations.
Active listening and going beyond surface-level talk can create more meaningful connections.
Practice makes perfect – gradually stepping out of comfort zones can enhance conversational skills.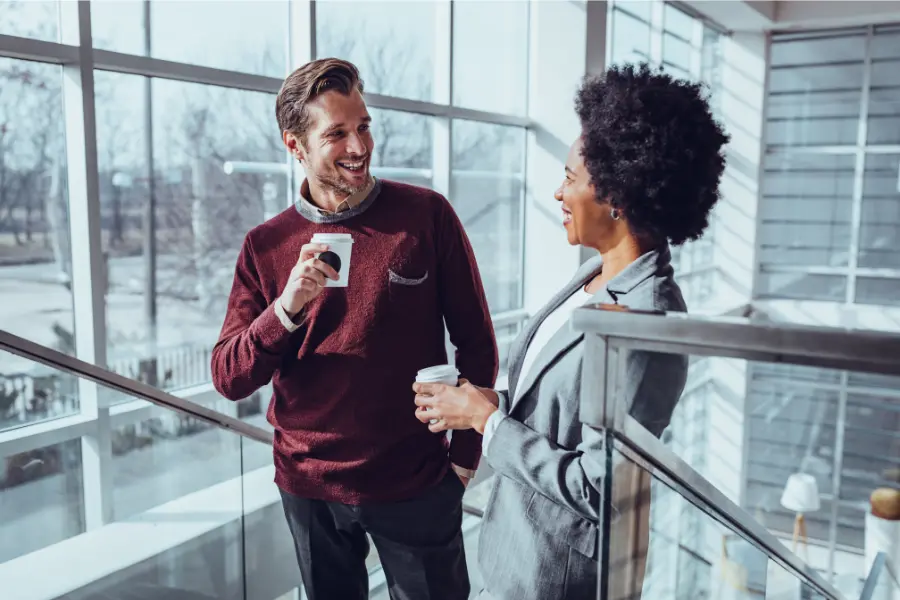 Why Conversation Starters for Introverts Are Essential?
Initiating conversations can be daunting. Social settings may bring out anxiety and sometimes lead to withdrawing from conversations. However, conversation starters are vital for introverts to break the ice and engage in meaningful interactions.
Introverts can easily overcome their shyness and engage in conversations by utilizing conversation starters. These techniques can assist in directing a conversation toward a subject that both parties find interesting. Moreover, it helps introverts feel confident and be more present in social settings.
Here are some conversation tips for shy introverts:
Ask open-ended questions to encourage further discussion.
Find common interests and share your thoughts on them.
Show genuine interest in the other person by listening actively.
Conversation starters help build confidence and result in deeper connections with others, leading to a fulfilling social life. In the following sections, we will provide specific tips and techniques introverts can use to facilitate meaningful conversations and build strong relationships.
Icebreaker Questions for Introverts: Breaking the Ice with Ease
Starting a conversation may not come naturally to an introvert, but it doesn't have to be intimidating. Adding a few icebreaker questions can help break the ice and kickstart conversations easily. Here are some engaging icebreaker questions that are tailored for introverts:
| Question | Why it works |
| --- | --- |
| What's the best book you've read recently? | This question taps into a personal interest and can lead to further discussions on literature or other book recommendations. |
| What's your favorite type of music? | Music is a universal interest and can lead to conversations on favorite bands, concerts, and music festivals. |
| What's your favorite outdoor activity? | This question can lead to conversations on sports, hiking, camping, or simply enjoying nature. |
| Have you traveled anywhere recently? | Traveling is a shared interest for many people, and this question can lead to conversations on destinations, cultures, and travel tips. |
| What's your favorite restaurant in town? | This question can lead to conversations on food, cuisine, and different dining experiences. |
Remember, open-ended questions are the key to engaging in conversations and learning more about the person you're talking to. Don't be afraid to share your interests and experiences as well. Using icebreaker questions can help introverts feel more confident in initiating conversations and creating meaningful connections.
Introvert-Friendly Conversation Topics: Finding Common Ground
As an introvert, finding common ground with others can be an excellent way to start a conversation. It's much easier to keep the conversation going when discussing something you're passionate about. Here are some conversation topics that are particularly suitable for introverts:
| Topic | Why It Works for Introverts |
| --- | --- |
| Books | Reading is an introverted activity, so it's a great topic to discuss with like-minded individuals. |
| Movies | Watching movies is another introverted activity that many introverts enjoy. It's a great way to find common ground with others. |
| Hobbies | Talking about your hobbies is an excellent way to connect with others who share similar interests. |
| Personal Interests | Discussing your personal interests can give others a glimpse into who you are as a person, and it's a great way to find common ground. |
Remember, these are just suggestions, and you must remain authentic. Bring it up in conversation if you're passionate about something that isn't on this list.
Small talk can be daunting for introverts who prefer deeper and more meaningful conversations. However, avoiding small talk can limit opportunities for new connections and growth.
Here are some tips and tricks for introverts to navigate small talk with ease:
Prepare and practice: Have a few go-to icebreaker questions or topics in mind to feel more confident and prepared. Practice initiating small talk with friends or family members to build your confidence.
Be present and engaged: Focus your attention on the person you're talking to and actively listen to what they're saying. Ask follow-up questions and show genuine interest in what they have to say.
Find common ground: Look for shared interests or experiences to serve as conversation starters. This can help to establish a connection and make small talk more enjoyable.
Steer the conversation: If small talk starts to feel tedious or uncomfortable, try to steer the conversation towards a more meaningful topic. Ask open-ended questions or share your thoughts and experiences to encourage deeper engagement.
Know when to end the conversation: Don't feel obligated to stay in a small talk conversation longer than necessary. Politely excuse yourself or shift the focus to something else if you feel uncomfortable or disengaged.
Introducing these tips and tricks allows introverts to navigate and enjoy small talk easily. Remember, small talk doesn't have to be superficial or meaningless if approached with the right mindset and intent.
Overcoming Social Anxiety: Conversation Tips for Anxious Introverts
Social anxiety can make it challenging for introverts to engage in conversations, but one can feel more at ease with helpful tips and techniques. Here are some conversation starters for socially anxious introverts:
Start with simple questions: Ask open-ended questions that require more than a one-word answer. For example, "What do you think about…?" or "How did you get interested…?"
Share personal experiences: Talking about your own experiences can make it easier to connect with others. Share a story related to the topic and invite others to do the same.
Breathe: When feeling anxious, taking a deep breath and focusing on your breathing can be helpful. This can help to calm nerves and stay present in the moment.
Practice active listening: Listening to what others are saying can take the pressure off of introverts to speak. Use this time to learn about the other person and find common ground.
Be honest: It's okay to admit to feeling nervous or anxious. Most people are understanding and will be happy to help you feel more comfortable.
Remember, practice makes perfect. The more you engage in conversations, the easier it will become. Start with small talk and work your way up to more meaningful conversations. With time and experience, you'll become more confident in your conversational skills.
The Power of Active Listening: Engaging Others with Ease
As an introvert, you may often find that listening comes more naturally than speaking. However, active listening can be a powerful tool to help you engage more effectively in conversations with others. By being fully present at the moment and showing genuine interest, you can create stronger connections and build trust with those around you.
One way to practice active listening is to give your full attention to the speaker. Avoid distractions, such as checking your phone or thinking about your response, and instead focus on what the other person is saying. This shows respect for the speaker and makes it easier to pick up on important details and nuances in the conversation.
Another way to demonstrate active listening is to ask questions and show curiosity. By asking open-ended questions, you can encourage the speaker to share more about themselves or their experiences. This helps keep the conversation going and shows that you are genuinely interested in what they say.
Finally, active listening involves acknowledging what the other person is saying and responding appropriately. This could mean reflecting on what was said, offering encouragement, or nodding in agreement. By actively engaging in the conversation, you can build deeper connections with those around you and feel more confident in your ability to communicate effectively.
Creating Meaningful Connections: Going Beyond Surface-Level Talk
Introverts often struggle to move beyond small talk and establish deeper connections with others. However, introverts can create meaningful interactions by asking open-ended questions, sharing personal experiences, and actively showing interest.
One effective way to establish a deeper connection is to share personal experiences. This allows the other person to learn more about you and encourages them to reciprocate by sharing their experiences. Additionally, asking open-ended questions can help keep the conversation flowing and lead to more in-depth discussions.
Another tip for introverts is to show interest in the other person actively. This can be done by listening attentively and asking follow-up questions. It's important to remember that engaging in meaningful conversations requires active participation from both parties.
Introverts may also find it helpful to have a few conversation topics in mind that are more meaningful and engaging. For instance, discussing books, movies, hobbies, or personal interests can provide a more in-depth conversation beyond surface-level chit-chat.
Building Confidence: Practice Makes Perfect
Effective communication is a skill that can be learned, and with practice, introverts can master the art of starting and engaging in conversations. To build confidence and improve conversational skills, here are some helpful exercises and tips:
1. Role-Playing Scenarios
Enlist a trusted friend or family member to play a conversation partner and role-play different scenarios together. This can help build confidence in initiating conversations and practicing active listening.
2. Gradually Step Out of Comfort Zones
Start with small steps, such as making eye contact and greeting people in passing. Gradually work up to initiating conversations with strangers and participating in group discussions.
3. Join a Group or Club
Joining a group or club centered around a shared interest can provide opportunities to practice conversational skills in a supportive environment. This can also help introverts find like-minded individuals with whom they can connect.
4. Smile and Be Present
Smiling and being present in conversations can help introverts appear more approachable and confident. Listening and engaging with others actively can also deepen connections and build confidence.
Remember, building confidence takes time and practice. Don't be discouraged by setbacks; keep pushing yourself outside your comfort zone. With persistence and dedication, introverts can become skilled conversationalists and find success in social settings.
Conclusion
Initiating conversations and engaging in small talk can be daunting for introverts, but it doesn't have to be. Using conversation starters, introverts can easily break the ice and build meaningful connections. Introverts must find common ground with their conversation partners and navigate small talk gracefully and easily.
Overcoming social anxiety can be a significant hurdle for introverts, but they can build their confidence and conversational skills with practice. Remember, creating meaningful connections goes beyond surface-level talk, and active listening is a powerful tool for introverts to engage others effortlessly.
Through the tips and techniques in this article, introverts can develop their conversational skills, build confidence, and create deeper connections with others. The key is to step out of your comfort zones and practice, practice, practice. With time and effort, introverts can become skilled communicators and effective conversation starters.
FAQs
How can introverts start a conversation?
Introverts can start a conversation by asking open-ended questions related to the other person's interests, sharing observations about their surroundings, or discussing topics they're knowledgeable about.
What topic to talk to an introvert? 
When talking to an introvert, it's helpful to choose topics that align with their interests, such as hobbies, books, movies, music, travel, childhood memories, or thought-provoking questions.
How can I keep a conversation going with an introvert? 
To keep a conversation going with an introvert, try to find common ground in topics they enjoy. Listen actively to their responses, ask follow-up questions, and provide thoughtful insights or stories related to the subject.
How can I make small talk less excruciating for introverts? 
Introverts can make small talk more comfortable by asking open-ended questions, sharing interesting tidbits, using humor, and making eye contact. Focus on deeper conversation topics rather than surface-level subjects like weather or traffic.
How can I talk to an introvert guy/girl over text? 
When texting an introvert, start with a friendly and open question, such as asking about their day or inquiring about their favorite book, movie, or hobby. Keep the conversation light and engaging, and give them time to respond at their own pace.