Disclaimer: We sometimes use affiliate links in our content. For more information, visit our Disclaimer Page. 
Texting has become one of the most common ways to communicate with others. It's quick, easy, and convenient. However, sometimes starting a conversation through text can be difficult, especially if you don't know the other person well. That's where engaging text conversation starters come in!
These conversation starters can make texting a lot more fun and enjoyable. Whether you want to deepen a connection, spark a new friendship, or even flirt with someone, the right conversation starter can make all the difference.
In this article, we'll explore various types of text conversation starters. We've covered you from icebreakers to flirty conversation starters and even deep conversation starters for texting! We'll also provide tips for using conversation starters effectively and avoiding common mistakes.
Key Takeaways:
Engaging text message starters can make texting a lot more fun and enjoyable.
There are various types of conversation starters, including icebreakers, deep conversation starters, flirty conversation starters, and more.
Using conversation starters effectively can help you deepen connections and avoid common mistakes.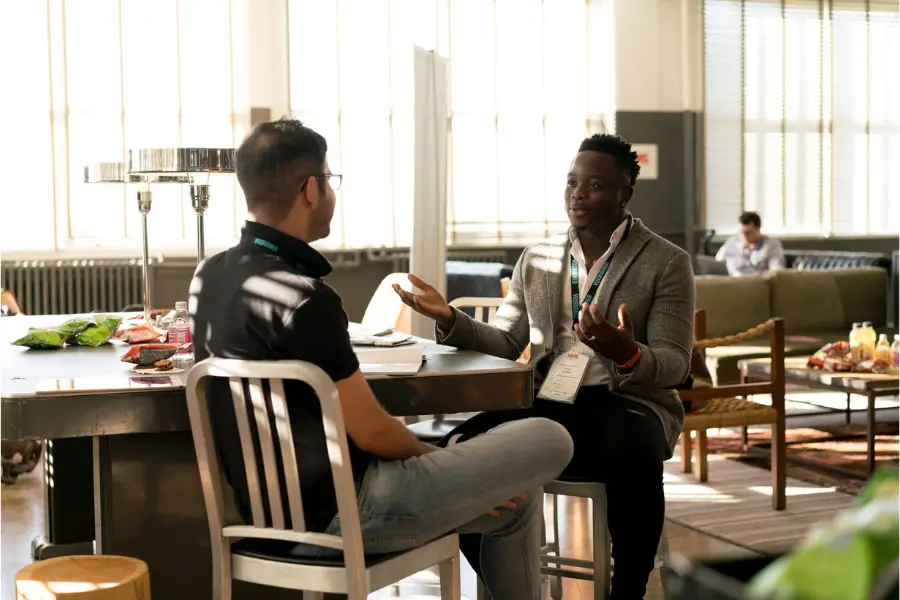 Starting with Small Talk: Ice Breakers for Texting
Are you struggling to initiate a conversation with someone over text? Don't worry; we all have been there. That's why icebreakers for texting are an excellent way to kick-start your chat. Whether you are texting a new friend, crush, or colleague, icebreaker questions and statements can help break the initial awkwardness and start a conversation.
Here are some fun and easy-going icebreakers that you can use for different situations.
| Ice Breakers | Suitable for |
| --- | --- |
| What's your favorite TV show at the moment? | Friends, Crushes, Colleagues |
| Do you have any exciting weekend plans? | Friends, Colleagues |
| What's your favorite hobby? | Friends, Crushes, Colleagues |
| Where's your favorite place to grab a bite? | Friends, Colleagues |
If you're still unsure what to say, ask open-ended questions like "How was your day?" or share interesting facts about yourself that can lead to further conversation. Remember, the key to a successful conversation is asking questions and actively listening and responding.
Pro tip:
Keep your ice breakers light and fun. Avoid asking overly personal questions or anything that could be perceived as offensive.
Using icebreakers can help establish a connection with someone over text. So, give it a try, and let the conversation flow naturally.
Funny Conversation Starters for Texting
Laughter is the best medicine, and the same goes for conversations. Starting a conversation with something humorous can lighten up the mood and make the other person feel more comfortable. Here are some funny conversation starters that you can use:
What do you call an alligator in a vest? An investigator!
Why was the math book sad? Because it had too many problems.
What do you get when you cross a snowman and a shark? Frostbite!
What's the least spoken language in the world? Sign language!
Why did the tomato turn red? Because it saw the salad dressing!
These conversation starters can be used in any situation, whether you are talking to your crush or trying to break the ice with a new friend. Remember that humor is subjective, so use a funny conversation starter that you genuinely find amusing rather than trying to force a laugh.
Pro tip: Keep the jokes coming if the other person responds positively to your humorous approach. Please don't overdo it and turn the conversation into a stand-up comedy routine.
Deep Conversation Starters for Texting
Texting can provide an excellent platform for having meaningful conversations and connecting with others on a deeper level. Here are some deep conversation starters for texting:
"Have you ever wanted to do something but haven't?"
"In your opinion, what is the meaning of life?"
"How would you describe your top priorities in life?"
"What's the biggest life lesson you've learned so far?"
These questions are designed to elicit thoughtful, introspective answers and can lead to interesting discussions. Remember to listen actively and be respectful of the other person's perspectives.
It's important to note that some people may not feel comfortable discussing deep topics immediately, so ensure the conversation feels natural and that both parties engage with the topic.
Flirty Conversation Starters for Texting
Flirting through text can be a fun and playful way to express interest in someone, but it's important to keep the tone respectful and considerate. Here are a few flirty conversation starters to try:
"I can't stop thinking about you today. What are you doing later?"
"I saw something that reminded me of you. Want to know what it was?"
"You always know how to make me laugh. What's your secret?"
"If you could be anywhere in the world right now, where would you want to be?"
"I love your smile. It always brightens my day."
Remember, there's a fine line between flirty and inappropriate, so read the room and take cues from the other person's response. Happy flirting!
Interesting Conversation Starters for Texting
Do you want to explore new ideas and expand your knowledge? Interesting conversation starters can help you start a conversation and learn something new! Here are some examples:
What's the most interesting thing you learned recently?
What would it be if you could have any career for a day?
What hobby have you always wanted to try but haven't yet?
If you could have a dinner party with any three people, who would they be?
These open-ended questions allow the other person to elaborate on their answers and encourage a back-and-forth exchange of ideas. It's a great way to learn more about the other person and spark a conversation that can last for hours.
You can also try using interesting facts as conversation starters. For example:
You might be surprised to learn that there are more possible iterations of chess than atoms in the universe.
Did you know Britain and Zanzibar fought for only 38 minutes in 1896, the world's shortest war?
Are you aware that, on average, people wait six months before a red light turns green when traveling?
These fun facts can be a great way to start a conversation and share knowledge lightheartedly. They are perfect for breaking the ice or adding an interesting twist to a conversation.
Using Interesting Conversation Starters in Dating
Using interesting conversation starters can be a great way to show your crush that you are interested in them and to keep the conversation flowing. Here are some examples:
Is there something you're passionate about?
Do you have a favorite place that you've visited?
What's your favorite book/movie/podcast, and why?
Where would you go if you could go on a trip anywhere?
These conversation starters can help you get to know your crush better by exploring their interests and passions. They also show that you are interested in them as a person rather than just their looks or surface-level characteristics.
Good Conversation Starters for Texting with Friends
Texting with friends is always a fun and easy way to stay in touch, but sometimes it can be hard to develop new and interesting conversation starters. Here are a few ideas to keep the conversation flowing:
Share a funny meme or video you saw online and ask for their reaction.
Ask about their day and what fun or interesting things happened to them.
Please share a favorite memory you have together and reminisce about it.
Ask for their opinion on a current event or news story.
Recommend a book or TV show you enjoy and ask if they've read/watched it or have any recommendations.
Challenge them to a game or quiz and see who is on top.
Remember, the key to a good conversation with friends is to keep things light, fun, and engaging. Don't be afraid to be silly and share your sense of humor!
Best Text Conversation Starters for Colleagues
Texting with colleagues can be a bit tricky, as it requires a level of professionalism while still being engaging. Fortunately, there are plenty of conversation starters suitable for the workplace that can initiate discussions and foster effective communication. Here are some of the best text conversation starters for colleagues:
| Conversation Starter | Description |
| --- | --- |
| What are your thoughts on our latest project? | This question can promote discussion about current work projects and ideas. |
| What goals are you currently working toward? | A great way to get to know your colleagues on a more personal level while still keeping the conversation work-related. |
| What challenges are you currently facing at work, and how can I help? | This question shows that you are willing to be of assistance and can help build a better working relationship. |
| What do you like to do outside of work? | This question can help you to find common ground and build a better rapport with your colleagues. |
It's important to maintain professionalism and avoid controversial or personal topics when texting with colleagues. Keep the conversation light-hearted while discussing relevant work topics that can help strengthen relationships and increase productivity.
Questions for Text Conversation: Going Beyond Small Talk
Do you ever feel like your conversations are stuck in small talk? Are you looking to dive deeper and get to know the person you're texting on a more personal level? Here are some thought-provoking questions to help you go beyond the surface level:
Do you have a goal that you still need to achieve for yourself?
Can you recall a time in your past that you wish you could change or redo?
Is there a book or movie that has greatly impacted your life, and why?
What have you always wanted to try but have yet to have the opportunity to do?
If you could have any superpower, what would it be and why?
Which is your favorite place to visit, and why is it so memorable?
Why do you care about something in particular?
Are there any beliefs or opinions you used to hold but have since changed?
Is there a challenge you are currently facing in your life?
What's something you're grateful for today?
These questions can help spark more meaningful conversations and create a deeper connection with the person you're texting. Remember to actively listen and respond thoughtfully to their answers, and don't be afraid to share your thoughts and experiences.
Tips for Using Text Conversation Starters Successfully
Using conversation starters can greatly enhance your texting conversations, but using them effectively is important. Here are some tips for using text conversation starters successfully:
Timing is important. Consider the time of day and the other person's schedule before sending a conversation starter. It's best to avoid sending them late at night or during work hours.
Listen actively. When the other person responds, take the time to read and understand their message before responding. This will help you keep the conversation flowing smoothly.
Maintain a balance. Make sure the conversation doesn't become too one-sided. Try to ask questions and share your own thoughts in equal measure.
Use appropriate responses. Avoid using one-word responses or answering questions with unrelated information. This can make the conversation feel forced or awkward.
By following these tips, you can use text conversation starters to enhance your connections and relationships naturally and enjoyably.
Mistakes to Avoid When Using Text Conversation Starters
While text conversation starters can be a great way to initiate conversations and connect with others, people make a few common mistakes. Here are some things to avoid:
Using inappropriate conversation starters: Avoid using conversation starters that could be offensive or make the other person uncomfortable.
Overusing conversation starters: Don't rely solely on conversation starters to keep the conversation going. It's important to also actively listen and respond to what the other person is saying.
Being too pushy: If the other person isn't interested in continuing the conversation, don't push them to respond. Respect their boundaries and give them space if needed.
Not paying attention to timing: Timing is important when texting. Avoid initiating conversations too early in the morning or late at night, and avoid using conversation starters when the other person may be busy or preoccupied.
By avoiding these mistakes, you can use text conversation starters to enhance your conversations and build meaningful connections with others.
Conclusion
Engaging text conversation starters can help kick-start chats, deepen connections, and foster positive relationships. From ice breakers for texting to deep conversation starters, flirty prompts to interesting questions, there are countless ways to enhance your text conversations.
Use conversation starters appropriately, respecting the other person's boundaries and keeping the tone considerate and respectful. Timing is also important; try initiating conversations when the other person is likely available and receptive.
Experiment with different types of conversation starters and have fun exploring new ways to connect through texting. We hope these tips and examples have inspired you to enhance your text conversations and develop deeper and more meaningful connections.
FAQ
What do I text to start a conversation
To start a conversation via text, you can begin with a friendly greeting, ask about the other person's day or interests, share something interesting about your day, or use an appropriate icebreaker to engage them in a meaningful dialogue.
What can I text instead of hey? 
Instead of using a simple "hey," you can try more engaging alternatives like asking a specific question, referencing a shared experience, using a light joke or pun, or expressing genuine interest in the other person's well-being.
How can I be a fun Texter? 
Being a fun texter involves using humor, sharing interesting stories, asking open-ended questions, using emojis to convey emotions, and responding promptly. Keep the conversation light, show enthusiasm, and be attentive to the other person's responses.
How do you start a deep conversation over text?
Starting a deep conversation over text requires asking thought-provoking questions that encourage introspection. You can discuss personal goals, values, fears, dreams, or philosophical topics. Be open and vulnerable to foster a meaningful exchange.
How do you keep a text conversation going? 
To keep a text conversation going, ask follow-up questions, share relevant stories or experiences, introduce new topics, and show genuine interest in the other person's responses. Use a mix of open-ended questions and personal insights to maintain a dynamic and engaging conversation.