Disclaimer: We sometimes use affiliate links in our content. For more information, visit our Disclaimer Page. 
So you've decided that you want to ask someone for a job opportunity. That's a great decision! Asking someone for a job can be nerve-wracking, but it can also be very rewarding. This blog post will discuss five ways to ask someone for a job opportunity. We will also provide tips on making the most of your request. Let's get started!
When To Ask For a Job?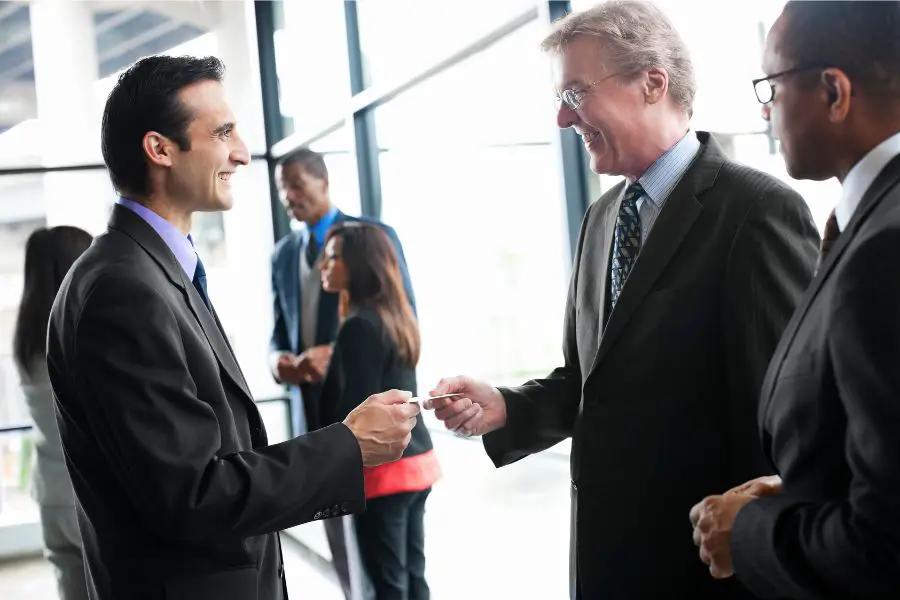 Here are a few good moments to ask for a job:
• During a networking event
Many job-seekers attend networking events with the hope of making a connection that will lead to a job offer. At the same time, it is possible to find employment through networking.
Approaching potential contacts with this mindset will increase your chances of making a lasting impression. Discuss your shared interest in the company or industry when meeting someone new.
Once you have learned more about the person you are talking to, you can schedule a more in-depth meeting during the networking event. By following these tips, you will be on your way to making valuable connections that could lead to employment.
• Follow them after a career fair
After meeting with a potential employer at a career fair, it is always beneficial to follow up with them afterward. This shows that you are interested in the company and are willing to take the initiative.
The best way to follow up is through an email or phone call. In the email/phone call, it is recommended to first thank them for taking the time to speak with you at the career fair. Afterward, you can express your interest in the company and job openings. 
• When a company is hiring
In the instance where there are a lot of job postings from your dream company, you can try to skip the queue and get in direct contact with someone on the hiring committee if you see a lot of them.
You may come across as presumptuous if you try this approach, as it may put you in a bad light.
Nonetheless, if you have the talent and significant experience to back it up, it can be a useful way to land a job.
• Directly contact the hiring manager
One way to increase your chances of being considered for a job is to contact the hiring manager directly.
This can be a risky move, as you don't want to come across as presumptuous or entitled. However, it might just pay off if you have the talent and drive to back up your request.
After all, hiring managers are always looking for the best and brightest candidates, so if you can show them that you're the right person for the job, you'll be one step closer to landing your dream job.
Related: How To Know a Job is Right For You
5 Ways How to ask someone for a job opportunity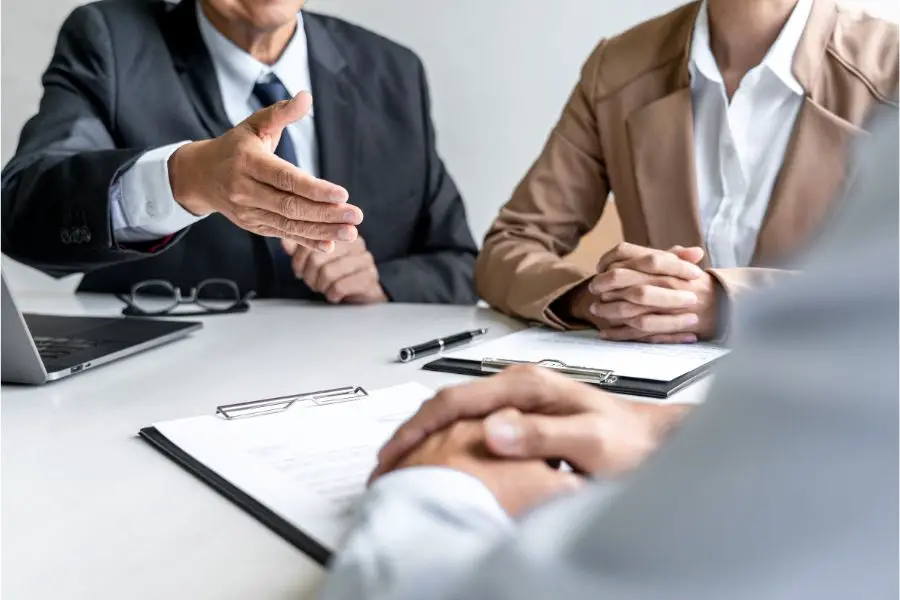 In this section, we'll examine how to ask for a job in a way that maximizes your chances of getting it.
1. Talk to the right person
Trying to figure out how to get a job can be daunting, but it doesn't have to be. The key is to network with potential employers rather than just asking for a job outright.
This can be done by figuring out who the potential employers are and reaching out to them directly. It's important to remember that you should avoid talking to employees at your level, as they may feel threatened by your desire to work for the company.
Instead, focus on talking to these employers or those who have connections with them. Doing this will improve your chances of getting hired without asking for a job directly.
2. Informal interviews can be scheduled
Many job seekers dismiss informational interviews as a waste of time. After all, why spend time interviewing for a job that doesn't even exist?
However, the truth is that not all vacancies posted on job boards and recruitment agencies are available positions. While it's possible to waste your time on fruitless job interviews, it's also possible to gain valuable insights and contacts through informational interviews.
But, informational interviews can be a valuable tool for job seekers. For one thing, they can help you learn more about a particular company or industry. They can also give you a chance to practice your interviewing skills.
And in some cases, they may even lead to a job offer. So next time you're considering skipping an informational interview, think again. It could be the best job-hunting decision you ever make.
3. Email a job request
You should sell yourself as a candidate in your emails to potential employers. You have this opportunity to demonstrate why you are the perfect candidate for the job, so make sure you emphasize your experience and skills.
If you'd like to learn more about the company and what they do, find the contact information for the employer you wish to reach out to.
Make sure the email you send is professional and respectful, and it is proofread before you send it. Getting your foot in the door can be as easy as sending an email to a potential employer.
4. Pitch your idea in an elevator
When it comes to networking, the elevator pitch is your best friend. An elevator pitch is a short, 30-second speech summarizing who you are, what you do, and why you'd be great for the job.
It's the perfect way to introduce yourself and get rid of any doubts in the mind of the person you're meeting. Landing an informational interview is only half the battle; nailing the pitch is what will help you stand out from the crowd.
5. Stand out to the hiring manager and get noticed
Prepare for your job interview by considering how you can stand out to the hiring manager. Consider creating an online portfolio on a dedicated website showcasing your accomplishments as an example of an original approach to how you introduce yourself.
Setting yourself apart from other candidates will make a lasting impression on the hiring manager before the interview. Because as they decide who to hire, this can go a long way for you.
Your good impression may lead to a referral for another job opening within the same company or another similar organization, even if you don't get hired for the position you interviewed for.
Related: How To Introduce Yourself to Your New Boss
How to Ask Family and Friends for Job Search Assistance?
When you're trying to reach out to family and friends, one of the best ways to do it is through a written request. Whether you send an email or a letter, there are some strategies you can use to make sure your note is effective. 
→ Provide specific details
Job search is a process that can be difficult and time-consuming. Therefore, it is important to be specific when requesting job search help from family, friends, or strangers. 
→ Don't make it too long
In today's fast-paced world, it's important to be concise. That's why, when writing a job letter, you should keep it relatively short. Of course, there are always exceptions to this rule, but generally, a brief letter is more likely to be read than a longer one.
→ Resumes should be attached
It is common to submit a resume and your cover letter or application. However, you may also consider attaching your resume to correspondence with friends and family.
This can provide them with more information about your skills and experience, and it can also help to keep your letter shorter.
→ Personalize your letters
If you have a specific favor to ask of a friend or family member, it is best to send them an individualized letter.
This shows that you have taken the time to think about their specific situation and how they might be able to help you. It also increases the chances that they will respond positively to your request. 
→ Don't rush
It is important to be patient while job searching, even if it feels like you are not making any progress. Sending a follow-up email a couple of weeks or even a month after your initial job search can help remind your family and friends that you are still interested in the position. 
→ You should be grateful
A job market is competitive, and any help you get should be welcomed with open arms.
Whether it's your family member or friend forwarding you a job listing or your old college roommate offering to put in a good word for you at their company, take the time to express your gratitude. 
Related: Examples of Interpersonal Skills That Will Help You Grow
Conclusion
Asking for help from friends and family members can be a great way to get your job search off the ground, but it's important to do so in a way that doesn't damage the relationship.
By following our tips for how to ask for help, you'll maximize your chances of getting the support you need while preserving your friendship or kinship.
FAQ
How do you politely ask for a job opportunity?
There are a few different ways to go about this. Here is an example: If you know of job vacancies at the company, you could say, "I noticed that you have a job opening for X. I am really interested in applying, and I was wondering if you would consider me for the role."
How do you approach someone you want to hire?
The first step is to visit the person's profile and see if they are open to new job opportunities. If they are, you can reach out to them directly and see if they're interested in learning more about your company. The important thing is to be respectful and not come across as pushy or desperate. You want to make a good impression so that the person will want to work with you.
How do you ask a company if they are hiring?
You can search the company's website for a job section or job postings on Indeed.com or Monster.com. Alternatively, you can send an email or call the company's HR department and ask if they are hiring at the moment.
What do you say when asking for a job in person?
You can direct message them on social media or email them if you have their contact information. Or you can ask around mutual friends or colleagues if they know how to get in touch with the person you're looking for. Also, you could try looking up the person's contact information online using public records or directories.
How do you ask for a job in a message?
To ask for a job in a message, you should first research the company and determine its needs. Once you have a good understanding of what the company is looking for, you can then craft a message that is tailored to their specific needs.