Disclaimer: We sometimes use affiliate links in our content. For more information, visit our Disclaimer Page. 
In today's competitive business world, the ability to thrive in a fast-paced workplace is essential. However, navigating this high-energy environment can be challenging, even for the most skilled professionals.
This blog post will equip you with valuable tips and strategies for success in a dynamic work setting while maintaining balance and avoiding burnout.
From mastering time management to honing your communication skills, these insights will help you survive and excel in any fast-paced work environment.
Key Takeaways
Understanding the definition of a fast-paced work environment is crucial before deciding if it fits your personality, skills, and goals.
Effective time management, task prioritization, organization, clear communication, and stress management are fundamental skills necessary to navigate a dynamic workplace successfully.
Being proactive and taking the initiative while maintaining flexibility and adaptability to change can help professionals thrive in a high-performance culture. Building solid relationships with colleagues while continuously learning new skills can also contribute to career advancement opportunities.
When navigating a fast-paced work environment, it's essential to accurately weigh the pros and cons of working in such an environment. It's essential to prioritize personal well-being by practicing self-care outside work hours, like getting enough sleep each night or meditating, as burnout rates are higher than in other less stressful workplaces.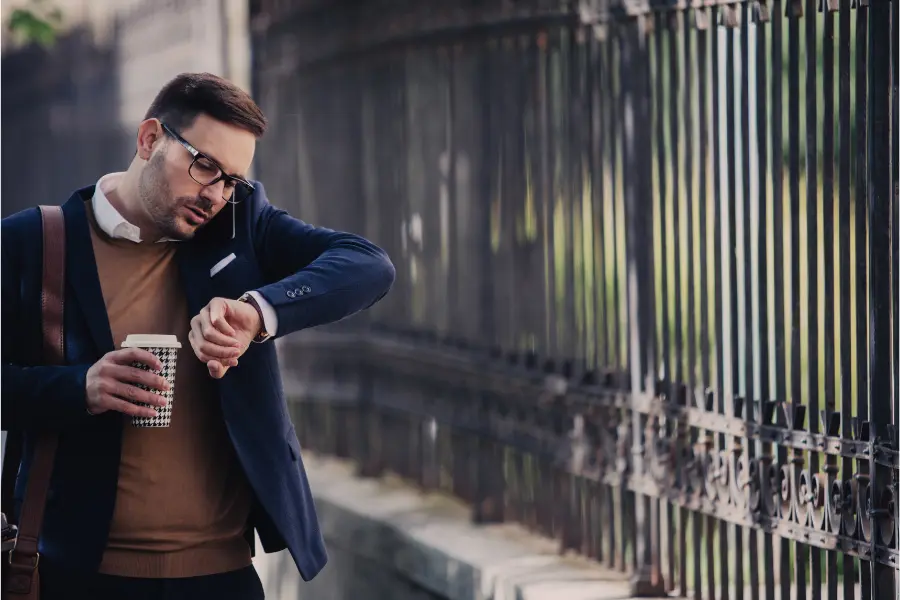 Understanding The Fast-Paced Workplace
Defining a fast-paced work environment and assessing if it fits your personality, skills, and professional goals are crucial before navigating its demands.
Defining A Fast-paced Work Environment
A fast-paced work environment is characterized by rapid changes, tight deadlines, and a continuous flow of tasks demanding quick decision-making and multitasking.
Employees in this type of setting are often required to adapt on-the-fly while maintaining high levels of productivity and quality.
The pace in such environments can be both exhilarating and challenging for individuals who thrive under pressure. Success in these types of workplaces typically hinges on an individual's ability to stay organized, manage time efficiently, communicate effectively, prioritize competing tasks, and foster strong relationships with colleagues.
Assessing If It Is The Right Fit For You
Before diving into a fast-paced work environment, assessing if it's the right fit for you is essential. There are various factors to consider, including your working style, personality traits, and goals.
If you enjoy quick decision-making, thrive under pressure, and prefer continuous workflow without many breaks or downtime, a fast-paced job might be perfect. However, you prefer structure and routine in your workday or feel overwhelmed by multiple tasks.
Evaluating whether your skills match those required in a fast-paced environment is crucial. For instance, multitasking and time management skills are advantageous since they help handle several demanding tasks simultaneously while meeting tight deadlines.
Moreover, take note of the kind of innovation required; this may determine whether decisions must be made autonomously or as part of a team effort with input from others before implementation.
Weighing The Pros And Cons Of Working In A Fast-paced Environment
To determine if a fast-paced workplace is the right fit for you, it's essential to weigh the pros and cons. Understanding the advantages and disadvantages of this type of work environment will help you make an informed decision about your career path. The following table summarizes the pros and cons of working in a fast-paced environment.
Pros
Cons

✔

Opportunities for growth and development, as mentioned in [IMPORTANT FACTS]

❌

Increased risk of burnout and exhaustion, which must be managed effectively

✔

Exposure to diverse tasks and projects, making the work more engaging and interesting

❌

Potential for unclear direction or communication, which may lead to confusion and frustration

✔

Chance to work with ambitious and talented coworkers, allowing for strong relationships and collaboration

❌

Higher levels of stress and feeling overwhelmed require effective coping strategies.

✔

Work-life balance may be challenging to maintain, making it essential to prioritize personal well-being.

❌

Work-life balance may be challenging to maintain, making it essential to prioritize personal well-being

✔

More significant potential for career advancement and higher earnings

❌

Often, a fast-paced workplace promotes strong communication skills and attention to detail.
Considering the pros and cons of working in a fast-paced environment is crucial in determining if it aligns with your career goals and personal preferences. By understanding the potential benefits and challenges, you can be better prepared to navigate and succeed in this work setting.
Prioritize tasks effectively, manage time efficiently, stay organized and focused, communicate clearly and assertively, cope with stress, and take breaks.
Prioritizing Tasks Effectively
One essential skill for success in a fast-paced workplace is prioritizing tasks effectively. Here are some tips for doing so:
Start by understanding your goals and deadlines, and list all the tasks you must complete.
Identify which tasks are most urgent and vital, and tackle those first. Use tools like Eisenhower's Urgent/Important matrix to help you prioritize.
Break larger tasks into smaller, manageable steps to make steady progress without feeling overwhelmed.
Keep track of your progress and adjust your priorities as necessary – if something unexpected comes up, be prepared to shift gears and reprioritize accordingly.
Learn to say no or delegate tasks when necessary – take on only what you can handle.
Finally, remember to take breaks and recharge when needed – this will help you stay focused and productive over the long haul.
Managing Time Efficiently
One key aspect of navigating a fast-paced workplace is managing time efficiently. Here are some tips to help you do just that:
Set clear and specific goals: Having a set of achievable goals helps you focus your time and effort on what needs to be done.
Prioritize tasks: Determine the most urgent and essential tasks, and work on those first.
Use a calendar or planner: Schedule your tasks, meetings, deadlines, and appointments in a calendar or planner to help you stay organized and on track.
Minimize distractions: While working on essential tasks, turn off notifications from social media, messages, or emails.
Take breaks: Taking short breaks helps you recharge and refocus to return to work with renewed energy.
Don't procrastinate: Avoid putting off essential tasks till later, as procrastination takes up more time in the long run.
Adopting these strategies allows you to manage your time effectively in a fast-paced work environment while avoiding burnout.
Staying Organized And Focused
Staying organized and focused is crucial when navigating a fast-paced workplace. It's important to prioritize tasks effectively and manage time efficiently to ensure that deadlines are met.
One way to stay organized is by using calendars, to-do lists, or project management software.
Another tip for staying focused is avoiding distractions like social media or personal emails during work hours. These can take up valuable time and reduce productivity levels.
Research shows that well-organized employees are more productive in the workplace than those who aren't.
Communicating Clearly And Assertively
Straightforward and assertive communication is crucial for success in a fast-paced work environment. Communicating effectively with coworkers and supervisors ensures that tasks are completed efficiently and accurately.
This means being straightforward in your requests, asking clarifying questions when needed, and providing timely updates on your progress.
For example, if you need assistance from a coworker on an urgent project, clearly articulating what you need help with and when it's due can ensure an understanding of the task scope and deadline.
Additionally, if there is clarity about expectations or responsibilities within the team, having open lines of communication can allow everyone to clarify their roles to avoid overlap or inconsistencies in performance.
Coping With Stress And Taking Breaks
Stress is common in fast-paced workplaces, and it's essential to know how to cope with it. Regular breaks throughout the day help manage stress levels and improve productivity.
These breaks don't need to be long; even five minutes away from work can be beneficial. Use this time to do something enjoyable or relaxing, such as walking outside, listen to music, or practicing deep breathing exercises.
Another strategy for coping with stress is practicing self-care techniques outside of work hours. This could include activities like yoga or meditation, sleeping well each night, and maintaining a healthy diet.
Strategies For Thriving In A Fast-Paced Workplace
Take initiative, stay adaptable, build strong relationships, and continuously learn and develop your skills to thrive in a fast-paced workplace.
Being Proactive And Taking Initiative
In a fast-paced workplace, being proactive and taking initiative is essential. This means doing something other than waiting for someone else to assign tasks or tell you what to do next.
Proactivity involves taking charge of your work and seeking opportunities to contribute more actively. For example, if you see a problem that needs solving, don't wait for someone else to notice; speak up and offer possible solutions or suggestions.
Being proactive and taking initiative in a fast-paced workplace demonstrates your ability to work independently and make valuable contributions. You'll gain the trust of your teammates as they begin relying on your judgment when quick decisions need making.
Initiatives like these lead toward growth and innovation while increasing productivity within a team environment.
Staying Flexible And Adaptable
Being flexible and adaptable is crucial for success in a fast-paced workplace. It means adjusting to changing priorities, working with different people, and handling unexpected challenges.
One way to stay flexible is by keeping an open mind and being willing to learn new things.
Another critical aspect of staying adaptable is communicating effectively with others. This means taking the time to understand what others are saying and actively listening to their concerns or suggestions.
Flexibility and adaptability require a combination of skills, including problem-solving, critical thinking, time management, and communication skills.
Building Strong Relationships And Collaborating Well With Colleagues
Building strong relationships and collaborating well with colleagues is crucial for success in a fast-paced workplace. This requires practical communication skills, active listening, and working collaboratively towards common goals.
Sharing knowledge, ideas, and resources can streamline processes and improve productivity.
One example of successful collaboration in a high-performance workplace is seen through Google's approach to teamwork. The tech giant has found that teams work most effectively when everyone has equal opportunities to contribute, and there is a culture of psychological safety where people feel comfortable sharing their opinions without fear of judgment.
Continuously Learning And Developing Your Skills
Thriving in a fast-paced workplace requires more than efficient time management and prioritization skills. Continuous learning and skill development are essential to stay competitive and keep up with the job demands.
It's also important to recognize that learning doesn't always have to be formal. Simply asking for feedback on your work or collaborating with colleagues on projects can help you improve your skills and expand your knowledge base.
Embracing a growth mindset will not only benefit you professionally but also allow you to develop personally as well.
Overcoming Common Challenges In A Fast-Paced Workplace
This section discusses strategies for managing burnout and exhaustion, coping with unclear direction or communication, and dealing with feeling overwhelmed or stressed.
Managing Burnout And Exhaustion
One of the most challenging aspects of working in a fast-paced environment is managing burnout and exhaustion. The constant pressure to perform at a high level often leads to stress and fatigue, making it difficult to maintain productivity over time.
Additionally, establishing clear boundaries between work and personal life can help alleviate stress. This may mean turning off electronic devices after hours or blocking out specific times for non-work activities like hobbies or spending time with loved ones.
It's also important to remember that everyone experiences burnout differently. For some individuals, taking a short break from work might be all they need to recharge their batteries.
Others may require more extensive measures like talking with a therapist or seeking new career opportunities that align with their values and goals.
Coping With Unclear Direction Or Communication
Unclear direction or communication can be a significant obstacle in a fast-paced workplace. It is essential to have clarity and understanding of the tasks and what is expected for successful completion.
One strategy for coping with unclear directions or communication is to ask questions. Seeking clarification from managers or colleagues can prevent misunderstandings and save time in the long run.
Another approach is documenting conversations and instructions, whether taking notes during meetings or sending follow-up emails summarizing discussions.
This ensures that everyone is on the same page and provides a reference point for future work.
Dealing With Feeling Overwhelmed Or Stressed
Feeling overwhelmed or stressed is expected in a fast-paced work environment. Managing these feelings effectively is essential to avoid burnout and maintain productivity.
One way to deal with this is by taking breaks during the day, stepping away from the computer or phone, and doing something calming like breathing exercises or walking outside.
Communicating with colleagues and managers about workload and deadlines can also help alleviate stress. Knowing your limits and asking for support when needed is critical in maintaining a healthy balance in a fast-paced workplace.
Conclusion
Navigating a fast-paced workplace is essential for success in today's job market. With the right skills and mindset, anyone can thrive in this environment.
It requires prioritizing tasks, managing time, staying organized and focused, communicating clearly and assertively, coping with stress, and taking breaks when necessary.
Additionally, it involves being proactive and taking the initiative, staying flexible and adaptable to change regularly, and building solid relationships with colleagues while continuously learning and developing our skills.
Overcoming common challenges such as burnout or unclear communication is also essential.
FAQs:
What are some strategies for staying organized and managing time in a fast-paced workplace?
To stay organized and manage your time effectively in a fast-paced workplace, prioritize tasks based on their importance and deadline, break large projects into smaller tasks, use calendar tools to schedule deadlines and meetings, minimize distractions by disabling notifications during focused work periods, and delegate tasks when possible.
How can I handle the stress of working in a fast-paced environment?
To better handle stress from the demands of working in a high-speed work area: take breaks as needed throughout the day to regroup; practice mindfulness techniques such as deep breathing or meditation exercises; engage with supportive colleagues who can offer encouragement or support during trying times; make sure you're taking care of yourself physically by getting enough sleep, exercise regularly & consuming healthy diets with balanced nutrients.
Is multitasking a practical approach to managing various responsibilities at once?
Multitasking may seem efficient for tackling numerous responsibilities simultaneously – however, studies indicate it could be more productive. Switching frequently between multiple tasks diverts attention away from each item, resulting in lower productivity levels overall having less meaningful progress than focusing on one job all at once before moving on to the next task.
Developing skills that enable you to remain successful while navigating within high-stress environments involves self-reflection as well as guidance/ mentorship from more experienced peers/managers: Develop clear communication protocols so everyone is on the same page (i.e., email vs. slack); continually learn about new technologies & industry standards relevant towards improving efficiency/productivity over time frame necessary for key goals/milestones; cultivate relationships w/team members' foster collaboration which builds trust among individuals who depend upon one another's expertise.