Disclaimer: We sometimes use affiliate links in our content. For more information, visit our Disclaimer Page. 
Ensuring the position is a good fit for you is essential when looking for a job. There are many things to consider when making this decision, such as your skills, interests, and goals.
This article will discuss how to know a job is right for you. We will also provide tips on how to choose the career path that's right for you and how to get a new job!
10 Ways how to know a job is right for you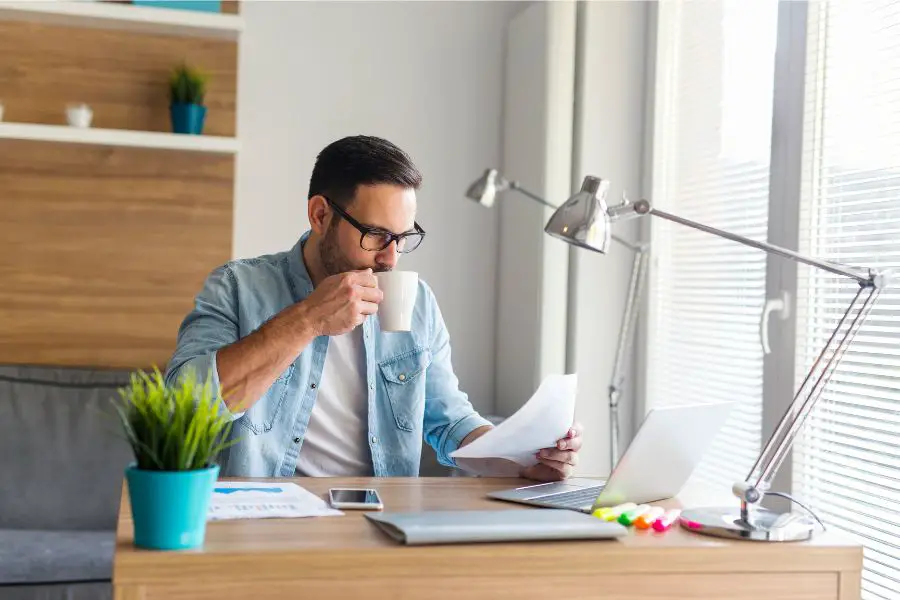 These are just a few things to remember when determining if a job is right for you.
1. Consider your skills and interests
When looking for a job, it's essential to consider your skills and interests. Do you have the necessary skills for the position? Are you interested in the company's product or service? If not, you may want to keep looking.
The right job for you makes use of your skills and interests. You're likely less engaged with your work if you're not interested in the company's product or service.
And if you don't have the necessary skills for the position, you may struggle to keep up. Considering your skills and interests can help you find a job that's a good fit for you.
2. Research the company
When you're job hunting, it's essential to do your research on potential employers.
This research will help you decide if the company is a good match for your skills and goals. Plus, it will give you a leg up in the interview process by demonstrating that you're knowledgeable about the company and its culture.
3. Determine if the position will help you meet your goals
It's essential to think about your long-term goals when you're considering a new job. You want to ensure that your position will help you meet your goals. If it's not, it may not be the right job for you.
You need to ask yourself if this is the dream job you've always wanted. If not, you may want to keep looking. The most important thing is finding a job that makes you happy and helps you meet your goals.
Otherwise, you'll just be stuck in a job that you don't like and won't be able to advance in your career.
4. Consider the work-life balance
It's no secret that finding a job can be a stressful process. In addition to finding a position that matches your skills and experience, you also need to consider the work-life balance.
Will this position allow you to have a healthy work-life balance? If not, you may want to keep looking. Maintaining a good balance between work and personal life is essential for maintaining mental and physical health.
Finding a position that offers both a good salary and a work-life balance can be challenging, but it's essential to consider your options before deciding.
5. Evaluate the salary and benefits
When considering a new job, it's essential to look at the whole package – not just the salary. Sure, you want to know that you'll be paid fairly for your work, but you also need to consider the other benefits of the job.
What kind of health insurance does the company offer? Are there any retirement savings plans? What about other perks, like free parking or a gym membership? All these factors can make a big difference in your overall satisfaction with the job.
So when evaluating a new position, consider all the benefits – not just the salary.
6. Consider the company culture
Company culture is often one of the most important factors when searching for a new job. After all, you'll be spending most of your time at work, so finding an environment where you feel comfortable and can see yourself fitting in is essential.
To determine if a company's culture is right for you:
First, read through the company's website and any available online reviews.
See if you can find any articles that discuss the company's culture.
If possible, talk to someone who currently works or has worked for the company.
7. Level of responsibility
It's essential to find a job related to your field of study, as this will help you sharpen your skills and gain experience in your chosen field.
However, you may have to start an entry-level position and work up the career ladder. This is not necessarily bad, as it can allow you to learn new skills and gain valuable experience. 
8. Ask yourself if you can see yourself in the role long-term
It can be easy to get caught up in the excitement of a new job offer, but it's essential to step back and evaluate whether or not the role is a good fit for you.
One key question is whether you can see yourself in the position long-term. If not, it may be best to keep looking. While a short-term gig can be a great way to gain experience, you want to make sure you're growing your career in a direction that you're passionate about.
9. Job security
When you're just starting in your career, you may not be thinking about jobs that will last into your retirement years. However, it's still essential to assess your risk tolerance, even if you only expect to stay in a job for a few years.
So, even if you're not looking for a long-term career, you should still consider the stability of the company you're working for. By taking some time to think about these factors, you can increase your chances of finding a job that will suit your needs, both now and in the future.
10. Must consider the location
Job postings in major metropolitan areas can be very tempting, especially if you want to launch your career.
But it's important to remember that the cost of living in cities like Boston, New York, Los Angeles, and San Francisco is significantly higher than in other parts of the country. If you're not careful, your paycheck will be quickly gobbled up by rent, food, and transportation costs.
So, if you're looking to save money, it's worth considering locations with a lower cost of living, such as Atlanta, Minneapolis, or Austin, Tex.
Related: How To Introduce Yourself to Your New Boss
How to do better career planning?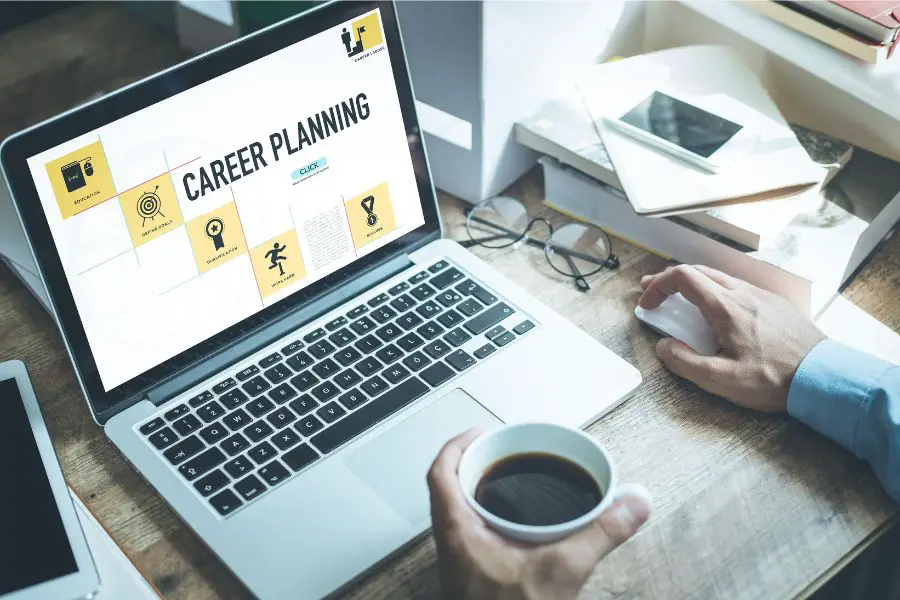 It's never too early to start thinking about your career. But, even if you're starting your job, you may want to make a change at some point.
But don't worry – here are some tried and true methods for finding the right career direction for you.
• Attend career counseling sessions
Many people find career assessments to be very helpful, especially when they are considering a career transition. This is because these tests can provide an objective view of your interests, abilities, and personality.
They can also help you narrow your career options as you undergo career exploration. In the hands of a trained counselor or coach, professional career tests can help you make decisions about your careers and jobs.
• Make a list of your interests and skills
When exploring new career options, reflecting on your current role and what you do (and don't) enjoy about it can be helpful. By taking stock of your current skill set, you can better understand which careers might be a good fit for you.
Likewise, if you're not enjoying the day-to-day tasks of your current job, making a list of the things you don't like can help narrow your search for a new career.
Reflecting on your technical skills and personal preferences can help you take the following steps toward finding your ideal role.
• A variety of fields should be considered
If you've been in the workforce for a while, you might think that your only option is to stay in the same field. However, it's essential to approach your career with curiosity and an open mind.
You never know where your skills might be helpful and appreciated. In addition, it can often be an asset to bring an outside perspective to an organization.
Several resources can help you explore career ideas. The U.S. Bureau of Labor Statistics is an excellent place to start. They provide information on fields predicted to have open jobs shortly. In addition, sites like Glassdoor and Indeed feature salary comparisons and reviews for specific positions and companies.
Ultimately, taking the time to research your options can help you make the right decision.
• Consider freelancing or volunteering
Volunteering or freelancing is a great way to learn about a company's inner workings and learn new skills.
For example, volunteering with one can better understand the organization's needs if you're interested in working for a nonprofit. Or, if you're looking to be more creative in your career, freelancing for a company may allow you to try out new ideas and projects.
Either way, volunteering or freelancing is a great way to gain valuable experience and knowledge about a potential employer.
• Get training and update your resume
Assessing whether you need additional training or credentials for the specific job is essential when narrowing your career paths.
Review the job posting carefully, paying attention to the "Requirements" and "Education and Experience" sections. On-the-job training may be an option, but some employers prefer candidates who already possess the requirements.
When you have determined that you are qualified for the chosen career path, update your resume to reflect your relevant strengths and skills.
Job postings can help understand what employers are looking for in candidates. With this information, you can tailor your resume to increase your chances of being called in for an interview.
• Assess your performance
Reflecting on who you are as a person can help you choose a career. Consider your personality traits and the type of work environment you would feel most comfortable in.
For example, if you're shy, working in an office where you have to interact with customers all day might not be the best fit for you. On the other hand, working in a team where you have to rely on others might not be the best option if you tend to be more independent. Thinking about the type of work you enjoy can also be helpful. 
• Conduct informational interviews
A great way to learn about possible careers is to set up informational interviews with people already in the field.
LinkedIn is an excellent resource for finding job titles and connecting with people in your network.
Once you've found someone willing to chat, use the interview as an opportunity to learn as much about their job as you can. Ask about their responsibilities, what they enjoy about the job, and any challenges they face.
This is a chance for you to get first-hand information about the reality of the job, rather than relying on assumptions or second-hand accounts.
• List jobs that you'd like to explore
There are so many options, and it can be challenging to know where to start. However, one of the best ways to narrow down your job search is to consider what you are looking for in a job.
Once you better understand yourself and your job needs, you can start looking for jobs that sound interesting and desirable to you.
Additionally, don't forget that job titles don't always accurately represent the job. While a job title might not sound ideal, the job description might perfectly match your skillset and preferences.
• Make a short list after doing research
Once you have identified some potential career paths, it is time to start researching each in more detail.
An excellent place to start is by looking at salaries. This will help you to get an idea of what you can expect to earn in each job and whether it meets your expectations.
You should also research the job requirements in detail, determining whether you are eligible for the role.
Also, it is essential to consider growth opportunities when choosing a career. You want to make sure that there is potential for progression and development in the role so that you can continue to learn and advance your career over time.
• Job Outlook
Job seekers often overlook the importance of research when looking for a job. Yes, having the right qualifications is essential, but you also need to know about the job market. This includes data like hiring trends and job growth.
For example, let's say you're interested in a job that requires a lot of experience. Finding a job that meets your requirements may be challenging if the industry struggles.
• Keep learning and growing
It's normal to feel some anxiety when starting a new job. After all, you're stepping into unknown territory, and it will take some time to get acclimated. The key is to focus on the aspects of the job you enjoy and not get too bogged down in the details.
It's also important to keep track of your goals to stay on course if you start to feel lost. And finally, don't be afraid to pursue your interests. If there's something you're passionate about, find a way to integrate it into your work.
Following these tips can make the most of your new career and set yourself up for success.
Related: Examples of Organizational Skills
What are the steps to finding a new job?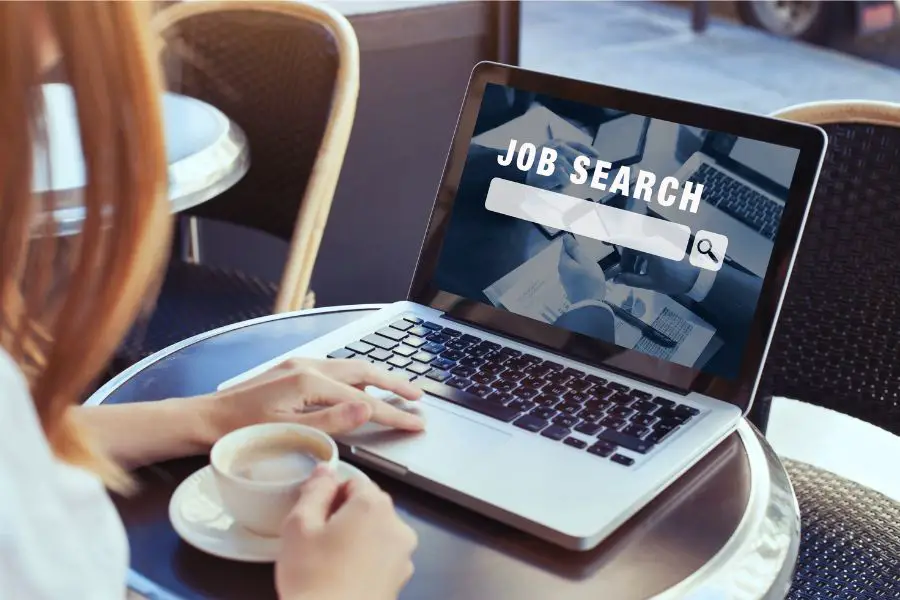 The job search can be intimidating, mainly if it's been a while since you've updated your resume or interviewed for a job.
However, you can do a few things to make your job search smooth and successful. 
→ Make yourself stand out
If you're hoping to change careers, you may find yourself applying to jobs that receive hundreds of qualified applicants.
In this case, it's vital to employ strategies to help your resume stand out. Many hiring managers want to fill a vacancy as quickly as possible, which is often a plus in getting your application in early.
You can also highlight your career journey in your resume and cover letter. Discussing the skills you've acquired and how they've prepared you for the role can help show that you're the right fit for the job, even if you don't have direct experience in the field.
By taking a little extra time to tailor your application, you can increase your chances of getting an interview and landing the job you want.
→ Take steps to combat impostor syndrome
Trying to figure out how to change careers can be daunting, and studies have shown that as many as 70% of people have suffered from impostor syndrome at some point in their lives.
Impostor syndrome is a general feeling of inadequacy that includes an inability to assess your skills and competencies properly.
If you're feeling unsure about making a career change, it's essential to focus on your past professional accomplishments and give yourself credit for as far as you've gotten. More than likely, you already have the qualifications for a new job.
→ Be prepared for the hiring process
The job market is constantly changing, and new opportunities can open anytime. As a result, it's essential to be prepared for every step of the hiring process.
In addition to having an updated resume, you should also take the time to familiarize yourself with the other steps in the process, such as screening interviews and full interviews with a supervisor.
By being prepared for each step, you'll be better positioned to land your desired job.
→ Seek out a new job while still employed
Many people stay in jobs they hate for too long simply because they fear the unknown. But most people don't realize that looking for a new job while still employed can be the most brilliant move you can make.
You have stability and security when you have a job, which means you can afford to be choosier about your next career move.
You can take the time to research different companies and positions, and you can interview prospective employers without feeling desperate or pressured.
Related: List of Skills for Resume
Conclusion
So, how do you know if a job is right for you? There are many things to consider, such as your skills, interests, and goals. The following ten tips will help you decide whether or not a job is a right fit for you.
If you're looking for a new job, don't forget to check out our tips on choosing the career path that's right for you! Do any of these tips resonate with you? Let us know in the comments section below.
FAQ
How do you know if a job isn't right for you?
A few key signs can help you tell if a job isn't right for you:
• It may be time to move on if you constantly feel stressed or anxious at work.
• If you're not allowed to learn and grow in your role, it could be time to look for a new challenge.
• It might be time to explore other options if you're unhappy with your day-to-day routine.
What does it mean to work for a company?
Working for a company means being a part of something more extensive than yourself. It means being dedicated to a common goal and collaborating with others to achieve it. It can be advantageous, both financially and emotionally, to see your hard work contribute to the success of an organization.
How do you know if a company is not suitable for you?
A company is not suitable for you if it doesn't feel like a fit. If you're constantly struggling to keep up with the deadlines, the expectations are too high, or you're just not enjoying your work, it's time to start looking for another company. You should also assess whether the company's values align with your values.
What are the benefits of working in a company?
There are many benefits to working in a company. Some include:
• A regular paycheck
• The opportunity to learn and grow professionally
• Benefits such as health insurance, 401k, and other retirement savings plans
• Paid vacation days and sick leave
• Opportunities for advancement within the company
How do you decide if a new job is for you?
Only you can honestly know if a new job is right for you. Listen to your gut, and don't let anyone talk you into something that doesn't feel right. Think about what you want in a job, and make sure the new position meets those criteria. If it's a close call, ask yourself if you would rather have the known's security or the unknown's adventure.
What do you call working for a company?
You can call it a job, or you can call it a career. A career is a long-term position with a company where you hope to progress. A job is typically a short-term position with no room for advancement. You may also refer to it as working for someone else, being employed by someone else, or having a boss.