Disclaimer: We sometimes use affiliate links in our content. For more information, visit our Disclaimer Page. 
Completing your interview in today's competitive job market is crucial to landing the desired position. The key to success lies in preparation, confidence, and showcasing what makes you the ideal candidate.
This guide offers valuable insights from research and common questions to mastering interview skills and navigating tricky situations.
Key Takeaways
Research the company and position thoroughly before the job interview to demonstrate genuine interest and connect your skills with their needs.
Practice common interview questions beforehand and have examples/metrics ready to showcase your skills and experiences.
Emphasize your unique qualities and passion for the job, and use confident body language to make an excellent first impression during the interview.
Addressing the interviewer by name is crucial as it demonstrates respect and effort and helps establish rapport.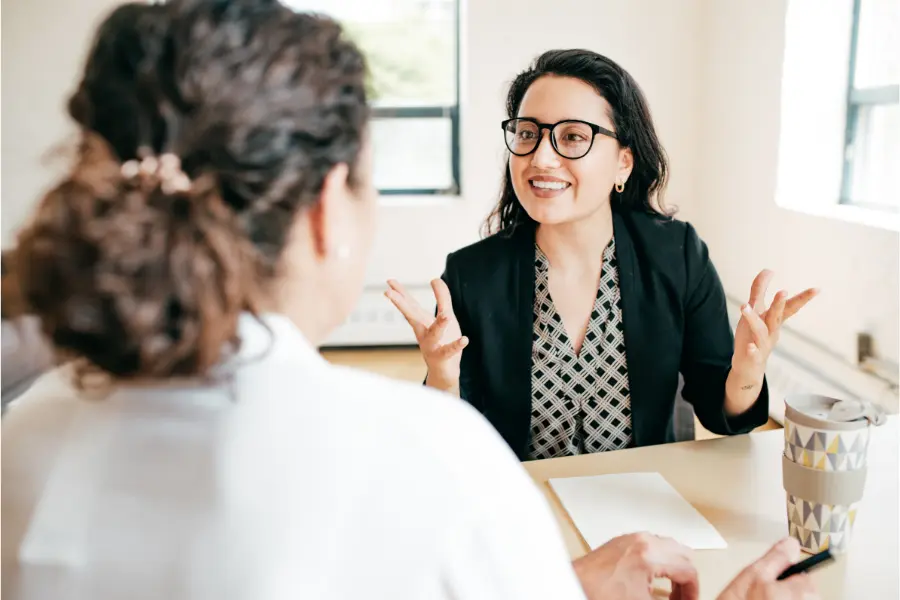 Preparing For The Job Interview
Research the company and position, practice common interview questions, choose appropriate attire, plan your route and arrive early, bring copies of your resume and references, and prepare your elevator pitch to ensure you are fully prepared for the job interview.
Research The Company And Position
Conducting thorough research on the company and position you are applying for is essential for your job interview. This demonstrates to the interviewer that you have a genuine interest in their organization and gives you a better understanding of what they expect from candidates.
Start by examining the company's website, focusing on its mission, values, products or services, recent accomplishments, or news articles.
Another crucial component of researching involves diving deep into the specifics of the job role itself. Analyzing the job description thoroughly will provide insight into the expectations and priorities associated with this position.
Take note of any keywords or phrases mentioned repeatedly, as these may be significant areas for discussion during your interview. Additionally, seek anecdotal insights from current or former employees via professional networking sites like LinkedIn to gain invaluable insider perspectives about workplace culture and day-to-day responsibilities.
Practice Common Interview Questions
Preparing for common interview questions is essential to ace your job interview. Practice your answers beforehand to articulate your responses during the interview confidently. Here are some commonly asked interview questions:
Tell me about yourself.
What are your strengths and weaknesses?
Why do you want to work for this company?
Can you tell me about a time when you overcame a challenge?
What are your long-term career goals?
How do you handle stress or difficult situations?
Remember also to have examples and metrics ready to showcase your skills and experiences. This will help demonstrate how you can add value to the company and stand out from other candidates.
Choose Appropriate Attire
It's important to dress appropriately for a job interview, as your appearance is the first thing the interviewer notices about you. Your clothing should be clean, pressed, and fit well.
For corporate jobs where a suit is expected, choose a conservative navy, black, or gray suit with a white or light-colored shirt underneath. For jobs in industries such as creative design or tech startups where the dress code may be more flexible, you can opt for business casual attire such as nicely tailored pants with a blouse/shirt or a knee-length skirt with a blazer/polo shirt.
Plan Your Route And Arrive Early
Your interview preparation should include planning your route and arriving early to ensure you arrive on time. Being punctual is crucial in making a good impression on the interviewer.
Consider possible traffic, delays, parking, and public transport schedules if needed.
To plan effectively, check out multiple routes using Google Maps or other navigation apps to choose the best one. You don't want to arrive sweaty or flustered due to rushing around after getting lost on the way there! Also, consider weather conditions and roadwork disruptions if they affect your journey time.
Bring Copies Of Your Resume And References
Bringing copies of your resume and references is a critical preparation step for a job interview. Not only will this demonstrate your organizational skills, but it also shows that you are proactive and have done your homework.
Make sure to bring extra copies in case multiple interviewers or unexpected circumstances arise. You can also use the extra copies as a reference when discussing specific parts of your experience.
Overall, bringing copies of your resume and references is a simple yet crucial detail that can set you apart from other candidates in the interview process.
Prepare Your Elevator Pitch
Preparing your elevator pitch is an essential part of acing a job interview. An elevator pitch is a concise and compelling introduction highlighting your skills, accomplishments, and career goals in approximately 30 seconds or less.
It should be tailored to the job you're applying for and showcase what sets you apart from other candidates. Practice confidently delivering your elevator pitch so that it comes naturally during the interview.
For example, if you're interviewing for a marketing position, mention previous campaigns you've worked on and their results to showcase your expertise in this area.
Mastering The Interview Skills
Mastering the art of interviewing requires confident body language, emphasizing your unique qualities, and demonstrating a passion for the job; find more tips on acing your following interview in this comprehensive guide.
Make A Good First Impression
Making a good first impression is essential to acing a job interview. The initial moments of an interview are critical, as they often set the tone for how the rest of the conversation will go.
To ensure you're starting on the right foot, arrive early and be well-prepared with a smile and positive attitude.
Additionally, when meeting your interviewer, greet them warmly with eye contact and a firm handshake (or appropriate virtual greeting). Show genuine interest in their work or role within the company, and let them know why you're excited about this unique opportunity.
Use Confident Body Language
Confident body language is an essential component of acing a job interview. Establishing eye contact and maintaining good posture throughout the interview is essential, as this conveys professionalism and confidence.
Leaning forward slightly indicates interest in the conversation, while sitting back can be interpreted as disinterest or lack of engagement.
It's also crucial to pay attention to nonverbal cues from the interviewer as they may reveal important information about their thoughts or feelings towards you. For instance, if they lean forward when listening to you speak, it indicates that they are interested in what you have to say and vice versa.
Address The Interviewer By Name
Addressing the interviewer by name is a simple but crucial part of making an excellent first impression. Using their name shows that you have researched and are engaged in the interview process.
If you don't know the interviewer's name beforehand, it's okay to ask when you arrive. During the interview, use their name occasionally in conversation without overdoing it.
Not using their name could signal the candidate's lack of interest or effort. In addition to using their name, try to make eye contact and show genuine interest in what they're saying throughout the conversation.
Emphasize Your Unique Qualities
When it comes to acing your job interview and standing out from other candidates, it's essential to emphasize your unique qualities. This means highlighting the skills, experiences, and personality traits that suit you for the position.
Start by identifying what sets you apart from others in your field.
During the interview, provide specific examples that showcase these qualities. Use metrics whenever possible to demonstrate how your contributions have impacted previous projects or teams.
Additionally, feel free to highlight any relevant extracurricular activities or volunteer work demonstrating your passion for the industry or community involvement.
Demonstrate Your Passion For The Job
You must show your passion for the role and the company during the job interview. This can set you apart from other candidates who might be less enthusiastic.
One way to demonstrate your passion is to talk about specific examples of how you've gone above and beyond in previous roles or projects related to the position you're interviewing for.
Another way to showcase your passion is by asking thoughtful questions about the company's culture, mission, and values. This shows that you are genuinely interested in working for the organization and have done your research beyond just the job description.
It's also essential to maintain a positive attitude throughout the interview, expressing enthusiasm and gratitude for being allowed to speak with them about their open position.
Learn how to confidently handle tricky interview situations such as discussing salary, dealing with nerves, and addressing gaps in your resume.
Discussing Salary And Benefits
During a job interview, it is common for the interviewer to ask about salary expectations and benefits. It's important to research industry standards beforehand to provide a reasonable range based on your experience and qualifications.
You should also consider any additional perks or benefits that may be negotiable, such as flexible work hours or remote work options. However, avoid discussing compensation too early in the interview process as it might portray you as someone more interested in the salary than the actual job.
Instead of providing an exact figure right away, try focusing on establishing yourself as a strong candidate first before negotiating salaries and other benefits.
Handling Inappropriate Questions
During a job interview, you may encounter inappropriate or discriminatory questions. While it can be uncomfortable, handling these situations with grace and professionalism is essential.
For example, if an interviewer asks about your marital status or plans for having children, you could redirect the conversation by emphasizing your qualifications and fit for the job.
Alternatively, suppose the question is genuinely offensive or illegal, such as about your religion or sexual orientation. In that case, you can decline to answer and consider reporting the incident to HR or a higher authority.
Dealing With Nerves
Nerves are a common experience in job interviews, but they can also be detrimental if not managed properly. To deal with nerves, preparing thoroughly by researching the company and practicing your responses to common interview questions is essential.
Another strategy is to visualize success and imagine yourself acing the interview. This positive visualization can help build confidence and reduce anxiety.
Finally, remember that mistakes happen in interviews, and it's okay to make them. What matters most is how you recover from them.
Addressing Gaps In Your Resume
If you have gaps in your resume, addressing them in the job interview is essential. Be honest about the reasons for these gaps, whether they were due to personal reasons or job market conditions.
Highlight any skills or experiences gained during that time and how they are relevant to the position you're interviewing for.
It's also good to show that you've been proactive by taking courses or volunteering in related fields during this gap period. This demonstrates your commitment to continuous learning and staying current with industry trends.
Explaining Your Weaknesses
During a job interview, it's inevitable that you'll be asked about your weaknesses. Rather than trying to dodge the question or giving generic answers such as "I work too hard," use this opportunity to showcase your self-awareness and how you're actively improving yourself.
Choose an area where you have already addressed the weakness and provide concrete examples of your progress. For instance, if time management is one of your weaker areas, share how you've started using productivity tools or techniques like setting priorities or delegating tasks effectively to overcome this challenge.
Following Up After The Job Interview
After the job interview, remember to send a thank-you note or email, ask about the next steps in the hiring process, and stay in touch with the company; read on for more tips on standing out from other candidates.
Send A Thank-You Note Or Email
After a job interview, following up with a thank-you note or email is crucial. This shows appreciation for the interviewer's time and consideration and gives you another opportunity to highlight your qualifications and enthusiasm for the position.
Ask About The Next Steps In The Hiring Process
After the interview, it's essential to ask about the next steps in the hiring process. This shows your enthusiasm for the position and allows you to gain insight into when a decision might be made.
Inquire about whether there will be additional interviews or assessments, and if so, what they may entail.
During the interview, take note of any timelines or deadlines mentioned by the interviewer regarding their hiring process. If they didn't mention this during your conversation, feel free to discuss it at the end of your meeting.
Stay In Touch With The Company
After the interview, keeping in touch with the company is essential. It shows your continued interest in the job and can help keep you on top of your mind for potential openings.
One way to do this is by sending a thank-you note or email within 24 hours of the interview.
Another way to stay connected is by asking about the next steps in the hiring process during your follow-up communication. This information can give you an idea of when to expect further communication, which will help manage expectations.
Additionally, consider connecting with relevant individuals at the company on social media platforms like LinkedIn or Twitter, as it allows them to get a sense of your professional background and knowledge even before any formal offer has been made.
Consider Additional Follow-Up Actions
After your job interview, it's important to continue showing interest in the position and company. One way to do this is by sending a thank-you note or email within 24 hours of the interview.
In addition, ask about the next steps in the hiring process and when you can expect to hear back from them. If they don't give you a specific timeframe, following up with an email or phone call after a week is okay.
Finally, consider connecting with your interviewer on LinkedIn or other professional social media platforms to build relationships and stay top-of-mind for future opportunities.
Conclusion
A job interview is more important than ever in today's competitive job market. Following our ultimate guide, you can prepare for success and stand out.
From researching the company to mastering tricky questions, we've provided comprehensive tips to help you shine during your interview. Remember, preparation and confidence are critical factors in impressing your potential employer.
So take some time to study these guidelines and practice your skills before your following extensive interview.
FAQs
What are some common interview questions I should prepare for?
Some common interview questions include: Can you tell me about yourself? Why do you want to work here? What are your strengths and weaknesses? Describe a difficult situation you faced and how you overcame it.
How can I make sure my resume stands out from the rest?
To make your resume stand out, ensure it is formatted with legible fonts, includes relevant keywords and quantifiable achievements, and highlights any unique experiences or skills that set you apart from other candidates.
Should I research the company before the interview?
Yes, researching the company before an interview demonstrates your genuine interest in working there and allows you to ask informed questions during the interview. It also helps to tailor your answers to align with their values and mission statement.
Is it appropriate to ask about salary during an interview?
It is more appropriate to wait until receiving a job offer before discussing salary details, as bringing it up prematurely may give off the impression that compensation is your main priority rather than being passionate about the job opportunity itself.