Disclaimer: We sometimes use affiliate links in our content. For more information, visit our Disclaimer Page. 
From my experience, nothing is more unnerving than walking out of a job interview and dwelling on what could have gone wrong. That's why it's reassuring to identify some signs that the interview went well. Based on a source, I found 15 indicators that you rocked the interview and will likely get the job.
Let's jump into it and see if any of these indicators align with how your interview went.
15 Signs You Will Get the Job After Interview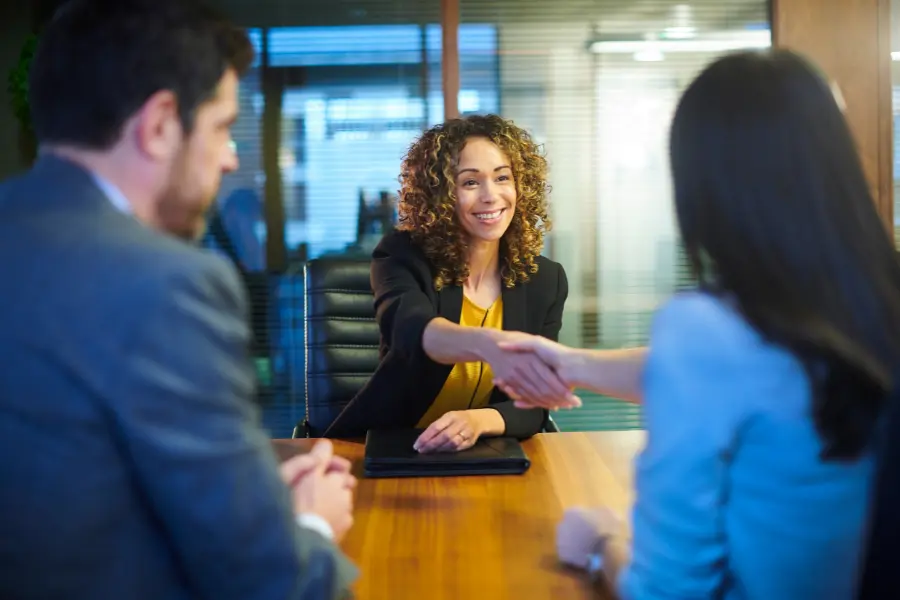 Here are 15 signs that guarantee you will get the job after an interview.
The Conversation Turns Casual
During the interview process, one potential sign of a positive outcome could be when 'the conversation turns casual.' This may suggest that you and the interviewer have established comfortable communication, which is often a positive indication. This can signal that they appreciate your company culture and aim to build rapport with interviewees with qualities matching their values.
This change in tone could imply that the interviewer sees you as a viable candidate for the role. It also signals that the interviewer is relaxed enough to let their guard down and offer more candid insights about their expectations from someone taking on this role.
Maintaining professionalism throughout the interview is essential, even if you sense this change. Still, adjust your communication style to suit your perceived level of connection and establish an open exchange of ideas.
Interestingly, while this sign can indicate success in face-to-face conversations, it may be challenging to gauge accurately in remote or phone interviews due to limited body language cues and eye contact. Therefore, keep yourself alert for other signals like a vocal variation or interest shown in your career goals during these interactions.
Lastly, missing out on exploring a casual conversation during an interview could result in missed opportunities for further growth with new networks. Therefore, always remain attentive throughout the meeting to secure a position at your dream company.
Start Saying "When" Instead of "If"
When recruiters use "when" instead of "if," it indicates a positive sign for your interview, it signifies that recruiters consider you a potential candidate for the job and are optimistic about your skills. With this language change, they show more confidence in their abilities to perform in the role and contribute to their organization's growth.
This subtle shift in language is often seen when recruiters have determined that you meet the qualifications for the position. Additionally, they may start talking about how your skills align with their company values and mission. This change can be observed at any stage of the interview process, indicating that you have made a positive impression.
In combination with other signals such as direct contact information and follow-up communication, recruiters using "when" instead of "if" solidify an excellent chance at being offered the position. After all, they anticipate working with you as part of their team.
You may not hear it, but their eyebrows gave you a standing ovation.
Recruiter Shows Positive Nonverbal Cues
How a recruiter communicates through body language during an interview can speak louder than words. If a recruiter shows positive nonverbal cues, they are interested and engaged in the conversation. This could include leaning forward, making eye contact, nodding, or smiling.
These cues indicate that the recruiter is receptive to your words and open to learning more about you. It also suggests that you could be a good fit for the role and the company culture.
In addition to nonverbal cues, recruiters may ask follow-up questions to gain further insight into your skills and experience and discuss salary expectations. These are all signs that the interviewer considers you seriously for the position.
One unique detail that can signal positive nonverbal cues is if the recruiter offers a tour of the office or introduces you to other team members. This indicates they view you as a potential colleague and want to ensure you fit well within the team dynamic.
An accurate history about this topic involves a friend who had an interview where she felt she stumbled on some of her answers. However, after noticing positive nonverbal cues from the recruiter throughout the interview, such as active listening and genuine interest, she received a job offer shortly after her interview. These cues showed her that she conveyed enough valuable information to make a strong impression on the recruiter despite her missteps.
Asks You About Your Availability
During an interview, when the recruiter asks you about your schedule and availability, it is a positive sign that they are interested in potentially offering you the position. This question indicates their desire to determine if your schedule can be adjusted, especially if the role requires working outside regular work hours or on weekends.
Once you have answered this question, the recruiter may begin discussing possible start dates and orienting them around your availability. This means they have started considering you a serious contender for the job. It also showcases their enthusiasm about having you on their team.
A pro tip would be ensuring that your availability aligns with the company's expected time frame to avoid miscommunications or misunderstandings. Also, prepare a response acknowledging their flexibility while emphasizing your commitment and dedication to the role.
You might want to start practicing your team player skills now.
Offers You to Meet The Team
During an interview, when the hiring manager or the recruiter offers you to meet the team, it is an excellent sign that your interview went well. It implies they are pleased with your performance and interested in progressing with your candidacy. Meeting the team can help you better understand the work culture and give you a glimpse of what it would be like to work for the company.
When recruiters offer and extend an invitation for you to meet the team, they are confident in their decision-making process and want to involve other members of the organization before making a final decision. It also shows they value collaboration and inclusivity, which can benefit employees.
However, meeting with the team does not guarantee a job offer. Instead, it means you have reached an advanced stage in the hiring process, where everyone involved takes extra steps to ensure their candidate selection is correct.
Pro Tip: When meeting with potential coworkers, ask thoughtful questions about their experience working in their role and for this company. Showing interest will demonstrate enthusiasm towards becoming part of their team.
Interviewer Indicates They're Impressed
During the interview, when the interviewer indicates they're impressed, it reflects a positive impression of your performance. Recruiters may show this non-verbally through body language or by asking follow-up questions. They may offer to introduce you to the team and discuss salary expectations and benefits. A firm handshake and prompt response to your follow-up are some other signs that could indicate an intense match. Additionally, offering a tour of the office indicates that you have made a good impression.
Reading nonverbal cues when interpreting a recruiter's thoughts during remote or phone interviews is also crucial. Even if it is impossible to gauge certain aspects through body language, applicants can still pick up on verbal cues that indicate interest.
Unique job details or specific company information may also be discussed with candidates who made an excellent impression on recruiters. This may be done before scheduling additional rounds of interviews or setting up an offer.
The Interview Runs Longer Than Usual
Extended Duration of the Interview
Some encounters extend beyond the standard length during an interview, indicating that you may be a strong candidate. In these situations, conversation flows smoothly, and the recruiter may ask additional questions regarding your experiences and background. They may seek more details on how you can contribute to their company or ask if you have any concerns. These extra moments give them a clearer picture of your suitability for the position and indicate they are seriously considering your application.
In addition, it shows that the interviewer is invested in getting to know you better as a potential employee. They are keen on discovering your competence level and gauging your character and interpersonal skills, which are crucial when determining a good fit for their team.
Suppose they start talking about salary expectations, offering perks while discussing possible benefits, or inviting you to meet other team members after the interview. In that case, there is a good chance things went very well.
Looks like they're willing to pay for my sense of humor too!
Talks About Salary Expectations
During the interview, if the recruiter talks about your salary expectations, it is a positive sign that they are genuinely interested in offering you the job. This clearly indicates that they value your qualifications and experience and are willing to try to satisfy your requirements.
When recruiters discuss salary expectations, they want to understand your financial motivations and goals. This discussion helps establish whether there is a natural alignment between what you expect to earn and what the company can offer. It also signals transparency from both parties and sets clear expectations for job offers.
In addition to discussing salary, recruiters may mention other benefits like paid time off, health insurance contributions, or retirement plans as part of their offer package. Suppose the discussion around compensation extends beyond a basic conversation into details of additional perks and packages. In that case, recruiters want to entice you with more than just financial incentives.
Historically, negotiation of salary offers has been frowned upon for fear of seeming money-oriented. However, male candidates have appeared more comfortable requesting more extensive pay packages or negotiating compensation deals that exceeded their initial offer than female candidates. Therefore, discussions on compensation should be expected as part of informed candidate participation during recruitment processes.
Tries to Sell You on the Company
During an interview, the recruiter may focus on persuading you to choose their company over others. This is a positive sign that the recruiter tries to sell you on the company's benefits and unique offerings, making it stand out from competitors. In addition to discussing your qualifications and job responsibilities, recruiters usually emphasize the companies:
Culture
Work environment
Diversity policies
Career growth and learning opportunities
Employee benefits
This sales pitch can range from discussing perks like flexible scheduling or work-from-home options to highlighting how new hires are integrated into the team quickly and often given cross-functional exposure. Recruiters who try to sell you on the company go above and beyond simply screening for relevant skills; they take the time to make sure that candidates are excited about joining their organization.
It is rare for a recruiter NOT to try selling you on their company in any competitive application process.
Discusses Perks & Benefits With You
During an interview, if a recruiter or hiring manager begins to discuss the job's perks and benefits, it could be a positive sign that you are being strongly considered for the position.
The recruiter may explain the various benefits, such as health insurance or retirement plans, indicating they are considering your long-term employment with the company.
They may also discuss any unique perks the company offers, such as flexible working hours or opportunities for advancement.
In some cases, they might even estimate how much these benefits would be worth to you in monetary terms.
Pay attention to this conversation and engage actively with the recruiter when discussing what interests or excites you about these benefits. If they discuss how these offerings can benefit you in detail, they are invested in having you join their team. 
When recruiters discuss perks and benefits, they expect you could work for them long term. You must communicate your expectations clearly regarding benefits and compensation upfront. In doing so, both parties can save valuable time and resources in determining whether a mutual fit will exist. 
A successful candidate once shared her experience where she connected well during her interview with the hiring manager and was taken on a tour of the office, after which he discussed an entire package that included enough time off during holidays plus a competitive salary structure along with health insurance options which were perfect for her needs. 
Recruiter Asks You Follow-up Questions
After the initial conversation, recruiters might ask you follow-up questions to learn more about your skills and experience. This is a positive sign that you are being considered for the job. Recruiters may ask you about your experiences, preferences, or challenges in past roles.
If a recruiter asks you follow-up questions during an interview, it is critical to give detailed and thoughtful responses that showcase your abilities and make a good impression. This can help demonstrate your fit for the company culture and willingness to work hard towards achieving organizational goals.
It is important to note that recruiters might also ask follow-up questions via email or phone after the interview. Therefore, keep an eye on your inbox for such communications.
You're Given Direct Contact Information
When the recruiter or interviewer provides you with their contact information, it is a strong signal that you're given direct contact information.
This gesture means they want to keep in touch with you and are interested in progressing in the recruitment process. Having the interviewer's direct contact information also indicates that they value your time and feedback. This information makes it easier to thank them for the opportunity or follow up on any leads shared during the interview.
Additionally, having direct contact information allows you to continue building rapport with your potential employer. Following up after an interview shows a continued interest in the position and helps solidify a professional relationship between both parties.
If you receive direct contact information, make sure to utilize it wisely. Follow up promptly, asking relevant questions about the job without being pushy. Thank them for their time and reiterate your enthusiasm for the position. You can increase your chances of getting hired by utilizing this information positively.
It looks like they're eager to have you on board or just desperate for employees; it's a win-win.
Responds to Your Follow-up Quickly
When the recruiter responds to your follow-up quickly, it signals positive news. The timely response might indicate that they are interested and see your potential. They could also be trying to expedite the hiring process, meaning they want to fill the position as soon as possible. This form of enthusiastic communication can leave an impression on candidates and encourage further interest in the company.
It is crucial to maintain good contact with employers after interviews. Quick responses can lead to more opportunities or introduce professional connections for future job opportunities. Positive interactions could also result in future recommendations for work experience outside of the current role.
Some suggestions include sending a subtle thank-you note reiterating skills and qualifications relevant to the position or asking for more information on what was discussed during the interview. 
Another suggestion is starting a discussion regarding areas one could improve before beginning this position. These suggestions show initiative and enthusiasm towards potential employment while highlighting further opportunities for professional growth.
With a handshake like that, you'll be holding a contract soon.
Gives You a Firm Handshake.
The recruiter's body language can reveal a lot about the success of your job interview. A firm handshake from the recruiter symbolizes confidence and indicates that they are impressed with your performance. This gesture can be interpreted as a positive nonverbal communication cue that you have created a good impression on the interviewer.
Offering a firm handshake is an age-old tradition in any interview process that shows sincerity, strength, and professionalism. A firm handshake conveys trustworthiness and helps build stronger relationships, so recruiters use it to mark the approval of their candidates.
Not all cultures place the same importance on handshakes, so it's essential to understand cultural differences before reading into this gesture too much.
Sometimes, there may be other reasons for a poor or no handshake. For example, if the interviewer has arthritis or has a cold sore on their hand, they may avoid shaking hands altogether.
As such, while having the proper knowledge about recruiters' body language and what it signifies when giving firm handshakes is essential, it's only one piece of information – among many – that seasoned candidates can rely upon during their interview process.
Contacts Your References
One strong indication that the recruiter is impressed with your job interview performance is when they contact your references. This shows they are seriously considering you for the position and want to gather additional information about your skills, qualifications, and work experience. 
When a recruiter contacts your references, they seek confirmation that you would be a good fit for the company and can perform at a high level. This step in the recruitment process gives them insights into evaluating you as an applicant based on others' perspectives.
It's essential to have a list of polished and relevant references that reflect well on you as a candidate. Consider carefully enough who will give positive feedback about you and be ready to provide their updated contact details if needed.
Pro Tip: Make sure to reach out to your references before listing them on your resume or sharing their details with recruiters to confirm their willingness to provide positive feedback if contacted.
Actions speak louder than words, especially in interviews. Decoding nonverbal cues can give you a leg up in the job hunt.
Interpreting Nonverbal Cues
As a job seeker, I've always been fascinated by the hiring process and the various cues interviewers use to evaluate candidates. In this section, I want to focus on the nonverbal cues we often overlook during interviews. Specifically, we'll examine how body language can reveal important insights into a candidate's confidence, honesty, and engagement.
We'll also discuss how reading nonverbal communication is especially critical when interviewing remotely or over the phone. With the help of expert insights, we'll explore the significance of nonverbal cues in the interview process and how you can use them to your advantage.
The Importance of Body Language
Effective communication involves nonverbal cues and not just about what we say. These cues are significant in how the receiver perceives and interprets the message. The importance of body language in communication must be considered. It encompasses gestures, facial expressions, eye contact, posture, and more. Therefore, correctly understanding and interpreting body language is vital in relaying messages effectively.
In addition to verbal communication, body language can signal confidence and credibility during the interview process. A candidate's posture can show signs of self-assurance or nervousness that could convey a lack of confidence. Maintaining good eye contact while responding to questions indicates honesty and interest in the conversation.
Moreover, candidates should be mindful of their gestures as they might give off negative impressions that may affect their chances during an interview. For instance, fidgeting too much or leaning back on the chair might show disinterest or arrogance.
Body language plays a crucial role during interviews and in remote or phone interviews where visual cues are lesser. Candidates must focus on conveying their enthusiasm for the job through their tone of voice, appropriate pauses, and articulation.
Remote interviews make it harder to read body language but don't worry, we have tips for that too.
Reading Nonverbal Communication in Remote or Phone Interviews
Understanding Nonverbal Communication in Remote or Phone Interviews: Reading the verbal cues during remote or phone interviews can be difficult as body language is hard to read. However, there are still ways to discern nonverbal communication through tone and inflection. It is essential to actively listen and take note of changes in vocal patterns and pauses while responding.
Recruiters may utilize facial expressions such as smiling or nodding to indicate interest or agreement. Interviewees should also pay attention to the recruiter's voice, tone, and natural rhythm, which may offer insight into their comfort level with the conversation.
Additionally, it can be helpful for interviewees to ensure they are situated in an environment where they feel confident and comfortable. Dress professionally even if no video component exists; posture and tone of voice can make them feel more secure.
Considering all these factors, reading nonverbal communication skills can help understand how positively that interview went.
In real-life interviews, companies have acknowledged that a good handshake indicates self-confidence translated from a person's way of expressing himself now. This shows how vital non-verbal cues are in various interviewing styles, from remote to phone interviews.
Actions speak louder than words, but a tour of the office is a strong signal.
Offering a Tour of The Office
During the interview, offering a glimpse of the company culture and work environment by giving a tour of the office is a sign that you are considered for the job. A guided overview showcases the enthusiasm and willingness to visualize yourself in that position. Furthermore, it allows you to meet potential co-workers within the field.
Indicating that you're an excellent fit for the company's culture and business is another sign that could open opportunities during the hiring process. During this discussion, an offer could come up to have someone give you a walking tour around their offices. 
After being shown a glimpse of what's behind closed doors, if another discussion on salary occurs between yourself and the interviewer, they take things seriously.
The tour gives you time to see how people interact with one another in real-time as well as asses office type and setup. This observation will eventually help determine whether or not it's an environment where you would feel comfortable – working eight hours a day, five days per week.
A friend once told me about her experience going in for an interview; she was offered a walk-through of their offices (most companies skip this extra step unless they know they are interested in bringing that individual onto their team). The excursion gave her valuable insight into daily operations while simultaneously meeting potential future colleagues; needless to say – she got the position!
It looks like you and the company are a match made in heaven, not just because they have a foosball table in the break room.
Indicating You're a Good Fit
During an interview, there are several indicators that a recruiter uses to assess whether the candidate is suitable for the job. Indications of your fit include being asked follow-up questions about the position or company and being offered information about perks and benefits. 
Additionally, if the recruiter discusses salary expectations with you, they might consider you a good fit for their team. Furthermore, offering a tour of the office indicates that they want to allow you to familiarize yourself with the environment, which is a good sign.
In addition to verbal cues, nonverbal communication provides insight into how well you're perceived as a candidate. For instance, recruiters who show positive body language, such as smiling or nodding, indicate interest in what you're saying. Similarly, if a handshake is firm and friendly at the end of an interview, this indicates that there's mutual respect.
Lastly, if recruiters offer feedback before ending the interview or follow up quickly after it's concluded shows that they're impressed with your qualifications and suitability for the role. Consequently, it also suggests that you've indicated you're a good fit through your background and skills.
Conclusion
With 15 Signs You Will Get the Job After Interview as the reference data, the article provides excellent insights on determining the likelihood of being hired. Analyzing the various signs can predict their chances of securing the job. Moreover, the article helps identify the critical areas during the interview process that could be pivotal in the selection process.
Reviewing the article before attending an interview to assess your chances of success would be advantageous.
FAQs
What should I do if I feel uncertain after an interview?
Feeling uncertain after an interview is common, but it can be unnerving. If you don't receive immediate feedback from the recruiter, there are a few ways to predict how they feel about you. Look for subtle signs such as a conversational tone, positive nonverbal cues, and follow-up questions. However, remember that there is no guarantee of getting a job offer.
Why is it a good sign if the recruiter uses "when" instead of "if" during the interview?
Recruiters generally speak in conditional language during an interview, using phrases like "if you join here." But if a recruiter is impressed and wants you to join the organization, they may subconsciously switch to using "when you join here." This subtle change in wording is a good sign that you will likely get a job offer.
Is it a good sign if the recruiter offers to meet the team?
If a recruiter thinks you are a good fit for the position, they may take the extra effort to give you a tour of the office and introduce you to potential team members. This is a sign that they see you as an excellent cultural fit for the organization and are considering you for the job.
Why is it essential for the recruiter to ask about my availability and timeline?
The recruiter's concern about your availability and schedule usually comes up after they have determined you are a strong candidate. If they ask about your availability during the initial interview, it's a sign that you will be a good fit for the position and may offer you the job.
What does it mean if the interview runs longer than usual?
The interviewer is there for business and only has a little spare time to give to a candidate. But if the interview exceeds the set timeline, it's a sign that they see your potential and want to know more. This can be a good indication that you will receive a job offer.
Why is it a good sign if the interviewer indicates they're impressed?
Compliments are rare in job interviews since interviewers try to assess candidates naturally. However, if the interviewer is genuinely impressed with your skills and experience, they may indicate it or tell you directly. Positive feedback like this can signal that you will get the job.