Disclaimer: We sometimes use affiliate links in our content. For more information, visit our Disclaimer Page. 
Life's unpredictability sometimes intervenes in even the most carefully laid plans, and job interviews are no exception. Understanding that time is a valuable commodity, it's essential to identify a good reason to reschedule an interview.
Circumstances can arise that necessitate a shift in schedules, but knowing the reasons to reschedule an interview that are considered legitimate and professional is key to maintaining a positive rapport with potential employers. This introductory guide will provide you with tips for rescheduling an interview that ensures you handle the situation with tact and respect for all parties involved.
Whether you're facing an unforeseen commitment, a health-related issue, or an emergency, it's crucial to communicate effectively and clearly. By doing so, you not only exhibit professionalism but also demonstrate your value as a potential future employee who respects the time and processes of the hiring company.
So, before you pick up the phone or draft that email, let's delve into the nuances of when and how to reschedule an interview without compromising your first impression.
Key Takeaways
Identify legitimate and professional grounds for when to reschedule an interview.
Utilize effective communication strategies as critical tips for rescheduling an interview.
Ensure delivering a good reason to reschedule an interview that clarifies the necessity of the request.
Maintain a positive relationship with your potential employer by following rescheduling etiquette.
Recognize the impact of your actions and foster an atmosphere of respect and understanding.
Learn to navigate unexpected changes with grace, ensuring a minimal effect on your career opportunities.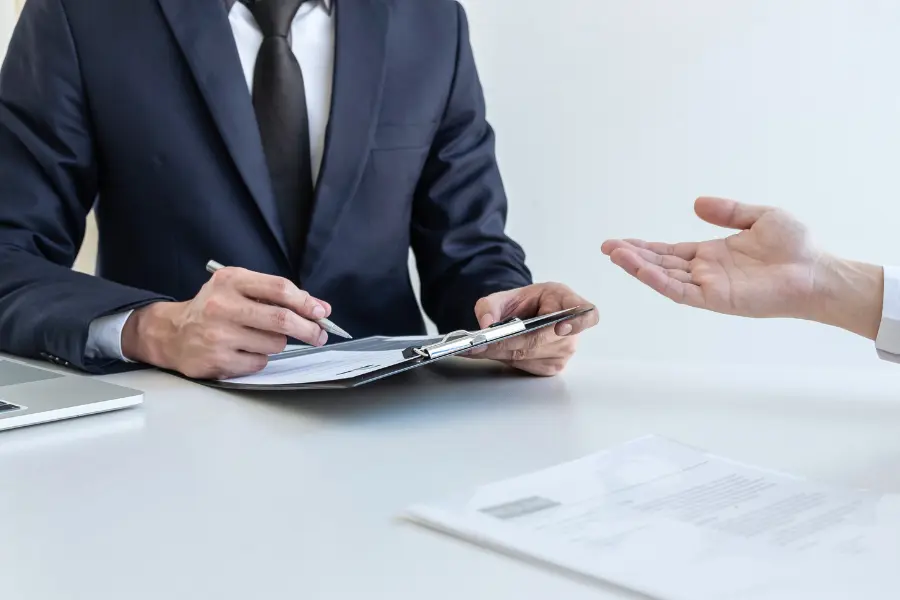 Understanding the Gravity of Rescheduling a Job Interview
Approaching the issue of rescheduling a job interview is seldom a light matter. It ties into a complex web of professional relationships and schedules that, if not handled correctly, can create ripples affecting multiple parties. To comprehend these dynamics, it's constructive to consider the potential repercussions from the perspectives of both the interviewer and the potential colleagues.
When an interviewee seeks to reschedule, they must not only present their request in a professional way to reschedule an interview but also appreciate the impact on the interviewer. Interview schedules are often arranged considering interviewers' packed calendars and responsibilities. Altering a set timetable can lead to cascading changes and necessitate additional administrative effort, potentially straining resources and goodwill.
The impact on other candidates is also significant. Rescheduling one interview can lead to a domino effect, requiring adjustments for subsequent candidates. This not only reshapes the interviewer's agenda but might inconvenience others, influencing their perception of the company's organizational capabilities and consideration for individuals' time.
In understanding this gravity, the following table highlights the key considerations for both the applicant and the employer when rescheduling is on the table:
| Consideration for Applicant | Consideration for Employer |
| --- | --- |
| Professional reputation and reliability | Schedule disruption and resource allocation |
| Keeping communication transparent and timely | Maintaining the integrity of the interview process |
| Minimizing the impact on the hiring timeline | Ensuring fairness to all candidates |
| Demonstrating adaptability while upholding professionalism | Adjusting logistics while preserving the candidate experience |
Ultimately, mastering the professional way to reschedule an interview can help to mitigate any negative impressions. By conveying genuine respect for the interviewer's time and balancing it with legitimate needs for a schedule change, a candidate stands a better chance of navigating this delicate scenario without jeopardizing their career prospects.
Offer concrete alternative dates to simplify rescheduling logistics.
Remain flexible and ready to accommodate the interviewer's constraints.
Follow up post-rescheduling to reaffirm commitment to the opportunity.
While changing the time of an interview is never ideal, it can sometimes be the necessary course of action. How you manage that process says a lot about your professionalism and fit for a role. Bearing in mind the impacts such a decision may hold, candidates should tread thoughtfully to ensure minimal disruption and uphold the respect essential in all professional engagements.
Good Reason to Reschedule an Interview
Occasionally, life presents challenges that may interfere with a scheduled job interview. From personal illness to work commitments, such situations can impact your ability to meet at the designated time. It's important to understand what constitutes a valid reason to reschedule an interview and the appropriate manner in which to do so. Let's explore the most recognized reasons that are generally accepted within the professional realm.
Personal Illness or Injury
Protecting yourself and others from the spread of illness or allowing time for recovery from an injury are valid reasons to reschedule an interview. In the event that you find yourself ill or injured, it's essential to promptly communicate this to your potential employer with transparency and professionalism. It is not only courteous but also reflective of a responsible individual who places the well-being of everyone involved as a top priority.
Family Emergency Situations
Facing a family emergency is an inevitably stressful and sensitive time. Should such a situation emerge, it creates a legitimate circumstance for rescheduling an interview. Conveying this exigency to a hiring manager requires a balance between providing sufficient detail to justify the change without delving into overly personal information. Employers will appreciate your discretion and understanding of professional boundaries while you manage your family affairs.
Work Commitments and Scheduling Conflicts
Sometimes, we may encounter scheduling conflicts due to existing work commitments, which lead to the need to reschedule an interview. If you find yourself 'double booked', it's crucial to notify the potential employer as soon as possible. Emphasizing your commitment to your current role while showing eagerness to accommodate a new interview slot can go a long way in maintaining goodwill and demonstrating your ethical approach to professional obligations.
Prompt communication ensures clarity and consideration for the interviewer's scheduling needs.
Being transparent about the situation conveys honesty and builds trust with the potential employer.
Professionalism is key; provide a valid reason without too much personal detail.
When facing any of the above, remember these are 4 universally accepted reasons to reschedule a job interview. Prepare your rescheduling request with respect and understanding for the hiring process.
Here's a concise overview to illustrate acceptable reasons for rescheduling and the considerations to keep in mind:
| Situation | Consideration | Action |
| --- | --- | --- |
| Illness/Injury | Health and Safety | Immediate notification and medical documentation if required |
| Family Emergency | Urgency and Privacy | Concise explanation with emphasis on urgency |
| Work Commitment | Professionalism and Loyalty | Transparent conversation about scheduling conflict |
Respecting these principles not only justifies your request to reschedule but also enhances the perception of your integrity among potential employers.
The Professional Way to Reschedule an Interview
Finding yourself in a position where you need to reschedule an interview can be stressful. However, there's a professional way to reschedule an interview that can help maintain a strong relationship with your potential employer. This section outlines the key steps and etiquette for rescheduling an interview, ensuring you approach this delicate situation with tact and professionalism.
Reach out as soon as you are aware of the conflict in your schedule.
Use the same communication channel that was used to schedule the interview or what was provided for correspondence.
Be concise and respectful in your language, offering a straightforward explanation.
Propose specific alternative dates and times to show your continued interest and initiative.
Express your appreciation for their flexibility and understanding.
After the rescheduling is confirmed, send a thank you note to reaffirm your interest in the position.
To ensure you're fully prepared to navigate this process, here's a sample script you might use to reschedule an interview:
Dear [Hiring Manager's Name],

I am writing to express my continued enthusiasm for the [Position Name] role with [Company Name], of which my interview is scheduled on [Original Date and Time]. Unfortunately, due to [brief explanation of the legitimate reason], I am unable to attend at that time. I am very much looking forward to discussing my fit for this position with you and was hoping we might reschedule for a mutually convenient time. I am available on [Proposed Date and Time], and I am willing to accommodate your schedule to the best of my ability.

Thank you very much for your understanding. I apologize for any inconvenience this may cause and greatly appreciate your flexibility.

Warm regards,
[Your Name]
| Step | Action | Notes |
| --- | --- | --- |
| 1. Acknowledge the Issue | Identify the conflict and your need to reschedule promptly. | Timeliness reflects respect for the interviewer's time. |
| 2. Prepare Your Message | Compose a sincere and courteous message. | Keep it professional; avoid overly casual language or slang. |
| 3. Suggest Alternatives | Propose new dates and times for the interview. | Offering options showcases flexibility and proactiveness. |
| 4. Show Gratitude | Thank the employer for considering your request. | A gesture of gratitude can help smooth over the schedule change. |
| 5. Confirm New Arrangements | Ensure that the new interview time is agreed upon and confirmed. | Documentation via email can serve as confirmation for both parties. |
| 6. Follow Up | Send a follow-up thank you note or email. | This reaffirms your interest and appreciation for their accommodation. |
By adhering to these guidelines, you can navigate through what could be a tricky situation with grace and courtesy. Remember, the key is to communicate transparently and promptly, showing respect throughout every interaction. Following the proper etiquette for rescheduling an interview marks you as a sincere and considerate professional, thereby maintaining a positive impression with your prospective employer.
Rescheduling Interview Etiquette: Dos and Don'ts
Navigating the intricacies of rescheduling interview etiquette can be challenging. To make this process smoother, it's valuable to follow some established dos and don'ts. Adopting these practices helps maintain a favourable professional image and signals respect for the interviewer's time and resources.
How to Communicate Your Need to Reschedule
How you convey your need to reschedule can greatly affect the interviewer's response. These rescheduling interview tips are designed to assist you in addressing the situation with professionalism:
Do: Contact the interviewer using the agreed-upon communication method as soon as you know you can't make the interview.
Don't: Postpone the conversation—delays can suggest a lack of respect for the company's time.
Do: Be honest in providing a reason for rescheduling, but keep specifics to what's professional and necessary.
Don't: Fabricate reasons—transparency fosters trust.
Do: Suggest alternative times for rescheduling the interview to show your commitment.
Don't: Expect the employer to propose a new time—it's your responsibility to offer alternatives.
For instance, if you encounter a sudden scheduling conflict, you might send a message that incorporates both apologizing for rescheduling and proposing new times, like the following:
Dear Interviewer,

I apologize for the inconvenience, but due to a recent scheduling conflict, I will be unable to attend our interview planned for [date/time]. I am still very interested in the [Job Title] role and would appreciate the chance to reschedule. Could we possibly meet on [alternative date/time]? I am eager to discuss how my skills and experiences align with the needs of [Company Name].

Thank you for your understanding and flexibility.
Sincerely,
[Your Name]
Maintaining a Positive Impression on the Interviewer
A key part of the rescheduling process is ensuring you maintain a positive impression with the hiring team. This is where the subtleties of rescheduling interview etiquette play a crucial role. Here's how:
Do: Express gratitude for the interviewer's flexibility and time.
Don't: Be overly apologetic as this may portray a lack of confidence.
Do: Use formal language and a professional tone in all communications.
Don't: Use colloquial language or emojis that may lessen the professional nature of the conversation.
Respect and professionalism go a long way in demonstrating professionalism throughout the rescheduling request. By following these guidelines, you help ensure that the interviewer retains a positive view of you as a candidate.
| Action | Dos | Don'ts |
| --- | --- | --- |
| Communicate | Provide clear, professional reason for rescheduling promptly | Wait until the last moment or give vague excuses |
| Apologize | Apologize succinctly and focus on solutions | Over-apologize or deflect blame |
| Propose New Times | Offer specific alternative dates and times | Expect the interviewer to suggest all alternatives |
| Maintain Professionalism | Keep the tone of your communication respectful and upbeat | Communicate in an informal or nonchalant manner |
Dealing with Transportation Problems and Unexpected Events
Imagine this: you're prepared for the job interview of your dreams. Your resume is polished, and you've practised your responses to common questions. Then, the unforeseeable strikes—an unexpected event or a transportation problem arises, threatening to undermine your punctuality. How you manage and communicate these unforeseen circumstances can showcase your problem-solving skills and professionalism.
Tackling a transportation problem promptly and effectively is crucial. Should your car break down, a flight gets delayed, or any other unexpected event occurs, take immediate action. Here are steps to help you navigate through these challenges:
Stay calm: Assess the situation rationally and look for quick, practical solutions.
Find alternatives: Utilize available public transportation, and rideshare services, or even reach out to friends or family as possible backup plans.
Communicate swiftly: As soon as you realize you won't make it on time, inform the potential employer with a brief explanation of your dilemma.
Apologize sincerely: Demonstrate your regret for the inconvenience your unforeseen circumstance is causing.
Request rescheduling: If there's no workaround, ask to reschedule your interview and suggest alternative dates if possible.
Remember, the key is to keep the employer informed, maintain transparency, and demonstrate your ability to handle stress graciously.
Dear [Hiring Manager's Name],
I wish to express my sincerest apologies as I face an unexpected transportation issue due to [specific reason], which hinders my ability to arrive on time for our scheduled interview. Understanding the value of your time, I am currently exploring all alternative transportation options. However, should I be unable to find a timely solution, may we consider rescheduling our meeting? I am available on [alternative dates], and I assure you of my high level of interest and enthusiasm for the role of [Position] at [Company Name].

Thank you very much for your consideration and understanding.

Kind regards,
[Your Full Name]
In the case that rescheduling is unavoidable, presenting a potential solution rather than just a problem casts a proactive and positive light on your candidacy. Below is a table detailing steps to take if a transportation problem or unexpected event occurs:
| Action | Description | Outcome |
| --- | --- | --- |
| Immediate Situation Assessment | Quickly evaluate the issue and estimate the delay. | Understanding the extent of the delay aids in clear communication with the employer. |
| Explore Alternate Routes or Modes | Check for other transportation options that might mitigate the delay. | Finding a backup plan can mean the difference between a slight delay and missing the interview. |
| Contact the Employer | Inform the employer about the issue as soon as possible. | Prompt communication can allow the employer to adjust their schedule with minimal disruption. |
| Apologize for the Inconvenience | Express regret for any trouble caused by the situation. | An apology shows respect for the employer's time and understanding of professional standards. |
| Propose New Interview Times | Suggest alternative dates and times to demonstrate flexibility. | Offering solutions shows initiative and a continued interest in the position. |
| Follow Up | Send a message to confirm any new arrangements. | Following up ensures both parties are on the same page and demonstrates professionalism. |
The ability to handle a transportation problem or any unforeseen circumstance with poise can impress a potential employer as much as a flawless interview. It's your opportunity to prove that when faced with the unexpected, you remain a reliable and composed professional.
How to Offer Alternative Dates and Times When Rescheduling
At times, unforeseen events require us to alter our schedules, and this includes the need to reschedule a job interview. If you find yourself in this position, it's important not only to notify your potential employer of the change but to do so in a manner that demonstrates flexibility and consideration. When suggesting alternate dates and times, the manner in which you approach the situation can have a substantial impact on the perceptions of your would-be employer. Below is in-depth guidance on strategically offering alternative interview slots.
Flexibility and Consideration in Proposing New Interview Slots
Offering alternative dates and times when rescheduling reflects a balanced approach to satisfying your and the employer's availability. Your aim should be to provide options that are as convenient as possible for the interviewer, showcasing your adaptability and respect for their schedule. The seamless integration of these aspects into your rescheduling conversation can leave a positive impression even in the wake of a setback.
Assess your schedule thoroughly to identify at least 3 alternative slots you can propose for the rescheduled interview.
Consider varying types of slots, such as different times of the day or different days of the week, to give the employer a range to choose from.
Be ready to show flexibility in rescheduling, meaning you might have to accommodate the employer's suggested slot even if it's not your first choice.
Keep in mind that offering alternative dates and times is not just a logistical step but a strategic move that reaffirms your interest in the position.
Ensure that your proposed times respect a buffer to cater to the possible time required for the interviewer to adjust their schedules.
Upon determining your availability, communicate your suggestions promptly and professionally. Here's an example of how you might present this in correspondence:
Dear [Interviewer's Name],
I regret to inform you that I must request a rescheduling of our interview originally set for [Original Date and Time] due to [short explanation]. To minimize any inconvenience, I am providing a few alternative dates and times for your consideration:
• [Alternative Date and Time 1]
• [Alternative Date and Time 2]
• [Alternative Date and Time 3]
I hope one of these options aligns well with your schedule, and I am open to any other dates and times that might be more convenient for you. Thank you for your understanding and flexibility.
Looking forward to our conversation.
Sincerely,
[Your Name]
When discussing new potential interview slots, always remember that the goal is to facilitate a solution that benefits both parties. Suggesting alternative dates and times requires a blend of strategic thinking and empathy toward the interviewer's scheduling constraints. The table below outlines the critical factors to consider when offering new interview slots:
| Factor | Importance | Best Practice |
| --- | --- | --- |
| Flexibility | Shows your willingness to adapt and ability to prioritize the opportunity | Offer a range of dates and times, expressing openness to further suggestions |
| Consideration | Reflects respect for the time constraints and scheduling demands of the interviewer | Anticipate and acknowledge the interviewer's need to possibly rearrange their agenda |
| Communication | Key to setting up a new interview time efficiently and with minimal confusion | Clearly state available times, ensuring they are within your feasible windows of commitment |
| Response Preparedness | Allows you to quickly adjust as new information is provided by the interviewer | Maintain an organized schedule to enable rapid responses to proposed counter slots |
| Professionalism | Uphold a positive and responsible image throughout the process | Communicate with clarity and respect, reaffirming your serious intent to interview |
By approaching the topic of rescheduling with the right level of flexibility and consideration, you not only salvage the opportunity to interview but may even enhance the interviewer's perception of your professionalism. Through your actions, you demonstrate adaptability, poise under pressure, and genuine regard for others' time—attributes that are invaluable in any workplace.
Follow-Up After Rescheduling an Interview
Once you have navigated the rescheduling of an interview, the next crucial step is to master the art of the follow-up. This action asserts your dedication to the opportunity and reinforces your professionalism. A strategic follow-up after rescheduling can serve as a means to solidify a positive rapport with your potential employer. It's important to remember that the manner and timing of your follow-up can greatly influence the hiring manager's perception of you as a candidate.
Reaching out after rescheduling is more than a mere formality; it's a pivotal part of the interview process and speaks volumes about your communication skills and etiquette. Staying in touch with the interviewer keeps the lines of communication open and demonstrates that you are proactive, a trait highly valued in the professional world. Let's delve into the best practices for contacting the interviewer and maintaining momentum in your job application process.
Best Follow-Up Practices
When it comes to following up with an employer after rescheduling an interview, there are several key steps to follow for effective communication:
Timeliness: Send your follow-up message within a day after the interview has been rescheduled.
Gratitude: Express appreciation for the interviewer's understanding and flexibility throughout the rescheduling process.
Confirmation: Verify the new interview details including date, time, and format to ensure clarity and prevent any confusion.
Enthusiasm: Reiterate your enthusiasm for the position and the company, thereby affirming your genuine interest in the opportunity.
Professionalism: Maintain a high level of professionalism in your correspondence, which demonstrates respect for the hiring process.
Double-Check: Always review your message for any grammatical or spelling errors before sending it to convey attention to detail.
Here is an example of an effective follow-up message:
Dear [Interviewer's Name],

Thank you for accommodating the adjustment to our interview schedule. I am writing to confirm our newly arranged interview time on [New Interview Date and Time]. I greatly appreciate your understanding and am looking forward to discussing the [Position Title] role with you. The opportunity to join [Company Name] excites me, and I am eager to bring my skills and experiences to the team.

Thank you once again, and please do not hesitate to reach out if there are any further details to discuss prior to our meeting.

Best regards,
[Your Name]
It is not just about confirming the new details, but also about making a lasting impression. Your follow-up communication is, in itself, a reflection of your professionalism and how you conduct yourself in a corporate setting. To sum up the follow-up process after an interview has been rescheduled, the following table breaks down the critical steps involved:
| Step | Action to Take | Impact |
| --- | --- | --- |
| 1. Acknowledge Rescheduling | Confirm the rescheduled interview details | Shows organization and attention to detail |
| 2. Express Appreciation | Thank the interviewer for their flexibility | Builds goodwill and a positive relationship |
| 3. Convey Enthusiasm | Reaffirm your interest in the role and company | Strengthens your candidacy by showing eagerness |
| 4. Proofread Communication | Ensure there are no errors in your follow-up | Reflects your professionalism and respect for the application process |
| 5. Follow-Up Timeframe | Send the follow-up message promptly after the new interview details are finalized | Exemplifies efficient communication habits |
A thoughtful follow-up after rescheduling is a testament to your interest in the position and your respect for the hiring process. It is your opportunity to re-establish your commitment and keep the momentum going. By adhering to these guidelines, the act of contacting the interviewer post-rescheduling can help reinforce a positive image of you as an engaged, responsible, and courteous professional.
Ensuring Successful Interview Outcomes After Rescheduling
After the necessary step of rescheduling an interview, the next crucial phase is to focus on ensuring successful interview outcomes. The importance of professionalism in rescheduling interview times can't be overstated—it lays the groundwork upon which the reestablished interview will build. Let's explore how to transition from a rescheduling scenario to a successful interview outcome by utilizing strategies that maintain and even enhance your professional standing.
Demonstrating Professionalism Despite the Change
Arriving at a rescheduled interview requires adjustment and a reinforced commitment to demonstrating professionalism to alleviate any potential concerns your interviewer might have. The interview is an opportunity to make a new, even stronger impression that underscores your respect for the process and sincere interest in the position. Maintaining a positive impression and executing due diligence can turn the rescheduling hurdle into a testament to your adaptability and earnestness.
Preparation Reinforced: Take advantage of the extra time to prepare even more thoroughly for your interview. Revisit your research about the company and position, and prepare to articulate how your skills and experiences make you the ideal candidate.
Communication Tuned: Be proactive in communicating any updates regarding your candidacy or any changes in your schedule leading up to the new interview date, keeping the lines of communication clear.
Reliability Demonstrated: Arrive early for your rescheduled interview to show your punctuality and commitment. This is particularly crucial after you have already requested one adjustment to the schedule.
Flexibility Showcased: If the conversation naturally drifts toward the reason for rescheduling, briefly explain the circumstance while emphasizing your flexibility and eagerness to accommodate the new interview date and time.
Graciousness Expressed: Begin the interview by acknowledging the interviewer's accommodation. A concise expression of appreciation for their flexibility sets a positive and respectful tone.
These strategies culminate in a professional approach to your rescheduled interview, thereby ensuring a successful outcome. Remember, how you manage the reschedule can also be seen as a test of your soft skills, such as problem-solving, communication, and emotional intelligence, which are invaluable in most job roles.
| Strategy | Approach | Expected Outcome |
| --- | --- | --- |
| Enhanced Preparation | Deepen knowledge about the role and company | Appear more informed and confident |
| Effective Communication | Maintain transparent updates leading to the interview | Build trust and demonstrate accountability |
| Demonstration of Reliability | Arrive early and ready for the interview | Emphasize respect for time and schedules |
| Flexibility Affirmed | Refer to rescheduling with a focus on adaptability | Showcase ability to manage unexpected situations well |
| Expression of Gratitude | Acknowledge the interviewer's accommodation | Start off on a positive and thankful note |
As the final phase of your interview process approaches, carry with you not just your qualifications for the role but also the conviction that how you have handled the change in plans has showcased 10 fold your professional attributes. The rescheduled interview is not a setback but rather an additional platform to prove your worth as an ideal candidate who upholds professionalism in the face of unpredictability.
Your professionalism doesn't reset with the new interview time. If anything, rescheduling has amplified the stage upon which you can demonstrate your genuine interest and adaptability. Use this chance to manifest qualities that may not have been as evident in a standard interview process.
In navigating the occasionally turbulent waters of a job search, the ability to successfully reschedule an interview with professionalism can be as telling as the interview itself. Rescheduling can be seen as a detour on the path to your ideal job, not the end of the journey.
Our comprehensive guide has underscored that, with a legitimate reason and a polished approach to etiquette, you can reschedule an interview successfully, keeping your candidacy both resilient and respected.
A successful interview after rescheduling is a function of how well you manage communication and maintain a positive impression during an unforeseen change. It begins with a valid reason for the shift and involves clear, prompt, and respectful dialogue with your prospective employer. Your maturity and professionalism in handling the situation effectively pave the way for a positive and successful interview outcome.
FAQs
What is considered a good reason to reschedule an interview?
Generally, good reasons to reschedule an interview include personal illness or injury, a family emergency, work commitments, scheduling conflicts, or unexpected events such as transportation problems.
What is the professional way to reschedule an interview?
The professional way to reschedule an interview includes contacting the interviewer directly, preferably by phone or email, explaining your reason clearly, apologizing for the inconvenience, and suggesting alternative dates and times.
How should I follow up after rescheduling an interview?
Send a thank-you note for the interviewer's understanding and reiterate your interest in the position. Confirm the new interview details and express your appreciation for their accommodation.
How can I ensure a successful interview after rescheduling?
Be well-prepared, arrive early, and express gratitude for the opportunity to reschedule. Demonstrate professionalism and understanding of the rescheduling inconvenience by your punctuality and attitude during the interview.
What are some tips for effectively communicating my need to reschedule?
Be clear and concise, apologize for the change, and provide a valid reason. Ensure timeliness in your communication and maintain a polite and professional tone.