Disclaimer: We sometimes use affiliate links in our content. For more information, visit our Disclaimer Page. 
Landing the perfect job is an art that requires strategy and preparation. One often overlooked aspect is choosing the optimal time and day for your interview, which can significantly impact how you perform and potential employers perceive you.
In this blog post, we'll explore the best times for interviews, ideal start times, factors to consider when scheduling your appointment, and helpful tips to maximize your chances of success.
Key Takeaways
Tuesdays are optimal for job interviews due to multiple factors, such as fewer distractions and higher motivation.
Aim for mid-morning or mid-afternoon start times on Tuesdays through Thursdays when scheduling an interview to give interviewers ample time to prepare and avoid feeling rushed or exhausted.
Avoid scheduling interviews on Mondays and Fridays as interviewers may be catching up from previous weeks or mentally exhausted from a week of work.
Other essential factors to consider when scheduling an interview include employer and applicant availability, commute time and traffic patterns, company culture, and work schedule.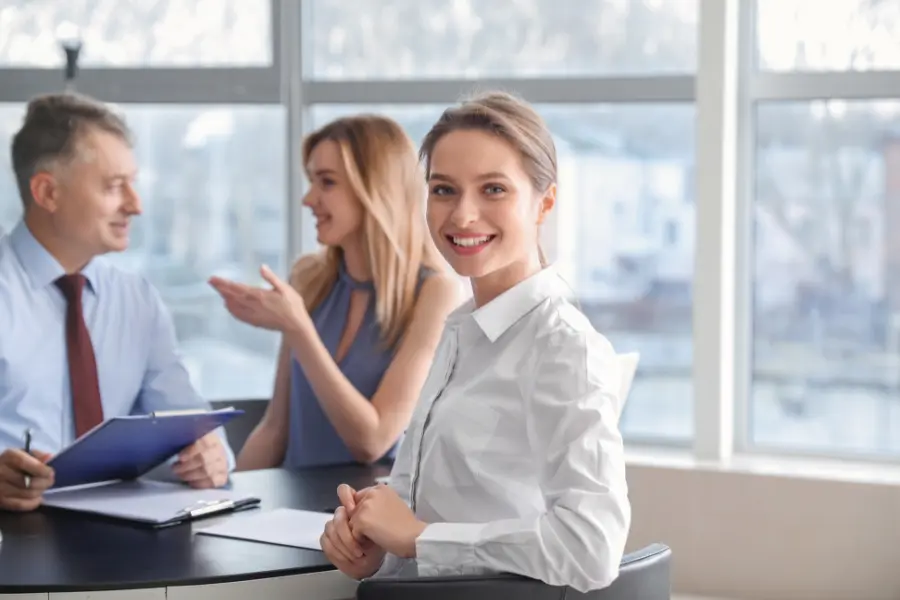 The Best Times For Interviews
Tuesday is considered the best day for a job interview, with mid-morning or mid-afternoon start times on Tuesdays through Thursdays being optimal. In contrast, scheduling interviews on Mondays and Fridays should be avoided.
Tuesday Is The Optimal Day For An Interview
According to various studies and hiring statistics, Tuesday is the optimal day for a job interview. This can be attributed to multiple factors that contribute to both candidate and interviewer being in their best frame of mind on this day.
In addition, scheduling your interview on a Tuesday ensures you don't face any unforeseen obstacles related to travel or other commitments over the weekend. Moreover, many recruiters believe candidates appearing for an interview early in the week display a higher motivation and enthusiasm than those coming later in the week.
Aim For Mid-morning Or Mid-afternoon Start Times On Tuesdays Through Thursdays
When scheduling a job interview, it's essential to consider the optimal time and day of the week. Aim for mid-morning or mid-afternoon start times on Tuesdays through Thursdays, as these are considered ideal by many hiring managers.
Mid-mornings provide a reasonable buffer between the interviewer's early morning tasks and meetings, giving them ample time to regroup and prepare for your interview while avoiding feeling rushed.
Similarly, mid-afternoons also give interviewers enough time to complete their workday without running late into other commitments or feeling too tired from earlier activities.
Avoid Scheduling Interviews On Mondays And Fridays
According to research on job interview scheduling, Mondays and Fridays are not optimal interview days. On Mondays, interviewers may be catching up from the previous week or entering a new workload, making them less likely to focus fully on the candidate.
Meanwhile, by Friday, interviewers may already be mentally exhausted from a week of work and rushing to wrap things up before the weekend. It's better to aim for midweek interviews instead because people tend to have fewer distractions during this time.
Factors To Consider When Scheduling An Interview
When scheduling an interview, it's crucial to consider employer and applicant availability, commute time, traffic patterns, and the company culture and work schedule.
Employer And Applicant Availability
It's essential for both the employer and the applicant to have availability when scheduling an interview. Employers may have specific times or days they prefer to conduct interviews based on their work schedule or company culture.
Meanwhile, applicants should consider their availability, including any conflicting schedules or prior commitments. It's best to communicate clearly about available dates and times up front so everyone can work together to find a suitable time slot.
For instance, if an applicant has a full-time job, they may need to schedule the interview before or after work hours, while employers may be more flexible during mid-morning or mid-afternoons on certain days of the week.
Commute Time And Traffic Patterns
It's essential to consider the commute time and traffic patterns when scheduling a job interview. No one wants to be late or stressed due to heavy traffic, which can negatively impact their performance during the interview.
It's wise to plan and check the route before leaving home.
For instance, if your interview is during rush hour, it might be best to arrive earlier than expected. Alternatively, if you're unfamiliar with your prospective employer's location, take some time beforehand to research alternative routes or public transportation options available within the vicinity.
Company Culture And Work Schedule
Considering the company culture and work schedule when scheduling a job interview is essential. This will give you an idea of what to expect from the workplace, including office hours and expectations for working outside regular business hours.
For example, if a company emphasizes work-life balance, flexible schedules may allow employees to adjust their work hours.
Taking these factors into account can also help you tailor your responses during the interview to align with the company's values and priorities. It shows that you've researched and are genuinely interested in joining their team.
Tips For Maximizing Your Chances At A Successful Interview
Research the company and position thoroughly before the interview, prepare for common interview questions, dress appropriately and be punctual, bring relevant documents, and follow up with a thank-you note.
Researching The Company And Position Thoroughly
Before going into an interview, conducting thorough research on the company and position you are applying for is crucial. This will give you a better understanding of the company culture, mission statement, values, and goals.
Knowing this information can provide valuable insights that can set you apart from other candidates during your interview. For instance, if a particular accomplishment stands out to you regarding their product or service offerings, mention it when asked why you want to work for the organization.
Doing so shows that you have taken the initiative and done your homework beyond just reading job descriptions.
Preparing For Common Interview Questions
One of the most critical aspects of preparing for a job interview is anticipating and preparing for common interview questions. These can include questions about your experience, skills, strengths, and weaknesses, as well as behavioral questions that ask you to provide examples of how you handled specific situations in the past.
For example, if customer service is a top priority for the company, anticipate questions about handling difficult customers or prioritizing tasks when dealing with multiple demands.
Practice answering these types of questions ahead of time so that you feel confident and ready during the actual interview. Be sure also to prepare concrete examples from your previous work experiences that demonstrate your abilities effectively.
Dressing Appropriately And Being Punctual
Dressing appropriately and punctuality are crucial factors that can make or break a job interview. Dressing professionally demonstrates respect for the company and the interviewer, while punctuality shows reliability and responsibility.
It's essential to research the company's dress code and dress in a way that aligns with its culture. For instance, if you're interviewing at a tech startup where employees dress casually, wearing a suit may not be appropriate.
Arriving early is equally crucial since it allows time for unforeseen circumstances like traffic delays or getting lost.
Bringing Relevant Documents
Bringing the necessary documents to a job interview is crucial as they demonstrate preparedness and attention to detail. These documents might include multiple copies of your resume, cover letter, references, and work samples.
Before the interview, ensure that these documents are up-to-date and printed on high-quality paper.
Bringing relevant documents can also boost your confidence during the interview. Knowing you have everything you need will help ease any unnecessary stress so you can focus on showcasing your skills and qualifications.
While not all employers may require additional documentation beyond what was submitted with an application, having them ready shows initiative and professionalism.
Following Up With A Thank-you Note
Sending a thank-you note post-interview is an essential part of the interview process. It's a polite way to show gratitude for the interviewer's time and reiterate one's interest in the position.
A well-crafted thank-you note can also help make one stand out from other candidates and leave a lasting impression on the interviewer.
It also shows professionalism and attention to detail, desirable traits in any potential employee.
Additional Ways To Prepare For A Job Interview
Practice positive body language and non-verbal communication to exude confidence and professionalism. Gather information about the interviewer(s) beforehand, such as their position and background.
Prepare a list of thoughtful questions to ask during the interview to show interest in the company and position.
Practicing Body Language And Non-verbal Communication
Body language and non-verbal communication are crucial aspects of a successful job interview. Practicing confident body language and maintaining eye contact can make a positive impression on the interviewer.
Sit upright with your shoulders relaxed, and avoid fidgeting or crossing your arms during the interview. Use hand gestures sparingly to help emphasize key points while speaking.
Additionally, mirroring the interviewer's body movements can create rapport. And demonstrate active listening skills. For example, if the interviewer leans forward or nods their head while speaking, you could mirror these actions to show engagement.
Gathering Information About The Interviewer(s)
Gathering information about the interviewer(s) before the interview is essential. This will help you prepare effectively and show that you've done your homework. You can start by researching their job title, responsibilities, and any professional accomplishments they have achieved.
You can also check out their LinkedIn profile or company website to better understand their background and work experience. Find common ground with them, such as shared interests or experiences, if possible.
This will allow you to build rapport with them during the interview and make a stronger connection.
According to Glassdoor research, gathering information about the interviewer(s) is one factor contributing to a successful job interview.
Preparing Questions To Ask The Interviewer
As the interview ends, showing interest in the company and position is crucial by asking thoughtful questions. These questions highlight your research, curiosity, and fit for the role.
One outstanding question could be about how success is measured in this role or what challenges a candidate can expect during their first few months.
By asking pertinent questions, you demonstrate that you value the interviewer's input while gathering vital information about the job and the organization's culture. It's essential to avoid generic queries such as 'What are some of your weaknesses?' and instead develop specific inquiries that emphasize your expertise and suitability for the position.
Visualizing A Successful Interview
Another way to prepare for a job interview is by visualizing a successful outcome. This technique involves imagining yourself in the interview, fully prepared and confident, answering questions flawlessly, and impressing the interviewer with your skills and knowledge.
Research shows that visualization techniques can be effective in enhancing performance outcomes. For example, Olympic athletes often use visualization techniques to help them mentally rehearse their competitions before physically competing.
Conclusion
Choosing the right day and time for a job interview can significantly impact your chances of success. Tuesdays through Thursdays are optimal days, with mid-morning or mid-afternoon start times being preferred by employers.
However, it's crucial to consider factors like employer availability, traffic patterns, and company culture when scheduling an interview. Preparation is also crucial to success; research the company extensively, practice common questions, and improve non-verbal communication skills before attending the interview.
FAQs:
Is a specific day of the week best for job interviews?
According to studies, Tuesday and Wednesday are considered the best days for job interviews as they are in the middle of the workweek and allow both candidates and employers time to prepare.
What is the ideal time of day for a job interview?
Most experts recommend scheduling a job interview mid-morning or early afternoon when people are more alert and focused. Avoiding early morning or late afternoon meetings can also reduce potential distractions.
Can I request a specific date or time for my interview?
Many employers will work with candidates to find a mutually convenient date and time for an interview, so it's always worth asking if you have any scheduling conflicts or preferences.
How can taking advantage of optimal timing increase my chances of getting hired?
By paying attention to recommended times/days when scheduling your job interviews, you'll be able to ensure that both you & your interviewer(s) are at their sharpest while allowing yourself every opportunity possible to be offered positions that match your qualifications/preferences best – this potentially even lowering competition levels within same pools from which hiring managers typically draw applicants!