Disclaimer: We sometimes use affiliate links in our content. For more information, visit our Disclaimer Page. 
Navigating the world of salary negotiations can often feel like a complex maze, filled with endless questions about the right time to ask for a raise and how to approach this potentially sensitive conversation.
Fear not! In this blog post, we'll explore the factors you should consider on how often should you get a raise at work, along with timing and frequency guidelines to ensure your request is fair and strategic.
We'll also share some tips on advocating for yourself while effectively remaining professional in these discussions.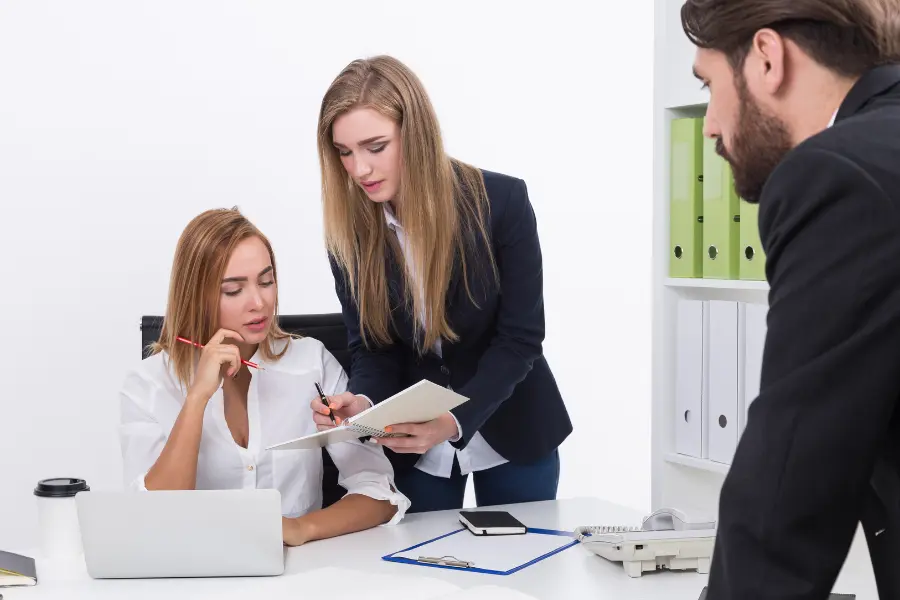 Factors To Consider Before Asking For A Raise
Before asking for a raise, consider factors such as length of employment, industry standards, performance and achievements, and the company's financial status.
Length Of Employment
Length of employment is crucial in determining the right time to ask for a raise. Patience is vital, as it's typically recommended that employees wait at least six months after starting a job before considering requesting a salary increase.
For instance, if you've been part of the team for several years and consistently contributed to its success, your employer may be more inclined to reward your dedication with a wage increase.
Research indicates that those with more extended companies are often viewed as more valuable assets.
Industry Standards
Knowing what a competitive salary looks like in your industry and location is essential before asking for a raise.
It's also important to consider company size and competition factors when determining industry standards. Smaller companies may not have the budget for higher salaries than giant corporations.
Performance And Achievements
Evaluating one's performance is crucial to consider before asking for a raise. Employees who consistently exceed expectations and exceed their job responsibilities are often more likely to receive a salary increase.
When discussing salary negotiations, it is essential to list accomplishments from the past six months, the past year, and the employee's time with the company. For instance, an employee who has consistently exceeded sales targets or led a successful project should highlight these achievements in their pitch for a raise.
Company's Financial Status
The company's financial state is crucial to consider before asking for a raise. If the company is undergoing financial difficulties, asking for a raise may not be feasible as there might be budget constraints.
Similarly, if your department or team needs to perform better and bring in profits for the company, then asking for a raise may seem reasonable. However, if your work has contributed significantly to improving the company's financial position through increased sales or cost-saving measures, it could make a compelling case to request a salary increase.
According to Glassdoor's Chief Economist Dr. Andrew Chamberlain's studies, "Higher salaries paid by companies today tend to moderate tomorrow's layoffs." This suggests that when companies are financially stable, they can reasonably accommodate higher requests from employees without affecting their profitability in the long run.
Timing And Frequency For How Often Should You Get A Raise
Knowing when and how often to ask for a raise can make all the difference in achieving success. From annual performance reviews to changes in job responsibilities, there are several critical times to consider asking for a pay raise.
Annual Performance Reviews
Annual performance reviews are one way to gauge whether asking for a raise is appropriate. Here are some factors to consider when timing your request based on your review:
Look at the score: If you received an exceptional score, this could indicate that your employer recognizes your hard work and may be open to discussing a raise.
Review the feedback: Pay attention to any specific feedback provided by your supervisor. If they mentioned areas you could improve, address them before asking for more money.
Use it as an opportunity: Annual performance reviews can be a great time to discuss career growth and development opportunities with your employer. If the conversation turns in that direction, you could also bring up the topic of compensation.
Remember, performance reviews are just one factor to consider when deciding whether it's time to ask for a raise. Consider other factors, such as industry standards and company financial status.
Accomplishments And Major Projects
One crucial factor to consider when asking for a raise at work is the achievements and significant projects you have accomplished during your tenure with the company. Here are a few examples:
Successfully leading a team or project that resulted in significant cost savings or increased revenue for the company.
Receiving positive feedback from clients or customers, indicating exceptional performance in customer service or sales.
Developing new strategies, programs, or processes that generated efficiency gains and improved overall performance.
Obtaining relevant certifications, completing courses or training programs to enhance your skills and knowledge, thereby contributing to the company's growth and success.
Demonstrating leadership potential by taking on additional responsibilities or mentoring other employees.
These accomplishments show your value to the company and can be used as leverage in negotiating for a raise. Remember to focus on specific achievements that directly relate to your role and responsibilities within the company. By highlighting these areas of success, you can showcase your dedication and hard work while demonstrating your continued commitment to driving business growth.
Changes In Job Role Or Responsibility
Employees may ask for a raise when their roles or responsibilities significantly expand. Here are some points to consider:
Take note of when the changes in job roles or responsibilities took place.
Consider how significant the change is and how it impacts your workload and contribution to the company.
Compare your current salary to the industry standard for someone with your updated job role or responsibilities.
Prepare for a meeting with your employer by documenting your accomplishments since taking on these changes, the value you bring to the company, and why you think a raise is justified.
Be open to negotiation and be willing to discuss other options like benefits, bonuses, or professional development opportunities as an alternative.
Changes In The Job Market Or Industry
Asking for a raise can also be influenced by changes in the job market or industry. If employees notice their skills and experience are in high demand, they may seek higher compensation from their employer.
Alternatively, if there are indications of economic downturns or layoffs within the industry, it may not be advisable to ask for a raise at that time. It is essential to stay informed about current trends and conditions in one's field to understand the appropriate timing for asking for a raise.
Output: Changes in the Job Market or Industry can be critical when considering asking for a raise at work. Being aware of fluctuations across various industries and staying up-to-date on shifts can make all the difference regarding pay raises.
Time Gap Between Raises
It is generally recommended to wait at least a year before asking for another raise. This gives the employee enough time to demonstrate their value and contributions to the company, as well as giving the employer time to evaluate their performance.
However, this can vary depending on individual circumstances, such as industry standards and personal achievements. Some employers may have policies that dictate when employees can ask for a raise or how much of an increase they are eligible for.
Tips And Best Practices For Asking For A Raise
Prepare yourself thoroughly by doing research and highlighting your accomplishments.
Conduct Thorough Research And Be Prepared
It is crucial to conduct thorough research and be well-prepared before asking for a raise. Here are some tips on what to research:
Company policies: Many companies have specific rules regarding the timing and frequency of raises, so check the employee handbook or talk to HR.
Industry standards: Knowing the average salary for your position and industry in your area can help you set realistic expectations and make a compelling case for a raise.
Your value: Evaluate your performance, accomplishments, and contributions to the company over the past year or since your last raise. Be prepared to cite specific examples of how you have added value to the company.
Your boss's perspective: Consider your boss's priorities and goals, as well as their personality and communication style. Consider framing your request to align with their priorities and resonate with them.
Alternatives: If your employer is unable or unwilling to provide a raise, think about alternative forms of compensation, such as more vacation time, stock options, or professional development opportunities that could improve long-term earning potential.
By conducting thorough research and being well-prepared, you will increase your chances of successfully negotiating a raise that reflects your actual value to the company.
Highlight Accomplishments And Contributions
When asking for a raise, showcasing one's value and contributions is essential. Here are some ways to highlight accomplishments:
Emphasize specific goals or targets that were met or exceeded.
Showcase any significant projects or initiatives that were completed
Provide examples of how the employee went above and beyond in their role
Quantify results with specific numbers, such as increased sales revenue or improved customer satisfaction ratings
Highlight any additional responsibilities taken on outside of the employee's job description
Provide positive feedback from colleagues, clients, or management about the employee's performance and contributions
By highlighting these accomplishments and contributions, employees can demonstrate their value to the company and make a stronger case for a pay increase. It is essential for employees to regularly track their achievements and have evidence ready when it comes time to ask for a raise.
Choose The Appropriate Timing
Timing is a critical aspect to consider when asking for a raise. While it may be tempting to ask for more money after completing a unique project, doing so at the wrong time could backfire.
One key factor to remember is the company's financial situation and overall performance.
Another essential timing consideration is the frequency of past raises. Most organizations don't give pay increases more than once per year, so it's best not to ask any sooner unless significant extenuating circumstances (such as newly acquired skills or responsibilities) exist.
Moreover, consider timing around annual performance reviews since they often provide helpful feedback about one's strengths and areas that require improvement, which can be used as leverage during negotiations.
Have A Positive Attitude And Be Open To Negotiation
Maintaining a positive attitude and remaining open to negotiation when asking for a raise is essential. It's important to understand that the process should be collaborative rather than confrontational.
Employers will likely appreciate an employee presenting their case professionally and diplomatically. This may help establish trust, smooth negotiations, and ultimately lead to better outcomes for both parties.
At times, it might take more than one negotiation session to reach an agreement that works best for everyone involved. Nevertheless, being open-minded and willing to compromise where necessary increases the likelihood of obtaining improved compensation packages while maintaining solid relationships with employers.
Alternatives To Asking For A Raise And Conclusion
Explore options for negotiating additional benefits such as flexible work hours or increased vacation time, seek out opportunities for professional development and career growth within the company, and consider other job opportunities as a last resort.
Negotiating For Benefits
Negotiating benefits is another option if asking for a raise is impossible. Here are some tips on how to negotiate for benefits:
Research and compare: Look into the benefits offered by competitors in your industry and geographic location to understand what is considered standard.
Prioritize: Determine which benefits are most important to you and focus on negotiating for those first.
Be flexible: Consider negotiating for alternative benefits, such as additional vacation days or flexible working hours, if the employer cannot offer a salary increase.
Highlight your value: Demonstrate how your skills and contributions add value to the company and why you deserve additional benefits.
Follow-up: If the negotiation is successful, follow up in writing to ensure the agreed-upon changes are reflected in your employment contract.
Overall, negotiating for benefits can be a valuable alternative to requesting a raise, especially if the company cannot offer a salary increase. By prioritizing and highlighting your value, you can secure additional perks that improve your job satisfaction and overall compensation package.
Seeking Professional Development Opportunities
Employees should consider seeking professional development opportunities to enhance career growth and increase the chances of a future raise. Here are some steps to take:
Identify areas for improvement: Take note of your strengths and weaknesses in your current role and seek guidance from your manager or mentor to pinpoint areas for improvement.
Attend training sessions: Look for training sessions, workshops, or conferences to help you develop the skills needed to succeed in your current role.
Seek feedback: Regularly ask your supervisor or colleagues for feedback on your work performance to gauge where you stand and how to improve.
Set goals: Establish goals that align with the company's objectives and look for ways to attain them through additional education or networking opportunities.
Consider lateral moves: If a promotion isn't feasible, consider taking on new organizational responsibilities to expand your skill set and make you more valuable long-term.
Employees can demonstrate their commitment to their job by investing in professional development while positioning themselves for future career success.
Exploring Other Job Opportunities As A Last Resort
If all else fails and an employee fails to secure a raise, exploring other job opportunities may be the last resort. This option should only be considered after thoroughly evaluating the current employment situation and attempting to negotiate with the current employer.
Seeking a new job can lead to higher pay and better benefits, but it also comes with uncertainties. Before finding a different job, employees should evaluate the skills, experience, and value they bring.
Additionally, networking within one's industry can provide valuable connections and potential leads for new jobs.
Don't Be Afraid To Advocate For Yourself.
Advocating for oneself can be daunting, but it is important to remember that asking for what one deserves is essential to career growth. Understanding and articulating one's worth and value within the company is crucial, especially regarding compensation.
While negotiating pay may feel uncomfortable, employees who can effectively communicate their accomplishments and contributions often see positive salary increases or added benefits.
Additionally, advocating for oneself can lead to professional development opportunities or other forms of recognition within the workplace.
FAQs:
How often should I ask for a raise at work?
The frequency of raise requests depends on factors such as industry standards, company policies, and past performance reviews. Having an open conversation with your supervisor about salary expectations and career development goals is recommended.
What are some signs that it's time to ask for a raise?
If you've taken on additional responsibilities or completed projects beyond your job description and consistently exceeded set targets, this could indicate that you're ready to request a salary increase.
How do I prepare to ask my manager for a raise?
Before requesting a pay increase, consider external market data or industry rates to position yourself in line with other professionals in your field who possess similar levels of experience and skills.
What if my manager denies my request for a pay increase?
If your manager rejects the proposal to provide extra remuneration or benefits from improved performance results despite presenting valid reasoning why they believe it's not feasible at this point, then consider inquiring as to what alternative routes may exist towards advancing within the organization – whether by developing new skill-sets or taking on different roles altogether – aiming towards long-term success rather than immediate financial gain only is essential here!