Disclaimer: We sometimes use affiliate links in our content. For more information, visit our Disclaimer Page. 
In today's fast-paced and competitive world, having a solid foundation in any skill set can make all the difference. The term "working knowledge" often appears on resumes or job postings, but what does it mean? Mastering the basics is crucial to achieving success and greatness in any field.
This article will explore working knowledge, discuss its importance in various professional environments, and offer tips for developing your understanding of core concepts essential to your career growth.
Key Takeaways
Working knowledge refers to understanding and proficiency that allows an individual to complete tasks related to a subject matter competently.
Developing solid skills and knowledge is essential for achieving mastery in any field.
Solid working knowledge enhances productivity, efficiency, communication, and decision-making and builds credibility and trust within the workplace.
To develop and demonstrate working knowledge, individuals can gain experience through internships, apprenticeships, volunteering or seeking mentors. They can also build their skills through education & training programs while continually keeping up with industry trends.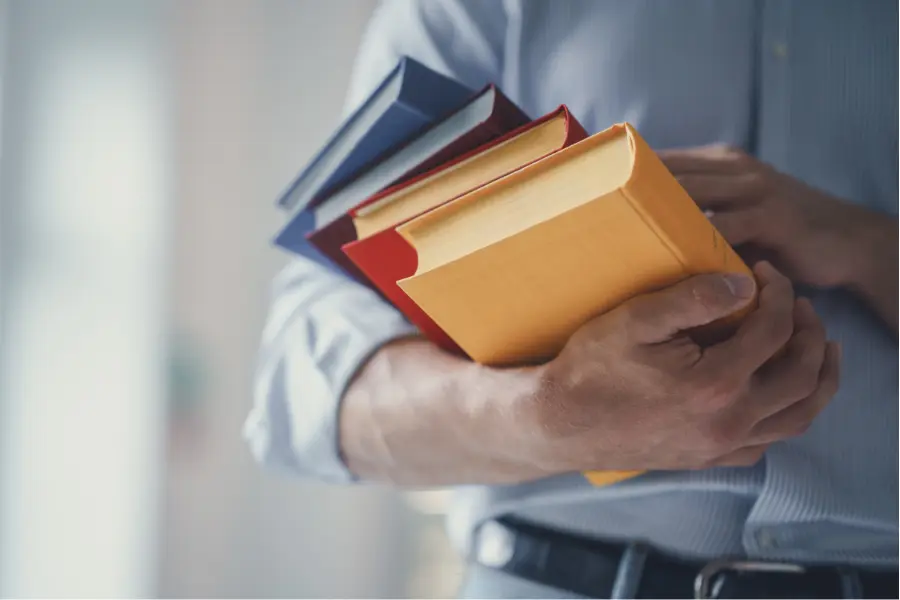 The Definition Of Working Knowledge
Working knowledge refers to understanding and proficiency in a particular subject matter, allowing individuals to complete tasks competently.
Understanding The Concept In A Business Context
In the business world, having a working knowledge of essential concepts and skills is crucial for success. This level of understanding implies a certain degree of competency in a particular subject or field, allowing professionals to accomplish tasks with relative ease and efficiency.
A practical example can be seen when someone with a working knowledge of Microsoft Excel can efficiently manage spreadsheets by performing calculations, sorting data, and creating charts without extensive mastery over every available feature.
This saves time and helps employees contribute more effectively to their teams while minimizing dependence on others for routine tasks.
The Difference Between Knowledge And Skill
Knowledge and skill are terms often used interchangeably but refer to different things. Knowledge refers to understanding the theory or concepts behind something, while skill is the ability to put that knowledge into practice.
For example, someone may have a lot of knowledge about cooking but need to gain the skills necessary to create a tasty meal. On the other hand, another person may not know much about cooking theory but possess excellent culinary skills honed through years of practice in the kitchen.
One way to think about this distinction is that knowledge provides the foundation for skill-building. Developing advanced skills in any subject matter becomes difficult, if not impossible, without understanding basic principles and concepts.
Conversely, developing solid skills can help reinforce one's understanding of critical concepts and theories by allowing them to see firsthand how those ideas can be implemented.
The Importance Of Working Knowledge In The Workplace
Working knowledge is critical in the workplace as it can enhance productivity and efficiency, facilitate effective communication and decision-making, and build credibility and trust- read on to learn how to develop this essential skill set.
Enhancing Productivity And Efficiency
Working knowledge of a particular subject matter can significantly enhance productivity and efficiency in the workplace. When individuals have a solid understanding of the fundamental principles and core concepts, they can perform tasks quickly and accurately without wasting time on basic or rudimentary actions.
Moreover, employees who possess relevant skills and competencies through their working knowledge are precious assets to the organization.
They can contribute ideas proactively towards problem-solving since they have better insights into how different elements interact within the system.
Facilitating Effective Communication And Decision-making
Good communication skills are essential for effective decision-making in the workplace. When team members have a working knowledge of the subject matter, they can communicate better with each other and make informed decisions.
For instance, if team members comprehensively understand their product or service offerings in the business world, they can effectively communicate their value proposition to potential clients.
Additionally, when everyone is familiar with the project's goals and objectives, decision-making is easier because they understand how their contributions impact overall success.
Working knowledge in education allows teachers to provide clear instructions to students while answering coursework questions.
Building Credibility And Trust
Strong working knowledge in any subject matter is essential for building credibility and trust in the workplace. When colleagues or clients see you can complete tasks confidently and efficiently, their trust in your abilities grows.
For example, employees who understand a company's internal systems and procedures are better equipped to communicate effectively with other departments and stakeholders.
Developing solid working knowledge is crucial for building credibility and trust within their organization or industry.
How To Develop And Demonstrate Working Knowledge
Develop and demonstrate working knowledge by gaining experience through internships, apprenticeships, and volunteering, building skills through education and training programs, and keeping up with the latest developments in your field.
Discover practical tips for developing essential competencies in various disciplines to enhance productivity, credibility, and success.
Gaining Experience Through Internships, Apprenticeships, And Volunteering
To develop and demonstrate working knowledge, gaining relevant experience is crucial. Here are some ways to do it:
Look for internships in your desired field of work. Internships offer hands-on experience and a chance to learn from professionals in the industry.
Consider apprenticeships that allow you to combine on-the-job training with classroom instruction. This provides a deeper understanding of the subject matter.
Volunteering can be an excellent way to gain experience and give back to your community at the same time. It can also help you build a network of contacts in your desired field.
Seek mentors who can provide guidance, advice, and support as you work towards developing your skills and knowledge.
Attend industry conferences, workshops, and seminars to stay up-to-date with the latest developments and trends. These events offer opportunities to engage with other professionals and gain valuable insights into the industry.
By gaining experience through internships, apprenticeships, volunteering, mentoring relationships, and attending relevant events, individuals can develop their skills and show employers that they possess working knowledge in their subject matter.
Building Skills Through Education And Training Programs
Individuals looking to develop and demonstrate their working knowledge can do so through education and training programs. Here are some ways to build skills in a given subject matter:
Enroll in a course or program related to the field to gain knowledge, improve understanding, and stay up-to-date on the latest developments.
Attend workshops, webinars, or conferences on topics of interest from industry leaders.
Seek out mentors in the field who can provide guidance and support.
Participate in online learning platforms that offer courses and resources to enhance expertise.
Join professional organizations that provide certifications, networking opportunities, and continuing education credits.
By investing time and effort into education and training programs, individuals can improve their skillset, increase their competency levels, and showcase their expertise to potential employers.
Keeping Up With The Latest Developments And Trends In The Field
Maintaining competency and relevance is crucial to Staying current with the latest developments and trends in a given field. New technologies, techniques, and strategies can emerge immediately in today's rapidly evolving landscape.
For example, professionals in technology must keep pace with advancements in artificial intelligence, cloud computing, cybersecurity, data science, and machine learning tools like TensorFlow or PyTorch or JavaScript frameworks such as Vue.js or ReactJS.
Similarly, healthcare practitioners must constantly update their knowledge about emerging diseases like COVID-19 or managing chronic illnesses during pandemics. This requires regular reading from reputable sources such as scientific journals (Nature Medicine) and attending conferences and seminars both online/in-person to gain exposure to these subjects.
Examples And Applications Of Working Knowledge
From technology to medicine, having a working knowledge of a subject is critical for success; read on to discover how essential competencies can translate into exceptional expertise.
Technology
Technology is an ever-evolving field, and having a solid working knowledge of it can significantly benefit professionals in today's digital age. Understanding the basics of computer hardware, software programs, coding languages, and networking systems are critical for success in many industries.
Such knowledge can help individuals troubleshoot common technical issues in their daily work activities. For instance, using Excel spreadsheets or visual communication tools like Canva could enhance productivity by streamlining tasks and presenting data clearly to colleagues or clients.
Additionally, keeping up with technological advancements is vital as newer versions of technology replace older ones rapidly.
Business
Business knowledge is essential for anyone looking to succeed in the corporate world. It involves understanding fundamental principles such as finance, marketing, management, and operations.
In today's rapidly changing business landscape, having this baseline understanding can make all the difference in making informed decisions and driving growth.
For example, knowing how to read financial statements or create marketing campaigns can help one stand out in the job market or excel in their current role. Even basic business skills like effective communication and time management are necessary for success at any level.
Education
Education is a critical component of developing and demonstrating working knowledge. Through education, individuals gain exposure to the underlying principles, critical skills, and fundamental concepts essential for mastery in any field.
Attending high-quality training programs or enrolling in apprenticeships can provide valuable opportunities to build one's skillset and acquire new competencies. For example, courses in programming languages such as Java or Python can equip individuals with the tools they need to become proficient developers.
Additionally, completing internships or volunteering in relevant fields provides hands-on experience and helps hone practical skills needed for success on the job.
Medicine
Working knowledge of medicine is essential for healthcare professionals, from doctors and nurses to medical assistants and technicians. It involves understanding the basic concepts and principles of human anatomy, physiology, pharmacology, and pathology.
For example, a nurse with working knowledge of medication administration can follow proper dosage guidelines and administer injections correctly into the muscle or vein as needed for different types of drugs.
They also know what possible side effects to look for after giving specific medications. Likewise, a medical assistant with knowledge about clinical procedures can take accurate measurements such as blood pressure readings which helps detect any signs of hypertension earlier on & notify physicians so they may prescribe treatment plans that prevent health complications from arising down the line.
Law
Working knowledge in law refers to the basic understanding of legal concepts, principles, and procedures. It allows individuals to navigate the legal system more effectively and make informed decisions.
Essential competencies such as identifying relevant laws and regulations, reading and interpreting legal documents, or drafting basic contracts are fundamental for any aspiring lawyer or paralegal.
For example, working knowledge of contract law can help business owners negotiate better deals with partners, suppliers, or clients. Understanding employment laws is essential for human resources professionals responsible for hiring new staff members or managing employee relations.
And knowing criminal justice procedures is crucial for citizens to protect their rights when dealing with police officers or facing charges in court.
Conclusion
"Working knowledge" is a term that describes the level of competency an individual has in a given subject matter. It is the ability to complete tasks and produce results using fundamental principles and basic skills.
Mastering the basics is essential for success in any field, as it is the foundation upon which advanced knowledge can be built. Developing and demonstrating working knowledge requires gaining experience, building skills through education and training programs, and keeping up with industry developments.
By mastering practical business knowledge and skills, individuals can achieve credibility, build trust, enhance productivity and efficiency, and facilitate effective communication & decision-making in their workplaces.
FAQs:
What is working knowledge, and how important is it in the workplace?
Working knowledge refers to understanding or proficiency with a particular concept or skill that allows one to complete tasks effectively and efficiently. It is highly valued in the workplace as it enables individuals to contribute meaningfully to their teams by performing their roles competently.
How can I acquire working knowledge on new topics?
Acquiring working knowledge on new topics requires time, effort, and practice. Some effective methods include reading relevant materials, attending workshops or courses, seeking guidance from experienced professionals, and practicing what you have learned until you are proficient at applying it.
Can I claim to possess working knowledge if I only have theoretical expertise but lack practical experience?
More than theoretical expertise is required to constitute actual working knowledge. A true mastery of any subject matter also involves the practical application of those theories through hands-on experience within that field or discipline.
How do employers evaluate an individual's level of working knowledge during job interviews?
Employers use various assessment techniques such as asking specific questions related to the job position being offered, giving written tests simulating real-life scenarios targeted at evaluating one's comprehension and ability to apply concepts to actual situations, conducting skills demonstrations through role-playing, case studies, etc., observing body language & non-verbal cues during conversations – all these help assess an individual's level of expertise for a given role in question while determining whether he/she has sufficient depth/competence required to succeed therein.