Disclaimer: We sometimes use affiliate links in our content. For more information, visit our Disclaimer Page. 
Google Reviews are a crucial aspect of any business's online presence. They not only help improve visibility on search engines, but they also act as social proof for potential customers. However, managing and growing a steady stream of reviews can take time and effort. That's where Google Review Automation Tools come in.
This blog post will discuss the top 6 tools available for automating, managing, and growing more Google Reviews.
6 Best Automated Google Reviews Tools
Following is the list of best Google reviews automation tools to get more positive reviews for your online business.
1. Localo
Localo is a tool designed to help companies manage and optimize their Google Business Profiles. It uses reverse engineering technology to provide an efficient way to improve online presence.
Users can add their business and select keywords relevant to their industry. The tool analyzes the company's position across multiple geographic locations and provides a visual representation of its performance. This allows users to identify areas for improvement and receive customized optimization tips.
By following these tips, businesses can expect an improvement in their profile position on Google. Localo advanced technology and user-friendly interface make it a valuable asset for organizations looking to improve their online visibility and reach.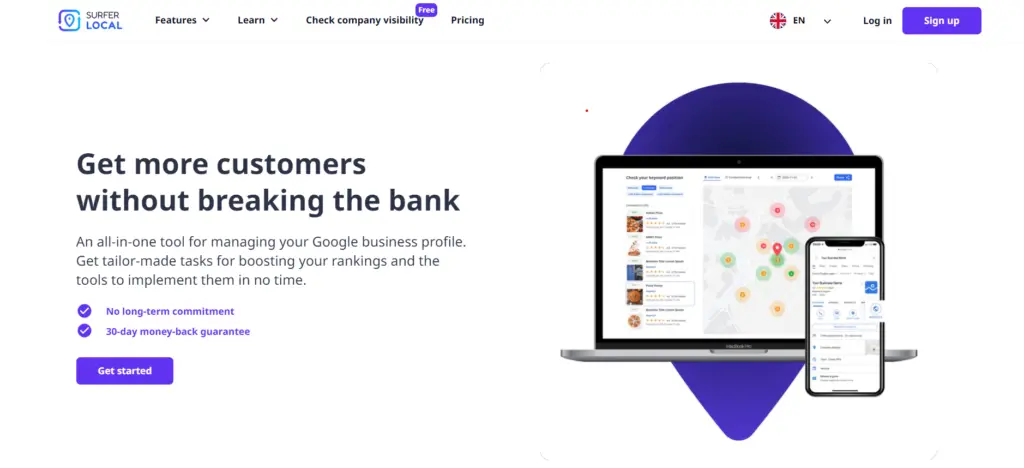 Key Features:
Monitoring: Localo allows you to track your business's position for keywords, analyze competitors, and monitor your overall visibility. This feature provides valuable insights into your online performance.
Protection: Protect your business profile from the competition with Localo's profile protection feature. Safeguard your visibility and maintain a strong online presence.
Google Business Audit: Get a comprehensive status report on your Google Business profile, including name, description, category, properties, reviews, citations, images, and posts. Identify areas for improvement and optimize your profile for maximum impact.
Google Post Scheduler: Schedule and publish Google posts directly from Localo. Save time and effortlessly engage with your audience by consistently sharing valuable content.
Artificial Intelligence: Utilize the power of AI with Localo's AI post generator and content suggestions. Generate compelling business descriptions, review replies, and ready-made content ideas to enhance your online presence.
Review Manager: Easily manage and reply to customer reviews from within Localo. Benefit from pre-made reply templates and a review tracking module to efficiently handle customer feedback.
Use Cases:
Local Businesses: Localo is an invaluable tool for local businesses looking to improve their online visibility and attract more customers. By monitoring their Google ranking, optimizing their business profiles, and engaging with customers through reviews and posts, they can enhance their online presence and drive growth.
Digital Marketing Agencies: Digital marketing agencies can leverage Localo to manage multiple locations and clients efficiently. The white-label mode and advanced grids enable them to provide comprehensive services, including research, audits, and ongoing optimization, while saving time and effort.
Entrepreneurs and Startups: Entrepreneurs and startups can benefit from Localo by leveraging its monitoring capabilities to track their business's visibility and make data-driven decisions. The AI content generator and post scheduler help them create compelling content and engage with their audience effectively.
Pricing and Plans: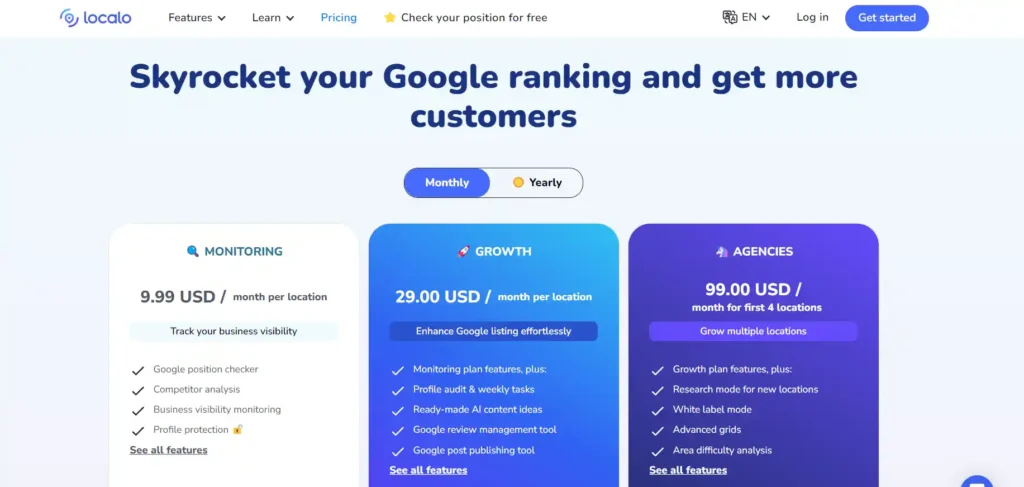 The pricing structure for Localo offers different tiers to accommodate various business needs:
Monitoring: This plan is priced at $9.99 per month per location. It includes features such as Google position checker, competitor analysis, business visibility monitoring, and profile protection. Additional locations can be added for an extra $9.99 per location.
Growth: For $29.00 per month per location, the Growth plan includes all the features of the Monitoring plan, along with profile audit and weekly tasks, ready-made AI content ideas, Google review management tool, and Google post publishing tool. Additional locations can be added for an extra $29.00 per location.
Agencies: The Agencies plan is priced at $99.00 per month for the first 4 locations. It includes all the features of the Growth Plan, plus research mode for new locations, white-label mode, advanced grids, and area difficulty analysis. Additional locations can be added for an extra $10.00 per location.
Localo also offers a 30-day money-back guarantee, ensuring customer satisfaction. For detailed pricing information or to explore other available options, please visit their official website.
2. GetMoreReviews 
GetMoreReviews is a powerful review platform designed to help business owners to manage their online reputation and generate positive reviews. By utilizing automated review requests and feedback recording, GetMoreReviews encourages satisfied customers to leave a positive review while also capturing negative feedback for internal resolution.
Businesses can monitor reviews, respond to them publicly, and monitor their overall online reputation with automated reports through the platform's central dashboard. Any business looking to enhance its online presence can benefit from GetMoreReviews' ability to improve its online reputation, increase existing reviews, and attract new customers.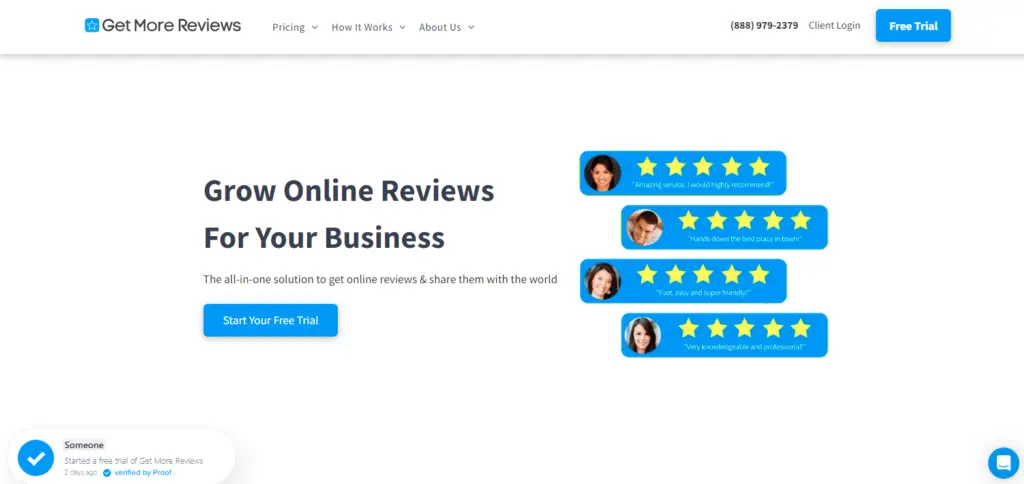 Key Features:
Review Request System: Businesses can send review requests to their customers via email or SMS text messages, making it convenient for customers to provide feedback.
Multiple Review Sites: The software supports various review sites, allowing customers to review businesses anywhere online, maximizing the reach and impact of the reviews.
Prompt and Actionable Review Requests: The software provides short, simple review requests that prompt customers to write five-star reviews, increasing the likelihood of positive feedback.
Customer Feedback Management: Get More Reviews enables businesses to manage customer feedback effectively and respond promptly to customer concerns, fostering better customer relationships.
Use Cases:
Local Businesses: Get More Reviews is suitable for all types of local businesses, such as restaurants, retail stores, service providers, and more. It helps them gather positive reviews and build a strong online reputation.
Marketing Agencies: Marketing agencies can leverage the software to assist their clients in generating more online reviews. It streamlines the review management process and enhances the agencies' ability to deliver results.
Any Industry: The software's versatility makes it applicable to any industry that relies on customer reviews. Whether it's hospitality, healthcare, e-commerce, or professional services, businesses can benefit from the tool's features.
Pricing: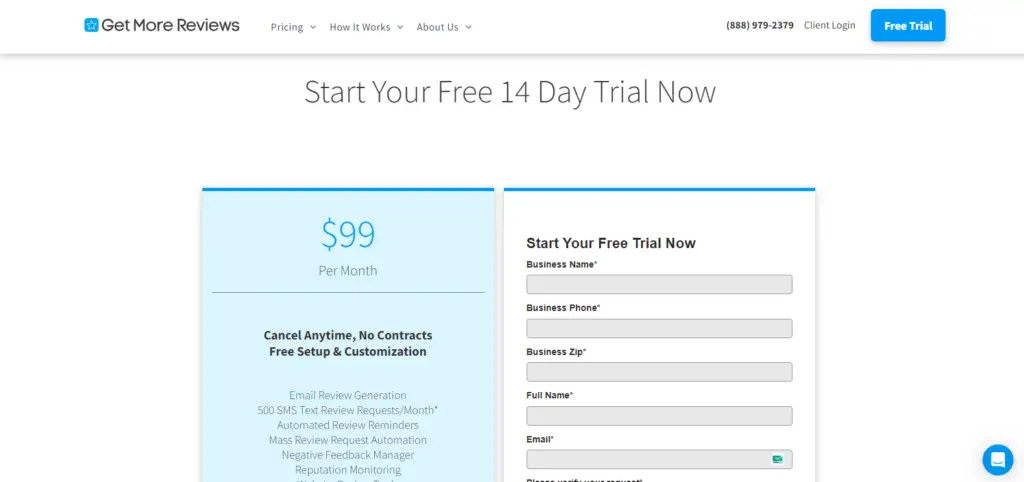 This will cost $99/month. You'll get Email Review Generation, 500 SMS Text Review Requests/Month, Automated Review Reminders, Mass Review Request Automation, Negative Reviews Manager, Dashboard Analytics Access, Chat & Email-Based Support, and more.
3. Boast
Boast is a video testimonial platform that helps businesses build trust and increase sales by capturing customer feedback. With Boast's all-in-one solution, collecting video testimonials, photos, and text feedback is easy and hassle-free. 
The platform's user-friendly interface makes it simple to request and manage testimonials, online reviews, and customer surveys all in one place. By sharing these positive experiences with prospects, businesses can showcase their credibility, build trust, and ultimately increase their sales.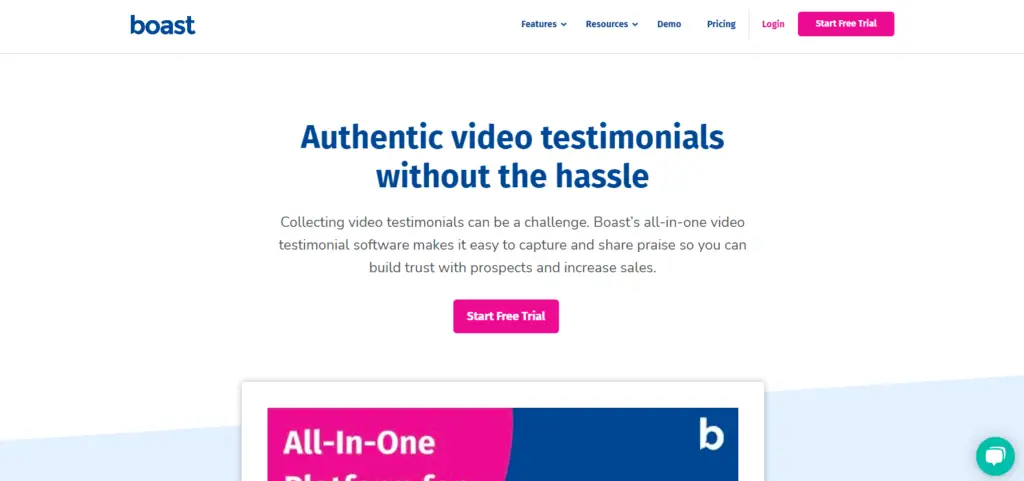 Key Features:
Capture and Share Video Testimonials: Boast allows businesses to easily capture video testimonials from customers and share them to build credibility and trust with potential customers.
Hassle-Free Customer Experience: The software ensures an excellent user experience for customers, making it simple for them to submit their video testimonials without any burdensome steps.
Flexible Form Distribution: Boast provides options to share a link to the Boast-hosted form or embed the form directly on the business website, making it convenient for customers to submit their testimonials.
Automated Reminder System: The tool automatically sends reminders to customers via email or text messages, encouraging them to submit their testimonials, thereby increasing the submission rate.
Responsive and Mobile-Friendly: With mobile-friendly forms, customers can record video testimonials using any camera-enabled device, allowing for flexibility and ease of use.
Use Cases:
E-commerce Businesses: Online retailers can leverage Boast to collect video testimonials from satisfied customers, showcasing positive experiences and boosting credibility to drive more sales.
Service-Based Companies: Service providers such as agencies, consultants, or freelancers can use Boast to gather video testimonials that highlight their expertise and customer satisfaction, attracting new clients.
Educational Institutions: Schools, colleges, or training organizations can utilize Boast to collect student testimonials and showcase success stories to attract more students.
Non-profit Organizations: Non-profit organizations can collect video testimonials from volunteers, beneficiaries, or donors to demonstrate the positive impact they have made, encouraging more support.
Pricing: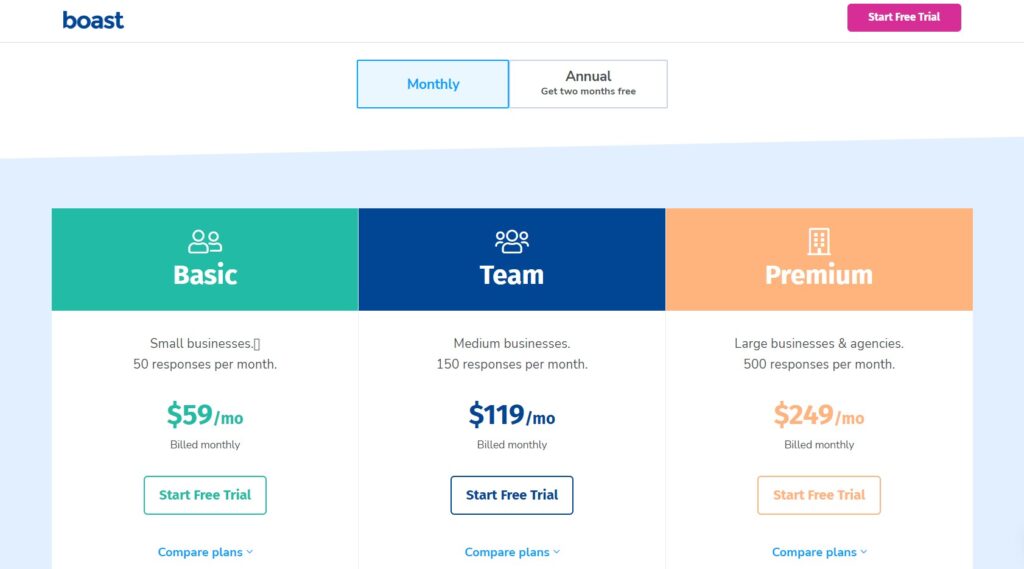 It has four pricing plans available.
Basic: At $59 per month, the Basic plan offers 50 responses for customer feedback collection.
Team: The Team plan is priced at $119 per month and provides 150 responses per month to gather customer feedback.
Premium: The Premium plan costs $249 monthly and includes 500 responses for collecting customer feedback.
Enterprise: For the enterprise plan, you have to contact them.
4. Tagembed 
Businesses that want to expand their social reach and engage with their audience will benefit from Tagembed. This comprehensive social media aggregator allows you to display your content in one place, creating an eye-catching display. Tagembed's powerful features, like customizable widgets and intuitive design tools, help elevate your social media presence.
With this platform, businesses can effortlessly curate, moderate, and showcase their social media content on their website. This can help them boost engagement levels, acquire trustworthiness and generate conversions by displaying customer testimonials, stories from social networks, and visual galleries.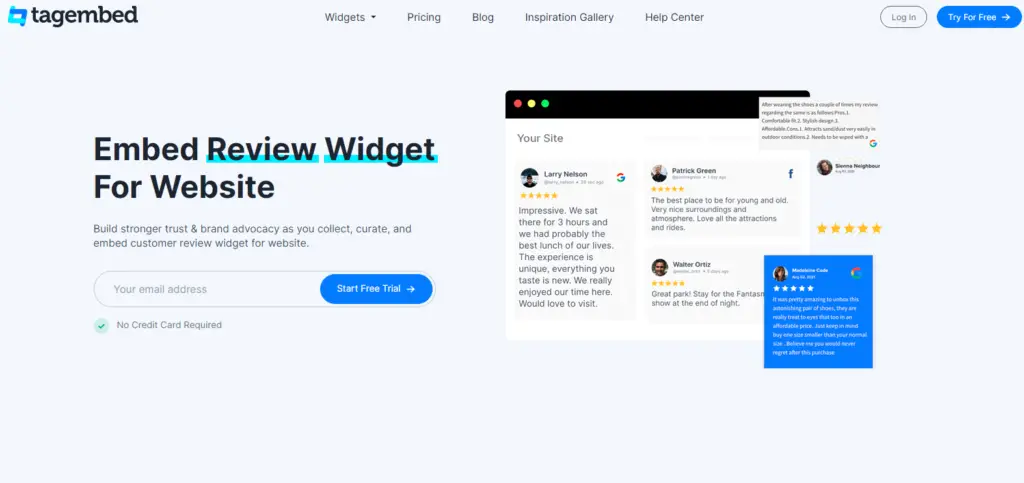 Key Features:
Wide Range of Widgets: Tagembed offers a diverse collection of widgets that allow users to embed social media feeds from platforms like Instagram, Facebook, Twitter, LinkedIn, TikTok, RSS, Slack, YouTube, and Pinterest. These widgets enable businesses to showcase dynamic social media content directly on their websites.
Customization Options: Users can customize their social media feeds using Tagembed's features such as custom CSS, custom call-to-action buttons, web themes, and custom posts. These customization options help align the embedded feeds with the website's branding and design.
Content Moderation: Tagembed provides manual and automatic moderation options to filter and control the content displayed in the embedded social media feeds. This ensures that only appropriate and relevant content is showcased on the website.
Engagement and Web Analytics: The application offers engagement analytics to track the performance of the embedded social media feeds, providing insights into user interactions and engagement. Additionally, web analytics provide data on how the embedded feeds contribute to website traffic and visitor behavior.
Collaboration and Support: Tagembed allows multiple collaborators to manage social media feeds, facilitating teamwork and collaboration. The tool offers email support, and higher-tier plans provide dedicated support for enhanced assistance.
Use Cases:
E-commerce Websites: Online stores can leverage Tagembed to display user-generated content and customer reviews from social media platforms, increasing trust and encouraging conversions.
Event Websites: Event organizers can embed social media feeds to showcase real-time updates, photos, and videos from attendees, creating a dynamic and engaging event experience.
News and Blog Websites: Publishers and bloggers can utilize Tagembed to embed social media feeds related to trending topics or specific hashtags, enhancing the content's relevance and interactivity.
Brand Websites: Brands can showcase their social media presence by embedding feeds from various platforms, fostering social proof and brand authenticity.
Pricing and Plans: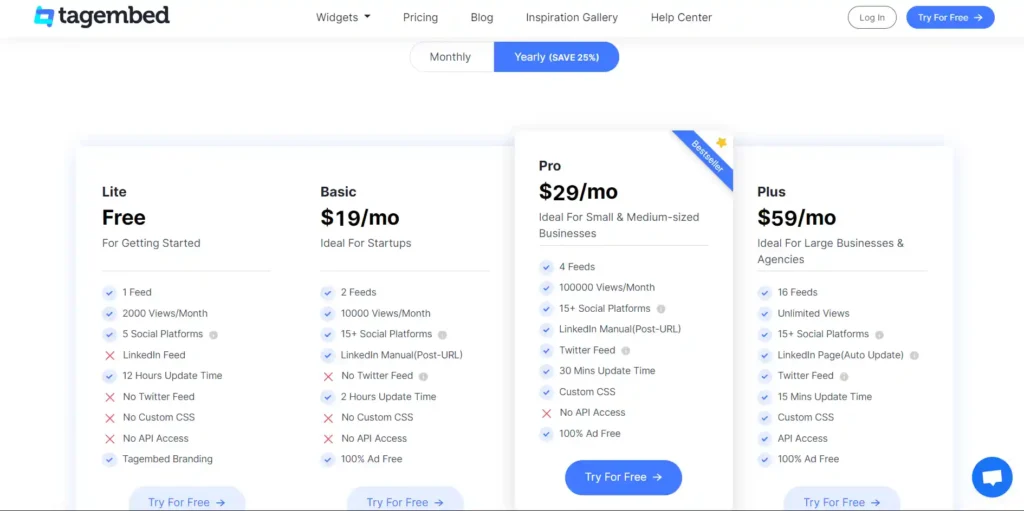 Tagembed offers a range of pricing tiers designed to meet different business needs:
Lite (Free): This plan is perfect for getting started and includes 1 feed, 2,000 views per month, support for 5 social platforms, and a 12-hour content update time. However, it includes Tagembed branding and lacks a Twitter feed, custom CSS, API access, and certain other advanced features.
Basic ($19/month): Ideal for startups, this plan includes 2 feeds, 10,000 views per month, support for 15+ social platforms, manual LinkedIn posting, 2-hour content update time, and a 100% ad-free experience. However, it doesn't provide a Twitter feed, custom CSS, API access, or advanced features available in higher-tier plans.
Pro ($29/month): Tailored for small and medium-sized businesses, this plan offers 4 feeds, 100,000 views per month, support for 15+ social platforms, manual LinkedIn posting (including post URLs), Twitter feed, 30-minute content update time, custom CSS, and 100% ad-free experience. However, it doesn't include API access or certain advanced features.
Plus ($59/month): Designed for large businesses and agencies, this plan provides 16 feeds, unlimited views, support for 15+ social platforms, automated LinkedIn page updates, a Twitter feed, 15-minute content update time, custom CSS, API access, and 100% ad-free experience.
Tagembed also offers a yearly subscription option, which provides a 25% discount compared to monthly plans. Additionally, the software provides a free trial period for users to experience its features before committing to a paid plan.
For more detailed information on pricing and to explore enterprise solutions, it is recommended to visit the Tagembed website as specific pricing details may vary or change over time.
5. NapoloenCat
NapoloenCat is a comprehensive social media management solution for businesses looking to streamline their social media presence across various platforms. With publishing, conversation tracking, and content management features, businesses can efficiently manage their online presence and engage with their audience. 
The platform supports popular social media networks like Facebook, Twitter, Instagram, and more, making it a one-stop shop for managing multiple social media accounts. Its advanced moderation tools and calendar feature allow businesses to plan and publish content quickly.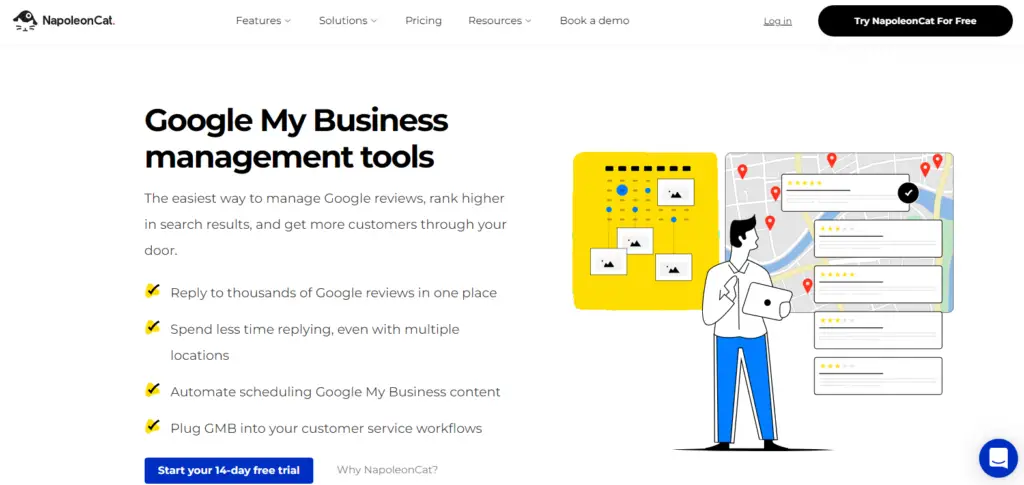 Key Features:
Social Inbox: Track and reply to messages, reviews, and comments across multiple social media platforms in one dashboard. Streamline customer service, marketing, and audience engagement.
Automation: Automate customer communication to save time and enhance the customer experience. Handle a growing number of interactions with ease.
Publishing: Automate the approval, scheduling, and publishing of social media content across different accounts and platforms. Keep your team on the same page with a shared, color-coded calendar.
Analytics: Monitor the performance of social media content and analyze competitors' channels. Gain insights to align your strategy with your goals and improve engagement, response rates, and sales.
Reporting: Schedule automated reports and customize them to showcase your social media data. Share reports with stakeholders, including clients and team members.
Use Cases:
Customer Support: Respond to messages, reviews, and comments promptly from a unified dashboard. Efficiently manage customer inquiries, resolve issues, and provide excellent customer support.
Marketing Campaigns: Automate the approval and scheduling of social media content for marketing campaigns. Ensure consistent messaging and optimize content performance.
Competitive Analysis: Analyze competitors' social media channels and track their performance. Identify opportunities and refine your social media strategy to outperform competitors.
Team Collaboration: Collaborate effectively within your team by using the shared calendar and Social Inbox. Streamline workflows, eliminate communication gaps, and enhance team productivity.
Pricing: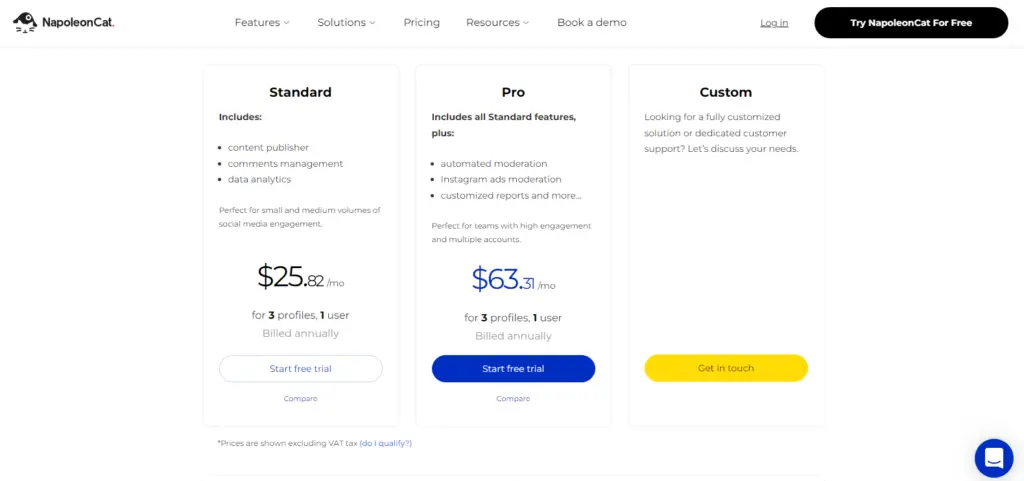 It has three pricing plans available.
Standard: $25.82/month with content publishing, comments management, and data analytics.
Pro: $63.31/month with all Standard features and other automated moderation, Instagram ads moderation, and customizable reports.
Custom: Contact for personalized pricing and features tailored to specific needs.
6. NiceJob 
NiceJob is a comprehensive reputation management tool that helps businesses build and maintain their online reputation. With features such as automated review invitations and reminders, reputation monitoring, and website integration, NiceJob makes it easy for businesses to gather valuable customer feedback and share it with the world. 
It helps businesses showcase the positive experiences of their customers by creating custom customer stories that are shared on social media platforms, which helps them to gain more reviews through the promotion of their brand to a broader audience.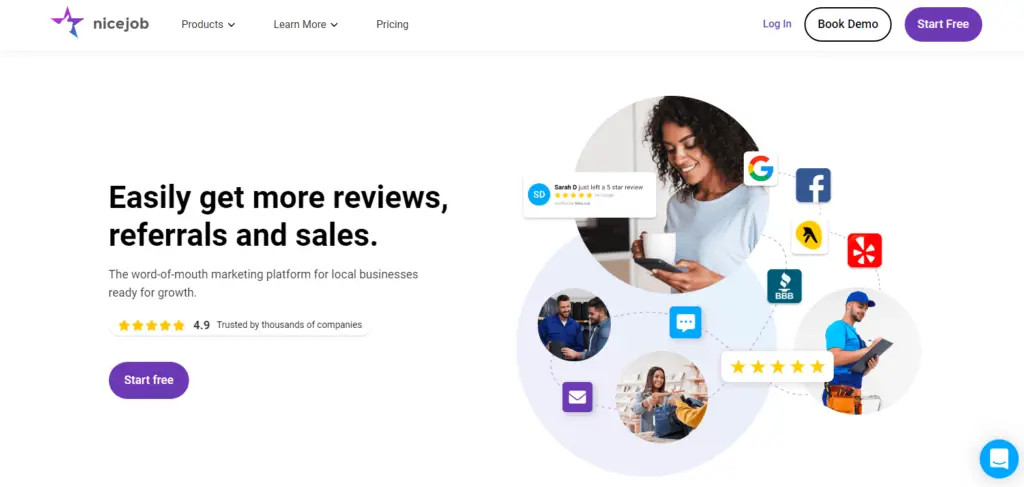 Key Features:
Review and Recommendation Collection: NiceJob automates the process of collecting reviews and recommendations from customers, making it easy for businesses to gather feedback.
Multi-Channel Marketing: The platform leverages reviews and photos across all marketing channels, including social media, websites, and search engine results, to increase conversions and improve online reputation.
Social Media Marketing Automation: NiceJob uses customer reviews and photos to automate social media marketing, helping businesses enhance their online presence and engagement.
SEO Improvement: By publishing customer reviews and photos as social proof, NiceJob helps businesses improve their search engine rankings, website traffic, and overall online visibility.
Use Cases:
Small Businesses: NiceJob is suitable for small businesses that want to establish a strong online reputation, attract more leads, and increase sales through customer reviews and recommendations.
Service-Based Industries: Businesses in service-based industries, such as home services, professional services, and hospitality, can benefit from NiceJob's reputation marketing platform to showcase their customer satisfaction and attract new clients.
E-commerce: Even e-commerce businesses can leverage NiceJob's features to improve their SEO, increase website traffic, and enhance conversions by displaying customer reviews and photos on their websites.
Pricing and Plans:
The software offers various pricing levels to accommodate different business needs:
Reviews: $75.00 per month
Convert: $99.00 per month
Reviews + Convert: $175.00 per month
NiceJob also offers a free trial, allowing businesses to try out the platform before committing to a subscription. For more information on pricing and plans, it's recommended to visit the NiceJob website as specific pricing details may be subject to change.
How to choose the right Google Review Automation Tool for your business
When selecting a Google review automation tool, there are several considerations to keep in mind:
Integration with other tools and platforms
Automated review generation and monitoring
Reporting and analytics capabilities
Customer support
Pricing
Consider each of these points and determine which tool best fits the needs of your business.
How to implement Google Review Automation Tools for your business
Once you have selected the right tool for your business, the next step is to implement it and start seeing results. Here are the steps to get started with review automation:
Sign up for an account with your chosen tool
Connect your business's Google listing
Set up automated review requests
Monitor and respond to reviews on time
Utilize reporting and analytics features to track progress and make informed decisions
By following these steps, you can quickly and easily get started with review automation and start boosting your business's online presence.
Related: How to Generate More Positive Google Reviews
Conclusion
Since many consumers trust online reviews, managing reviews is essential to any business's ability to leverage the power of Google Reviews. Fortunately, many review platforms can help businesses automate and streamline the process of managing their reviews. 
In this blog post, we discussed the top 6 Google review automation tools available. Do you have a favorite tool that didn't make our list? Let us know in the comment section below!
Related: How To Promote Your Business Locally
FAQs:
Is it illegal to spam Google reviews?
Google does not tolerate reviews that are spammy or fake. These reviews do not yield with the review policy of Google.
Can Google detect fake reviews?
Yes, Google protects its review platform from fake reviews by combining automated systems and human moderators.
How many 5-star reviews do I need for Google reviews?
If you want a 5-star overall score as fast as possible, you'll need 25 more 5-star reviews. And when Google updates your review score, you'll have a 5-star rating.
What is an Autogenerated email?
The auto-generated email name function produces an email address with a user name based on a literal concatenated with a sequential number. Sequential numbers are suffixes that begin with 1 and are incremented by 1.
Which review platform is best?
While Google Reviews is certainly a popular and trusted platform, with 81% of consumers relying on it to evaluate local businesses, it's important to keep in mind that one size does not fit all. Different people have different preferences and may find more value in other review platforms. So, it's recommended to explore multiple options and go with the one that aligns best with your needs.