Disclaimer: We sometimes use affiliate links in our content. For more information, visit our Disclaimer Page. 
Workplace experience is the combination of an employee's physical, emotional, and technological environment that helps them perform their tasks efficiently and effectively. It encompasses all aspects of an employee's experience and plays a vital role in shaping their overall satisfaction and engagement at work.
A positive workplace experience can boost employee productivity, foster creativity, and improve overall performance. It involves creating a supportive and inclusive work environment that prioritizes employee well-being and promotes continuous growth and development.
Key Takeaways:
Workplace experience encompasses an employee's physical, emotional, and technological environment.
A positive workplace experience can boost employee productivity and overall performance.
Prioritizing employee well-being and promoting growth and development are crucial factors in creating a positive workplace experience.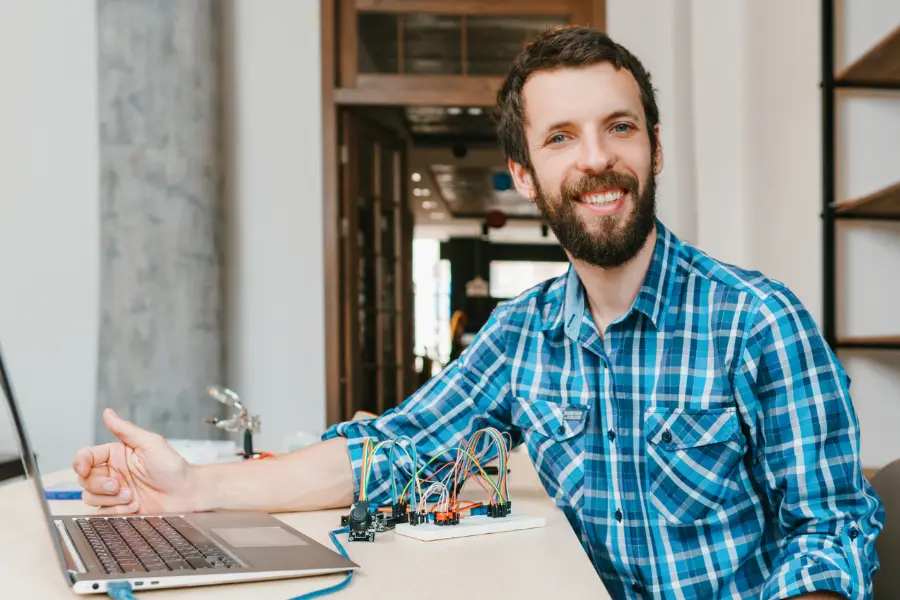 The Importance of Workplace Experience
Creating a positive workplace experience is crucial for achieving success in any organization. By enhancing employee engagement, satisfaction, and overall well-being, employees are more motivated, productive, and committed to their work.
Companies that prioritize workplace experience have a competitive edge in attracting and retaining top talent. Employees are drawn to organizations that prioritize their well-being and create a supportive work environment.
A positive work environment and strong workplace culture contribute to a thriving workplace experience. When employees feel valued, respected, and included, they are more likely to be engaged and committed to their job.
The Role of Leadership
Leaders play a crucial role in creating a positive work environment and enhancing the workplace experience. By setting a positive example, communicating effectively, and providing opportunities for growth and development, leaders can inspire their employees to reach their full potential.
Communication and Collaboration
Effective communication and collaboration are key components of a positive work environment. When employees are encouraged to share their ideas, insights, and feedback, they feel valued and empowered. Collaboration fosters innovation, creativity, and a sense of community within the workplace.
Investment in Employee Development
Investing in employee development is another critical factor in creating a positive workplace experience. Offering training, professional development opportunities, and mentoring programs can help employees feel valued and supported in their career growth. Professional development also equips employees with the skills and knowledge needed to contribute to the success of the organization.
Ultimately, prioritizing workplace experience is essential for a thriving, successful organization. By building a positive work environment, nurturing a strong workplace culture, and investing in employee well-being and development, organizations can create a fulfilling and engaging workplace experience that drives overall success.
Understanding Employee Engagement
Employee engagement is a crucial element of workplace experience, influencing how employees feel about their work, their colleagues, and their organization. Engaged employees are more likely to be productive, committed, and satisfied with their jobs, contributing to a positive work environment.
At the core of employee engagement are meaningful relationships and open communication. Employees who feel valued and connected to their coworkers and leaders are more likely to remain engaged and motivated. Additionally, providing opportunities for professional growth and development can enhance employee engagement, allowing them to feel invested in their work and career paths.
To boost employee engagement, organizations can implement a variety of initiatives, such as mentorship programs, career development plans, and regular performance feedback. Creating a culture that prioritizes employee recognition and rewards can also play a significant role in promoting engagement and motivation.
Strategies to Boost Employee Engagement
Here are some practical strategies for enhancing employee engagement:
Encourage open communication and provide opportunities for employee feedback.
Invest in learning and development programs to promote professional growth.
Create a culture of recognition and appreciation.
Offer flexible work arrangements to support work-life balance.
Build trust and transparency among leaders and employees.
By prioritizing employee engagement and implementing strategies to enhance it, organizations can create a more positive and fulfilling workplace experience for their employees.
Building a Positive Work Environment
A positive work environment is crucial in creating a satisfying workplace experience for employees. It is the responsibility of the organization's leadership to set the tone and create an atmosphere of collaboration and support.
Leadership: Strong leadership plays a vital role in building a positive work environment. Leaders must communicate effectively, lead by example and encourage participation, and engagement among team members.
Communication: Clear and transparent communication is essential in creating a positive work environment. It enables employees to understand their roles, responsibilities and provides clarity on expectations. Regular check-ins, feedback sessions, and team meetings can promote communication and a sense of belonging.
Collaboration: Encouraging collaboration and teamwork can foster a supportive work environment. Cross-functional projects and team-building activities can bring employees together, boost morale and create a sense of shared purpose.
Recognition: Recognizing the contributions of employees is crucial in creating a positive work environment. Positive reinforcement, rewards, and recognition programs can motivate employees, boost morale and foster a sense of appreciation and recognition.
Opportunities for Growth: Providing opportunities for professional development and career growth can be highly motivating for employees. It can lead to increased job satisfaction, motivation, and a sense of accomplishment, contributing to a positive work environment.
A positive work environment can lead to higher employee satisfaction, increased productivity, and lower turnover rates, making it a crucial component of a successful workplace experience.
Nurturing Workplace Culture
A positive and inclusive workplace culture is a crucial component of a thriving workplace experience. It is built on a foundation of mutual respect, shared values, and a sense of belonging. A strong culture encourages collaboration, innovation, and personal growth, leading to higher engagement, productivity, and overall job satisfaction.
To nurture a positive workplace culture, organizations should prioritize effective communication, encourage employee participation and feedback, and provide opportunities for personal and professional development. It is also essential to celebrate diversity, promote inclusivity, and ensure that everyone feels valued and heard.
"A positive workplace culture is not only good for business but also for the well-being of employees. When employees feel supported and engaged, they are more likely to be productive, creative, and committed to the success of the organization."
Leaders play a critical role in shaping workplace culture. They should lead by example, embodying the values and behaviors they wish to see in their employees. They should also create a safe space for employees to express their opinions, share their ideas, and voice their concerns. By prioritizing a positive and inclusive workplace culture, organizations can foster a sense of community, build trust, and create a collaborative and supportive work environment.
Measuring Workplace Experience
Measuring workplace experience is essential for understanding employee satisfaction and identifying areas of improvement. There are several methods that organizations can use to measure workplace experience.
Feedback and Surveys
One of the most common methods is through feedback and surveys. Organizations can collect feedback from employees through anonymous surveys, focus groups, or one-on-one interviews. This provides valuable insights into employee perceptions and experiences in the workplace.
It is important to ask specific questions that relate to different aspects of workplace experience, such as communication, collaboration, leadership, and work-life balance. This information can be used to identify areas for improvement and develop strategies to enhance the workplace experience.
Data Analysis
Data analysis is another effective method for measuring workplace experience. This involves analyzing different types of data, such as employee turnover rates, absenteeism, and productivity levels. If these factors are consistently low, it may indicate that employees are not satisfied with their workplace experience.
Analyzing this data can help organizations identify patterns or trends and take action to improve the workplace experience. For example, if there is a high turnover rate, it may indicate a need for better career growth opportunities or a more positive work environment.
Implementing Strategies for an Optimal Workplace Experience
Now that we understand the significance of workplace experience, let's explore practical strategies and initiatives to enhance it further.
1. Emphasize Leadership
Leadership plays a crucial role in shaping workplace experience. It's essential to ensure that leaders at all levels of the organization are aligned and committed to creating a positive work environment. Investing in leadership development programs can equip leaders with the necessary skills and tools to build a supportive and engaging workplace culture.
2. Offer Training and Professional Development Opportunities
Employee growth and development are critical components of a positive workplace experience. Offering training and development opportunities can help employees acquire new skills and advance their careers, leading to a sense of fulfillment and engagement. Organizations can provide mentorship programs, workshops, and online training to support their employees' growth.
3. Foster Collaboration and Communication
A collaborative work environment promotes innovation and fosters a sense of belonging. Organizations can encourage cross-functional collaboration and open communication channels to promote teamwork and idea-sharing. Leaders can create opportunities for team-building activities and establish regular check-ins to maintain open communication throughout the organization.
4. Prioritize Well-Being
As we discussed earlier, employee well-being is crucial for a positive workplace experience. Providing resources to support physical and mental health, such as gym memberships, mental health days, and access to counseling services, can help employees prioritize their well-being. Organizations can also consider flexible work arrangements to accommodate employees' personal lives and reduce the stress associated with the traditional 9-5 workday.
5. Recognize and Reward Achievements
Recognizing employee achievements and rewarding their contributions can help boost morale and create a sense of value. Organizations can implement a formal recognition program to acknowledge outstanding employee performance and celebrate milestones and accomplishments. This can include bonuses, awards, and public recognition in team meetings or company-wide events.
By implementing these strategies, organizations can create an optimal workplace experience that promotes engagement, growth, and well-being. By prioritizing workplace experience, organizations can improve employee satisfaction and ultimately drive overall success.
Conclusion
Workplace experience is a critical factor in achieving employee satisfaction and overall success. As we have discussed throughout this article, creating a positive work environment, nurturing workplace culture, prioritizing employee well-being, and implementing strategies for engagement can have a significant impact on workplace experience.
FAQ
What is workplace experience and how do you measure it?
Workplace experience refers to all the ways the work environment impacts those who use it, including physical space, technology, and cultural factors. Measuring workplace experience involves collecting feedback from employees, analyzing metrics related to engagement, satisfaction, and productivity, and assessing how well the environment supports their needs.
What are the roles in workplace experience?
Roles in workplace experience encompass various responsibilities, including space design and layout, technology integration, employee engagement initiatives, fostering a positive culture, ensuring physical and mental well-being, and managing feedback to continuously improve the work environment.
What is a workplace experience team?
A workplace experience team is a group within an organization dedicated to enhancing the overall experience of employees in the workplace. This team is responsible for creating and maintaining a conducive environment, incorporating technology solutions, and promoting a positive organizational culture.
What makes a great workplace experience?
A great workplace experience is characterized by factors such as a well-designed physical environment, effective use of technology, a positive organizational culture, opportunities for flexibility, and a focus on employee well-being. It fosters engagement, collaboration, and job satisfaction.
What is meant by workplace experience?
Workplace experience refers to a holistic approach aimed at creating an optimal environment for employees to effectively carry out their tasks. It includes factors like physical space, technology, and organizational culture that contribute to employee engagement and well-being.