Disclaimer: We sometimes use affiliate links in our content. For more information, visit our Disclaimer Page. 
There is a saying that "All work, no play makes Jack a dull worker," and this is particularly true in every activity in life. I am not saying that playing instead of working is great, but there needs to be some time for workers to be appreciated for their hard work in an organization. Recognition significantly influences employees and can contribute to a positive workplace culture.
Employee motivation and appreciation are both shown when employers formally recognize them for a job well done. A stronger, healthier workplace is established by showcasing employees' accomplishments and positive traits. An elevated sense of accomplishment at work is achieved when people take note of your accomplishments.
In addition to traditional means of employee recognition, there is also some online employee recognition software available, making it easier for employers to appreciate their employees without having to do all the work. 
This article discusses why employee recognition is important, how to recognize employees' achievements, examples of individual and team achievement recognition, and how to create successful employee achievement programs. 
Why is it important for a company to recognize employees' achievements?
Everyone likes to be appreciated and recognized for a job well done because encouragement and appreciation will boost confidence. The difference between a satisfied employee and one who goes above and beyond can be made by recognizing good work performance.
Here are some of the reasons why a company needs to appreciate its employees:
• Improve work environment
People frequently leave their employment because they feel overworked and undervalued. Employee appreciation lowers turnover rates and attracts new, motivated workers. A good working environment motivates workers to work harder, which helps grow the company. 
• Increase Productivity and Profitability 
The level of work done will increase immensely if employees feel appreciated for what they do. Employee productivity increases when hard effort and performance are rewarded. Employee success is encouraged when performance is recognized. 
• It helps strengthen the core value of the company
All businesses should treat employees well as one of their key values. A company that values its workers will give them the freedom to grow; when employees grow, so does the business.
It's clear to employees where they stand in the organization when they are treated well and rewarded for their efforts. By genuinely caring for their people, businesses may strengthen their basic values.
• Reduces stress in employees
Having an employee recognition system but not using it is slightly worse than not having one. Unappreciated employees will negatively affect productivity and the success of the company. 
Some employees can worry about whether they're living up to the standards set by the organization due to their concerns about their job performance.
How to appreciate employees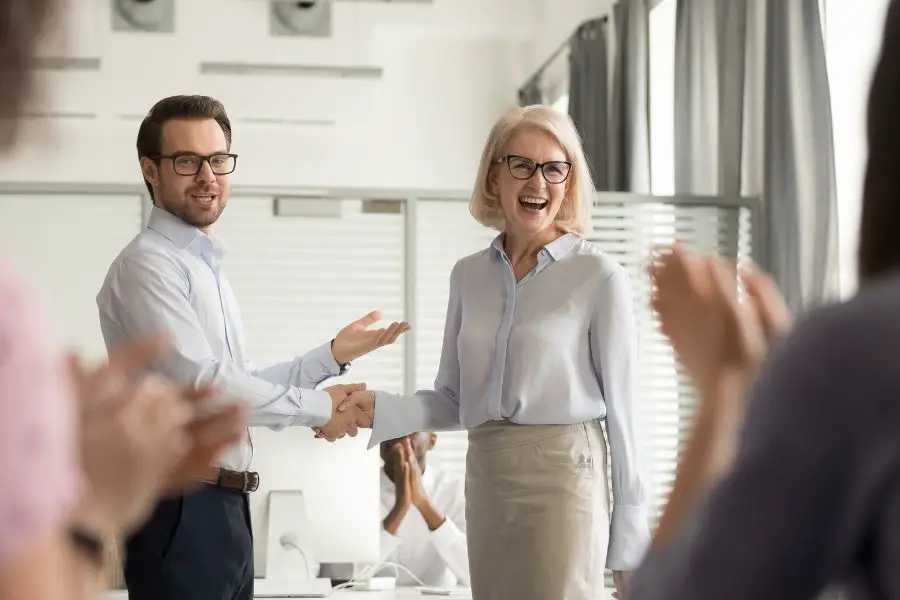 Here are some ways employers can appreciate their workers:
• Host recognition meetings regularly
Companies can host meetings with all of their workers to show appreciation and recognition to the most active employee of the month or the most efficient worker. This will help boost the workers' morale and encourage those that are not so active to work harder. 
• Recognize goal achievement 
Establish team goals and use goal accomplishment programs to motivate your team to achieve them.
These programs may provide incentives such as prizes, bonuses, or other benefits to demonstrate to employees that they are valued. It also draws attention to their efforts.
Achieving an objective feels great, but the joy increases when people recognize your accomplishment.
Allow staff members to participate in the program. Let them establish demanding, doable objectives and get their opinions on rewards.
• Say 'Thank You' more
Saying 'thank you' when your employees get work done is very important, as it shows appreciation in a little but recognized way. It is simply a subdued celebration of their accomplishments. It serves as a reminder to them that they matter and are valuable employees.
A more profound, beneficial workplace connection will be made by workers aware that their actions are being observed.
• Take care of your employees
Treating your staff respectfully makes them feel valued and part of a work family. As they speak, pay attention. Inform them that their opinions are valued and that they benefit the company.
Related: How To Show Employee Appreciation
The Bottom Line
Recognizing the efforts of your employees and appreciating them are essential parts of any organization's growth. Without them, turnover increases, employee morale declines, and lack of motivation. A strong recognition tool will enable staff, teams, and leaders to congratulate one another, promoting an atmosphere centered on accomplishment, gratitude, and business success.