Disclaimer: We sometimes use affiliate links in our content. For more information, visit our Disclaimer Page. 
When it comes to sales, there's more than meets the eye. Achieving a favorable sales mix is key to a successful business. But what does that mean? And how can you calculate it? This blog post will define the sales mix, provide a formula for calculating it, and give some examples.
We'll also explain why achieving a favorable sales mix is essential and tips. So, whether you're a business owner or simply looking to gain a better understanding of sales, keep reading!
What is Sales Mix?
The sales mix is one of the most crucial choices a company makes sense demand and profitability vary from product to product. The sales ratio for each product compared to the overall sales volume of all products is a company's sales mix. The company's sales mix must be determined for effective business operations to maximize income and profit.
Related: Marketing Mix
Explanation
The sales mix refers to the number of units sold of each product in a company's line. The sales mix can be expressed as any combination of the individual products that make up the line, such as 20 percent X and 80 percent Y.
For example, if a company sells Pizzas (X), Burgers (Y), and Soda (Z), its sales mix could look like this:
20% Pizza; 80% Burger; 0% Soda
7.5% Pizza; 15.3% Burger; 7.5% Soda
10.2% Pizza, 8.1% Burgers and 4.1 % soda, etc…
The sales mix tells a business several things: what type of products it sells, how many items per month or year, and whether it is gaining or losing customers.
Companies often change their sales mix over time as consumer preferences shift. For example, if the soda was once a profitable product for a company, but now it's on the decline, the business might decrease its sales of that item to free up resources elsewhere.
How to calculate sales mix
Sales Mix Formula
It's essential to keep track of the number of items sold per month for each product. Then, determine the percentage of total sales that each item accounts for over a set period (e.g., one year). Sales Mix variance is the difference between the target and actual mix, expressed as a percentage. Below is the formula to calculate sales mix variance.
Sales Mix Variance Formula = (Actual Sales Mix – Budgeted Sales Mix) * Budgeted Units Sold * Budgeted Contribution Margin.
Actual unit Sales Mix
It is the actual units sold in a given period. The actual Sales Mix percentage is calculated by dividing Actual Sales by Company's Total Sales.
Budgeted or Planned Sales Mix
A planned sales mix is the sales mix plan or budget. It considers all products of a company for which a budget is planned. The number of units each product should represent as part of the overall sales mix (typically determined by management). The budgeted Sales Mix percentage can be calculated by dividing the Budgeted Units Sold by the Total Sales.
Budgeted Contribution Margin
This is the dollar amount that each unit contributes to total revenue. It's equal to selling price minus variable cost per unit.
If you know your budgeted mixture and have access to your monthly or annual numbers, you can use this formula to determine the actual sales mix.
Example of how to use the sales mix
For example, Hardware maker XYZ generates a net income of $15 when its lawnmower costs $300 and sells a $10 hammer for $2, resulting in a profit margin of 20 percent. The profit margin on the hammer is 20%, or $2 divided by $10, whereas that on the mower is only 5% or $15 divided by $300.
Profit margin removes the sales price in dollars as a variable and allows the owner to compare products based on profit per sales dollar. For example, if XYZ's profits are slowing, the firm may shift the marketing and sales budget to promote the products that offer a higher profit margin.
Example (W/ table)
A company sells three products: ice cream sandwiches, chocolate bars, and candy canes. The following table shows each of the product's sales for one month.
The company's budget indicated that the ice cream sandwiches were supposed to be 40% of the sales mix, the candy cane was 25%, and chocolate bars were supposed to be 35%.
We can determine this month's actual sales mix percentage using the above formula.
Ice-Cream Actual Sales Mix = 40% * 8,100 * $2.00 = $35,420
Chocolate Bar Actual Sales Mix = 25% * 6,600 * $1.75 = $19,950
Candy Cane Actual Sales Mix = 35% * 5,000 * $3.50 = $52,500
The actual sales mix is quite different from what was budgeted. In the next month, management might decide how to change the sales mix.
The importance of the sales mix
A mix that doesn't match consumer preferences means less profitable sales and, ultimately, lower revenue.
It's important to note that sales mix is not the only factor determining whether a product is unprofitable. If you take out an item from your sales mix, but sales continue to decline, it's time to make further changes. Understanding your sales mix and where things are going wrong can help you avoid future mistakes.
For example, if a chocolate bar is unprofitable and has been outselling the other two items over the past month, the company might decide to drop that item from its sales mix.
On the other hand, if ice cream sandwiches have stopped selling while chocolate bars and candy canes continue to sell well, selling more of those products may be the best move for business.
Related: How to Create a Winning Marketing Strategy
Pros and cons of using the sales mix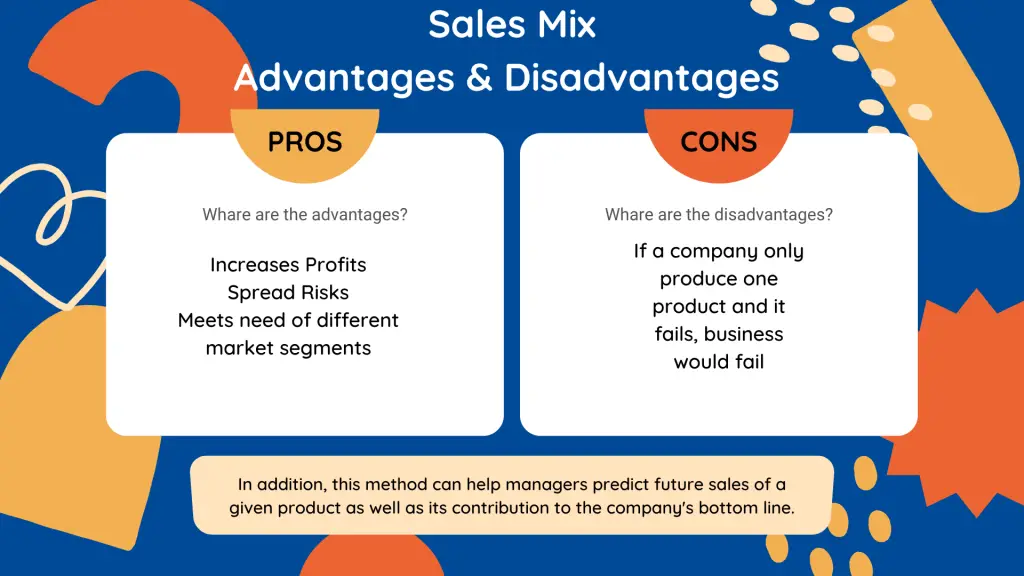 Advantages
It helps managers identify where money is coming from and show what products generate sales. It also increases profit margin.
It lets companies know whether to diversify or stick with what they offer. For example, if one product accounts for a disproportionate share of sales, managers may wish to cut back production of that item to free up more resources for other products.
In addition, this method can help managers predict future sales of a given product and its contribution to its bottom line.
Disadvantages
If the sales mix changes drastically from month to month, it can make it difficult for employees to understand how their work contributes to the organization's larger goals. In addition, because the sales mix is closely tied with costs, a sudden shift in product mix can lead employees to overestimate how much inventory they need.
If you aren't tracking your budgeted and actual numbers each period, you won't be able to determine whether your sales mix is off. Likewise, if you're missing actual numbers, you won't know if your budgeted numbers are accurate or not.
Final Thoughts
In short, your sales mix is the breakdown of what you're selling as a proportion to the overall value your business has contributed. It's also important because it can help you identify where your pricing strategy might need revision, and in turn, help you achieve better long-term profitability.
We hope this article was helpful. Please give it a moment to share it with those who want to learn about the sales mix. Thanks for reading!