Disclaimer: We sometimes use affiliate links in our content. For more information, visit our Disclaimer Page. 
Job searching can be daunting, especially for long-term unemployed individuals without references. It feels like a catch-22 situation where you need a job to gain references, but you need references to get a job.
But fear not, as you can employ various alternative strategies to enhance your employability and increase your chances of finding a job. This article will explore strategies to empower you in your job search without references.
Key Takeaways:
Being long-term unemployed without references is a common problem that many individuals face.
Alternative strategies such as identifying transferable skills, engaging in volunteer work or internships, and building professional relationships can enhance employability.
Utilizing career counselling and employment support services and exploring alternative reference options are other viable options.
Developing a strong personal brand, enhancing interview preparation, and maintaining a strong online presence can also increase your chances of landing a job.
Continuous learning and skill enhancement are key to staying competitive in the job market.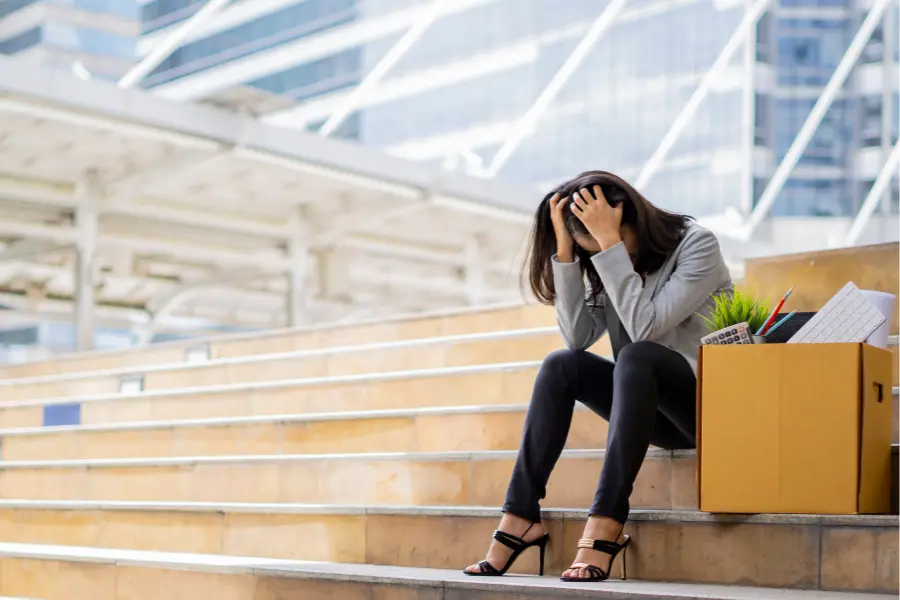 Understand Long-Term Unemployed No References
Long-term unemployment can result in an employment gap that raises a red flag for potential employers. Addressing this gap effectively in your job applications and resume is important to increase your chances of landing an interview.
An employment gap can occur for various reasons, such as a personal illness, caring for a family member, or difficulty finding employment. Being transparent and honest about the reasons for the gap in your job application is essential.
One way to address the employment gap in your resume is to focus on your skill development during this time. For example, include this information in your resume if you took courses or certifications to enhance your skills. This demonstrates that you were actively working on improving your employability.
Another way to address the employment gap is to include any volunteer work or internships you participated in during this time. This experience can be listed in the professional experience section of your resume, showcasing your relevant skills and experiences.
Use your cover letter to explain your employment gap further and highlight your personal growth and development during this period. Remember to emphasize your willingness to learn and contribute to the company's success.
Remember that an employment gap does not define your worth or capabilities as a professional. With a strong resume and cover letter highlighting your skills, experiences, and personal growth, you can impress potential employers and land your dream job.
Showcasing Transferable Skills
When lacking formal references, job seekers must highlight their transferable skills to stand out in a pool of applicants. The good news is that transferable skills are valuable across various industries and can be developed in various settings, such as volunteering, internships, or hobbies. Below are some tips to effectively showcase transferable skills in job applications and resume building:
| Transferable Skills to Showcase | Examples |
| --- | --- |
| Communication | Leading a team project, writing a blog, volunteer coordination |
| Problem Solving | Conflict resolution, critical thinking, decision making |
| Adaptability | Multitasking, working in a fast-paced environment, learning new software |
| Leadership | Mentoring, training new employees, team management |
| Organizational | Project management, inventory management, event coordination |
It's important to be specific when presenting examples of transferable skills. Use action verbs and quantify achievements whenever possible to provide context. For instance, instead of saying, "I have excellent communication skills," say, "I led a team project that resulted in a 20% increase in customer satisfaction ratings by creating a new feedback system.
Another way to showcase transferable skills is by using a functional resume format. Unlike a chronological resume, a functional resume highlights a job seeker's skills and accomplishments without emphasizing the job history. This format is especially useful for those transitioning to a new field or returning to the workforce after an employment gap.
In summary, transferable skills are valuable to any job seeker, especially those without formal references. By identifying and highlighting these skills, job applicants can demonstrate their capabilities and stand out in a competitive job market.
Leveraging Volunteer Work and Internships
When lacking formal references, volunteer work and internships can provide relevant experience to showcase in job applications and resumes. These opportunities demonstrate a proactive attitude towards skill and personal development.
When adding volunteer work and internships to a resume, avoid giving them a separate section. Instead, add them as a job experience, like any other job, highlighting responsibilities and achievements.
Make sure to tailor the resume for the job application, showcasing the experience that best aligns with the position's requirements. Without formal references, emphasizing achievements and transferable skills can make a positive impression on potential employers.
Here's an example of how you can structure the experience section of your resume:
Job Title
Organization
Responsibilities and Achievements
Dates
Internship
XYZ Corporation
• Assisted project manager in creating project plans and tracking progress
• Conducted market research to identify potential clients and competitors
• Participated in team meetings and presented research findings
June 2022 – September 2022
Volunteer Work
ABC Non-Profit
• Coordinated fundraising events and managed volunteers
• Assisted in managing social media accounts
• Developed grant proposals for funding opportunities
January 2020 – March 2021
Internships and volunteer work not only provide practical experience for a resume but also offer opportunities for networking and building professional relationships that can lead to potential job opportunities.
Regardless of the type of experience, treating volunteer work and internships as seriously as you would a paying job is important. Demonstrating a strong work ethic and commitment can impress potential employers and showcase valuable skills and abilities.
Building Professional Relationships Through Networking
In today's job market, networking is vital in finding job opportunities and securing employment. For long-term unemployed individuals without references, building professional relationships through networking can provide a valuable alternative to traditional job application methods.
Networking can take many forms, including attending industry events, joining professional organizations, and contacting colleagues and acquaintances. The goal is to connect with individuals who can provide insights into potential job openings or offer referrals.
When networking without formal references, it's essential to highlight transferable skills and showcase past achievements. This demonstrates your value to potential employers and can lead to job opportunities even without a formal reference.
| Networking Tips for Job Seekers Without References | Why It's Important |
| --- | --- |
| Attend Industry Events | Networking in-person shows your commitment and interest in the industry. |
| Join Professional Organizations | Being a member of a professional organization can provide access to job openings and other resources. |
| Reach Out to Colleagues and Acquaintances | Personal connections can provide job leads and referrals. |
Remember, networking is a two-way street. It's also important to be willing to offer help and support to others in your network. This can strengthen relationships and lead to more opportunities in the future.
Be willing to lend a helping hand to others in your network when possible.
Stay in touch with your professional contacts by sending occasional follow-up messages or emails.
Consider hosting a networking event or contacting your contacts for an informational interview.
By building professional relationships through networking, long-term unemployed individuals without references can expand their job search efforts and increase their chances of finding employment.
Utilizing Career Counseling and Employment Support Services
Effective job search strategies without references require access to professional support services. Career counseling and employment support provide guidance and resources to help individuals overcome employment gaps and present their strengths effectively.
Career counsellors can help individuals identify transferable skills, explore alternative career options, and create a personalized job search plan. Employment support services offer training programs, resume reviews, and interview preparation workshops to build confidence and increase employability. They work with job seekers to connect them with employers and job opportunities that match their skills and interests.
Benefits of Career Counseling and Employment Support Services
How to Access Career Counseling and Employment Support Services
• Individualized guidance and support
• Identification of transferable skills
• Assistance with resume and cover letter writing
• Interview preparation and coaching
• Access to job leads and networking opportunities
• Check with local government agencies for free services
• Research non-profit organizations that offer career support
• Visit a local college or university career center
• Utilize online resources, such as job search engines and social media groups
Remember that career counselling and employment support services are designed to help individuals overcome challenges and succeed in their job search. Don't hesitate to seek out these valuable resources to enhance your employability and increase your chances of finding a job without formal references.
Developing an Impressive Personal Brand
Your brand is your unique identity that distinguishes you from other job seekers. You must showcase your strengths, skills, and personality to potential employers, especially if you lack formal references. Here are some strategies for developing a strong personal brand:
Identify your strengths: Reflect on your skills, experiences, and achievements to determine your unique value proposition. Highlight your strengths and tailor them to fit the job requirements.
Create a professional resume: Since you lack formal references, having a well-crafted resume highlighting your skills and accomplishments is crucial. Use a professional template, focus on your achievements, and tailor your resume to each job application.
Showcase your personality: Employers seek skills and a good cultural fit. Showcase your personality through your resume, cover letter, and social media profiles. Be authentic and professional while sharing your interests and passions.
Establish a professional online presence: Ensure your LinkedIn profile is up-to-date, use a professional headshot, and include a summary highlighting your strengths. Also, create a personal website that showcases your portfolio, skills, and achievements.
Be consistent: Ensure your brand is consistent across all platforms. Use the same tone of voice, style, and brand message and align it with your desired job role.
Enhancing Interview Preparation
Interviews can be nerve-wracking, especially for long-term unemployed individuals without references. However, anyone can ace an interview with proper preparation and a positive attitude. Here are some tips to help you prepare:
Research the company: Before the interview, research the company thoroughly. This includes understanding their mission, values, and culture. It can help you tailor your responses and show interest in the company.
Practice common interview questions: Prepare responses to questions such as "Tell me about yourself" and "What are your strengths and weaknesses?" Practice answering with confidence and clarity.
Highlight your transferable skills: Remember to focus on your transferable skills during the interview. Showcase how these skills can benefit the company and compensate for the lack of references.
Dress professionally: Dressing professionally can show respect for the company and an eagerness to make a great impression.
Arrive early: Arriving early can help alleviate stress and ensure you have ample time to prepare mentally and physically for the interview.
Bring supporting materials: Consider bringing a portfolio or work samples that highlight your skills and accomplishments. This can provide tangible evidence of your capabilities.
Follow up: After the interview, send a thank-you note to the interviewer to show appreciation for the opportunity.
"Remember, the interview is an opportunity for the employer to get to know you better. Be yourself and approach the interview with confidence and positivity."
Exploring Alternative Reference Options
For long-term unemployed individuals without references, finding alternative reference options can be a game-changer in their job search. Consider the following:
Personal References: While employers may require professional references, personal references can still be valuable. These include former colleagues, professors, or community leaders who attest to the job seeker's character and work ethic.
Testimonials: Ask former employers or colleagues for written testimonials that can be included in a portfolio or shared with potential employers. These can highlight the individual's skills, accomplishments, and work style.
Project Samples: If the individual has completed relevant projects or work, they can be used as examples of skills and capabilities. Include details about the project, the role played, and the outcome achieved, if possible.
It's important to note that job seekers should be upfront and transparent with potential employers about their current situation when using alternative references. Honesty and integrity can go a long way in building trust and credibility.
Developing a Strong Online Presence
Online presence creation is essential in today's job market, especially for individuals without formal references. Studies show that employers are increasingly relying on online resources to screen candidates. Here are some tips to help enhance your online presence:
Build a professional profile: Develop a complete and compelling profile on LinkedIn, the most widely used social networking site for professionals. Use a professional headshot, and include keywords related to your skills and industry to improve your search ranking.
Showcase your work: Create a personal website that showcases your work samples, projects, and accomplishments. Use the website to highlight your skills and experience to potential employers and to tell your story effectively.
Network online: Join online groups in your industry and participate in discussions to expand your network and seek job opportunities. Share valuable insights, ask for advice, and engage with others to build a strong online presence.
Keep your profiles up-to-date: Stay active on your social media accounts and update your profiles with your latest accomplishments and endorsements. This will demonstrate your commitment to professional development and growth.
Continuous Learning and Skill Enhancement
For individuals without formal references, continuous learning and skill enhancement are crucial in building a competitive resume and securing job interviews. Employers seek individuals willing to learn and adapt to change in today's constantly evolving job market. In today's constantly evolving job market, keeping up with industry trends and continuously upgrading skills to remain marketable is essential.
One way to enhance skills is by taking online courses or attending workshops relevant to your desired field. Many online platforms offer affordable options, and some even have free courses. Completion certificates can be added to a resume to showcase a willingness to learn and self-motivation.
Participating in professional associations and attending networking events and conferences also provide opportunities for skill enhancement, and networking can lead to potential job opportunities.
Another way to demonstrate skills is through participation in volunteer work or internships. Volunteering can provide opportunities to learn new skills and gain experience. Even if unpaid, participation in internships can provide valuable experience and the opportunity to gain references and endorsements to showcase relevant skills.
Employers want individuals who are self-motivated and willing to learn and enhance their skills continuously. Therefore, it is essential to keep abreast of industry trends, take courses and workshops, participate in volunteer work and internships, and attend conferences or networking events to enhance skills and remain competitive in the job market.
Conclusion
Searching for a job as a long-term unemployed individual without references can seem daunting, but don't lose hope. Utilizing the strategies outlined in this article can enhance your employability and increase your chances of success.
FAQs
How can I address the employment gap in my job applications?
It is essential to effectively explain the employment gap in your resume and cover letter. Focus on relevant experiences, transferable skills, and any professional development or continuous learning you have undertaken during the gap. Emphasize your ability to adapt and learn quickly.
How do I showcase transferable skills on my resume?
Identify the skills you possess that apply to the job you are applying for and highlight them in your resume. Use specific examples to demonstrate how you have utilized these skills in previous roles or experiences.
How can I prepare for job interviews without references?
Prioritize interview preparation by researching the company, practicing common interview questions, and identifying how your skills and experiences align with the job requirements. Highlight your transferable skills, relevant experiences, and personal attributes that make you a strong candidate.
What are some alternative reference options I can use?
If you do not have formal references, consider utilizing personal references such as previous colleagues, clients, or mentors who can vouch for your skills and work ethic. Additionally, testimonials from clients or colleagues, or project samples showcasing your abilities, can serve as alternative references.
How can volunteer work and internships benefit my job applications?
Engaging in volunteer work or internships allows you to gain relevant experience and build relationships with professionals who can serve as references. Include these experiences in your resume and discuss the skills and knowledge you acquired during these opportunities.