Disclaimer: We sometimes use affiliate links in our content. For more information, visit our Disclaimer Page. 
Are you looking to advance your career or take it in a new direction? Investing in career development can help unlock your professional potential and achieve your goals.
Career development refers to the ongoing process of acquiring new skills, knowledge, and experiences to enhance your career prospects. It involves setting goals, seeking opportunities for growth, and continuously improving your skills to stay ahead in a constantly evolving job market.
Key Takeaways
Career development is the process of acquiring new skills, knowledge, and experiences to enhance career prospects.
It involves setting goals, seeking opportunities for growth, and continuously improving your skills to stay ahead in the job market.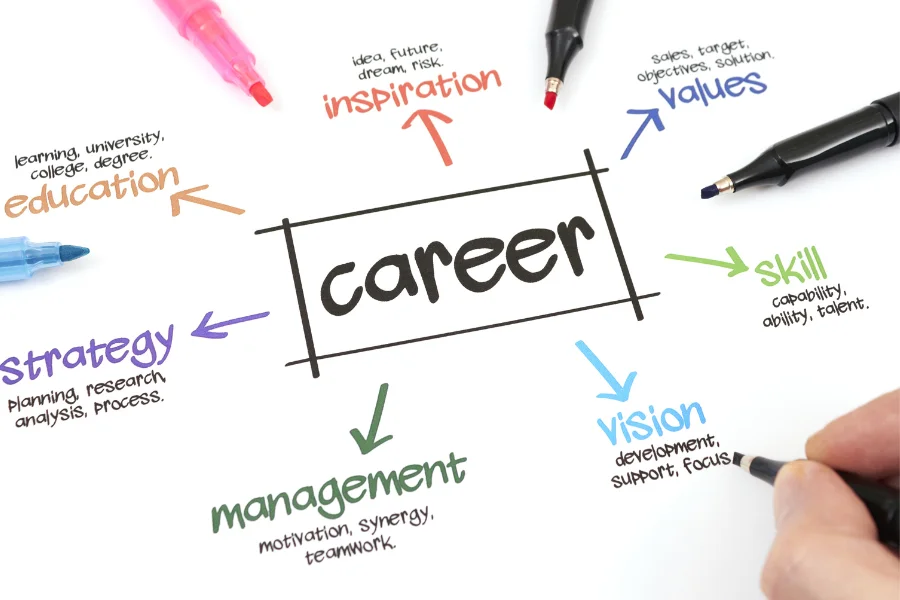 Understanding What is Career Development
Career development is an ongoing process of exploring one's skills, interests, and values to identify professional goals and create a plan to achieve them. At its core, career development is about unlocking an individual's full potential and achieving career satisfaction.
The Elements of Career Development
Career development involves several key elements. Firstly, gaining new skills and knowledge through continuous learning is essential for an individual's professional growth. This can be accomplished through attending seminars and workshops, pursuing additional degrees or certifications, or seeking on-the-job training opportunities.
Secondly, goal setting is a crucial part of career development. Setting SMART (specific, measurable, achievable, relevant, and time-bound) goals can help individuals stay focused and motivated on their career journey. Progress towards these goals can be tracked and celebrated as a constant source of inspiration.
Finally, seeking out and taking advantage of professional development opportunities is critical to career development. This includes attending conferences and networking events, engaging in mentoring relationships, and seeking out job shadowing or job rotation programs.
Career Development Planning
Creating a career development plan is an important step in achieving career success. This plan should include a self-assessment of skills and interests, identification of career goals, and an action plan for achieving these goals. It should be a living document regularly reviewed and updated in response to changes in career aspirations or external factors.
Career development planning can be done independently or with the guidance of a career coach or mentor. It is an opportunity to clarify professional aspirations and create a roadmap.
The Role of Career Development in Professional Growth
Career development is essential for both personal and professional growth. It provides individuals the tools and resources to achieve career success and satisfaction. By investing in career development, individuals can increase their earning potential, improve job satisfaction, and create opportunities for advancement.
Moreover, career development can benefit organizations by improving employee retention rates, increasing productivity, and promoting a positive work environment. By supporting employees in their career development journey, organizations can create a culture of growth and investment in their workforce.
Benefits of Career Development
Investing time and effort in career development can bring numerous benefits for individuals. Here are some of the key advantages:
| | |
| --- | --- |
| Improved job satisfaction | Career development can help individuals identify their strengths and interests, leading to more fulfilling and satisfying work. |
| Increased earning potential | By acquiring new skills and knowledge, individuals can become more valuable to their employers and potentially earn higher salaries. |
| Better opportunities for advancement | Career development can prepare individuals for higher-level positions and equip them with the skills and experience needed to succeed. |
Furthermore, organizations can also benefit from investing in the career development of their employees. Here are some advantages:
Higher retention rates: Employees are likelier to stay with a company that offers career development opportunities and supports their professional growth.
Increased productivity: Employees who feel valued and supported are more motivated to perform at their best, leading to higher productivity.
Positive work environment: A culture of career development can create a sense of community and engagement among employees, contributing to a positive and supportive workplace.
Overall, career development is a win-win for individuals and organizations, increasing satisfaction, productivity, and success.
Career Development Strategies
To succeed in career development, it is essential to have an effective plan in place. Below are some practical strategies to help you unlock your professional potential:
Build a Strong Professional Network
Networking is a great way to meet people who can help your career. Attend industry events, join professional associations, and connect with colleagues on LinkedIn. Building relationships with mentors who can provide guidance and support is also important.
Seek Mentorship
Mentorship can be a valuable resource for career development. Seek out experienced professionals in your field who can provide insight into your industry and help you navigate your career path. Look for mentors who have the skills and experience you want to develop.
Create a Personal Development Plan
A personal development plan is a roadmap for achieving your career goals. It should include specific, measurable, achievable, relevant, and time-bound (SMART) objectives. Set goals that align with both your short-term and long-term career aspirations.
Continuously Learn and Improve
Continuing education is essential for staying competitive in today's job market. Identify areas where you need to improve your skills and seek training opportunities. Attend conferences, take online courses, and participate in workshops to stay up-to-date with industry trends.
By following these career development strategies, you can cultivate a plan for success and achieve your professional goals. Remember to stay focused, persistent, and adaptable, and you'll be well on your way to unlocking your full potential.
Importance of Career Development in the Workplace
Career development is a crucial aspect of an individual's professional growth, and it is equally vital for organizations to prioritize employee career development. Investing in career development programs can help retain top talent and increase productivity, a positive work environment, and better organizational outcomes.
Organizations are committed to employee success and growth by offering career development opportunities. This can increase job satisfaction and motivation, as employees feel valued and supported in their career aspirations. Additionally, employees who feel supported in their career development are more likely to stay with the organization long-term, reducing turnover and the associated cost of recruitment and training.
Moreover, investing in employee development can increase productivity and better outcomes for the organization. As employees gain new skills and knowledge, they can apply these to their work, improving efficiency and quality of work. Additionally, employees who feel supported in their career development are more likely to take the initiative and bring new ideas to the table, leading to innovation and growth for the organization.
In summary, career development is crucial for individual professional growth and the success and growth of organizations. By prioritizing career development programs and opportunities, organizations can create a positive work environment where employees feel valued and motivated to succeed, leading to improved productivity and outcomes.
Career Development Resources
Investing in your professional growth requires access to the right resources. Fortunately, numerous career development resources can help you enhance your skills and achieve your career goals. Here are some of the most valuable resources to consider:
| Resource | Description |
| --- | --- |
| Online courses | Online courses are a flexible and affordable way to gain new skills and knowledge. Platforms like Coursera, edX, and Udemy offer thousands of courses on a wide variety of topics. |
| Professional associations | Joining a professional association can provide access to networking opportunities, industry events, and training programs. Associations like the Society for Human Resource Management (SHRM) and the Project Management Institute (PMI) are excellent options for professionals in many fields. |
| Career coaches | A career coach can provide personalized guidance and support as you navigate your career path. Look for a coach with experience in your industry or career field. |
| Mentorship programs | Many organizations offer mentorship programs that can connect you with experienced professionals who can provide guidance and support. These programs can be a valuable resource for networking and skill-building. |
In addition to these resources, don't forget to tap into your own professional network. Reach out to colleagues, former classmates, and industry contacts to build relationships and learn from their experiences. Your network can be a powerful tool for career development.
Career Development Programs
Organizations recognize the importance of investing in their employee's career growth and offer various career development programs. These programs are designed to enhance skills, knowledge, and abilities and provide opportunities for career progression. Let's examine some common types of career development programs:
| Career Development Program | Description |
| --- | --- |
| Training Programs | Employer-sponsored training programs offer employees the chance to learn new skills and knowledge relevant to their job or industry. |
| Leadership Development Programs | These programs are geared towards developing employees' leadership capabilities and preparing them to take on more senior roles in the organization. |
| Mentorship Programs | Mentorship programs pair employees with experienced mentors who can provide guidance and support in their career. |
Participating in these programs can contribute greatly to individuals' career development and enable them to achieve their professional goals. It's important to take advantage of these opportunities when available.
Career Development Opportunities
When it comes to career development, there are many pathways and opportunities available to individuals who seek to enhance their professional growth. Here are some options:
Job Rotations
Job rotations involve moving from one role to another within the same organization. This approach allows individuals to gain new experiences, expand their skill sets, and build a broader understanding of the business. Job rotations can also expose individuals to different departments, teams, and functions, which can be valuable for career advancement.
Cross-Functional Projects
Cross-functional projects involve working with colleagues from different departments or business units on a specific project or initiative. This approach can help individuals develop new skills, build relationships, and gain exposure to different business areas. Cross-functional projects can also allow individuals to showcase their talents and take on leadership roles.
Continuing Education
Continuing education involves pursuing formal education or training outside of regular work hours. This approach can help individuals develop or upgrade new skills, stay current with industry trends and best practices, and demonstrate a commitment to ongoing learning and development. Continuing education can take many forms, such as online courses, workshops, seminars, or degree programs.
By taking advantage of these career development opportunities, individuals can gain new skills, experiences, and perspectives to help them achieve their professional objectives and unlock their full potential.
Building a Career Development Plan
Having a plan is essential if you're serious about your career development. A career development plan allows you to assess your current skills and strengths, set realistic goals, and identify the steps needed to achieve them. Here are some steps to help you build a solid career development plan:
Assess your skills and strengths: Start by assessing your current skills and strengths. Identify areas where you excel and where you need to improve. Consider your personality traits and work style as well.
Set SMART goals: SMART goals are specific, measurable, achievable, realistic, and time-bound. Define what you want to achieve in your career and set goals that align with your strengths and passions.
Create a roadmap: Identify the steps you need to take to achieve your goals. Determine what skills you need to develop, what experiences you need to gain, and who to connect with to advance your career.
Develop a timeline: Create a timeline for achieving each of your goals. Break them into smaller, actionable steps and establish deadlines for each.
Your career development plan should be a living document that you update regularly. Continuously assess your progress, adjust your goals and actions as necessary, and celebrate your successes.
Sustaining Career Development Momentum
Once you have kick-started your career development journey, it is essential to maintain the momentum. Continuous learning and adapting to changes are crucial in ensuring ongoing professional growth. Here are some strategies to sustain your career development momentum:
Stay curious: Keep up-to-date with industry trends and advancements by attending online seminars, webinars, and workshops.
Network: Expand your professional network by attending conferences and events. Networking with like-minded individuals can provide valuable insights and career opportunities.
Stay focused: Prioritize your career development goals and keep them in mind while making decisions about your professional life.
Seek feedback: Regularly request feedback from colleagues, mentors, and supervisors to help track your progress and identify areas for improvement.
Remember, sustaining your career development momentum is an ongoing process. Continually reassess and refine your career development plan to align with your long-term goals.
Overcoming Career Development Challenges
Despite the many benefits of career development, challenges can often hinder progress.
One common hurdle is a lack of resources, whether time, money, or access to necessary tools and technologies. It can be difficult to invest in career development when these resources are scarce. However, it's important to remember that free or low-cost options, such as online courses or mentorship programs, are often available.
Another challenge can be finding a balance between work and personal life. It's important to prioritize self-care and maintain a healthy work-life balance, but this can be especially challenging when committing to career development goals. One way to overcome this is to set realistic expectations and carve out dedicated professional growth and development time.
Career transitions can also pose a challenge, whether it be a change in industry, job function, or level of responsibility. These transitions can be daunting, but they can also be incredibly rewarding with proper planning and support. Seeking mentorship, networking, and continuing education opportunities can help facilitate a smoother transition.
It's important to recognize and address these challenges in order to sustain momentum and achieve career development objectives. Individuals can overcome these obstacles by proactively seeking solutions and continuing to grow and develop professionally.
Conclusion
Career development is crucial to unlocking one's professional potential. By investing in skills development, goal setting, and continuous learning, individuals can achieve greater job satisfaction, increased earning potential, and better opportunities for advancement.
To make the most of career development, building a strong professional network, seeking mentorship, and creating a personal development plan are important. Organizations can also support employee career development through training programs, leadership initiatives, and mentorship opportunities.
Many resources are available to support career development, including online courses, professional associations, and career coaches. It is essential to assess strengths and weaknesses, set SMART goals, and develop actionable strategies to achieve career objectives.
While challenges may arise in the career development journey, staying motivated, continuously learning, and adapting to change is important. Individuals can achieve ongoing professional growth and success by sustaining momentum and overcoming obstacles.
Overall, career development is a lifelong process that requires dedication and commitment. By investing in our professional growth, we can unlock our full potential and achieve our career goals.
FAQs
What is the meaning of career development?
Career development refers to the process of choosing a career, enhancing skills, and progressing along a chosen career path. It involves self-discovery, goal setting, action planning, implementation, and ongoing refinement to achieve professional growth.
What is career development, and why is it important?
Career development is managing one's career by acquiring new skills, improving existing ones, and advancing along a career trajectory. It's important because it empowers individuals to set clear goals, make informed career choices, and adapt to changing job market demands for continuous growth.
What are the benefits of career development?
Career development offers several benefits, including increased job satisfaction, improved employability, enhanced skills and knowledge, greater job security, opportunities for advancement, higher earning potential, and the ability to adapt to industry changes effectively.
What does career development involve?
Career development involves a range of activities, such as self-assessment to understand strengths and interests, goal setting to identify professional aspirations, action planning to map out steps for growth, skill acquisition through training, networking to build connections, and adapting strategies based on ongoing feedback and changes in the career landscape.
How does career development help in an organization?
In an organizational context, career development supports employees' professional growth and increases engagement and retention rates. When organizations invest in career development, employees feel valued, motivated, and more likely to remain committed to the company. It also helps organizations identify and nurture talent for future leadership roles, leading to a skilled and capable workforce.