Disclaimer: We sometimes use affiliate links in our content. For more information, visit our Disclaimer Page. 
Welcome to our guide on career development for teachers. As a teacher, you play a critical role in shaping the minds of future generations. But your growth and advancement as a professional are equally important. Continuous learning and development are essential for staying up-to-date with the latest teaching methods and enhancing instructional skills.
This article will discuss strategies and tips for empowering your career development as a teacher. From identifying career goals to pursuing advanced certifications, we will cover various aspects of professional growth and guide how to achieve your professional aspirations.
Key Takeaways
Career development is crucial for teachers to enhance their professional growth and opportunities for career advancement.
A well-designed professional development plan is essential for acquiring new knowledge and skills.
Building a network of support and seeking leadership roles can also contribute to career progression.
Reflective practice, a growth mindset, and work-life balance are critical for personal and professional growth.
Leveraging technology can enhance your career development journey.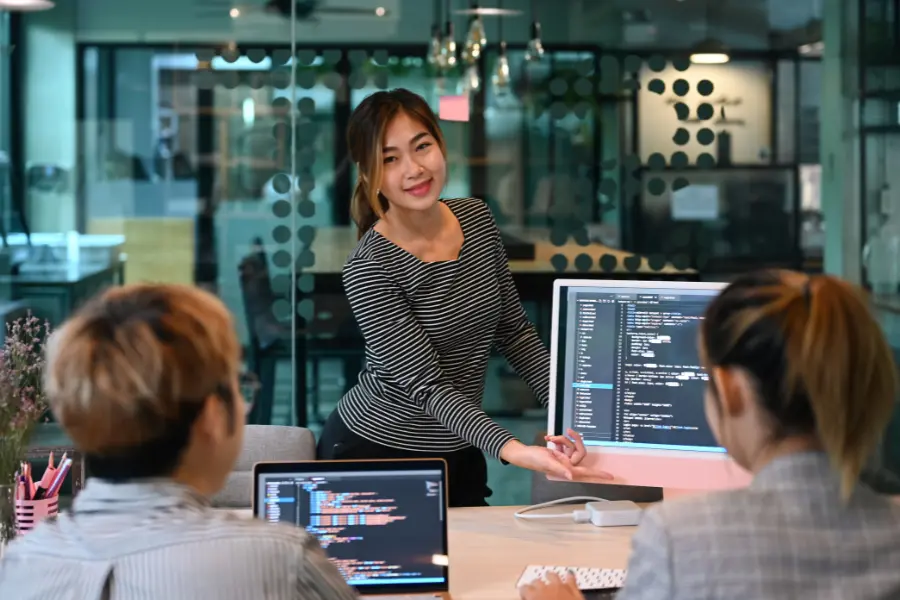 Understanding the Importance of Career Development for Teachers
Professional growth for educators is critical for their personal and career development. As teachers, it is vital to clearly understand the benefits of continuous career development and how it can lead to greater opportunities for career advancement.
Career development encompasses various activities and practices to enhance an individual's skill set, knowledge, and professional growth. Teachers who engage in professional development activities are better equipped to meet the evolving needs of today's classrooms and learners.
Teacher career advancement depends on the level of professional development in which an individual participates. Through regular career development, teachers can expand their expertise in instructional practices and acquire new skills related to technology integration, curriculum development, and assessment practices. This, in turn, makes them more competitive in the job market, with better chances of securing leadership roles within their schools or district.
Furthermore, investing in professional growth for teachers can significantly impact students' learning outcomes. Teachers continuously developing their knowledge and teaching practices can engage students more effectively, meet the diverse needs of learners, and foster a more inclusive and supportive learning environment.
Identifying Career Goals and Aspirations
As a teacher, it is essential to have a clear understanding of your career goals and aspirations. This will help you set a direction for your professional growth and identify the necessary steps to achieve your objectives. Here are some tips on how to identify your career goals and aspirations:
Reflect on your current role: Start by reflecting on your current role and the aspects of it that you enjoy the most. This will help you identify your strengths and interests and guide you toward areas you may want to explore further.
Set clear objectives: Once you have identified your strengths and interests, set clear objectives for your career. These objectives should be specific, measurable, and time-bound. For example, if you want to become a department head, set a goal to achieve this position within the next five years.
Create a roadmap: After setting your objectives, create a roadmap to achieve them. This roadmap should outline the necessary steps, such as additional training and experience, needed to achieve your goals.
Seek guidance: Seek guidance from mentors or colleagues who have already achieved similar goals. They can provide valuable insights and advice to help you achieve your objectives.
By taking the time to identify your career goals and aspirations, you can focus your professional development efforts and create a path to success.
Creating a Professional Development Plan
In order to pursue career development as a teacher, it is important to have a well-designed professional development plan. This plan should identify relevant training opportunities, workshops, conferences, and online resources that can enhance teaching skills and knowledge.
Begin by identifying areas where you would like to grow professionally. This could be related to a specific content area, technology integration, instructional strategies, or classroom management. Consider seeking out professional development opportunities that align with your interests and goals.
It is also important to consider your school or district's professional development plan and seek opportunities aligning with their goals and priorities. Take advantage of any opportunities, such as in-service days or district-wide professional development events.
When evaluating professional development opportunities, consider the relevance and quality of the training. Look for opportunities that provide hands-on, practical strategies that can be immediately implemented in the classroom. Consider attending conferences or workshops that provide networking opportunities with other educators and access to new ideas and resources.
Online resources can also be a valuable source of professional development. Consider joining online communities and forums to connect with educators with similar interests and access to a wealth of shared knowledge and resources. Online courses and webinars can also provide flexible and convenient options for professional development.
Review and adjust your professional development plan as your goals and priorities change. By investing in your professional growth, you can continue to improve your teaching practices and enhance your career as an educator.
Building a Network of Support
Building a support network is crucial to your career growth and enhancement as a teacher. Having colleagues, mentors, and educational organizations in your network can provide you with support, guidance, and opportunities for collaboration and growth.
Don't be shy about seeking opportunities to connect with other teachers in your school or district. Attend meetings and workshops, join committees and professional organizations, and participate in online forums and discussion boards.
Identifying a mentor or two within your network can also be extremely beneficial. Mentors can be a source of guidance and advice and can share their experiences and expertise with you. Look for someone with experience in an area that interests you and a teaching style that aligns with your own.
Building a Network of Support
Educational organizations can also provide valuable support for your career development. Joining organizations or associations related to your subject area or teaching level can give you access to resources, professional development opportunities, and a community of like-minded individuals.
Finally, don't forget to give back to your network as well. Share your own experiences and knowledge with others, offer to mentor new teachers, and contribute to your professional organization or committee.
Seeking Leadership Roles and Responsibilities
One of the most effective ways to advance your career in teaching is by taking on leadership roles within your school or district. You can demonstrate your skills, contribute to decision-making processes, and enhance your career progression by seeking out leadership opportunities.
One way to get involved is by joining committees or task forces within your school or district. This allows you to collaborate with colleagues, share ideas, and take on responsibilities that align with your interests and strengths.
Seeking Mentorship
Another way to explore leadership roles is by seeking mentorship from experienced teachers or administrators. Mentors can provide guidance, support, and valuable insights into the teaching profession. They can also connect you with leadership opportunities and help you develop the skills and confidence needed to succeed in these roles.
You can approach potential mentors by introducing yourself, expressing your career aspirations, and asking if they would be willing to provide guidance and support. You can also look for formal mentorship programs within your school or district or seek mentorship opportunities through professional organizations or online communities.
Exploring Professional Development Opportunities
Professional development opportunities can also be a valuable way to explore leadership roles and responsibilities. By attending workshops, conferences, or training programs, you can learn new skills and strategies, connect with other educators, and gain exposure to different areas of leadership within the teaching profession.
When selecting professional development opportunities, look for those that align with your interests and career goals. Consider opportunities focusing on instructional leadership, curriculum development, or school administration. You can also look for opportunities to become a mentor yourself or to lead professional development sessions within your school or district.
Overall, seeking out leadership roles and responsibilities can be a valuable way to advance your career in teaching. By collaborating with colleagues, seeking mentorship, and exploring professional development opportunities, you can develop the skills and confidence needed to succeed in leadership roles and enhance your career progression.
Exploring Specialization and Advanced Certifications
One way to advance your teaching career is by exploring specialization and pursuing advanced certifications. This allows you to develop expertise in a specific area and opens up new pathways for growth and advancement.
Specialization areas can include special education, technology integration, or instructional coaching. Obtaining certification in these areas can lead to higher salaries, increased service demand, and new opportunities to take on leadership roles.
There are various ways to pursue specialization and advanced certifications. You can take online courses, attend workshops or conferences, or enroll in graduate degree programs.
If you want to pursue specialization or certification, start by researching the requirements specific to your state or district. Speak with your school's administration to determine available resources, such as tuition assistance or professional development opportunities.
Remember that specialization and advanced certifications are valuable for personal and career growth and benefit the students in your classroom. Developing specialized expertise can enhance your instructional practices and positively impact student learning outcomes.
Engaging in Reflective Practice
Reflective practice is an essential component of career development for teachers. It allows teachers to evaluate their teaching practices, identify areas for improvement, and continuously enhance their instructional methods. Here are some strategies to engage in reflective practice:
Set aside time for reflection: Find a quiet and comfortable space to reflect on your teaching experiences.
Document your teaching practices: Keep a journal or a logbook to document your teaching experiences, including lesson plans, student feedback, and reflections.
Seek feedback from colleagues and mentors: Collaborate with fellow teachers and seek feedback from mentors to gain different perspectives and insights into your teaching practices.
Evaluate your teaching methods: Reflect on your teaching methods and evaluate what worked well and could be improved. Use this information to adjust your instructional practices.
Plan for improvement: Develop an action plan based on your reflections and evaluations of your teaching practices. Identify specific areas for improvement and set goals for professional development.
Reflective practice is a continuous process that requires commitment and dedication. By engaging in reflective practice, teachers can become more effective educators and enhance their career development.
Nurturing a Growth Mindset
Adopting a growth mindset is essential to achieving career success as a teacher. A growth mindset means believing that challenges can be overcome with effort and persistence, embracing feedback as an opportunity to learn, and recognizing that abilities can be developed through dedication and hard work.
To nurture a growth mindset, start by reframing self-talk. Instead of saying, "I'm not good at this," try saying, "I'm not good at this yet." This language shift acknowledges that abilities can be developed over time and helps build confidence in facing challenges.
It's also important to view mistakes and setbacks as opportunities for growth and learning. Reflect on what went wrong and what you can do differently next time. Seek feedback from colleagues, mentors, or supervisors, and be open to constructive criticism.
Finally, cultivate a passion for lifelong learning. Seek out new challenges and opportunities to expand your knowledge and skills. Take on new projects or roles that challenge and push you outside your comfort zone. By embracing a growth mindset and nurturing a passion for lifelong learning, you'll be well on your way to achieving your career goals as a teacher.
Balancing Work-Life and Professional Development
Managing the demands of your profession and personal life can be challenging as a teacher. However, balancing is crucial to avoid burnout and ensure you have the energy and focus to achieve your career goals.
Here are some tips for balancing work-life and professional development:
Prioritize: Focus on tasks that are urgent and important. Learn to say "no" to commitments that do not align with your goals and values.
Establish boundaries: Set clear boundaries between your work and personal life. Create a schedule and stick to it as much as possible.
Take breaks: It is important to take breaks throughout the day to recharge and maintain focus.
Delegate: Learn to delegate tasks to colleagues or students. This can help you save time and reduce stress.
Engage in self-care: Make time for activities that help you relax and recharge, such as exercise, hobbies, or spending time with loved ones.
Remember, it is okay to prioritize your own well-being and professional development. You can achieve success in both areas by finding a balance between your work and personal life.
Exploring Technology Tools for Teacher Career Development
Technology tools and platforms can greatly benefit teacher career development, providing access to online learning resources, professional networks, and virtual collaboration opportunities. Here are some examples of how you can leverage technology to enhance your professional growth as a teacher:
Online Learning Platforms: Coursera, edX, and Udemy offer various courses and programs to help you develop new skills and knowledge. You can explore instructional design, assessment, evaluation, or educational technology.
Social Media Networks: Several social media networks cater specifically to educators, such as Twitter, LinkedIn, and Facebook. These networks allow you to connect with other teachers, share resources and ideas, and participate in online discussions.
Professional Online Communities: Several online communities cater to educators, such as Google Classroom, Edmodo, and TeachersPayTeachers. These communities provide a platform for teachers to collaborate, share resources, and support each other.
Technology tools can help you stay up-to-date with the latest trends and innovations in education, connect with other teachers, and enhance your teaching skills and knowledge.
Conclusion
As educators, we are responsible to our students and ourselves to grow and continuously develop professionally. Career development for teachers is crucial not only for achieving personal goals but also for improving student outcomes. By identifying career aspirations, creating a professional development plan, seeking leadership roles, and pursuing advanced certifications, teachers can unlock new career pathways and positively impact their schools and communities.
Reflective practice and a growth mindset are critical components of career development. By embracing challenges and viewing setbacks as opportunities for growth, teachers can cultivate resilience and continuously improve their teaching practices. Balancing work-life and professional development may seem daunting, but it is achievable with proper time management, prioritization, and leveraging technology tools and platforms.
Remember, the journey toward professional growth and career advancement is a continual process. As you embark on this journey, surround yourself with a network of supportive colleagues and mentors to guide and inspire you. You can take charge of your career and fulfill your potential. Best of luck on your career development journey!
FAQs
What is the role of a teacher in career development?
The role of a teacher in career development involves guiding students through exploring potential career paths, acquiring relevant skills, and making informed decisions about their future occupations. Teachers provide valuable insights, advice, and resources to help students identify their strengths, interests, and goals.
What are your career plans as a teacher?
Pursuing advanced degrees or certifications to specialize in a particular subject or teaching methodology.
Taking on leadership roles within your school or district, such as becoming a mentor or curriculum coordinator.
Expanding your teaching expertise by attending workshops, conferences, and professional development opportunities.
Exploring opportunities to contribute to educational research, curriculum development, or policy initiatives.
What are the 4 career stages of teachers?
Novice Stage: Early in your career, focusing on mastering classroom management, instructional strategies, and curriculum delivery.
Advanced Beginner Stage: Gaining more confidence and refining teaching skills while seeking mentorship and additional training.
Competent Stage: Demonstrating a strong grasp of teaching techniques and making independent decisions about classroom practices.
Expert Stage: Achieving a high level of expertise, possibly taking on leadership roles, mentoring other teachers, and contributing to educational innovation.
What is career development in education?
Career development in education refers to helping educators, such as teachers, continuously enhance their skills, knowledge, and expertise to advance in their careers. It involves ongoing learning, self-assessment, setting career goals, and actively seeking opportunities for growth and development.
What are the 5 steps of career development?
Self-Assessment: Reflecting on your strengths, interests, and areas for improvement.
Setting Goals: Establishing clear career objectives and identifying the skills needed.
Professional Development: Continuous learning through courses, workshops, and conferences.
Networking: Building relationships with colleagues, mentors, and experts in the education field.
Applying and Reflecting: Applying new knowledge and skills in your teaching practice and reflecting on your progress toward your career goals