Disclaimer: We sometimes use affiliate links in our content. For more information, visit our Disclaimer Page. 
In this digital age, the job market is becoming increasingly competitive, and staying relevant and up-to-date with your skills and knowledge is essential. That's where professional development comes in. Professional development encompasses all the activities that help you learn, acquire new skills, and advance your career.
Professional development opportunities come in various forms, from online courses, workshops, and seminars to conference events. These opportunities offer you the chance to learn from experts, connect with other professionals in your industry, and grow personally and professionally.
Key Takeaways
Professional development is essential for staying competitive in today's job market.
Professional development opportunities come in various forms, from online courses to conference events.
These activities help you learn, acquire new skills, and advance your career.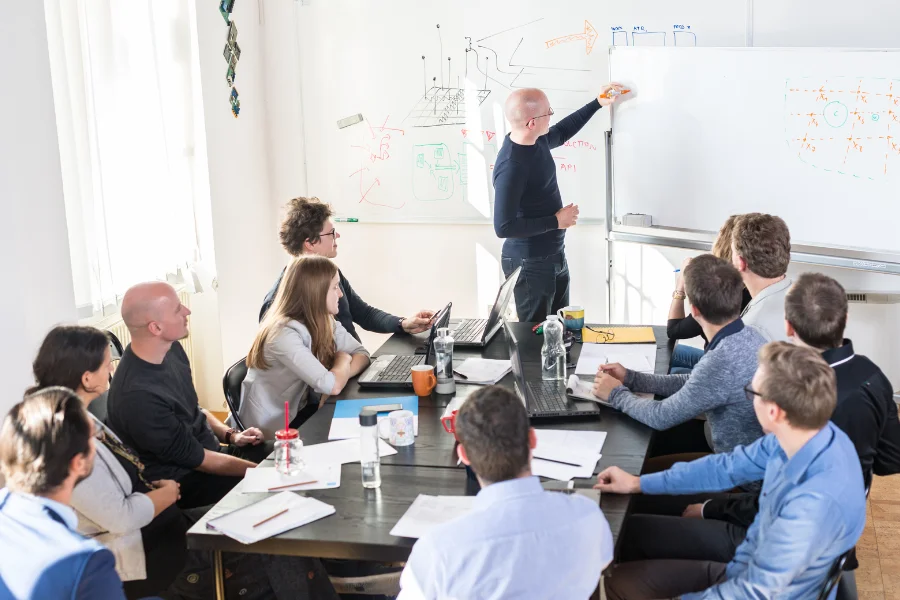 What is Professional Development?
Professional development refers to the continuous learning and acquiring new skills and knowledge that can contribute to personal growth and career advancement. It involves attending various training programs, workshops, and courses that can develop your expertise and help you stay updated with industry trends.
Professional development programs are designed to help individuals acquire new skills and knowledge, improve existing ones, and keep up with changing industry demands. Anyone can take them, regardless of job title or industry, and benefit all professionals seeking to grow personally and professionally.
Professional development opportunities are vast and varied, including courses, workshops, certification programs, seminars, and conferences. These opportunities are offered online or in person and can be accessed through industry associations, training providers, or your employer.
Professional Development with Example
Professional development courses and workshops are excellent ways to enhance your skills, expand your network, and stay updated with the latest industry trends. Here are some examples of professional development opportunities that you can consider:
1. Online Professional Development Courses
Online courses are convenient for continuing your education without attending traditional in-person classes. Many universities and organizations now offer online professional development courses that cover various topics, such as business management, data analytics, digital marketing, and more.
Benefits of Online Professional Development Courses:
– Flexible scheduling
– Access to top-tier professors and industry experts
– Low-cost options available
2. Industry-Specific Workshops
Workshops provide an opportunity to gain hands-on experience and practical knowledge in a specific industry. Professional associations or industry organizations often host these workshops and cover various topics, such as software development, graphic design, public speaking, and more.
Benefits of Industry-Specific Workshops:
– Learn from experienced industry professionals
– Network with other professionals in your field
– Gain exposure to the latest industry trends and techniques
3. Leadership Development Programs
Leadership development programs help individuals improve their leadership skills and abilities. These programs often focus on communication, decision-making, and team management. Professional organizations, job training centers, and business schools usually offer them.
Benefits of Leadership Development Programs:
– Develop better communication and interpersonal skills
– Learn how to effectively manage teams and lead projects
– Acquire a deep understanding of leadership theories and best practices
No matter which professional development opportunity you choose, investing in your skills and knowledge will help you achieve greater success in your career. So, take advantage of these opportunities and watch your career soar!
Professional Development for Teachers and Educators
Teachers and educators play a critical role in shaping the future of our society. That's why professional development programs designed for them are essential in ensuring they have the necessary skills and knowledge to deliver high-quality education to students.
Professional development opportunities for teachers and educators are diverse and cover various topics, from classroom management to instructional strategies to technology integration. These programs can help teachers enhance their teaching methods, stay updated with the latest industry trends, and improve the overall learning outcomes of their students.
Professional Development Programs for Teachers
There are various professional development programs available for teachers, including:
| Program Name | Description |
| --- | --- |
| Continuing Education | These programs provide teachers with the opportunity to update their skills and knowledge, often in a specific subject area, through coursework and training programs. |
| Teacher-Centered Professional Development | These programs focus on providing teachers with practical teaching strategies that can be applied in their classrooms. They often involve workshops, seminars, and peer coaching. |
| National Board Certification | This program is designed to recognize and reward accomplished teachers who meet high standards for teaching excellence. The certification process involves a rigorous assessment of a teacher's knowledge and skills. |
Certifications and Workshops for Educators
Educators who are interested in advancing their careers can also benefit from the following professional development programs:
Leadership Development Programs
Special Education Certifications
Reading and Literacy Certifications
Technology Integration Workshops
Cultural Competency and Diversity Training
These programs can help educators develop specialized skills and knowledge that can enable them to take on leadership roles and contribute to improving the overall educational system.
Overall, professional development programs for teachers and educators are crucial for maintaining high standards of education and ensuring that students receive the best possible learning experience.
Professional Development for Nurses
Professional development is crucial for nurses to keep up with the evolving healthcare landscape and enhance their skills and knowledge. The following are some professional development opportunities that nurses can consider to advance their careers:
Continuing Education
Nurses can pursue continuing education through degree programs, online courses, or workshops offered by professional associations or colleges. These programs offer specialized training in critical care, geriatrics, or nursing leadership, providing the necessary skills to meet the challenges of modern healthcare. Continuing education is also required for maintaining nursing licenses in most states.
Specialized Certifications
Specialized certifications enable nurses to demonstrate their expertise in a particular area of nursing. Professional organizations offer these certifications and recognize nurses' proficiency in their respective fields. For instance, a nurse working in critical care can earn a certification from the American Association of Critical-Care Nurses (AACN) to enhance their knowledge and skills in this area.
Advanced Nursing Practice Programs
Advanced nursing practice programs, such as nurse practitioner (NP) or clinical nurse specialist (CNS), offer nurses the opportunity to take on a more advanced role in patient care. These programs provide advanced clinical skills, leadership, and healthcare management training, enabling nurses to diagnose and treat patients, prescribe medication, and manage healthcare teams. NPs and CNSs are among the highest-paid nursing professionals in high demand in many healthcare settings.
By taking advantage of these professional development opportunities, nurses can enhance their skills, expand their knowledge, and advance their careers. Continuing education and specialized certifications are also often required to maintain nursing licenses and certifications. Nurses should stay informed about the latest field developments and identify opportunities that align with their career goals.
Professional Development for Managers and Leaders
Professional development opportunities for managers and leaders are crucial for staying competitive in today's fast-paced business world. Investing in these opportunities can help enhance leadership skills, decision-making abilities, and overall organizational effectiveness.
Leadership Development Programs
Leadership development programs help managers and leaders refine their leadership style and improve their ability to inspire and motivate their teams. These programs often include leadership workshops, one-on-one coaching sessions, and self-assessment tools to help identify areas for improvement.
Management Training Courses
Management training courses give managers the tools to manage their teams and effectively meet business objectives. These courses cover various topics, such as communication skills, conflict resolution, and performance management.
Executive Coaching
Executive coaching is a one-on-one coaching relationship between a coach and a senior leader. This type of coaching is designed to help leaders identify their strengths and weaknesses, clarify their goals, and develop strategies to achieve them. Executive coaching can be particularly helpful for leaders looking to develop their leadership skills in a specific area, such as delegating tasks or managing change.
Overall, professional development opportunities for managers and leaders can help individuals become more effective leaders, better managers, and valuable organizational contributors.
The Power of Professional Development with Real-Life Examples
Professional development is not just a buzzword; it's a game-changer that can transform your career. Here are some real-life examples of individuals who have elevated their professional profile by investing in professional development:
| Name | Profession | Professional Development Opportunity | Outcome |
| --- | --- | --- | --- |
| John Doe | Marketing Manager | Digital Marketing Certification Program | Increased online reach and engagement, improved lead generation results |
| Jane Smith | HR Specialist | SHRM Professional Development Course | Enhanced knowledge of employment laws and HR best practices, promoted to HR Manager |
| Mike Johnson | Education Consultant | Public Speaking Workshop | Became a sought-after speaker at industry conferences, expanded his network |
As you can see from these examples, professional development can lead to tangible benefits such as promotions, increased job opportunities, and improved job performance. So don't hesitate to explore the various professional development opportunities available. You never know how it could change your career trajectory.
Accessing Professional Development Resources
With so many professional development opportunities available, it can be overwhelming to identify the right ones for you. Here are some tips for accessing professional development resources:
Research online platforms that offer courses, webinars, and workshops relevant to your industry and skill set.
Check with your industry association or professional organization for upcoming events and training opportunities.
Attend local networking events and seminars to expand your network and learn about new developments in your field.
Speak with your employer or HR department to see if they offer professional development programs or opportunities.
Consider hiring a career coach or mentor to help guide your professional development journey.
Remember, accessing professional development resources is just the first step. You must actively participate in these resources and apply what you learn to your career to benefit from them truly.
Creating a Personalized Professional Development Plan
Developing a professional development plan tailored to your goals and aspirations can be a game-changer in your career journey. Here are some steps to help you create a personalized plan:
Assess your skill set: Take stock of your abilities, strengths, and weaknesses. Identify the areas where you want to improve and the skills you need to acquire to achieve your career goals.
Set achievable goals: Based on your assessment, set specific and measurable goals that align with your career aspirations. Ensure they are achievable, realistic, and achievable within a reasonable timeframe.
Identify development opportunities: Research professional development opportunities that can help you achieve your goals, such as training programs, workshops, conferences, and certifications. Consider both online and in-person options.
Invest in learning: Commit to continuous learning and development by dedicating time and resources to your selected opportunities. Engage actively in learning, take notes, ask questions, and network with other professionals.
Evaluate your progress: Regularly assess your progress towards your goals, adjust your plan if needed, and capitalize on your achievements. Celebrate your successes along the way, and don't be afraid to step out of your comfort zone to take on new challenges.
Remember that your professional development plan should be a living document that evolves with your career aspirations. Keep it updated and revisit it periodically to ensure you are on track, motivated, and moving towards your goals.
Conclusion
As you can see, professional development is an essential aspect of career growth and success. It can help you stay ahead of the competition and position yourself as a valuable asset in the job market. By actively pursuing professional development opportunities, you can enhance your skills, expand your knowledge, and unlock your full potential.
Remember that professional development is not a one-time event but a continuous journey. Stay proactive and keep learning to stay relevant and up-to-date with your field's latest trends and developments. Whether enrolling in professional development courses, attending workshops, or seeking out mentorship and coaching opportunities, there are many ways to invest in your professional growth.
FAQs
What are 4 examples of professional development opportunities?
Attending industry conferences or workshops to learn about the latest trends and developments in your field.
Enrolling in online courses or certification programs to acquire new skills or enhance existing ones.
Participating in mentorship or coaching programs to receive guidance from experienced professionals.
Joining professional associations or networking groups to connect with peers and expand your professional circle.
What is an example of a professional development goal?
An example of a professional development goal is to enhance your leadership skills. This might involve taking a leadership training course, seeking opportunities to lead projects at work, and actively seeking feedback from colleagues to improve your leadership abilities.
Which professional development skills are employers looking for
Analytical thinking and problem-solving.
Communication and interpersonal skills.
Adaptability and flexibility in a changing work environment.
Leadership and team management capabilities.
Technical skills relevant to the job role.
Continuous learning and willingness to upskill.
What are examples of professional development goals?
Increase proficiency in using a specific software relevant to your job role.
Improve public speaking skills by participating in a Toastmasters club.
Obtain a relevant certification in your field to enhance your credentials.
Develop project management skills by leading a cross-functional project.
Enhance time management abilities by attending a time management workshop.
What is professional development in the workplace?
Professional development in the workplace refers to activities, programs, and initiatives that help employees acquire new skills, knowledge, and competencies to improve their performance and advance in their careers. It involves continuous learning, training, and personal growth to stay up-to-date with industry trends and excel in one's role.