Disclaimer: We sometimes use affiliate links in our content. For more information, visit our Disclaimer Page. 
Leadership is a critical component of success in any field. It's about not only taking charge but also inspiring others, which is especially important in high school, where students are still trying to find their place in the world. This ability to inspire can also aid in many fields such as essay composition where a skilled essay writer service is required to motivate and engage the reader.
This blog post will discuss 14 examples of leadership roles in high school, why they are essential, the benefits of being a leader in high school, and provide some helpful resources for students who want to get involved in leadership opportunities!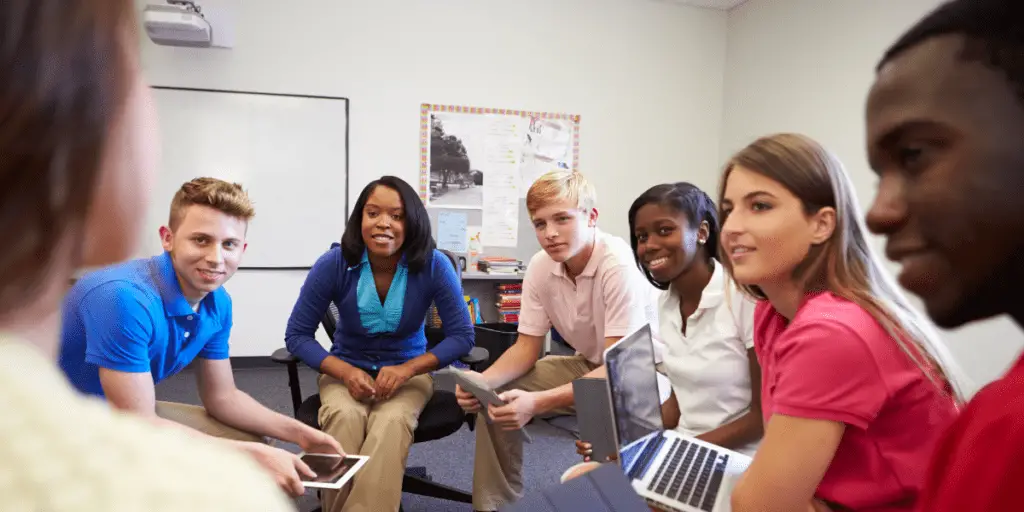 What Does Leadership Mean in High School?
In high school, leadership is often about taking charge and being in control. They're the popular kids who always know what to do and say. But leadership in high school isn't just about being famous or in charge. It's also about setting an example for others to follow.
A leader in high school is someone who can be counted on to do the right thing, even when it's not popular or easy. They're honest and have integrity. They stand up for what they believe in, even when it means standing up to their friends. And they're always looking out for the best interests of their classmates, even if it means sacrificing their own popularity.
Leadership in high school is about more than just being popular. It's about setting a good example for others to follow. If you can do that, you'll be a leader in whatever you do long after graduating high school.
14 Leadership Positions for High School Students
The best way to learn about leadership is to see it in action. Here are 14 leadership experience examples:
1. Student council president
As student body president, you would lead the student council. This role requires demonstrating leadership skills, such as public speaking, brainstorming, and conflict resolution.
The President must also work well with others in the student council and the larger school community. The council president may also be responsible for fundraising and managing the budget for the student council.
As you can see, the student council president has a lot of responsibility. But with that responsibility comes an excellent opportunity to make a positive difference in your school. If you are interested in running for student body president, talk to your teachers and parents about what the job entails.
2. Class president
The class president is a critical leadership position in any high school. The student body elected the class president to represent their interests and help improve the school's quality of education.
This type of position usually has a leadership role on the student council and works closely with the school administration. They may also organize events and fundraisers and help plan activities for the senior class.
The class President is crucial in ensuring that the student body has a voice in decisions that affect them. In addition, they are essential in ensuring that the student body is represented and their needs are met.
Class presidents are instrumental in making sure that students have a positive experience in high school and that they are prepared for success in college and beyond.
3. Captain of a sports team
Being the captain of a sports team is a leadership role that comes with a lot of responsibility. The captain is responsible for leading their teammates and representing the school at sporting events. They may also be responsible for organizing team activities, such as practices and fundraisers.
To be successful in this role, captains need to have strong leadership skills and be able to motivate their teammates. They also need to be good role models on and off the field.
High school students interested in becoming captains should talk to their coach about their leadership experience and what they can do to improve their leadership skills.
4. Editor-in-chief of the school newspaper
The position of editor-in-chief is a leadership role that requires excellent communication, organizational, and writing skills.
Candidates for the position should have previous leadership experience, such as serving on the executive board of another club or being involved in student government. They should also be able to take adult directions and work collaboratively with their peers.
The editor-in-chief of the school newspaper is an important position that provides opportunities for high school students to develop leadership skills that will be valuable in college and beyond.
5. President of the yearbook club
Being the President of the yearbook club is a big responsibility. Not only do you have to lead the staff and ensure that the yearbook is an accurate representation of the school year, but you also have to organize events, such as picture days or autograph signings.
It's a lot of work, but it's also an excellent opportunity to gain leadership experience and skills. Plus, it's a chance to make a difference in your school and leave a lasting legacy.
So if you're up for the challenge, we encourage you to run for President of the yearbook club. It's a great way to get involved in your school and make fantastic memories.
6. Founder of a new club
If you're looking for a way to get involved in your school and gain leadership experience, founding a new club is a great option!
As the founder, you'll be responsible for getting the club approved by the administration, recruiting members, and leading meetings. This is an excellent opportunity to develop leadership skills that will be valuable in high school and beyond.
Plus, you'll have the chance to help shape your club into something that reflects your interests and passions. 
7. Student Government
All high school students should consider getting involved in student government. This provides an excellent opportunity to develop leadership skills.
Students who hold positions such as treasurer, secretary, or vice president are responsible for representing the student body and working with the administration to improve the quality of education at the school.
This experience can teach students how to effectively communicate with adults, manage difficult situations, and work collaboratively to achieve a common goal.
In addition, student government can also be a lot of fun. Students who get involved can make new friends, learn about their classmates, and help make their school a better place. So if you're looking for a way to get more involved in your school community, student government may be the perfect activity.
8. Extracurricular activities
High school students who take on leadership roles in extracurricular activities often develop leadership qualities.
For example, they learn to work well with others, communicate effectively, and plan and organize projects. These skills are essential for success in any field and can be incredibly helpful in college and beyond.
In addition, leadership roles often require students to represent their school at competitions or events. This can be an excellent opportunity to learn public speaking skills and build confidence. Ultimately, leadership roles provide high school students with a perfect opportunity to develop valuable skills that will benefit them throughout their lives.
9. Community
Leadership roles in the community are essential for several reasons:
They develop leadership qualities in high school students that will benefit their future careers.
These roles often require community service, which helps to build a sense of pride and belonging in the community.
Leadership roles allow the community to unite and work towards common goals.
Whether organizing a neighborhood cleanup or leading a team of volunteers, leaders play an essential role in making the community a better place.
10. Girl Scouts and Boy Scouts
Being a leader is not easy. It requires courage, confidence, and the ability to inspire others. Fortunately, many organizations offer leadership opportunities for high school students.
The Girl Scouts and Boy Scouts are two such organizations. Both offer a wealth of opportunities to learn leadership skills in the outdoors, in their communities, and in honing various other skills.
The Girl Scouts Gold Award and Eagle Scout status are the two highest accolades these organizations offer. They speak volumes about the leadership skills participants have built over many years. These awards give kids something to work towards and instill leadership qualities that will last a lifetime.
11. Visual and performing arts
Colleges and employers highly seek leadership abilities. So, if you are looking for leadership experience, art is a great place to start. Whether it's from the director's chair, with a curator's eye, or a choreographer's moves, there are plenty of leadership opportunities in the arts.
And, because the arts are all about creativity, leadership in this arena requires more than just organizing and delegation skills. It also requires vision, imagination, and the ability to inspire others.
So, if you love to perform, this can grow you by helping bring a creative vision to life. Not only will this give you a leadership experience to put on your college applications, but it will also help you to develop essential skills that will benefit you throughout your life.
12. Jobs and internships
Many teenagers dream of one day landing their dream job or internship. While good grades and extracurricular activities are undoubtedly important, many employers value leadership experience.
Adding a job or internship to your resume can demonstrate what it takes to take the lead with real-world responsibilities. Significantly if you can demonstrate getting promoted or taking on more complex duties, having job experience on your resume could give you a real boost in applying for your dream college or internship.
Not only will your resume stand out from the crowd, but you will also have the opportunity to learn valuable lessons that can only be understood in the working world.
So if you want leadership experience, you are encouraged to add a job or internship to your resume. It could make all the difference in landing your dream opportunity.
13. STEM competitions
STEM competitions provide an excellent opportunity for tech-savvy individuals to gain leadership experience. On the local level, competitions allow participants to work with a team to complete a STEM project.
This experience can be invaluable for those interested in pursuing a career in STEM, as it provides an opportunity to gain hands-on experience in leading a team. In addition, on the regional and national level, STEM competitions allow participants to showcase their skills on a larger stage.
This can be an excellent way for budding leaders to gain exposure and build credibility within the STEM community. STEM competitions provide an essential avenue for techie enthusiasts to gain leadership experience and showcase innovation skills.
14. Cultural and language-oriented organizations
Cultural organizations can provide an excellent opportunity for you to learn more about the world beyond your immediate community. These organizations often focus on a particular culture or language, providing a space for teens to connect with others who share their interests.
This can be an incredibly enriching experience, as it broadens your perspective and gives you a deeper understanding of the world. In addition, involvement in cultural organizations can be an excellent way to develop leadership skills and gain valuable experience. These skills will be essential in your future career.
As such, cultural organizations offer an excellent opportunity for you to develop as an individual and prepare for your future.
Related: Leadership Experience Examples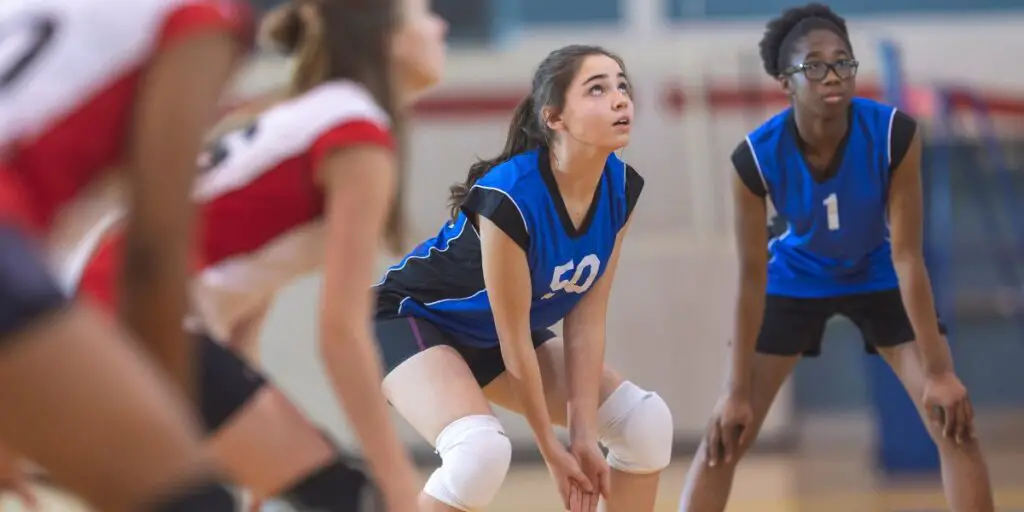 Why should you participate in leadership activities?
While college applications are one compelling reason to participate in leadership activities, leadership isn't merely a buzzword to weave into a resume and application essay; it's a valuable trait that lends itself to future achievements. In addition, admissions officers are interested in leaders because they want students who will contribute to their university community.
But being a leader isn't just about getting into college; it's also about learning how to work with others, solving problems, and making decisions. These skills will come in handy throughout your life, no matter your career.
So while getting into college may be your immediate goal, remember that participating in leadership activities can also set you up for a lifetime of success.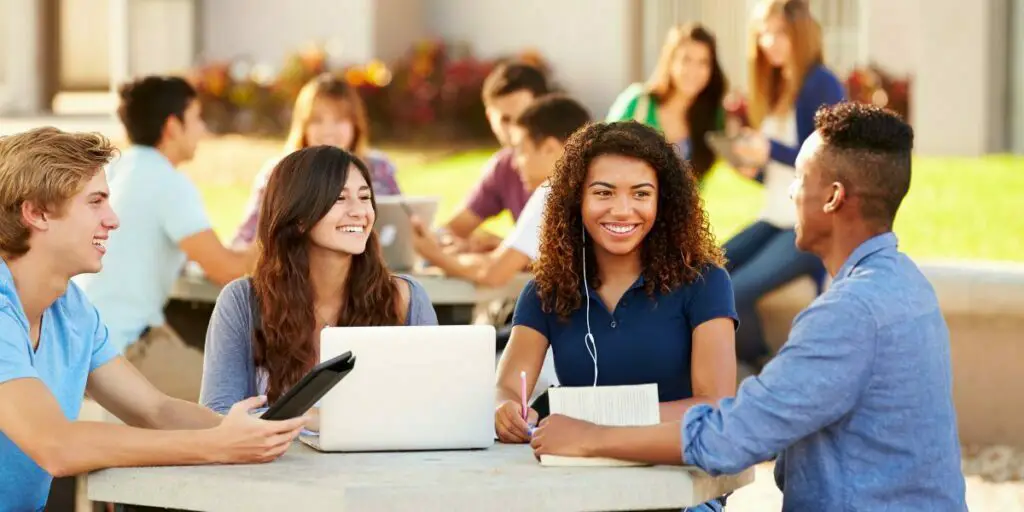 Essential Leadership Skills to Have in High School.
Being a successful high school leader takes more than having an authoritative voice or being popular among your peers. It requires hard work, dedication, and the ability to motivate and inspire those around you.
If you're interested in becoming a high school leader, here are a few skills you should start developing:
• Good communication skills
Leaders play an essential role in any organization, and one of the most critical necessary skills they need to possess is effective communication. Without clear and concise communication, it will be difficult for leaders to get their team on board with their vision and achieve common goals.
Furthermore, listening is just as essential as talking regarding effective communication. Leaders need to listen to others and understand their points of view to build trust and rapport.
• Organization
Leaders are often tasked with organizing people and resources to achieve a common goal. This can be a daunting challenge, as it requires the ability to delegate tasks, set timelines, and track progress.
However, leaders need to be able to manage these resources if they want to be successful effectively. One of the key ways to do this is by setting clear goals and expectations. Leaders should also provide regular updates on progress and ensure that everyone is working towards the same objectives.
By taking these steps, leaders can ensure that they are making the most efficient use of their resources and achieving their goals.
• Critical thinking
Being a successful leader requires more than just having a vision and being able to motivate others to achieve it. Leaders also need to be able to think critically to solve problems.
This means identifying different options, weighing each option's pros and cons, and deciding based on the available information. Without this ability, leaders could not make decisions in the face of adversity or effectively solve problems as they arise.
Critical thinking is essential for any leader who wants to succeed in today's ever-changing world.
• Teamwork
One of the most critical leadership skills is working cooperatively with a team. To achieve common goals, compromise and find a middle ground that everyone can agree on often. This can be a challenge, but it is essential for effective leadership.
Leaders who work cooperatively with their teams are more likely to achieve their goals. They are also more likely to develop a strong team that is motivated and committed to working together.
• Strengthen Yourself
Anyone can be a leader, regardless of their interest or skill level. All it takes is a little motivation and the willingness to step up and take on responsibility. But, of course, certain activities may be better suited for leadership roles than others.
For example, if you're passionate about performing, you may want to apply to be a stage manager for an upcoming production. Or, if you have a heart for helping others, you could volunteer to head up a food drive for the school.
The possibilities are endless, but the more motivated you are by your actions, the better leader you'll be. So, whatever activity you choose, make sure it's something that gets you excited and inspired to take charge.
• Find Solutions
Leaders are problem-solvers by nature. One way to develop this leadership skill is to look for problems at your school and brainstorm ways that you can help solve them.
For example, if you notice new students struggling to feel connected, talk to a teacher or a guidance counselor about starting a new student buddy system—volunteer to lead the project with a staff member.
This activity will set you apart from your peers because it shows the depth of your leadership abilities. Not only will you be helping to solve a problem at your school, but you'll also be developing essential leadership skills that will benefit you throughout your life.
• Stay positive
As any leader knows, setting the tone for a group is essential. Your team will follow your lead if you display confidence and an optimistic attitude.
However, this can be difficult in the face of adversity. If your team loses a big game or a performance goes awry, keeping your emotions in check is essential. Instead, stay focused on the bigger picture and build up your team.
This will help them to see that setbacks are only temporary and that there is still reason to be hopeful. In this way, leaders play an essential role in maintaining morale and keeping their team focused on the goal.
• Take charge of your career.
To attain a leadership position, you need to start by developing your skills and positioning yourself to fill a leadership role in the future.
One way to do this is by writing articles, helping others as needed, meeting deadlines, and actively participating in brainstorming sessions. By taking on these responsibilities, you'll demonstrate your leadership skills and become a top choice for your desired position.
So if you're dreaming of becoming a great leader, don't wait – start taking on leadership roles today.
• Make your opportunities
High school is a time to explore new interests and develop leadership skills. If you can't find a club that meets your needs, don't be afraid to start your own. The process may seem difficult initially, but it will give you a chance to step outside your comfort zone and test your abilities.
You'll need to talk to your guidance counselor about the necessary steps for getting your club approved, recruiting members, and creating by-laws. Once you have everything in place, you can start planning meetings and activities.
Through the entire process, you'll be honing your leadership skills and preparing yourself for success in college and beyond. So if you're looking for a challenge, starting a new club may be the perfect way to find it.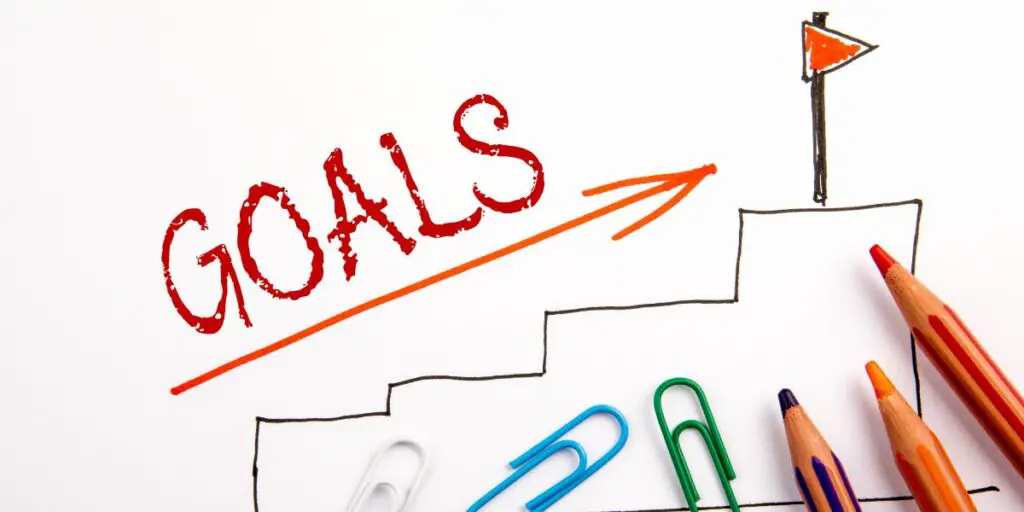 Tips to Get Better at Leadership in High School
Here are a few tips to get better at leadership in high school
→ Make goals
When assuming leadership of a team, group, or club, it is essential to develop clear goals and objectives. By doing so, you can improve the organization you are leading and the people who are attached to it. Think about what your group needs and devise ways to accomplish it. Share your thoughts and allow others to contribute ideas.
This will help foster a sense of ownership and buy-in from everyone involved. Furthermore, by setting clear goals and objectives, you can more easily measure success and identify areas that need improvement. Ultimately, this will help your group run more efficiently and effectively.
→ Look for respect
Being a leader requires confidence and a certain level of popularity, but it is more important to be respected than to be liked. People are often drawn to leaders because they are confident and can make things happen. However, being a leader also means being prepared to make tough decisions that may not be popular with everyone.
To be an effective leader, you must be okay with people, not always like what you do or have to say. Making unpopular decisions in the group's best interest can be difficult, but it is essential to maintaining respect as a leader.
Ultimately, it is more important to be respected than to be liked, and the best leaders are confident enough to make tough decisions and stand by them.
→ Listen to others
Feedback is a crucial part of any work situation, whether in a management position or not. It can be challenging to hear what others say about your work, but it is essential to remember that their input can be valuable. By listening to what others have to say, you will be able to see problems and issues from different viewpoints. This can help you to make the best decision for the situation.
Additionally, by including others in your decision-making process, you will show them their opinions are valued. This will make them more cooperative and supportive of your decisions. Ultimately, considering others' feedback can help you to make better decisions and build a stronger team.
→ Set a good example
As any successful leader knows, earning the respect of those you work with is essential to success. The best way to achieve that respect is to lead by example. If you want your team to be punctual, enthusiastic, and hard-working, then you need to set the tone by being those things yourself.
People will naturally follow the example of their leader, so it's essential to be the embodiment of the ideals you want to see in others. Of course, this isn't always easy. It requires dedication and commitment. But if you can do it, you'll find that your team will be more successful than ever before.
→ Provide feedback to others
As a leader, one of your most important responsibilities is to provide feedback to your team. This includes both positive and constructive feedback. On the one hand, praising your team members when they do something well is essential – this will help to build their confidence and encourage them to keep up the excellent work.
On the other hand, it's also important to provide constructive feedback when necessary. This will help them to identify areas for improvement and make necessary changes in their behavior or performance. Either way, regular feedback is essential for ensuring that your team members are on track and meeting your expectations.
→ Put aside your title
Regarding teamwork, balancing being a leader and a follower is essential. At the same time, however, it is important to remember that you are the leader of your group and should not try to hide behind your title.
Instead, be humble enough to be approachable and build relationships with your group members. Always show that you recognize that you are part of a team, and it isn't a one-person show. You can create a harmonious and effective team by striking the right balance.
→ Establish standards
Organizations are nothing without standards and practices. They provide the framework for members to operate and contribute to the organization's goals. By establishing standards and practices that are realistic but also ambitious, you can create an environment that brings out the best in everyone.
This will lead to increased group engagement, productivity, and better outcomes. But, of course, your expectations must be realistic and not set the bar too high.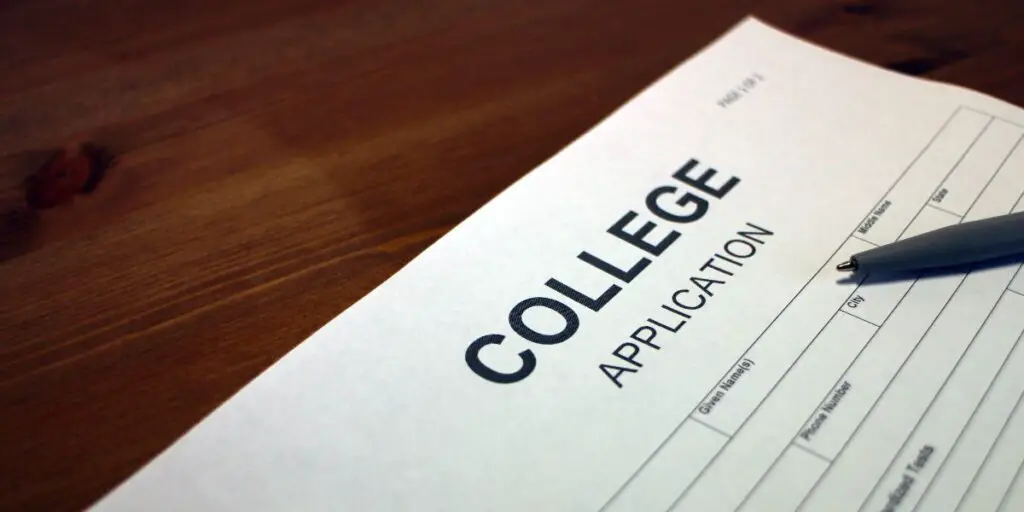 How to Stand Out in Your College Applications High School Student Leadership?
As a high school student, you have probably been told that leadership experience is essential for college applications. And it's true! Colleges are looking for students who can take the initiative and lead others. But what does it mean to be a leader? And how can you make sure that your leadership experience will stand out on your applications?
Here are a few things to keep in mind:
First, leadership comes in many different forms. You don't have to be the club president or the captain of a sports team to demonstrate leadership skills. It can also mean taking on more minor roles and responsibilities within your organization. So don't be afraid to step up and volunteer for projects or tasks, even if they're not at the very top of the organization.
Second, colleges are looking for students who can inspire others and positively impact their communities. So think about ways you have gone above and beyond in your leadership role.
For example, maybe you organized a successful fundraiser or started a new program at your school. Whatever it is, make sure that you can articulate the impact you made clearly and concisely.
Finally, remember that leadership is not all about what you did but also about who you are as a person. So, in addition to highlighting your accomplishments, make sure to also write about the qualities that make you a good leader.
Some of these might include:
Being able to work well with others
Being organized and detail-oriented
Having strong communication skills
Being able to motivate and inspire others
By keeping these things in mind, you can be sure that your leadership experience will stand out on your college applications!
Conclusion
Leadership roles in high school can provide students with essential skills and experiences that will be beneficial later in life. If you want to become a leader, there are many ways to get involved, from joining clubs and organizations to taking on leadership roles in class projects. The most important thing is to get started and keep developing your skills. With hard work and dedication, you can become an effective leader that others will look up to.
Do you have any tips on how to be a successful leader? Please share them with us in the comments below!
FAQs
What is a good example of leadership?
A good example of leadership is someone who can inspire and motivate others, provide direction and guidance, and make decisions that are in the group's best interest. Leaders should also be able to work collaboratively with others and build positive relationships.
What are leadership positions?
Leadership positions are roles that involve taking on responsibility, making decisions, and providing guidance to others. In high school, students can take on leadership roles in clubs, sports teams, student government, and other extracurricular activities.
How do you show leadership at school?
Here are some tips on how to show leadership at school:
• Be confident in yourself and your abilities
• Be decisive
• Be passionate about what you believe in
• Be Inspiring
How do you demonstrate leadership in the classroom?
There are many ways to demonstrate leadership in the classroom. Here are a few ideas:
• Be organized and prepared for each lesson
• Be enthusiastic about your subject matter
• Create a respectful and positive learning environment in your classroom
• Be open to feedback
How do you get a leadership role in high school?
It depends on the school. Some schools elect a Student Council and a Student Body President. Other schools have a more decentralized leadership structure, where teachers or administrators may appoint student leaders for various committees or groups. To get a leadership role in high school, you should start by participating in extracurricular activities and volunteering for projects. Talk to your teachers and school administrators to find out how to get involved. And be sure to showcase your leadership skills by taking on roles of responsibility and leading others effectively.
What is considered a leadership role in high school?
Many leadership roles can be filled in high school. Some popular examples include:
• Class president
• Student council member
• Sports team captain
• Editor of the school newspaper
• Tutoring students who are struggling in a subject
What makes a good leader in high school?
A good leader in high school is someone who can motivate and inspire others, whether it be through words or actions. They can think on their feet and come up with creative solutions to problems, and they are also able to stay calm under pressure. Also, a good leader in high school is someone willing to put the needs of others before their own.