Disclaimer: We sometimes use affiliate links in our content. For more information, visit our Disclaimer Page. 
Deciding on which online course platform to use for your online business can be difficult. There are a lot of different platforms out there, and it can be hard to decide which one is the right fit for you. This blog post will compare Kajabi and Teachable – two of the most popular online course platforms to sell online courses.
These platforms are both primarily used as a tool to build online courses. Still, they offer various tools and functions that can be particularly useful if you're interested in starting (or expanding) your business as an online instructor.
They also have similarities and differences, which we'll discuss below. This article focuses on how each platform works from a general standpoint; for more detailed looks at specific features or internal workflows, please look those up on their respective websites and see any documentation and instructional videos (both have excellent documentation).
What is Kajabi?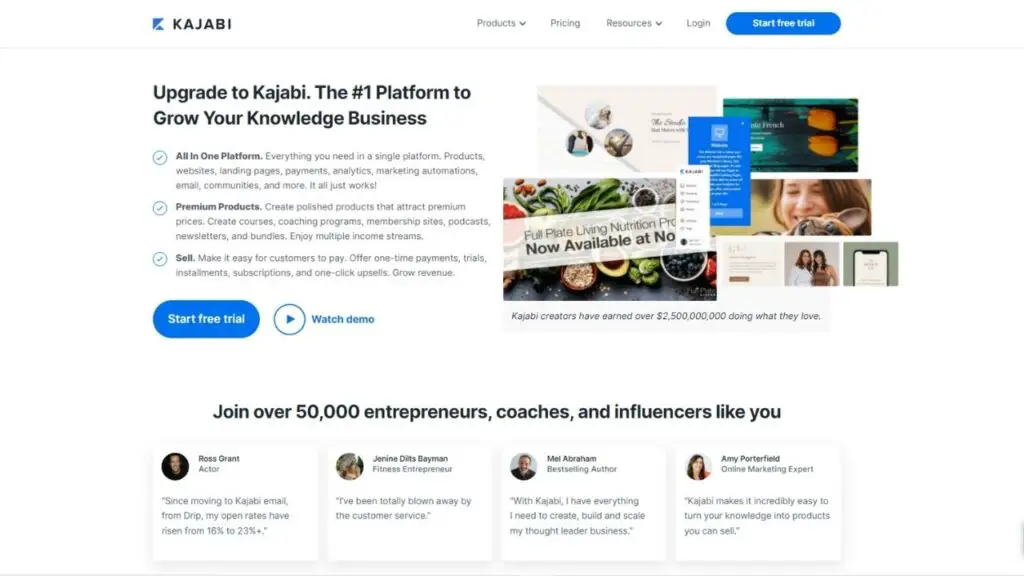 Kajabi is a web-based application that allows you to create your membership site. Using the Kajabi platform, marketers drive traffic, build lists and sell products quickly. It provides an intuitive interface with simple drag-and-drop functionalities that help users start their membership sites such as SaaS (Software as a Service), Product sales, and information products.
What is Teachable?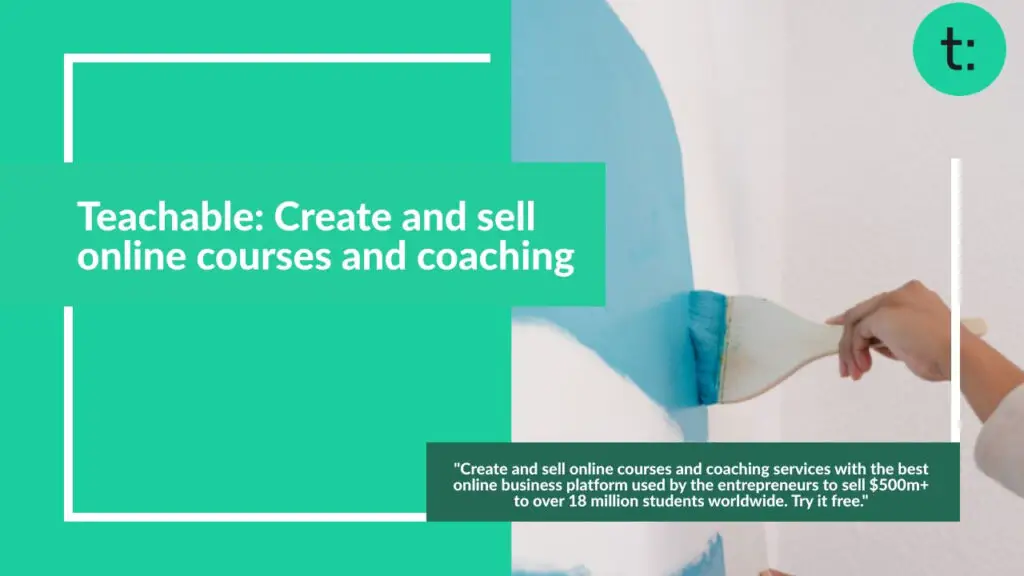 Teachable is a service that provides an easy way for teachers to create courses and start teaching. It makes creating a course very easy, so you won't need any experience in web development or programming. You can even have your first course up and running in less than five minutes. All necessary elements for your course are created automatically, like an enrollment page, video lectures, discussion forums, quizzes, and more.
Kajabi Online Course creation
Kajabi Online Course Creation: The Next Big Thing in Online Marketing and Education? Kajabi's system empowers business owners to build courses that students can purchase at a cost. In addition, this system allows education seekers to scan various course materials available online and choose courses that suit their needs and budgets.
Kajabi's interface is intuitive and easy to use, making your course a simple process. The platform offers training on uploading content, adding modules, setting up quizzes, and creating payment forms for students to facilitate secure transactions. Furthermore, Kajabi supports over 70 different file types, which means you may upload any material to be used within your course curriculum.
Teachable Online Course Creation
Teachable is an excellent platform for creating online courses by repositories or individuals. You can edit the design of your course page to make it look best from the user's perspective to add up different types of media files, e.g., PDFs, audio lectures, slideshows, etc.
You may have unlimited courses (with an unrestricted number of students) with any plan (including the free option). However, the free plan includes a significant 10%+$1 processing fee, which might significantly cut into your earnings and drive you toward a higher-cost plan as you start to see success.
In addition, if you're selling anything on Internet, then this platform allows you to sell your product directly from your website, where you have complete control over what you are selling. You can list your product with different prices and variations. There are various membership options available for sellers to have their user profile who can access all/some of the features available in the repository.
Kajabi Vs Teachable: Course marketing tools
Kajabi and Teachable have course sales and marketing tools that enable instructors to create online courses for their students. They're used by instructors (and sometimes third parties) to market and monetize their courses, possibly by selling them directly to consumers or by getting paid commissions when affiliates sell courses for them. Instructors can also use these platforms to grow an email list and find new subscribers.
Teachable provides what it calls "course marketing tools" so your course can be discovered by students who are actively searching for information on the subject you are teaching. This will ensure that potential students find your courses easier than using other platforms or promoting them yourself via social media.
Kajabi Vs Teachable: Layout and Design
Kajabi has a clean and organized layout for building courses. It's a pretty straightforward process once you create an account, select a template, fill in the information to be included in your course, edit those elements as you see fit, and publish it. However, while this may sound simple enough, it can become very time-consuming to design a beautiful-looking course with a professional appeal.
Teachable also has a pretty extensive library of templates that anyone can choose from when creating their courses. They have well over 100 different templates to use as a foundation for designing your course. This is great because you don't have to start from scratch or manually create something yourself; however, if there isn't a template out there with exactly what you need (i.e., color scheme, layout, etc.), it may prove challenging to find the perfect fit.
Pricing: Kajabi Vs Teachable
Kajabi has three pricing plans: Basic ($149/month), Growth ($199/month), and Pro ($399/month). Teachable provides a free plan with a limit of ten students, whereas the other options have no maximum number of users. There are three pricing plans: Basic ($29/month), Professional ($99/ month), and Business ($249/month).
Customization Options
Kajabi is relatively limited when customizing your courses' design elements because you don't get to access their editor until you pay for a premium account. And even then, you'll only have the option to add other people's videos and audios — not upload your own — into your course with this plan.
On the other hand, Teachable has many customizable options that come along with any paid plan. For example, the free version gives you access to cool tools like website blocking (so users can't visit other sections without paying), course embedding (sharing links across different platforms such as Facebook and Twitter), live chat support, integration with many popular e-commerce systems such as Shopify, WooCommerce, and Gumroad, payment processing options like PayPal and Stripe, form creation (build lead capture forms using Teachable's templates), and the ability to design courses with lots of creative tools.
Payment Meyhods Accepted
Kajabi does not offer any payment processing option for recurring or one-time payments, so you'll have to manually provide your own (i.e., PayPal, Stripe, etc.). And in case you're wondering: YES, Kajabi does accept credit cards even though they don't directly process online payments.
Teachable also offers manual payment processing through their website — similar to Kajabi — but they offer some pretty cool add-ons such as taking payment information from customers who paid via Stripe when they enroll in a course (it seems like they're working on adding PayPal support shortly). Plus, Teachable also offers payment processing through their mobile app (so it's convenient for students to pay you when attending your live sessions) and physical POS systems (you can find out more about this here ).
Real-time Training
Kajabi does not offer any real-time training options. They give you access to Lynda.com videos, but you will have to create separate courses for each one that you want to integrate into your platform. Also, Kajabi only updates once every quarter with new course templates, so finding the perfect video or audio may take some time, depending on what kind of content you plan on using within your courses.
Teachable can choose from over 100 different video sources (including Lynda.com ). But what makes them even better is that you can create upsells, down sells, and autoresponders on top of this. For instance, maybe there's a specific video or playlist that students must watch before moving on to more material within your course? Or perhaps it's just good practice to let new users know who you are before they join your course? Well, Teachable allows you to do so by adding call-to-actions with the help of their more advanced tools.
Completion certificates
Kajabi and teachable both offer course completion certificates. These are awarded to students who earn the qualifications required to certify their courses.
Completion certificates are automatically mailed directly to employers, schools, or any other institution for which you provide the name and address once you have submitted proof of course completion.
Affiliate Marketing
Kajabi and Teachable both feature affiliate marketing, with Kajabi's affiliate program being more adaptable and sophisticated than Teachable. For example, you can link to the sales page using affiliate links. You can't do any of these things on Teachable. However, it enables you to establish a unique cookie duration not available in Kajabi.
Quizzes
Quizzes in Kajabi and teachable are best for e-learning when they replace or supplement incomplete or unappealing content that teachers or lecturers may have in their courses. Quizzes in both platforms can be made in various ways, including multiple-choice, true/false, short answers, matching, and more.
Another difference is the ability to track student progress with quizzes. Teachers can assess which students possess knowledge of certain subjects by assigning them quizzes; students who score well on these assessments will receive reward points upon completion (Kajabi). Teachers also gain information about how much information the students know since rewards are not given until after completion (Teachable).
Integrations
Kajabi offers a Pinterest integration as well as an Instagram widget. Unfortunately, to create connections with other third-party apps, you'll have to hire a developer from outside the platform, which can be rather expensive.
Teachable has over 80 integrations natively built into their system, including MailChimp, Slack, and Google Analytics, to name a few. They also offer Zapier integration, so you can sync up your account with pretty much any other app or web application you already use daily.
Sales Funnel Management System
Kajabi has ways for publishers to add sales into their courses, but the process is not as efficient or effective as it could be. Plus, you cannot use Kajabi's sales funnel management system (LaunchPad) without purchasing a plan which isn't cheap. On the other hand, you can use Kajabi to create landing pages and sales funnels for your business, so you won't need to buy separate software like Clickfunnels or Leadpages.
Teachable allows publishers to create powerful and engaging one-time offers at specific times during a student's journey through a course. For example, maybe you have a bonus for students who complete all lessons within your course. Or maybe there's a discount for early birds? Either way, Teachable lets instructors design smart deals that take effect immediately when triggered by predetermined actions from students, such as reaching certain lesson milestones.
Platform Usage & Support
Kajabi – Many different types of users can be found in Kajabi: learners, teachers, administrators, and guests. One of the most significant differences between Kajabi and other LMSs is that Kajabi has places for students to interact, such as discussion boards and chat rooms, along with a particular area just for teachers called HQ where they can blog or share files.
Teachable – With Teachable, every user starts as a student when signing up. Then you have level admins who manage courses and users. Finally, the level owner has full access to overall levels to add/remove users and courses (Backpack). Plus, site owners also gain access to manage their account pages, including billing information and custom domain names, if they choose to customize their site.
Social Sharing and Reviews
Both platforms share content via social media websites such as Linkedin, Facebook, Google+, Twitter, Pinterest, Tumblr, etc. However, within Kajabi itself, you can "Follow" other instructors in your niche, similar to Twitter. You can also "Like" their courses and leave comments.
Both sites have a user-reviews/rating system where students can review the courses after completion to inform other possible users of what to expect when taking that course or who is behind it. This helps potential students decide if they want to take a course based on other users' experiences.
No matter which platform you choose to use, both are excellent ways for sharing knowledge with others through online courses. The main things you should focus on when deciding between Kajabi vs teachable are price comparisons and features available in each plan offered by Teachable vs Kajabi. Once you know how much it'll cost you to use each platform, you can decide which one best suits your needs.
Curriculum Development
Both Kajabi and Teachable offer curriculum development. But before you can get started on your design within either of these systems, make sure that you go through the training offered by each company (or hire someone who knows how to do this). You might also want to consider hiring two separate people to develop your curriculum design and make your videos. But, again, this is because people are good at one or the other, but not both.
Ease of Use
As a new user, both platforms have an intuitive user interface. I didn't have any problems with either when navigating around each platform.
Teachable is a bit more feature-heavy than Kajabi, so there's more for you to gain in the long run if you decide to stick with this platform (which will require purchasing their premium plan).
Website Builder
Kajabi offers more features than other software when it comes to website construction. One exciting feature is the blog feature. With this feature, you can create a blog that is entirely customized and functional from within the Kajabi software.
Teachable has an advanced blog feature. But the blogging capability is basic. And Teachable does not seem to be interested in promoting it because no upgrades to blog functionality have been made since Teachable was first launched.
Kajabi and Teachable are both platforms that allow you to create online courses. However, they have different features. For example, with Kajabi, you can completely change the branding so that no one knows it is from Kajabi. But with Teachable, you need to use a sub-domain (a different website address).
Kajabi is a company that offers you tools to make your marketing more successful. For example, you can use the Sales Pipelines Builder to plan how to market your website or collect new leads. You can also do SEO and webinars with this company.
Analytics
Keeping track of who's taking courses and how they're doing is extremely important. Knowing where a student is having trouble with a subject or topic, for instance, can help you pinpoint what kind of content needs to be added or removed from specific courses.
Kajabi has basic analytics that only show the total number of subscribers and their gender and location. However, they also have some incredible stats such as course views vs. completed courses, average completion time per session, and most viewed lessons within a course.
Teachable has more advanced analytics that includes individual student progress reports by classroom activity (viewing lectures/videos/reading assignments), quiz results, student assignment submissions, and even an exporting option to see this data in a downloadable .csv file.
You can also view the number of registrations, students enrolled and accesses by course. Plus, you can see student activity within each course (complete/incomplete lessons, progress reports with individual student assignment submissions).
Customer Support
Kajabi offers live chat, which is time-sensitive – agents cannot help with billing questions or complaints more than two months old. They also have a self-help knowledge base that includes articles about frequently asked questions and tutorials on using the software's features.
Teachable also provides a knowledge base and chat support, available from 8 am to midnight EST. In addition, they have 24/7 email support for those who need help outside of these hours. In addition, they offer a community forum where members can post questions and answers on common topics about using the platform and other things related to online teaching in general.
Kajabi vs Teachable: Final Thoughts
Both of these platforms offer unique features and capabilities for selling online courses when it comes down to it. However, as you can see above, several critical differences between Kajabi and Teachable make the latter a far superior product.
Plus, with all those additional features such as native integrations and sales funnel management system, it's all in one platform for you. On the other hand, Kajabi is also an all-encompassing platform that aims to be everything in one place. It includes course development, memberships, email marketing tools, webinars, and more.
What do you think? Let us know in the comments below! Also, feel free to ask any questions if we didn't cover something you were wondering about.
Thanks for reading!