Disclaimer: We sometimes use affiliate links in our content. For more information, visit our Disclaimer Page. 
Preparing for an internal promotion interview is crucial for employees seeking career development within their company. Internal interviews allow current employees to demonstrate their valuable contributions, professional development, and organizational commitment. This blog post will guide you on how to prepare for an internal promotion interview, offering great insight into the process, sample questions, and sample answers.
Understanding the Internal Interview Process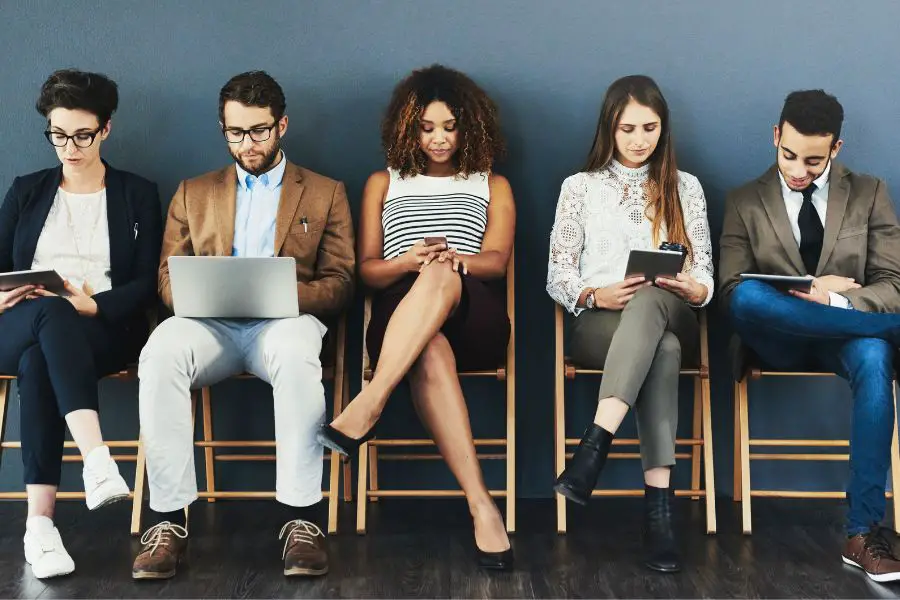 Internal vs. External Candidates
When preparing for an internal promotion interview, it's essential to understand the differences between internal and external candidates. Internal candidates are current employees with insider knowledge of the company's goals, organizational structure, and the team's current workflows. External candidates apply from outside the company and may lack this insider knowledge.
The Hiring Process for Internal Candidates
The internal interview process differs from the standard job interview. Hiring managers may be more familiar with internal candidates but still, need to assess their suitability for the new role. Internal candidates should approach the promotion interview professionally and be prepared to discuss their career path, current role, and new skills acquired.
Related: How To Renegotiate a Salary
Preparing for the Internal Promotion Interview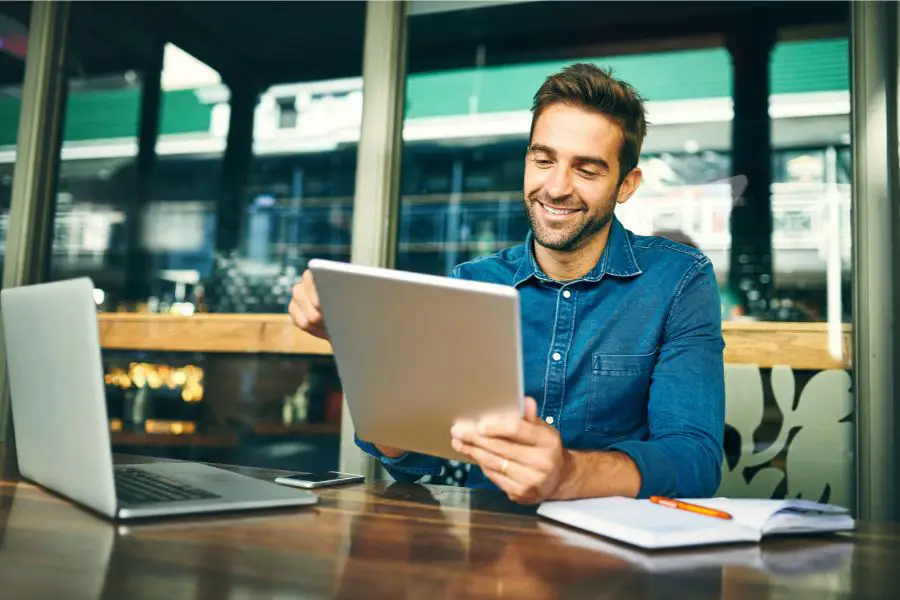 Review the Job Description
Before your internal promotion interview, thoroughly review the job description for the new position. This will help you understand the role's responsibilities, qualifications, and expectations, allowing you to tailor your responses to promotion interview questions.
Update Your Resume and Cover Letter
Although you are an internal candidate, it's still essential to submit an updated resume and cover letter. This will help the hiring manager understand your current position, professional development, and career goals.
Research the New Department
Gain a better understanding of the new department's objectives, team dynamics, and senior leadership. This information will help you make a strong case for why you are the best candidate for the job promotion.
Prepare for Standard Job Interview Questions
While internal job interviews often focus on your experience within the company, you should still be prepared to answer standard job interview questions. This will demonstrate your ability to communicate effectively and think critically about your professional development.
Practice the STAR Method
The STAR method (Situation, Task, Action, Result) is valuable for answering behavioral interview questions. Use the STAR method to provide concise, well-structured answers to promotion interview questions.
Promotion Interview Questions and Sample Answers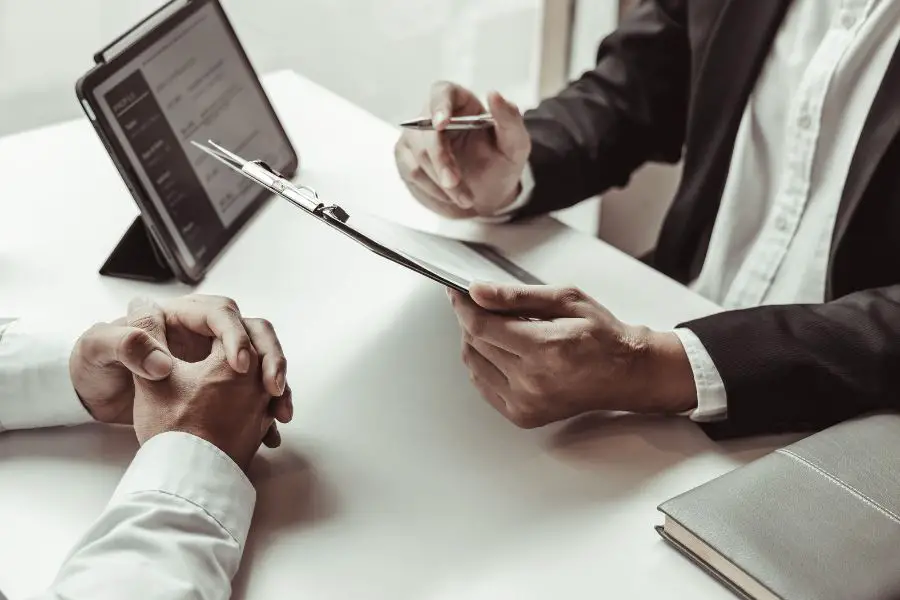 In this section, we'll provide sample questions and sample answers for job promotion interviews. These questions will help you anticipate the types of questions you may be asked during your internal promotion interview.
Question 1: Why do you want this promotion?
Sample Answer: I am seeking this promotion because I believe I can make valuable contributions to the team's success in this new role. I have developed a strong understanding of our company's goals and have consistently exceeded expectations in my current position. This promotion will allow me to further develop my leadership skills and make a greater impact on the organization.
Question 2: How has your current role prepared you for this promotion?
Sample Answer: In my current role, I have developed a deep understanding of our team's workflows and have taken on increasing levels of responsibility. I have also taken on several cross-functional projects, exposing me to other departments and building relationships with colleagues throughout the organization. This experience gave me the skills and knowledge needed to excel in the new role.
Question 3: How do you plan to address the learning curve associated with this promotion?
Sample Answer: I understand that this promotion will come with new challenges and responsibilities. I plan to invest in professional development, such as attending workshops and seeking mentorship from senior colleagues, to quickly acquire the necessary skills. Additionally, I will leverage my existing knowledge of the company and my strong relationships with co-workers to ensure a smooth transition into the new role.
Question 4: How do you handle conflict in the workplace?
Sample Answer: I prioritize open communication and active listening when faced with conflict. I strive to understand the concerns of all parties involved and work collaboratively to find a mutually beneficial solution. By maintaining a professional attitude and focusing on the team's best interests, I can help resolve conflicts effectively and maintain a positive working environment.
Question 5: How do you plan to balance your new responsibilities with your current role during the transition period?
Sample Answer: I understand the importance of ensuring a smooth transition between my current position and the new role. I plan to work closely with my current manager and the hiring committee to create a detailed transition plan. This will include delegating tasks, training a replacement, and maintaining open communication with all stakeholders to ensure that my current responsibilities are fulfilled while I take on my new role.
Question 6: How do you envision your career path within the company?
Sample Answer: I am committed to the long-term success of our organization and see this promotion as a stepping stone in my career development. I plan to continue expanding my skills and knowledge in this new role, and in the future, I hope to take on additional leadership responsibilities within the company. I believe that my dedication to our company's goals and my passion for professional growth will enable me to make significant contributions as I advance in my career.
Question 7: How would you handle negative feelings from colleagues who also applied for this promotion?
Sample Answer: I understand that emotions can run high during the promotion process, and I am committed to maintaining a professional and supportive work environment. If a colleague expresses negative feelings, I would acknowledge their disappointment and emphasize that the decision was based on a fair evaluation of all candidates. I would also encourage them to seek feedback from the hiring manager to identify areas for growth and future opportunities.
Related: Interview Questions for Internal Promotions
Tips for Acing the Internal Promotion Interview
Demonstrate Your Knowledge of the Company: As an internal candidate, you have a unique advantage: insider knowledge of the company's goals, culture, and processes. Be sure to highlight this knowledge during your interview to show that you understand the organization's needs and can make valuable contributions to the team's success.
Showcase Your Achievements in Your Current Role: Discuss your accomplishments in your current position, emphasizing how they have prepared you for the new role. Be specific about the skills you have acquired and the positive impact you have made on the company.
Be Prepared to Discuss Your Professional Development: Hiring managers will want to see that you are committed to your professional growth. Discuss any additional training or certifications you have pursued, as well as your plans for continuing your development in the new role.
Maintain a Positive and Professional Attitude: Your attitude during the internal promotion interview can make a significant difference. Be confident, approachable, and professional, demonstrating that you are the right person for the job promotion.
Be Ready for Role-Specific Interview Questions: Prepare for questions related to the new position, such as how you plan to address any skills gaps or learning curves. Be specific about your plans for success in the new role.
Leverage Relationships with Current Co-workers: Your relationships with current co-workers can provide valuable insight and support during the internal interview process. Seek advice from colleagues who have been through similar promotions and use their experiences to inform your preparation.
Emphasize Your Adaptability and Flexibility: During your internal promotion interview, emphasize your ability to quickly adapt to new situations and learn new skills. This will demonstrate that you are capable of taking on the challenges of a higher position.
Highlight Your Leadership Skills: If the new role involves a leadership component, be sure to discuss your experience managing projects, leading teams, or mentoring colleagues. Provide specific examples of your leadership successes and how they have contributed to your team's overall success.
Prepare Questions for the Hiring Manager: As with any job interview, be prepared to ask thoughtful questions about the new role, department, and expectations. This shows your genuine interest in the position and helps you gather information to determine if the promotion fits your career goals.
Practice Active Listening and Eye Contact: During the internal promotion interview, practice active listening and maintain eye contact with the interviewer. This demonstrates your engagement, attentiveness, and professionalism.
Send a Thank You Email: Following the interview, send a thank you email to the hiring manager and any other interviewers involved in the process. Express your gratitude for the opportunity to interview and reiterate your enthusiasm for the new role.
Reflect on the Interview Experience: After the interview, take some time to reflect on your performance, considering areas where you excelled and areas for improvement. This reflection can help you better prepare for future job promotion interviews or other career development opportunities within the company.
Related: How To Send Follow Up Email After Interview No Response
Conclusion
Preparing for an internal promotion interview requires special preparation to demonstrate your suitability for the new role and commitment to the company. By following the tips and guidance in this blog post, you can confidently navigate the internal interview process and excel in pursuing career advancement within your current organization.
Whether you seek a promotion to a senior role, a leadership position, or a role in a new department, investing time and effort in your preparation will increase your chances of success. Don't forget to leverage your insider knowledge, relationships with co-workers, and achievements in your current role to make a compelling case for your promotion.
With dedication and the right approach, you can secure the job opportunity to help you climb the career ladder and achieve your professional goals.