Disclaimer: We sometimes use affiliate links in our content. For more information, visit our Disclaimer Page. 
Are you looking for ways to increase your compensation at your current job? Leveraging a job offer can be a powerful tool in negotiating a higher salary. In this section, we will explore effective tactics that can help you use a job offer to get a raise, including negotiating a salary increase with a job offer.
Key Takeaways
Using a job offer can be an effective tool in negotiating a higher salary
Preparation is key in negotiations, including crafting a well-written salary negotiation email
Highlighting achievements and presenting factual evidence can support your case for a raise
Maintaining professionalism and exploring career growth opportunities can lead to broader compensation benefits
Negotiation strategies and risk assessment are essential for a successful negotiation outcome.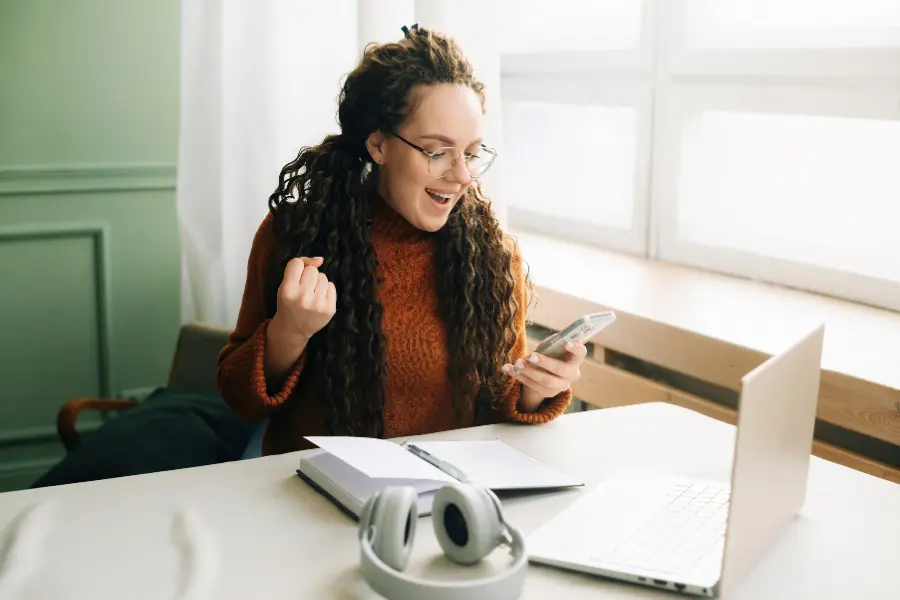 Understanding the Power of a Job Offer
When negotiating a higher salary, a job offer can be a powerful tool to use to your advantage. By leveraging a job offer for a raise, you can communicate your market value to your current employer and demonstrate that you are a highly sought-after professional.
Utilizing a job offer to negotiate salary can also give you a strong bargaining position, showing your employer that you have other options. This can increase their willingness to negotiate and offer you a higher salary.
Getting a raise through a job offer can also give you the confidence to ask for what you deserve. With a concrete job offer, you have a solid basis for negotiating a higher salary that reflects your experience, skills, and contributions to the company.
Preparation for Negotiations
Before entering a salary negotiation, preparing yourself with a well-crafted plan of action is crucial. By planning and organizing your approach, you can increase the likelihood of a successful negotiation outcome. Here are some tips on how to prepare for a salary negotiation:
1. Research Salary Ranges
Research salary ranges for your profession to ensure you ask for a fair increase. You can do this by checking job search websites and industry publications or asking colleagues in the same field. This information can help you determine a realistic range for your salary expectations.
2. Create a Salary Negotiation Email
When requesting a raise, an email can be a useful way to initiate the conversation. Draft an email to your supervisor requesting a meeting to discuss your salary and provide information to support your request.
"I would like to discuss my salary in relation to the current market rate for my position. Based on my research, I believe my salary is below the industry standard. I would like to schedule a meeting to discuss a raise."
3. Develop a Managerial Approach Strategy
Consider your employer's perspective when developing your strategy. Try understanding their goals and challenges and how your role fits the company's objectives. By approaching your negotiation with a managerial mindset, you can present your case in a way that makes sense for the company.
4. Practice Your Pitch
Practice your pitch to gain confidence and become familiar with your talking points. This can help you present a persuasive argument clearly and concisely. You can practice with a friend or family member or record yourself and review it later.
5. Determine Your Bottom Line
Determine your bottom line and the minimum salary increase you will accept. This will help you stay focused and remain within your salary expectations during negotiations.
Presenting Factual Evidence and Highlighting Achievements
When negotiating a raise with a job offer, it's essential to demonstrate your value to your employer. One effective way to do this is by presenting factual evidence and highlighting your achievements. This is important because it provides your employer with tangible evidence of your contributions to the company and justifies a salary increase.
Start by researching industry standards and the average salary for your position. This provides a baseline salary to work from when negotiating your raise. You can also use this information to demonstrate to your employer that your salary is inconsistent with industry standards.
| Factual Evidence | Achievement Highlighting |
| --- | --- |
| Revenue growth percentage | Increased sales by 25% in the last quarter |
| Cost savings | Streamlined processes resulting in a 15% reduction in expenses |
| Productivity improvement | Implemented new software resulting in a 30% increase in productivity |
Use these achievements to showcase how you have positively impacted the company's bottom line. Be specific and provide concrete examples of how your work has increased revenue, saved money, or improved productivity.
Consider your experience, education, and skills when determining your new base salary. Be sure to factor in any additional responsibilities you have taken since starting your current position. This will provide a solid foundation for your negotiation and help ensure you receive a fair and reasonable salary increase.
By presenting factual evidence and highlighting your achievements, you provide your employer with a clear understanding of your value to the company. This helps build a stronger case for a raise and increases your chances of negotiation success.
Politeness and Confidence in Negotiations
During negotiations, it's essential to maintain politeness and confidence. Being courteous and respectful can go a long way in building a positive relationship with your employer. It can also help them to perceive you as a confident, professional, and valuable asset to the company.
Confidence is also crucial during negotiations. Expressing your value to the company while remaining firm in your position is essential. Being assertive and clear about your expectations is okay, but it's equally important to be open to compromise and alternative solutions.
Presenting a job offer letter is one effective way to showcase your value during negotiations. This letter can serve as factual evidence of your worth and highlight your achievements. This document can demonstrate to your employer that you are confident, well-prepared, and committed to your career.
Exploring Career Growth Opportunities
One of the most significant advantages of leveraging a job offer to secure a raise is the opportunity for broader career growth. Demonstrating your value and negotiating a higher salary may also open doors to new career paths and opportunities within your current company.
Future pay raise prospects can also be influenced by managerial decision-making and the success of your negotiation. For example, if you negotiate a raise based on your values and achievements, your employer may recognize your potential for further growth and development within the organization.
| | Career Path Opportunities | Future Pay Raise Prospects | Managerial Decision-Making |
| --- | --- | --- | --- |
| Definition | Opportunities for growth within the company, including new roles or positions. | Potential for further salary increases over time, based on your negotiation success and employer recognition of your value. | Managerial decisions that impact the availability of resources for salary increases and career advancement. |
| Importance | Understanding managerial decision-making can help you make informed decisions about your career growth and development decisions. | Negotiation success can influence future salary increases, contributing to long-term financial growth. | Understanding management can help you make informed decisions about your career growth and development decisions. |
| Example | A raise may also come with a promotion or new job title, offering new challenges and growth opportunities. | Successful negotiations can set a precedent for future pay raises and recognition of your value within the company. | Understanding your manager's decision-making process can help you position yourself for career growth and development. |
Section 7: Negotiation Strategies and Risk Assessment
Negotiation can be a tricky process where the outcome is uncertain. It is important to understand the risks involved and develop effective strategies to manage them.
Risk Assessment in Negotiations
You are conducting a risk assessment before negotiations can help you identify potential pitfalls and develop mitigation strategies. Consider factors such as the current market conditions, your company's financial situation, and the bargaining power of both parties.
Negotiation Support Mechanisms
Utilizing negotiation support mechanisms such as mentors, coaches, or experienced negotiators can help you prepare for negotiations and increase your chances of success. They can provide valuable feedback, help you develop effective strategies, and identify potential blind spots.
Company Research for Negotiation
Researching your company and its competitors can help you identify areas for negotiation and make a stronger case for your demands. Research the company's financial situation, recent business developments, and industry trends to understand the overall market conditions better.
Factors Beyond Salary: Benefits and Work Arrangements
When negotiating a job offer to get a raise, it's essential to consider factors beyond salary. These benefits and work arrangements can often add significant value to your compensation package and improve your overall job satisfaction. This section will explore negotiation strategies for benefits package negotiation, work arrangement flexibility, and education reimbursement negotiation.
Benefits Package Negotiation
When negotiating your benefits package, it's important to research and understand what benefits are available to you. Consider what benefits matter most to you and tailor your negotiation strategy accordingly. For example, negotiating for better healthcare coverage or parental leave policies may be a priority if you have a family.
Another approach could be negotiating additional benefits outside of the standard package. For example, you could request a health savings account (HSA), an employer match for retirement savings, or tuition reimbursement for continuing education. These additional benefits can significantly increase your overall compensation package and provide valuable long-term benefits.
Work Arrangement Flexibility
With the rise of remote work and flexible schedules, negotiating for work arrangement flexibility can be a powerful tool in your negotiation arsenal. Consider what type of flexibility would be most beneficial to you, such as working from home one or two days a week, flexible start and end times, or condensed workweeks.
When approaching your employer requesting work arrangement flexibility, highlight the benefits to you and the company. For example, flexible work arrangements have improved productivity, reduced absenteeism, and increased employee retention.
Education Reimbursement Negotiation
If you're interested in advancing your education, negotiating for education reimbursement can significantly reduce the financial burden of tuition costs. Many companies offer education reimbursement programs, but the terms can vary widely. Research your company's policy and understand what expenses are covered and the reimbursement limit.
When negotiating for education reimbursement, emphasize how your continued education will benefit your work performance and contribute to the company's success. If you show that your education will provide valuable skills or knowledge that can be applied directly to your job, your employer may be more likely to approve your request.
Managing Professional Relationships and Loyalty
During negotiations, it's essential to maintain positive relationships with your employer and colleagues. Leveraging your professional network and building strong relationships can provide invaluable insights and support throughout the negotiation process.
Employer perception management is also crucial. You want to ensure your employer sees you as a valuable and dedicated team member. Emphasize your commitment to the company's success, and note any specific examples of your contributions to demonstrate your value.
Professional relationship maintenance is an ongoing process. Keep your colleagues and superiors in the loop about any changes in your professional goals or plans. Be transparent and communicative, and try to celebrate team successes and milestones.
Utilizing Your Professional Network
Your professional network can be an excellent source of support and guidance as you navigate negotiations. Reach out to colleagues in your field or industry who have experience with similar situations and ask for advice or feedback. Be sure to show your appreciation for their assistance and offer to reciprocate.
Building Managerial Trust
Trust is a crucial element in any professional relationship, and it's especially important during negotiations. Communicate openly and honestly with your superiors and colleagues, demonstrating your commitment to the company's goals and values. Make an effort to follow through on your promises and responsibilities, and acknowledge and address any issues that arise promptly.
Committing to Reinvestment
Finally, it's essential to demonstrate your commitment to the company's success and growth. Reinvesting in your professional development, taking on new responsibilities, and offering to mentor or train colleagues effectively show your dedication and value as an employee.
Conclusion
Negotiating a raise using a job offer can be a challenging process that comes with uncertainty. However, building trust with your employer and committing to reinvesting in your professional growth can increase the likelihood of a successful negotiation outcome.
By utilizing the strategies discussed in this article, you can make informed decisions about your career and financial well-being and successfully negotiate a raise using a job offer.
FAQs
Why is a job offer a powerful tool in negotiating a raise?
A job offer shows your employer that you have other options and can stimulate their willingness to increase your salary to retain you.
How should I prepare for salary negotiations using a job offer?
It is important to research and gather information about industry standards, craft a compelling salary negotiation email, and develop effective strategies for approaching your employer.
How can I develop effective negotiation strategies and assess risks?
To develop effective negotiation strategies, it is important to research the company, understand the potential risks involved, and utilize negotiation support mechanisms. This will help maximize your chances of a successful negotiation outcome.
What is the importance of politeness and confidence in negotiations?
Maintaining a polite and confident demeanour during negotiations is crucial to maintaining a positive and professional relationship with your employer. It showcases your professionalism and assertiveness.
How can leveraging a job offer lead to career growth opportunities?
By leveraging a job offer, you can demonstrate your market value and potentially open doors to career advancement within your current company. It shows that you are a valuable asset and can lead to broader growth opportunities.