Disclaimer: We sometimes use affiliate links in our content. For more information, visit our Disclaimer Page. 
Many business owners dread having a difficult conversation with an employee. It can be tough to know how to raise the issue and even more challenging to deal with the consequences.
However, if you don't handle these conversations effectively, they can cause significant damage to your business.
This blog post will discuss eleven ways to have a difficult conversation with an employee. We will also talk about why it matters how you handle these conversations and provide tips for making them go as smoothly as possible.
Why does it matter how you handle difficult conversations?
As any business owner knows, challenging conversations are essential to management. They can be about sensitive topics like performance, discipline, workplace conflict, or even termination.
Unfortunately, many business owners avoid having these conversations because they fear how the employee will react. However, ignoring the problem will not make it go away and will only worsen it.
Handling these conversations well is essential for a few reasons. One of them is; that how you handle these conversations can significantly impact employee morale and motivation.
Finally, if the conversation is not handled correctly, it could lead to legal problems. You can avoid many potential issues by taking the time to have these difficult conversations respectfully and professionally.
Related: How To Deal With Employees Who Don't Respect You
11 Ways on How to Have a Difficult Conversation With an Employee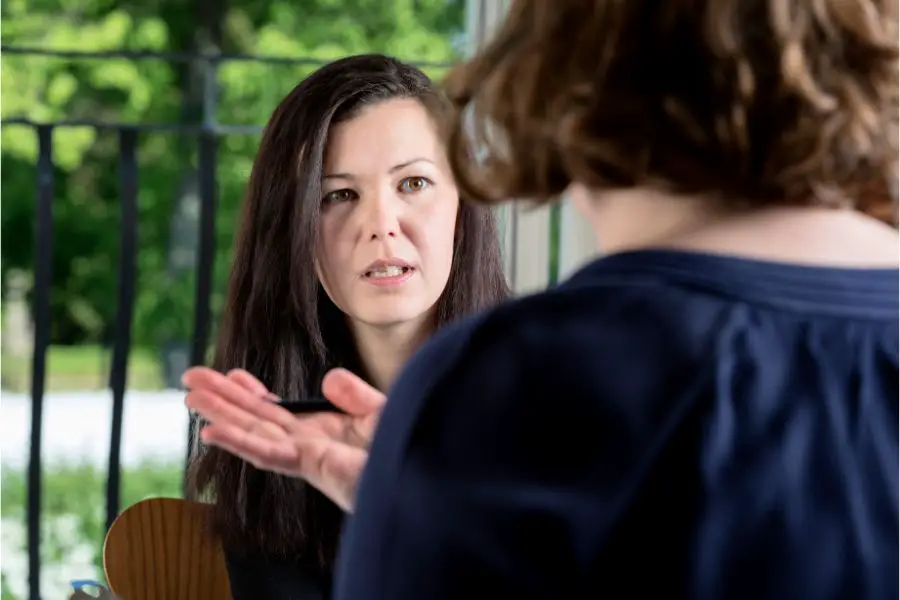 If you're facing a challenging conversation with an employee, keep these tips in mind, and you'll be able to handle it like a pro.
1. Identify the problem 
Having difficult conversations is a necessary part of being a manager, but that doesn't mean they're easy. It's often tempting to avoid the issue by beating around the bush, but this will only make the conversation more challenging in the long run.
So instead, start by clearly stating the problem and why it's a problem. This will help ensure that you and the employee are on the same page, making it easier to find a solution. 
2. Listen more carefully
Active listening is a critical skill to have in any tough conversation. By genuinely listening to what the other person is saying – and not just waiting for your turn to speak – you can find common ground and reach a solution.
This cannot be easy, especially if you have a strong opinion. However, it is crucial to make a concerted effort to listen to what the other person is saying.
Ask questions as needed and try to understand their perspective. Only then can you hope to find a resolution that everyone can agree on.
3. Focus on the other person's point
It's important to remember that you don't always have all the information. So when an employee comes to you with a problem, please resist the urge to make assumptions about what happened or why.
Instead, take the time to ask questions and listen to the employee's side of the story because employee engagement is very important in these challenging conversations.
Only then can you make a fair and informed decision about how to resolve the situation. In addition, this approach can help build trust and foster communication within your team.
4. Identify a solution together
A successful conversation means finding the most productive solution, not being right or proving a point.
You can ensure everyone is working towards the same goal by clearly understanding what needs to be done. This way, you can be sure that everyone is on the same page and knows what needs to be done.
Clear action items are essential in these situations, so set them before wrapping up the meeting.
5. Provide a way out for the other person
Giving negative feedback is something most people dread. We often see it as an unpleasant conversation that lacks empathy and only serves to point out our employees' shortcomings.
However, negative feedback doesn't have to be negative. It can be a constructive conversation that leads to positive change. The key is to approach it from a coaching perspective.
As a business leader, you are in a position to provide your employees with the tools and resources they need to succeed.
In addition, you can guide them towards positive change by having a constructive conversation while maintaining workplace respect. 
6. Respect each other
Difficult conversations are a necessary part of being a manager. You will inevitably have to deal with all your employees. So even if you're upset, it's important to be respectful during a tough talk.
This doesn't mean you have to agree with the employee, but you should avoid yelling or getting personal.
7. Select the appropriate time and situation
If you find yourself in a situation where you need to have a difficult conversation with an employee, it's crucial to handle the situation correctly. If you start complaining to other team members, it will only make the situation worse.
Instead, you should demonstrate empathy and try to find an atmosphere that will make everyone feel relaxed and comfortable.
This could be in the conference room, meeting room, or even a casual discussion over a cup of coffee. The key is to find a setting that will allow everyone to have an open and honest conversation.
By taking the time to handle the situation correctly, you can avoid making a bad situation worse.
8. You should plan but no script
In any conversation, it can be helpful to have a general idea of what you want to say. Jotting down some notes or key points before the conversation can help you stay on track and make sure you cover everything you want to.
However, drafting a complete script is generally unnecessary and can even be counterproductive. If your conversation partner doesn't know his "lines," deviating from the script can create an artificial and awkward exchange.
Instead, it's better to have a flexible strategy with several possible responses. Keep your language simple, clear, and direct for the best results.
9. Don't forget to keep a witness
When handling employee concerns, it's always best to have a witness present. A witness can help document the conversation and ensure both parties behave appropriately.
In most cases, the witness should be a supervisor or HR representative. This person should be informed about the situation in advance, so they can be prepared to step in if necessary.
Having a witness present can help to resolve problems more quickly and effectively, and it can also help to prevent future issues from arising.
Related: HR in Small Businesses
10. Privacy is important
Employees often expect their employers to maintain confidentiality when they come forward with a complaint.
However, explaining to employees that you cannot fully guarantee confidentiality is important.
Depending on the nature of the complaint, you may have a duty to take action or to speak to others. In such cases, it is essential to get all the facts before taking action. This may require scheduling a private conversation with the employees involved.
11. Spend some time reviewing
You should carefully review what has been debated and let the employee know when the problem is fixed or improved. Taking them for a brief informal discussion or reaffirming your guidance will boost their confidence.
Also, make sure that you pre-schedule a follow-up plan if necessary. This will ensure that the communication lines remain open and that any further issues can be discussed on time.
Having tough conversations at work is never easy, but following these simple tips can ensure they are successful.
Related: How To Deal With an Argumentative Employee
What to do after a difficult conversation?
Challenging conversations can be costly, both emotionally and mentally. They often leave us feeling drained, even if we get the outcome that we were hoping for.
It's important to remember that not everything will work perfectly just because you had the conversation. There may be a long road ahead to creating a solution that works for everyone.
Even when a tough conversation ends, we can still benefit from having had it. But we need to be intentional about self-reflection and keeping the lines of communication open afterward. So first, prioritize your self-care.
These conversations don't always end as well as we'd like them to. So first, calm down and reflect on any unexpected emotions you experienced. Next, reflect on the conversation and use it as a learning experience.
Consider what you did well in the situation and what you could do better next time you are in a difficult conversation. By being mindful of these conversations' emotional and mental toll, we can be better prepared to handle them productively.
Related: How To Communicate Assertively
Conclusion
Difficult conversations are an inevitable part of any business. No matter how great your team is, there will come a time when you need to have a tough talk with someone who works for you.
This blog post has outlined eleven tips for having difficult conversations with employees. We hope this guide will help you and your team have more productive, meaningful conversations.
Have you ever had a difficult conversation? How did you go about it? Let us know in the comments section below.
FAQ
What is a challenging conversation?
A challenging conversation makes you think, one in which you might feel uncomfortable or one that could potentially lead to conflict. But instead, it's a conversation in which both parties are willing to express their thoughts and feelings honestly, openly, and respectfully.
How should a manager talk?
Managers should talk to their team in a way that inspires them to do their best work. They should be clear and concise in their communication and try to gauge the team's mood to adjust their tone accordingly. Most importantly, managers should always be respectful when talking to their team members.
Can HR talk about employees?
Absolutely! HR is responsible for maintaining employee performance, attendance, and communications records. Additionally, HR can help resolve conflicts between employees. No matter what the question or concern may be, employees should feel comfortable talking to their HR representative.
What are some examples of difficult conversations?
Some difficult conversations are:
• When someone shares something personal with you that is triggering your issues.
• Any conversation with high stakes and potential for upset on either or both sides.
• When someone has done something that hurt you, you need to confront them about it.
• Neither wants to back down when two people have differing opinions on a touchy subject.
How do you have difficult conversations with underperforming employees?
Be sure to stay calm and professional during the conversation, and be prepared to listen to their side of the story. Ultimately, you want to allow the employee to improve their performance to continue working for your company.
What does it mean when HR wants to talk to you?
Generally, the company has been monitoring your performance and may have identified areas where they feel you could be doing better. They may also want to discuss any potential promotions or salary increases that may be available. However, it's best to speak with HR directly to find out the specific reason for their meeting request.