Disclaimer: We sometimes use affiliate links in our content. For more information, visit our Disclaimer Page. 
College is an exciting time for students to explore their passions and career paths. However, with the competitive job market, college students must utilize effective career development tools to maximize their chances of success.
In this guide, we'll discuss various resources, tips, and tools that can assist college students in career planning, building a strong resume, finding internship opportunities, mastering job interviews, and networking for career success.
Key Takeaways:
Career development is essential for college students to navigate the competitive job market.
Effective career development tools can help students plan their careers, build strong resumes, find internship opportunities, master job interviews, and network for success.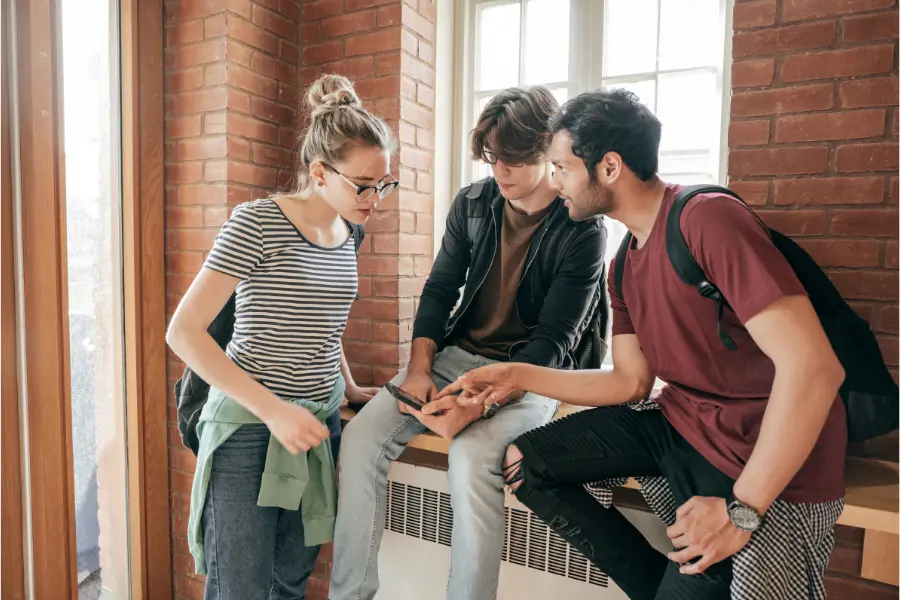 Career Development Tools for College Students
College students have access to a wealth of resources that can help them explore career options, develop necessary skills, and ultimately find job opportunities that align with their goals. Here are some essential college career resources to take advantage of:
| Resource | Description |
| --- | --- |
| Career centers | Most colleges have a dedicated career center that offers services such as resume and cover letter review, career coaching, and job search assistance. Make sure to schedule an appointment with a career counselor early on in your college career to start planning for your future. |
| Job boards | Many colleges have their own job board, listing internships and job opportunities specifically for students. These job boards can also provide valuable information about on-campus recruiting events and career fairs. |
| Online resources | Platforms like LinkedIn, Glassdoor, and Handshake can help you explore career paths, research companies, and connect with potential employers. Take advantage of these tools to broaden your job search and network with professionals in your field. |
In addition to these resources, it's important to engage in career planning and exploration actively. Attend career fairs and networking events, participate in informational interviews with professionals in your desired field, and consider joining clubs or organizations related to your interests. By taking advantage of these resources and opportunities, you can set yourself up for success in your future career.
Building a Strong Resume
Your resume is often your first impression with potential employers, and ensuring it showcases your skills and accomplishments effectively is important. Here are some tips to help you build a strong resume:
1. Tailor your resume to the job you're applying for
Read the job posting carefully and highlight the skills and experiences matching the listed requirements. This shows the employer that you're a good fit for the role.
2. Use action verbs to describe your experiences
Start bullet points with strong action verbs like "created," "managed," or "led." This highlights your accomplishments and shows that you're an active contributor.
3. Quantify your achievements
Whenever possible, include numbers or percentages to demonstrate the impact of your work. For example, "Increased sales by 20% in Q2 2021."
4. Keep it concise
Most employers only spend a few seconds on each resume, so ensure yours is easy to read and doesn't include unnecessary information. A good rule of thumb is to stick to one page.
5. Use a clean, professional design
Choose a simple, easy-to-read font, and ensure plenty of white space. You want your resume to look polished and professional.
By following these tips, you can create a strong resume that will catch the eye of potential employers and help you land your dream job.
Internship Opportunities for Practical Experience
Internships are an excellent way for college students to gain practical experience in their desired fields. They provide an opportunity to apply classroom knowledge to real-world situations, help students build industry connections, and increase their chances of securing full-time employment after graduation.
The first step in securing an internship is researching and identifying potential opportunities that align with your career interests and goals. Start by checking with your college's career center or utilizing online job boards such as Indeed or Glassdoor. Another useful tool is LinkedIn, which features a variety of internship postings and allows you to connect with professionals in your desired industry.
Once you have identified potential opportunities, it's important to tailor your application materials to the specific internship. This means customizing your resume and cover letter to highlight relevant skills and experience and researching the company and industry to be prepared for any potential interviews or discussions.
Staying organized and keeping track of all application deadlines and requirements is essential when applying for internships. Consider creating a spreadsheet or using a task management tool like Trello to stay on top of these details.
If you're having trouble finding an internship that aligns with your interests or career goals, consider contacting professionals in your network or joining industry-specific groups on LinkedIn or other social media platforms. This can provide valuable networking opportunities and potentially lead to new internship opportunities.
Job Search Strategies for Success
Searching for a job can be daunting, especially for college students with little experience in the job market. However, finding job opportunities can be more manageable and enjoyable with the right strategies and tools. Here are some tips to help college students with their job search:
1. Use Online Job Portals
Online job portals such as Indeed, Glassdoor, and LinkedIn can be powerful tools to help college students find job opportunities that match their skills and interests. These websites allow users to filter job listings based on location, industry, and job type, making it easier to find relevant job openings.
Additionally, some companies only post job openings on these websites, so it's important for college students to regularly check these portals to stay up-to-date with potential job opportunities.
2. Leverage Social Media
Social media platforms like LinkedIn, Twitter, and Facebook can also be useful for finding job openings and networking with potential employers. College students can use LinkedIn to build their professional network, connect with alumni, and interact with companies and recruiters. They can also use Twitter and Facebook to follow companies they are interested in and stay informed about their latest job postings and industry news.
3. Attend Career Fairs
Many colleges and universities host career fairs where students meet with potential employers and learn about job opportunities in various industries. Attending these events can be a great way for college students to network with recruiters and learn about different career paths.
Students should come prepared with copies of their resumes and be ready to converse with recruiters. It's also helpful for students to research the companies that will be attending beforehand, so they can ask informed questions and express interest in specific job openings.
4. Network with Professionals
Networking with professionals in their desired industry can be incredibly valuable for college students seeking a job. They can contact alumni, professors, and professionals on LinkedIn or other networking platforms and ask for informational interviews or job shadowing opportunities.
Networking can also happen in person at events or through friends and family members who may have connections in the industry. Building connections with professionals can lead to job opportunities and provide invaluable insights and advice.
5. Follow Up After Applying
After applying for a job, college students must follow up with the employer to express their interest and inquire about the hiring process. This can be done through email or phone and can help students stand out from other applicants.
Following up shows employers that the student is serious about the position and eager to learn more about the company. It's important, however, to strike a balance and not come across as too pushy or aggressive.
By utilizing these job search strategies, college students can increase their chances of finding job opportunities that align with their career goals and aspirations. It's important to remain persistent and open-minded, as the job search process can often take time and effort.
Mastering Job Interviews
Preparing for a job interview can be nerve-wracking, but with the right tools and strategies, you can ace it with confidence. One way to prepare is to practice answering common interview questions. Write down a list of questions you think the interviewer might ask, such as "What are your strengths and weaknesses?" or "Why do you want to work here?" Then, practice answering them out loud with a friend or family member. This will help you feel more comfortable and confident during the real interview.
Another helpful tool is using mock interview platforms. Many career centers offer mock interviews, or you can use online platforms that simulate real online job interviews. These tools allow you to practice interviewing skills, receive feedback, and improve your responses before the interview.
During the interview, it's important to be professional and confident. Dress appropriately, arrive on time, and greet the interviewer with a firm handshake and a smile. Listen carefully to the questions throughout the interview and answer them honestly and succinctly. Use specific examples from your experience to illustrate your skills and qualifications.
Before the interview ends, be sure to ask questions of your own. This shows your interest in the company and the position. Prepare a few questions in advance, such as "What are the main responsibilities of this role?" or "What is the company culture like?".
Overall, mastering job interviews requires practice, preparation, and confidence. Utilize these tools and strategies to present yourself as a strong and qualified candidate in any job interview.
Career Exploration and Self-Assessment
Before embarking on any career path, one must clearly understand one's interests, values, and skills. Self-assessment tools can be incredibly helpful in identifying these areas and discovering potential career paths that align with them.
One such tool is the Holland Code test, which matches your personality traits to various job categories. The Myers-Briggs Type Indicator (MBTI) is another widely-used assessment that provides insight into individual preferences and potential careers.
Career counselors and career centers within colleges can also provide guidance and resources for self-assessment and exploration. They can assist with identifying skills and interests, exploring industry trends, and developing an action plan to reach career goals.
Networking with professionals in industries of interest can also provide valuable insights into the day-to-day work and required skills for different career paths. Informational interviews with professionals can offer valuable guidance and serve as a way to build connections in the professional world.
By assessing strengths and interests, students can make informed decisions about their career paths and approach job searches with a clearer understanding of their goals and priorities.
Networking for Career Success
Networking is a crucial component of building a successful career. By connecting with professionals in your field, you can gain valuable insights, learn about job opportunities, and even secure job offers that may not be publicized. Here are some tips to help you maximize your networking efforts:
Attend networking events: Look for events in your area that are relevant to your field and attend them. Bring business cards and be prepared to introduce yourself and make connections.
Utilize LinkedIn: Create a professional LinkedIn profile and connect with individuals in your field. Be sure to personalize your connection requests and engage with your connections regularly.
Join professional organizations: Research professional organizations in your field and join them. Attend their events and engage with other members to build connections and expand your network.
Reach out to alumni: Utilize your college's alumni network to connect with individuals in your field. Reach out to alumni for informational interviews and ask for advice and guidance.
Remember that networking is all about building relationships, so follow up with your connections and maintain those relationships over time. Investing time and effort in networking can open doors to new opportunities and advance your career.
Conclusion
In summary, career development is crucial to a college student's success in the job market. Career development tools and resources can significantly increase their chances of landing their dream job after graduation. From career centers and online job boards to networking and internship opportunities, plenty of resources are available to help students achieve their career goals.
This guide has discussed various career development tools, including resume-building tips, job search strategies, and interview preparation techniques. In addition, we have emphasized the importance of self-assessment and career exploration in identifying personal interests, values, and skills to guide career choices better.
FAQs
What is a career development tool?
A career development tool is a resource or strategy designed to assist college students in planning, exploring, and advancing their careers. These tools encompass a wide range of resources, such as assessments, online platforms, coaching services, and networking opportunities, all aimed at helping students make informed decisions about their career paths.
What are the 4 components of career development?
Self-Assessment: Understanding your strengths, skills, interests, and values to align with potential career paths.
Exploration: Research various career options and industries to make informed decisions.
Goal Setting: Establishing clear career goals and objectives.
Action Planning: Creating a strategic plan to achieve your career goals, including steps like skill development, networking, and job searching.
What are the five methods of career development?
Education and Training: Continuously improving skills and knowledge through courses, workshops, and certifications.
Mentoring and Coaching: Receiving guidance and advice from experienced professionals in your chosen field.
Networking: Building relationships within your industry to gain insights, opportunities, and support.
Skill Development: Enhancing specific skills relevant to your desired career path.
Job Searching: Actively seeking and applying for positions aligned with your career goals.
What are career development techniques?
SWOT Analysis: Assessing your Strengths, Weaknesses, Opportunities, and Threats to identify areas for improvement.
Career Testing: Taking assessments to identify suitable career options based on your skills, interests, and personality.
Self-Assessment: Reflect on your values, passions, and strengths to make informed career decisions.
Research: Gather information about industries, job roles, and companies to align with your goals.
Networking: Connecting with professionals in your field to gain insights and expand opportunities.
What are the best career development tools for college students?
Online Learning Platforms offer courses and tutorials to acquire new skills and knowledge.
Professional Networking Platforms: Social media platforms like LinkedIn for building connections and learning from professionals.
Job Search Platforms: Websites to search and apply for internships, part-time jobs, and entry-level positions.
Career Coaching: Services providing personalized guidance and advice for career decisions.
Assessment Tools: Tests that help students understand their strengths, preferences, and suitable career paths.