Disclaimer: We sometimes use affiliate links in our content. For more information, visit our Disclaimer Page. 
Retirement is often associated with slowing down and taking it easy. However, many individuals nearing retirement age are not ready to leave their careers completely. Instead, they see this stage of life as an opportunity to explore new possibilities, continue growing professionally, and make a meaningful impact in their field.
Career development near retirement requires careful planning and consideration. While making a major change later in life may seem daunting, it can be a highly rewarding experience with the right mindset and approach.
Key Takeaways
Career development near retirement can lead to new opportunities and personal fulfillment.
Planning and preparation are crucial for a successful transition.
Networking, upskilling, and exploring new career options can help individuals stay competitive and engaged.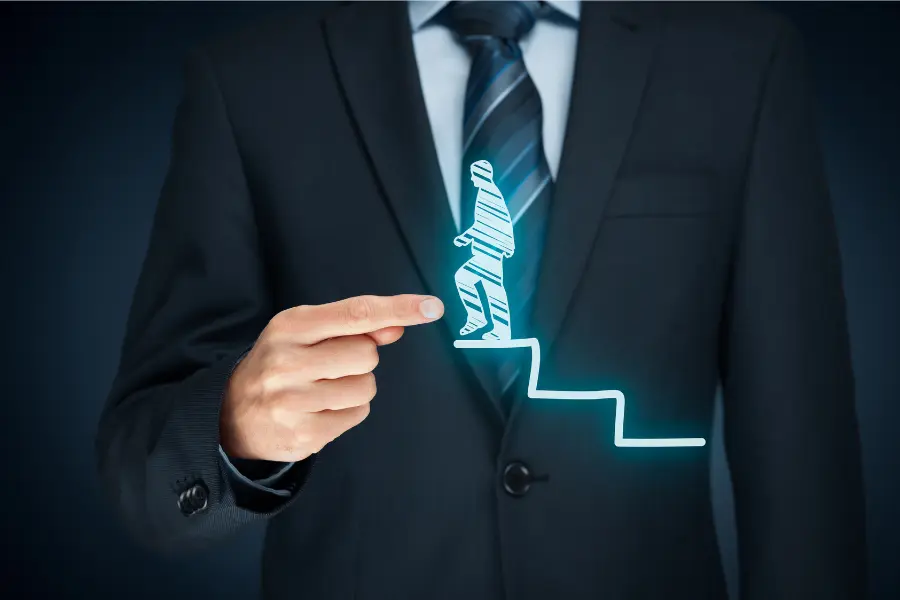 Planning for Retirement Career Development
Retirement doesn't have to mean the end of your career. Many individuals near retirement age often find themselves considering a new direction, whether it's a complete career change or exploring new opportunities within their field. Planning for retirement career development is crucial to ensuring a successful transition and a fulfilling post-retirement career.
Setting Goals
The first step in planning for retirement career development is setting clear goals. What do you want to achieve? Do you want to learn new skills, start a business, or work part-time in a new industry? Identifying your goals will help you create a roadmap for achieving them.
Tip: Make sure your goals are specific, measurable, achievable, relevant, and time-bound (SMART).
Assessing Skills and Interests
Assessing your skills and interests is also important in planning retirement career development. Take time to reflect on your past experiences and identify your strengths, weaknesses, and areas for improvement. Consider taking a skills assessment test or working with a career coach to help pinpoint your unique skillset and passions.
Exploring Options
Once you've identified your goals and assessed your skills and interests, it's time to explore your options. Research different industries and job markets, and contact industry professionals for guidance and advice. Consider attending networking events or volunteer opportunities to gain insights into new areas.
Tip: Be open-minded and willing to try new things. You may be surprised by the opportunities available to you.
Continuing Education
Continuing education is also important in planning for retirement career development. Consider taking courses or attending workshops to learn new skills and stay up-to-date with industry trends. Many universities and community colleges offer courses specifically designed for retirees.
Tip: Look for online courses or webinars if attending in-person classes is not feasible.
Planning for retirement career development can ensure a successful and fulfilling post-retirement career. Stay tuned for the next section to discuss career options for individuals nearing retirement.
Exploring Career Options After Retirement
Retirement does not necessarily mean the end of your professional career. In fact, it can be an opportunity to explore new horizons and pursue passions that were once put on hold due to work commitments. Here are some career options to consider after retirement:
Starting a Business
If you have an entrepreneurial spirit, starting a business can be a great way to continue working while pursuing a passion. You can turn a hobby into a business, offer consulting services, or take advantage of the skills and knowledge you gained over your career to start a new venture.
Starting a business in retirement offers several benefits, including more flexibility with your schedule and the ability to control your workload. However, it's important to note that starting a business also comes with challenges. Getting off the ground requires considerable effort, time, and financial resources.
Pursuing Part-time or Freelance Work
Another option is to pursue part-time or freelance work in a field that interests you. This allows you to continue working while having more control over your schedule and workload. Part-time work can be a great way to stay engaged and connected to the workforce while still leaving time for other activities.
Additionally, freelance work can offer even more flexibility and the ability to work on projects that align with your interests and skills. However, it's important to note that freelance work may not offer the same job security or benefits as traditional employment.
Exploring New Industries
Retirement can also be an opportunity to explore new industries and interests. You might consider taking courses or attending workshops in a field that intrigues you. This can lead to new opportunities and allow you to expand your skill set.
Another way to explore new industries is to volunteer or take on internships. This allows you to gain hands-on experience and learn more about different fields before committing to a new career path.
Ultimately, the key to finding the right post-retirement career option is to explore your interests, assess your skills and experience, and be open to new opportunities. With careful planning and a willingness to take risks, you can find a fulfilling new career in retirement.
Leveraging Experience for Professional Growth
One of the greatest assets individuals have near retirement is the wealth of experience they have accumulated throughout their careers. This experience can be leveraged for professional growth in new and exciting ways.
One option is to become a consultant, offering expert advice and guidance to others in their field. This can provide a flexible schedule and the chance to work on various projects. Mentoring is another way to share knowledge and expertise, giving back to the industry and helping newer professionals to develop their skills.
Volunteering is also an excellent way to utilize experience while giving back to the community. Nonprofit organizations often require specialized knowledge and skills, and retirees can contribute their time and expertise to make a meaningful impact.
Another option for leveraging experience is to start a business. Retirees passionate about an idea or hobby can turn it into a successful venture, using their skills and knowledge to create something new.
"Leveraging my experience as a consultant has been a fulfilling and enjoyable way to continue working in my field while enjoying the flexibility of retirement." – John, retired marketing executive
Overcoming Challenges in Career Transition Near Retirement
Transitioning to a new career near retirement can be a daunting task. However, with proper planning and preparation, it is possible to overcome the various challenges that may arise during this phase of life.
One of the most common challenges individuals face during career transition near retirement is overcoming the fear of the unknown. Leaving a familiar career path and trying something new can be intimidating, but it is important to remember that change can lead to growth and fulfillment. Embrace the opportunity to explore new options and expand your skill set.
Financial concerns can also be a hurdle in career transition near retirement. It is important to have a realistic understanding of your financial situation and plan accordingly. Consider part-time or freelance work options and utilize any retirement benefits or savings plans that may be available to you.
Another challenge that may arise is navigating the job market. It could be more competitive than when you first entered the workforce, and finding a position that aligns with your goals may take longer. Stay persistent and utilize your professional network to seek out new opportunities.
Finally, it is crucial to maintain a positive attitude throughout the transition process. Recognize that setbacks and obstacles are a normal part of any career change, and use them as opportunities for growth and learning. Stay focused on your goals and remain open to new experiences.
Upskilling and Continuing Education
As the job market evolves and new technologies emerge, it's essential to stay current with skills and knowledge relevant to your field. Upskilling through continuing education can help keep your career on track, increase marketability, and open doors to new opportunities.
Here are some ways to upskill:
Online courses: Many reputable online platforms offer courses on various topics. These courses can be completed at your own pace and provide a flexible way to learn new skills.
Industry events: Attending conferences, workshops, and networking events can expose you to new trends and ideas in your field.
Certifications: Pursuing industry-recognized certifications can demonstrate your expertise in a particular area and make you a desirable candidate for job opportunities.
Traditional education: Pursuing a degree or advanced degree can provide a comprehensive education and formal credentials to advance your career.
Regardless of your chosen method, upskilling can help you stay relevant and competitive in the job market. Continuing education can also provide personal fulfillment and a sense of accomplishment, making it a worthwhile pursuit even outside of career advancement.
Networking and Building Connections
One of the keys to success in career development near retirement is networking and building connections. While it may seem challenging to establish new connections later in life, many strategies can be effective.
First, consider attending industry events and conferences. These gatherings provide an opportunity to connect with professionals in your field and stay up-to-date on emerging trends and best practices. Additionally, many organizations offer seminars and workshops aimed at cultivating professional connections.
Another effective strategy is to utilize social media platforms. LinkedIn is a particularly useful tool for networking, allowing individuals to connect with colleagues, alumni, and other professionals in their industry. When using social media, present yourself professionally and make thoughtful connections.
Finally, consider reaching out to colleagues and acquaintances directly. This can include former coworkers, clients, or other professionals with whom you have established relationships throughout your career. These connections may be able to offer valuable advice or introductions. Remember that networking is a two-way street, so be sure to offer help and support to those in your network.
Balancing Work and Retirement Lifestyle
As you navigate the career transition near retirement, it's essential to remember the importance of maintaining a work-life balance. While it's natural to want to dedicate time and energy to pursuing new opportunities, it's crucial to prioritize your personal well-being and happiness. Here are some strategies to help you achieve a healthy work-life balance:
Set boundaries: Learn to say no when necessary and establish clear boundaries between work and personal time.
Conduct a time audit: Keep track of how you're spending your time and identify areas where you can cut back or delegate tasks.
Stay active: Incorporate regular exercise and physical activity into your routine to reduce stress and improve overall health.
Foster relationships: Make time for friends and family and nurture meaningful connections outside work.
Pursuing career development near retirement aims to enhance your overall quality of life, not overpowering it. By prioritizing your personal well-being, you'll gain a better perspective on what truly matters and find greater fulfillment in and out of the workplace.
Conclusion
Transitioning into retirement doesn't have to be a daunting process. By proactively planning for career development near retirement, individuals can embrace this phase of life as an opportunity for growth and exploration.
Throughout this article, we have explored various strategies and tips for planning a successful transition into retirement. From setting goals and assessing skills to exploring new career options and leveraging experience, many professional growth and development opportunities exist in this phase of life.
It's important to remember that career development near retirement is not just about work but also about achieving a healthy work-life balance. Prioritizing personal well-being and pursuing hobbies and interests is just as important as professional growth.
FAQs
What are the goals for work when close to retirement?
As you approach retirement, the goals for work might include maintaining a strong work-life balance, transferring your knowledge and expertise to colleagues, and ensuring a smooth transition for your successor. Setting personal financial goals and planning for post-retirement activities can also be important.
What are the 5 stages of career development?
The five stages of career development typically include Exploration (identifying interests and skills), Establishment (getting started in a career), Mid-Career (building expertise and advancing), Late Career (preparing for retirement or transitioning), and Decline (reducing work responsibilities and retiring).
What are the 4 stages of career development?
The four stages of career development are Growth (learning and acquiring new skills), Exploration (assessing interests and opportunities), Establishment (advancing in a chosen career path), and Maintenance (sustaining performance and considering retirement).
How do I survive the last year of work before retirement?
Surviving the last year of work before retirement involves preparing for a smooth transition by documenting your tasks, training colleagues to take over your responsibilities, and ensuring your financial and personal affairs are in order. Mentoring others and planning for post-retirement activities can also be beneficial.
How to set honest career goals near retirement?
Setting honest career goals near retirement involves evaluating your current skills and interests, considering what you still want to achieve in your remaining time at work, and aligning your goals with your long-term retirement plans. Focus on meaningful contributions and tasks that provide a sense of accomplishment.