Disclaimer: We sometimes use affiliate links in our content. For more information, visit our Disclaimer Page. 
Human Resource Management (HRM) is a dynamic field with endless career opportunities, and individuals must empower themselves to reach their full potential. Career development is crucial in HRM, allowing HR professionals to grow their skills, seize opportunities, and achieve career success. In this article, we will explore strategies for success in career development in HRM that can help individuals navigate this dynamic field and achieve their professional goals.
Key Takeaways
Career development is essential in HRM to seize opportunities and achieve professional success.
Strategies such as self-assessment, goal-setting, networking, and training are crucial for career growth in HRM.
Overcoming obstacles and gaining practical experience in HRM is also critical for long-term career success.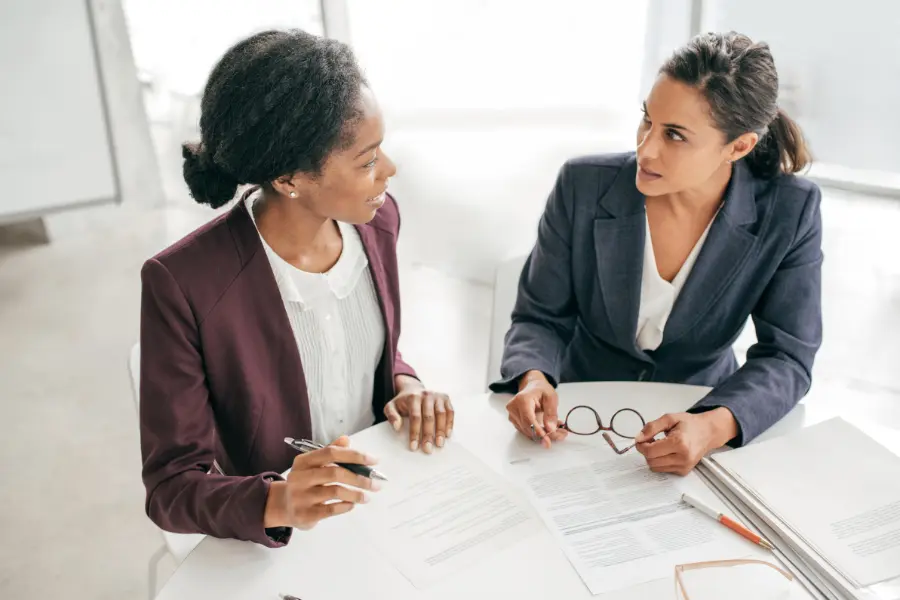 Understanding the Importance of Career Development in HRM
In today's fast-paced business environment, career development is no longer a luxury but a necessity for HR professionals. Investing in your HRM career advancement, looking for HRM career opportunities, and carefully planning your HRM career path is essential for staying relevant and competitive in the industry.
As an HR professional, you have a unique skill set and a vital role in shaping the organization's culture and success. To continue growing, you need to understand the potential impact your HRM professional development can have and strategically leverage the opportunities that come your way.
By prioritizing HRM career planning and advancement, you can unlock new possibilities and drive your career forward. This involves assessing your skills, setting clear career goals, building a strong network, and gaining practical experience through HRM projects and initiatives.
With continuous learning and staying informed about industry trends in HRM, you can expand your knowledge and unlock HRM career growth and opportunities. By navigating challenges and overcoming obstacles along the way, you can achieve long-term career success in the ever-changing field of HRM.
Assessing Your Skills and Identifying Areas for Growth
Continuous professional development is essential for career growth in HRM. One of the first steps to empowering your career development is to assess your current skills and identify areas for improvement. Whether you're a seasoned HR professional or just starting in the field, self-assessment is crucial to identifying your strengths and weaknesses and developing a plan for your professional development.
Here are some practical tips for assessing your skills and identifying areas for growth:
| Tip | Description |
| --- | --- |
| 1 | Conduct a skills audit |
| 2 | Take personality and skills assessments |
| 3 | Solicit feedback from colleagues, supervisors, and mentors |
| 4 | Identify skills required for your desired job or role |
Once you have identified your areas for growth, create a development plan that outlines the steps you will take to enhance your skills and achieve your career goals. This plan should be aligned with your organization's strategic objectives and your personal career aspirations.
Keep in mind that professional development doesn't always have to involve formal training or education. You can learn and grow in your role by taking on new responsibilities, collaborating with colleagues on projects, and seeking out challenging assignments.
Setting Clear Career Goals and Objectives
One important aspect of career development in HRM is setting clear goals and objectives. This allows HR professionals to identify what they want to achieve in their careers and develop a plan. By aligning personal goals with the organization's strategic objectives, HR professionals can create a roadmap for their career progression.
When setting career goals, it's important to make them specific, measurable, achievable, relevant, and time-bound (SMART). This creates a framework for success and ensures that goals are realistic and achievable. It's also important to periodically review and adjust career goals based on changes in personal circumstances or the organization's strategic priorities.
Creating a Career Plan
Creating a career plan is one effective way to set career goals and objectives. This involves assessing current skills and identifying areas for growth, researching career paths and opportunities, and setting SMART goals that align with long-term aspirations.
A career plan should also include action steps for achieving goals, such as pursuing additional training or education, seeking mentorship or networking opportunities, and taking on new challenges or projects to gain practical experience.
By creating a career plan, HR professionals can stay focused on their long-term objectives and take proactive steps to achieve them. This can help them advance in their careers and find meaning and fulfillment in their work.
Building a Strong Network and Seeking Mentors
Networking and mentorship are essential components of career development in HRM. Building a strong professional network can provide growth, learning, and collaboration opportunities. Seeking out mentors can offer valuable guidance, insights, and support to help navigate career challenges and achieve career goals.
Networking for Career Growth
Networking involves building meaningful relationships with individuals in your industry and beyond. To develop a strong network in HRM:
Join professional associations and attend events
Participate in online groups and forums
Connect with peers and colleagues on social media platforms
Seek out opportunities to collaborate on projects and initiatives
Expanding your network allows you to access various career opportunities, learn from other's experiences, and build valuable connections to enhance your HRM career growth.
Seeking Mentorship for Career Guidance
Mentors can offer invaluable guidance, advice, and support in navigating challenges and achieving goals. To find a mentor in HRM:
Identify individuals who have expertise and experience in areas you wish to develop
Reach out to potential mentors and express your interest in learning from them
Maintain regular communication and seek feedback and guidance on career-related topics
Offer your expertise and assistance in areas where you can contribute to your mentor's growth and development
Mentorship can provide a valuable perspective and insights into the HRM industry, help identify career growth opportunities, and guide in overcoming obstacles and achieving career success.
Enhancing HRM Skills through Training and Education
In the dynamic field of HRM, staying current with the latest trends and best practices is essential. Investing in training and education can help HR professionals enhance their skills and stay ahead of the curve. Here are some tips on how to access training opportunities and expand your knowledge:
1. Pursue HR Certifications
Employers recognize HR certifications like SHRM-CP, PHR, and SPHR and demonstrate mastery of HR fundamentals. Check with your employer or HR association to see if certification prep courses or resources are available to help you prepare.
2. Attend HR Conferences
HR conferences provide valuable opportunities to learn about emerging HR trends, connect with peers, and expand your network. Look for local or national conferences that align with your interests and career goals.
3. Pursue Advanced Degrees
Master's degrees in HRM or related fields like business, psychology, or law can help you develop new skills and take your career to the next level. Consider pursuing a degree part-time while working, or explore online programs that offer greater scheduling flexibility.
4. Take Online Courses
Online courses are a convenient way to learn new skills or deepen your knowledge in specific areas of HRM. Sites like LinkedIn Learning, Udemy, and Coursera offer affordable online courses taught by industry experts.
5. Seek Mentorship
Mentors can provide invaluable guidance and support as you navigate your HR career. Look for mentors within your organization or contact HR professionals in your network with experience or expertise in areas you want to develop.
By investing in training and education, HR professionals can acquire new skills, expand their knowledge, and stay competitive in the ever-changing field of HRM.
Expanding HRM Knowledge and Staying Informed
Continuous learning and staying informed about industry trends is crucial for HR professionals to stay ahead. There are various ways to expand HRM knowledge and stay informed:
Attending conferences and seminars relevant to HRM
Engaging in thought leadership activities such as writing articles or participating in industry webinars
Joining professional associations such as the Society for Human Resource Management (SHRM) to access resources and networking opportunities
Networking with other HR professionals can also be a valuable source of information and insights. Building a strong professional network can help HR professionals stay informed about new developments and opportunities in their field.
"Staying informed about industry trends is key to staying ahead in your HRM career. Network with other professionals and attend relevant conferences and seminars to stay up-to-date."
Finally, subscribing to relevant publications such as HR Magazine or HR Executive can provide a regular source of industry news and insights.
Gaining Practical Experience through HRM Projects and Initiatives
One of the most effective ways for HR professionals to enhance their skills and gain practical experience is by getting involved in projects and initiatives in their organizations.
Participating in cross-functional collaborations and taking on special projects can allow HR professionals to work with people from different departments and better understand the organization's objectives and operations.
By actively seeking such opportunities, HR professionals can demonstrate their leadership skills, initiative, and willingness to take on new challenges.
Additionally, HR professionals can consider volunteering for non-profit organizations, industry associations, or professional groups. This can help expand their network, develop new skills, and gain experience in areas that may not be present in their current role.
Through participation in HRM projects and initiatives, professionals can leverage their skills and knowledge to make a tangible impact on their organization and the broader community they serve.
While pursuing a career in HRM can be rewarding, it's not without challenges. From managing difficult employees to staying up-to-date with constantly changing laws and regulations, HR professionals may encounter obstacles that can hinder their career growth.
One common challenge that HR professionals face is resistance to change. As HRM involves implementing new policies and procedures, it's essential to have the support of key stakeholders and employees. However, resistance to change can create roadblocks and make it challenging to implement necessary changes.
Another challenge that HR professionals may encounter is managing employee conflicts. As a mediator between employees and management, HR professionals must have conflict resolution skills to manage disputes effectively. Failure to do so can create a toxic work environment and negatively impact employee morale and productivity.
Additionally, staying up-to-date with constantly changing laws and regulations can challenge HR professionals. With new laws and regulations being introduced frequently, staying on top of all the changes and ensuring compliance can be challenging.
Despite these challenges, there are strategies that HR professionals can use to overcome them and achieve long-term career success. For instance, seeking training and development opportunities can help HR professionals stay up-to-date with the latest laws, regulations, and best practices. They can also leverage their network and seek mentorship to gain insights and guidance from experienced HR professionals.
Furthermore, having strong communication skills and the ability to build relationships can help HR professionals overcome resistance to change and manage conflicts effectively. They can also utilize data analytics and technology to streamline HR processes and improve efficiency.
By identifying and addressing these challenges and utilizing effective strategies, HR professionals can navigate the obstacles and achieve long-term career success in this dynamic field.
Conclusion
Empowering career development in HRM is crucial for long-term success and growth in this dynamic field. By understanding the importance of career development, assessing your skills and identifying areas for growth, setting clear career goals and objectives, building a strong network, enhancing HRM skills through training and education, expanding HRM knowledge, gaining practical experience, and navigating challenges and obstacles, HR professionals can achieve their full potential and advance their careers.
It's important to remember that career development is continuous and requires dedication, hard work, and commitment. By utilizing the strategies for success outlined in this article, HR professionals can empower their career growth, seize opportunities, and make meaningful contributions to their organizations.
We hope this article has provided valuable insights and guidance on navigating the exciting and ever-evolving field of HRM. Keep learning, growing, and exploring new opportunities, and your career in HRM will continue to thrive.
FAQs
What are the 4 stages of career development in HRM?
The four stages of career development in HRM are commonly identified as Assessment, Investigation, Preparation, and Commitment. These stages represent a sequence of activities and decisions individuals go through when planning and progressing in their careers within an organization.
Why is career development important in HR?
Career development is essential in HR as it supports the growth and advancement of employees within an organization. It helps align individual goals with organizational objectives, increasing job satisfaction, productivity, and employee retention. By providing coaching, mentoring, skills development, networking, and career pathing, HR ensures that employees are equipped to move to new positions or projects, contributing to overall organizational success.
What are the five stages of career development in HRM?
The five stages of career development in HRM can vary, but they often include Assessment, Exploration, Establishment, Maintenance, and Disengagement. These stages represent different phases individuals experience throughout their careers, from self-assessment and exploring options to achieving stability and potentially transitioning into retirement.
What is the career pathing in HRM?
Career pathing in HRM refers to a structured approach taken by organizations to guide employees through various stages of their careers. It involves helping employees identify their career goals, skills, and interests and providing them with a clear path for advancement within the organization. This includes coaching, mentorship, training, and opportunities for skill development to help employees progress along their chosen career trajectory.
What is the role of career development in ensuring effective quality in organizations?
The role of career development in ensuring effective quality in organizations is significant. When employees are supported in their career growth, they become more engaged, motivated, and skilled, positively impacting their work quality. By offering opportunities for learning, skill development, and advancement, organizations create a workforce better equipped to contribute to the organization's success and maintain high-quality standards.