Disclaimer: We sometimes use affiliate links in our content. For more information, visit our Disclaimer Page. 
Welcome to our comprehensive guide on career development for managers. In today's fast-paced business world, investing in professional growth and development is essential for unlocking success and growth as a manager. With the right tools, resources, and mindset, managers can enhance their skills, gain new experiences, and take on new challenges to achieve their full potential.
This article will explore how managers can advance their careers and climb the corporate ladder. From leadership growth opportunities to building resilience, we'll cover it all. So let's get started!
Key Takeaways
Career development is crucial for unlocking success and growth as a manager.
Continuous learning and acquiring new skills are essential for advancing managerial skills in the long run.
Leadership growth opportunities such as training programs and challenging assignments can enhance leadership capabilities.
Strategic management development is key in elevating managerial performance in dynamic business environments.
Developing expertise in key areas, such as effective communication and decision-making skills, is essential for successful managerial careers.
Mentorship can play a significant role in supporting managerial growth and development.
Overcoming challenges and building resilience are important skills for managers to cultivate throughout their careers.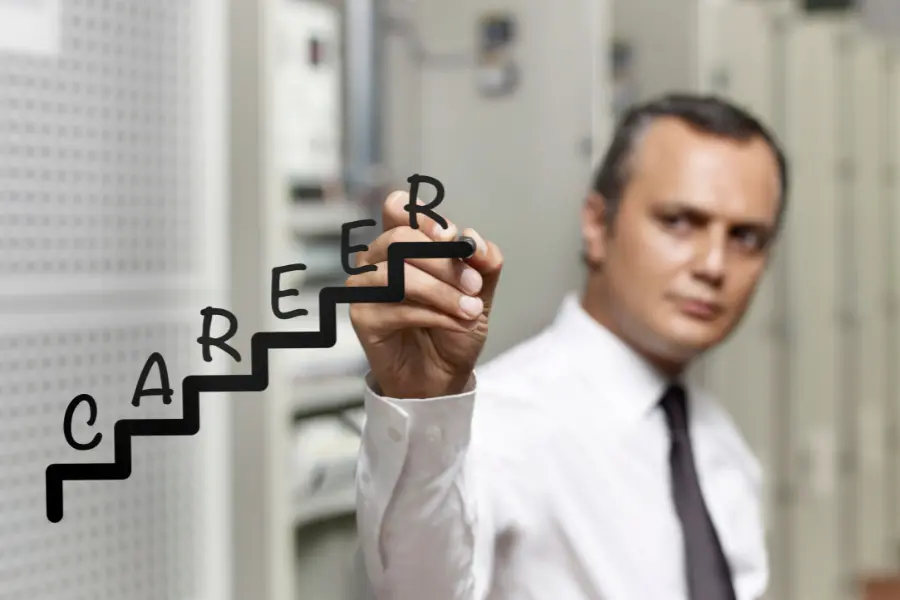 Advancing Managerial Skills for Long-Term Success
Managers who invest in professional growth by advancing their managerial skills are more likely to achieve long-term success. Continuous learning is essential to stay updated with industry trends and acquire new skills. Here are some ways managers can advance their skills.
1. Attend industry events and conferences.
Managers can stay updated with the latest trends by attending industry events and conferences and networking with other professionals. This can help them gain new insights, perspectives, and ideas for improving their managerial skills.
2. Join mentorship programs or seek executive coaching.
A mentor or an executive coach can provide managers valuable guidance, support, and feedback. This can help them develop new skills, gain confidence, and improve their performance.
3. Take on challenging assignments or projects.
Managers can develop new skills and gain valuable experience by undertaking challenging assignments or projects. This can also demonstrate their leadership potential and commitment to professional growth.
4. Pursue certifications or additional education.
Certification or additional education can help managers gain new knowledge, skills, and credentials. This can increase their job prospects and position them for career advancement opportunities.
By advancing their managerial skills, managers can position themselves for long-term success and increase their value to their organizations.
Leadership Growth Opportunities for Managers
Developing your leadership capabilities is critical to your long-term career success as a manager. Various growth opportunities are available to enhance your leadership skills and take your managerial expertise to the next level.
One effective way to develop your leadership skills is through leadership training programs. These programs offer a structured approach to learning and can equip you with the necessary leadership tools and techniques. They can also help to identify gaps in your current leadership skills and provide opportunities to work on them.
Another way to advance your leadership capabilities is by taking on leadership roles within projects or teams. These experiences provide practical opportunities to develop and apply your leadership skills in a real-world context.
Challenging assignments can also help to foster growth in leadership skills. These opportunities require you to stretch outside your comfort zone and develop new strategies to complete them successfully.
Ultimately, investing in your leadership growth as a manager will benefit you and your team and organization. You can help create a positive work environment, inspire team members, and drive organizational growth and success through your strengthened leadership skills.
Strategic Management Development for Elevating Performance
Strategic management development is a crucial aspect of managerial growth that helps elevate performance to the next level. It involves developing a deep understanding of the organization's goals and objectives and the ability to make decisions that align with them.
Strategic managers have a clear vision of where the organization is headed and can create actionable plans to achieve those goals. They also possess excellent analytical skills that help them identify and evaluate potential risks and opportunities in the business environment.
Furthermore, strategic management development requires managers to be adaptable and effectively lead change. They should be able to understand the dynamics of the business environment and create plans that anticipate and respond to shifts in the market.
Overall, strategic management development is a vital investment for managers who want to take their careers to the next level. By developing their strategic management skills, managers can elevate their performance and make meaningful contributions to the success of their organizations.
Developing Managerial Expertise in Key Areas
Developing expertise in key areas relevant to your role is important as a manager. These skills can make you more effective in managing your team and achieving organizational goals. Here are some areas to focus on for managerial skill enhancement:
Effective communication: Communicating clearly and effectively with your team is essential for success as a manager. This includes active listening, providing feedback, and conveying information in a way that is easy to understand. Consider taking communication training programs to hone your skills.
Conflict resolution: Conflicts are bound to arise in any team setting, and it's important to have the skills to resolve them. Learn how to identify the root cause of conflicts, listen to both sides and find solutions that satisfy everyone involved.
Team building: As a manager, you're responsible for building and leading a team. Developing team-building skills can help create a positive work environment, foster collaboration and creativity, and increase team morale.
Decision-making skills: Making sound decisions is a critical skill for managers. Learn how to collect and analyze data, evaluate risks, and make decisions that align with organizational goals.
There are many training programs and certifications available that can help you develop these skills. Consider seeking these opportunities to enhance your managerial expertise and become a more effective leader.
Managerial Career Advancement: Climbing the Corporate Ladder
Advancing your career as a manager requires proactive steps to build your reputation and skillset. Climbing the corporate ladder isn't just about getting promoted; it's about making a meaningful impact within the organization and setting yourself up for long-term success.
Seeking Promotions
One of the most direct ways to advance your managerial career is by seeking promotions. This means actively looking for new opportunities within your current organization or exploring options outside. To position yourself for promotion, focus on delivering high-quality work, building strong relationships with colleagues and superiors, and continually seeking feedback to improve your performance.
Expanding Networks
Expanding your professional network is another great way to advance your career. Attend industry events, join professional organizations, and seek opportunities to connect with other professionals in your field. Building relationships with people outside your immediate team or department can help you gain insights, find new opportunities, and build your brand.
Building a Personal Brand
Everyone has their unique strengths and expertise as a manager. Building a personal brand means highlighting what makes you stand out and showcasing your value to the organization. This can involve developing a strong online presence, speaking at industry conferences or events, or taking on high-profile projects that showcase your skills.
Setting Career Goals and Seeking Feedback
A key component of career advancement is setting goals and seeking feedback to track your progress. Set clear, measurable goals for yourself and regularly assess your progress. Seeking feedback from colleagues, superiors, or mentors can also help you identify areas for improvement and gain valuable insights on how to grow as a manager.
By taking these steps to advance your career as a manager, you can position yourself for long-term success and seize new opportunities for growth.
The Role of Mentorship in Managerial Growth
Mentorship is a key component of managerial growth and development. Having a mentor can provide invaluable guidance, support, and advice as you navigate your career.
A mentor can offer insights and perspectives on your strengths and areas for improvement, help you set and achieve goals, and provide networking opportunities. They can share their experiences and challenges, providing valuable lessons and wisdom.
To find a suitable mentor, identify individuals in your organization or industry with experience, skills, and knowledge that align with your goals and interests. Reach out to them and express your interest in developing a mentorship relationship.
The dynamics of a mentorship relationship can vary, but it's important to establish clear expectations and boundaries from the outset. Regular check-ins and communication are key to maintaining a strong mentor-mentee connection.
Mentorship can come in many forms, including formalized programs within an organization or industry associations. Take advantage of these resources to expand your network and gain access to experienced mentors.
Overcoming Challenges and Building Resilience as a Manager
Being a manager comes with unique challenges that can cause stress and derail careers if handled improperly. However, with the right strategies, managers can overcome these challenges and build resilience for long-term success.
One of the common challenges managers face is managing difficult team members. Whether it's an underperforming employee or a team member resistant to change, these situations can cause tension and stress. To manage difficult team members effectively, managers should focus on communication, providing feedback, and setting clear expectations. These efforts can help turn challenging situations into opportunities for growth.
Another challenge for managers is finding a work-life balance. With demanding workloads and constant connectivity, switching off and taking time for personal pursuits can be difficult. To overcome this challenge, managers should prioritize self-care and learn to set boundaries around their work and personal time. This can include taking breaks during the workday, delegating tasks, and disconnecting from technology outside work hours.
Finally, stress is an ever-present challenge for managers. Stress can affect physical and mental health, from tight deadlines to unexpected crises. To build resilience against stress, managers should practice mindfulness, seek support from colleagues and mentors, and prioritize stress-reducing activities such as exercise or hobbies.
By overcoming challenges and building resilience, managers can develop the confidence and skills needed to advance in their careers and achieve long-term success.
Conclusion
As a manager, investing in your professional growth is essential to unlocking success and achieving long-term growth. You can elevate your performance and climb the corporate ladder by advancing your managerial skills, enhancing your leadership capabilities, and developing expertise in key areas.
Continuous learning, staying updated with industry trends, and engaging in mentorship programs or executive coaching are all important components of advancing your managerial career. Overcoming challenges and building resilience is also vital to success as a manager.
FAQs
What is career development for managers?
Career development for managers refers to the continuous process of enhancing skills, acquiring knowledge, and expanding opportunities to achieve professional growth and success in managerial roles.
What are the leadership growth opportunities available for managers?
Managers have various leadership growth opportunities such as leadership training programs, taking on leadership roles within projects or teams, and embracing challenging assignments. These opportunities help enhance leadership capabilities and drive career progression.
How can managers develop expertise in key areas?
Managers can develop expertise in key areas by focusing on improving skills like effective communication, conflict resolution, team building, and decision-making. Participating in relevant training programs or obtaining certifications can also aid in skill enhancement.
What is the role of mentorship in managerial growth?
Mentorship plays a significant role in managerial growth and development. Having a mentor provides guidance, support, and valuable insights. Finding a suitable mentor and fostering a mentorship relationship can facilitate professional growth.
What steps can managers take to advance their careers?
Managers can advance their careers by seeking promotions, expanding their professional networks, and building a personal brand. Setting clear career goals and actively seeking feedback is also essential for career progression.