Disclaimer: We sometimes use affiliate links in our content. For more information, visit our Disclaimer Page. 
In today's fast-paced and ever-changing work environment, it's important to address workplace problems head-on to keep employees satisfied and productivity high. From conflicts and toxic work environments to stress and work-life balance, this guide will offer practical solutions to help you overcome these challenges and promote a healthier work environment.
Key Takeaways:
Addressing workplace issues and challenges is crucial for maintaining employee satisfaction and productivity.
Common workplace problems include conflicts, toxic work environments, and poor communication.
Effective strategies for overcoming workplace challenges include conflict resolution, creating a healthy work environment, achieving work-life balance, addressing bullying, managing diversity, and addressing employee dissatisfaction.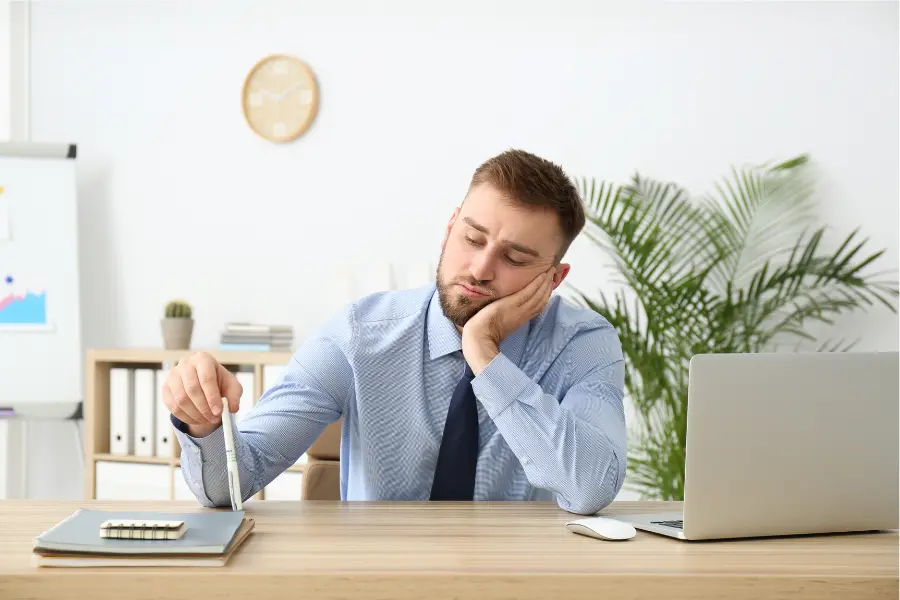 Understanding Common Workplace Problems
Workplace problems are a common occurrence in many organizations and can lead to employee dissatisfaction and decreased productivity. It is important to understand the most common workplace issues and take steps to address them in a timely manner.
3 Common Workplace Problems
Some of the most common workplace problems include conflicts, a toxic work environment, and a lack of effective communication. These problems can result in low morale, high turnover, and decreased performance.
Conflicts: Conflict in the workplace can arise due to differences in opinions, communication breakdowns, or power struggles. It is important to address conflicts as soon as possible to prevent them from escalating and negatively impacting the work environment.
Toxic work environment: A toxic work environment can be created by bullying, harassment, or negative attitudes among team members. This type of environment can lead to high levels of stress and decreased motivation.
Lack of effective communication: Communication breakdowns can lead to misunderstandings, delays, and errors. This can also lead to a lack of trust and decreased cooperation among team members.
By understanding these common workplace problems, you can take steps to address them before they become major issues.
Strategies for Overcoming Workplace Issues and Challenges
Resolving workplace conflicts is vital for maintaining a positive work environment. Effective conflict resolution can prevent disagreements from escalating and causing further problems. Here are some strategies for overcoming workplace issues and challenges:
Encourage open communication: Encourage employees to express their concerns and feelings. Active listening and empathetic responses can help employees feel heard and understood.
Use mediation: Consider using a neutral third party to mediate discussions between conflicting parties. Mediation can help employees find common ground and reach a mutually beneficial solution.
De-escalate tensions: When tensions rise, it's important to de-escalate the situation. Encourage employees to take a step back, take a breather, and return to the discussion when they are calmer.
Focus on the problem: In order to find a solution, it's important to stay focused on the problem at hand. Encourage employees to identify the specific issue and work together to find a resolution.
Document agreements: Once a solution has been reached, document it in writing. This can help prevent future misunderstandings and serve as a reference point for any further discussions.
By following these strategies, conflicts in the workplace can be resolved in a constructive and positive manner. A healthy work environment is one in which employees feel heard and valued, and where disagreements can be resolved without causing further problems.
Creating a Healthy Work Environment
A healthy work environment is crucial for overall employee satisfaction and productivity. Unfortunately, workplace communication problems, micromanagement, and a lack of respect can create a toxic work environment that negatively impacts employees.
To foster a healthy work environment, it is important to promote open communication and respect among employees. Encourage team-building activities, organize company events, and recognize the achievements of individual employees and teams. In addition, management should clearly communicate expectations, provide adequate training, and offer support to employees.
Implementing policies that prevent harassment and discrimination can also contribute to a positive work environment. By providing an environment that is free from fear and negativity, employees are more likely to feel comfortable speaking out about potential issues and working together to find solutions.
The Importance of Workplace Communication
In order to create a positive work environment, it is important to address workplace communication problems. Miscommunication, a lack of transparency, and unclear expectations can create tension and anxiety among employees.
To improve workplace communication, consider using project management software that allows employees to collaborate effectively on shared tasks. This can help to keep everyone on the same page and ensure that everyone is aware of deadlines and priorities. Encourage feedback and open communication by setting up regular check-ins and ensuring that employees feel comfortable sharing their thoughts and ideas.
Ultimately, creating a healthy work environment requires a commitment from management to prioritize employee well-being. By fostering a positive work culture and taking steps to prevent harassment and discrimination, employees will be happier, more productive, and more likely to stay with the organization over the long term.
Achieving Work-Life Balance
Workplace challenges often spill over into our personal lives, leading to stress and burnout. Achieving a healthy work-life balance is crucial to maintaining mental and physical well-being, improving job satisfaction, and increasing overall productivity.
Here are some tips to help you achieve a better work-life balance:
Set clear boundaries between work and personal time: Make sure to switch off from work-related tasks outside of office hours.
Take regular breaks throughout the day: Step away from your desk and do something that helps you relax and recharge, like going for a walk or meditating.
Practice good time management: Prioritize tasks, delegate when possible, and use tools like calendars or task lists to stay organized.
Invest in self-care: Make time for hobbies, exercise, or socializing with friends and family.
Remember, work-life balance is a personal journey, and what works for one person may not work for another. Experiment with different strategies until you find a routine that suits your needs and helps you achieve a better balance.
Combating Workplace Bullying
Workplace bullying is a serious issue that can have detrimental effects on employees' mental health and overall well-being. It can come in many forms, including verbal abuse, intimidation, and exclusion.
Recognizing and addressing workplace bullying is crucial for creating a supportive and respectful work environment. Employers can implement anti-bullying policies and provide training on recognizing and addressing bullying behaviors. It's also important for employees to speak up if they experience or witness bullying.
Creating a supportive work environment is key to preventing workplace bullying. Employers can foster a culture of respect and inclusivity by promoting open communication and providing resources for employees to address conflicts and concerns.
Additionally, it's important to address any power imbalances in the workplace that may contribute to bullying behaviors. This involves encouraging leadership at all levels and ensuring that all employees feel valued and heard.
Managing Diversity in the Workplace
Diversity in the workplace can bring many benefits, such as increased creativity and innovation, but it can also present challenges. It's important to promote inclusivity and cultural understanding to ensure a harmonious and productive workplace.
Fostering Inclusivity
To foster inclusivity, it's important to acknowledge and appreciate differences among employees. Encourage open communication and create opportunities for employees to learn about each other's backgrounds and cultures. Implement diversity training and provide resources to address any issues that may arise.
Promoting Cultural Understanding
Effective communication and understanding are essential for managing diversity in the workplace. Encourage employees to discuss cultural differences and be mindful of cultural norms and beliefs. Provide resources such as literature, videos, and guest speakers to educate employees on different cultures and traditions.
Mitigating Biases and Stereotypes
Biases and stereotypes can impede inclusivity in the workplace. Proactively address these issues by implementing policies and procedures to mitigate biases and stereotypes. Encourage open communication and feedback to identify and address any biases that may arise.
Addressing Employee Dissatisfaction
Employee dissatisfaction can have a negative impact on productivity and can lead to turnovers and other workplace issues. Therefore, it's important for management to address employee dissatisfaction before it becomes a larger problem.
One way to address employee dissatisfaction is to improve communication. Management should provide regular feedback and opportunities for employees to voice their concerns. This can help employees feel heard and valued, which can help improve job satisfaction.
Recognizing and rewarding achievements is another way to address employee dissatisfaction. When employees feel that their hard work is being acknowledged and appreciated, they are more likely to feel satisfied with their job and perform better.
Fostering a positive work culture is also important in addressing employee dissatisfaction. Management should promote openness, inclusivity, and teamwork in the workplace. This can help employees feel more connected to their work and the larger organization, which in turn can lead to greater job satisfaction.
In conclusion, addressing employee dissatisfaction is important for maintaining a healthy and productive workplace. By improving communication, recognizing achievements, and fostering a positive work culture, management can help improve employee satisfaction and overall productivity.
Conclusion
Overcoming workplace issues and challenges is crucial for success in today's competitive job market. From workplace conflicts and toxic work environments to employee dissatisfaction and work-life balance, there are myriad challenges that can impact overall productivity and employee satisfaction.
By understanding common workplace problems and implementing practical strategies for addressing them, employers can create healthy work environments that promote inclusivity, diversity, and teamwork. By recognizing the negative effects of workplace bullying and promoting open communication, employers can create a supportive work culture that values the well-being of all employees.
At the end of the day, overcoming workplace issues requires a commitment to fostering positive workplace cultures that value open communication, inclusivity, and teamwork. By addressing employee dissatisfaction and promoting work-life balance, employers can create supportive workplaces that promote growth, development, and employee satisfaction.
FAQ
What challenges have you faced at work and how did you deal with them?
One challenge involved managing an increased workload during a team member's absence. I organized tasks, redistributed responsibilities, and implemented time-management strategies. This ensured tasks were completed efficiently and maintained team productivity.
Can you tell me about a challenging situation you overcame at work?
Certainly. In a previous role, our team faced a communication breakdown that impacted project progress. To address this, I initiated regular meetings, improved documentation, and encouraged open discussions. This enhanced communication led to better collaboration and project success.
How do you answer what challenges have you overcome?
When asked about challenges you've overcome, select a relevant example from your professional experience. Outline the challenge, explain your approach to solving it, and highlight the skills you used, such as teamwork, communication, or adaptability.
How do you overcome challenges at work interview questions?
When asked about overcoming challenges in a job interview, share specific examples. Describe the challenge, the actions you took to address it, and the positive outcomes. Emphasize your problem-solving skills and ability to adapt.
How do you overcome challenges in the workplace?
Overcoming workplace challenges involves various strategies. Focus on positive solutions, communicate openly with colleagues, break complex problems into manageable parts, and collaborate effectively to find resolutions.