Disclaimer: We sometimes use affiliate links in our content. For more information, visit our Disclaimer Page. 
Workplace emergencies can happen at any time, and being prepared to handle them is crucial for the safety and well-being of employees. But what exactly constitutes a workplace emergency? In this article, we will explore what is workplace emergency, the importance of preparedness, and effective response strategies.
Key Takeaways
A workplace emergency can be defined as any situation that poses an immediate threat to the health, safety, or property of employees.
Being prepared for workplace emergencies is crucial for minimizing the risks and ensuring the safety of employees.
Effective response strategies include proper planning, employee training, communication systems, collaboration with emergency services, and ongoing evaluation and improvement of procedures.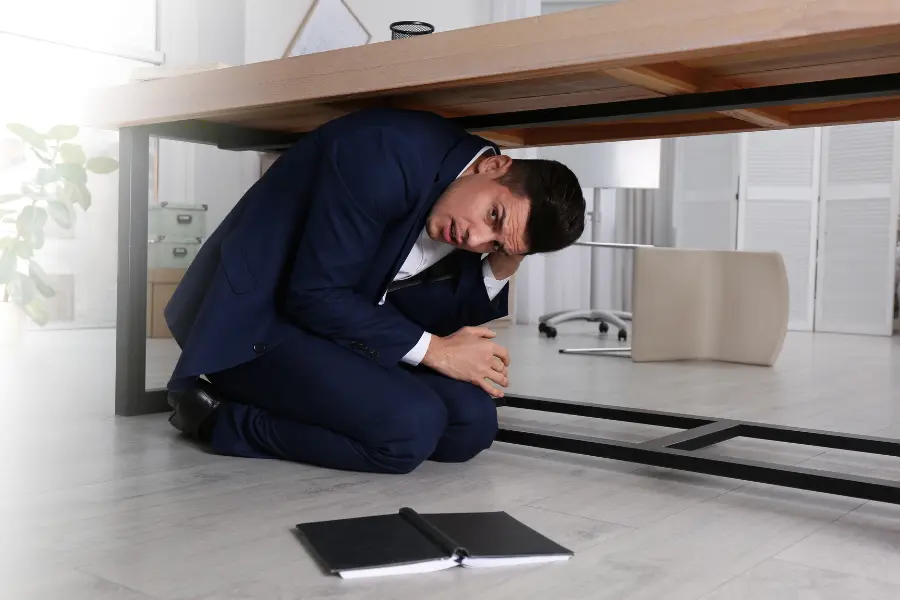 What is Workplace Emergency? Definition and Importance
What exactly is a workplace emergency? Essentially, this term refers to any unexpected or abnormal situation that arises in a workplace, which could potentially cause harm to employees, customers, or other individuals present in the area. Examples of such situations include natural disasters, fires, explosions, chemical spills, medical emergencies, and acts of violence.
The importance of understanding what constitutes a workplace emergency cannot be overstated. By recognizing and identifying potential emergency situations, employers can take measures to prevent them from occurring or minimize their impact. Additionally, having a clear definition of workplace emergencies is essential for developing effective emergency response plans and protocols.
Preparedness is key when it comes to workplace emergencies. Employers who fail to establish proper emergency response plans put their employees at risk and may face legal repercussions for their neglect. By contrast, businesses that prioritize workplace emergency preparedness can minimize the impact of emergencies and protect the safety and well-being of their employees.
Types of Workplace Emergencies
Workplace emergencies can come in many different forms, each requiring a specific approach for proper management and response. It is crucial for businesses to identify potential emergency situations that could occur within their workplace, and prepare accordingly. Here are some of the most common types of workplace emergencies:
| Type of Emergency | Description |
| --- | --- |
| Natural Disasters | These include events such as hurricanes, tornadoes, earthquakes, floods, and wildfires. Natural disasters can cause severe damage to infrastructure and put employees' lives at risk. |
| Fires | Fire emergencies can be caused by various factors such as electrical faults, gas leaks, and cooking incidents. They can cause significant damage to property and put employees' lives in danger. |
| Medical Emergencies | These can range from minor injuries to more serious health emergencies such as heart attacks, strokes, and seizures. Having employees trained in basic first aid and CPR procedures can be critical in such situations. |
| Chemical Spills | Chemical spills can occur in workplaces where hazardous materials are used or stored. They pose significant threats to employee health and safety, and require immediate containment and cleanup. |
| Violence and Security Threats | Workplace violence and security threats can come from internal or external sources and can range from verbal aggression to physical harm. Businesses should develop response plans to safeguard employees and minimize the risk of such incidents. |
Each type of emergency requires specific procedures to be followed to ensure a safe and effective response. Proper training and preparation can help employees and emergency responders manage these situations and minimize the damage and risk of harm.
Workplace Emergency Planning
Workplace Emergency Planning is crucial for the safety and well-being of employees in case of an emergency. A comprehensive plan can help prevent emergencies from occurring or minimize their impact if they do happen. The process of developing an emergency plan should begin with a risk assessment to identify potential hazards and their likelihood of occurrence.
After identifying potential hazards, businesses should create emergency response plans that outline specific protocols for different types of emergencies. The emergency response plan should include evacuation procedures, emergency communication systems, and the roles and responsibilities of employees during an emergency.
| Components of Workplace Emergency Planning | Description |
| --- | --- |
| Risk Assessment | Identifying potential hazards and assessing their likelihood of occurrence. |
| Emergency Response Plan | Outlining specific protocols for different types of emergencies, including evacuation procedures, emergency communication systems, and roles and responsibilities of employees. |
| Organizing Evacuation Procedures | Developing and practicing evacuation procedures to ensure the safe and efficient evacuation of employees. |
It is essential to train employees on the emergency response plan, including evacuation procedures, emergency communication systems, and their roles and responsibilities during an emergency. Regular drills and simulations can help employees become familiar with the protocols and prepare them to respond effectively during a real emergency situation.
Finally, businesses should regularly review and update their emergency plans to ensure that they are accurately reflecting the current needs and potential hazards of the workplace. Regular evaluation and improvement can help enhance emergency preparedness and response, ensuring the safety and well-being of all individuals in the workplace.
Workplace Emergency Response
When a workplace emergency occurs, a swift and effective response can make all the difference in preventing injuries and minimizing damages. Proper emergency response strategies can help mitigate the impact of emergencies and help ensure the safety of employees and visitors. Here are some key steps to effective workplace emergency response:
Assess the situation: The first step in emergency response is to assess the situation and identify the type of emergency that has occurred. This can help determine the appropriate response strategy and help ensure that employees are alerted to the danger in a timely manner.
Communicate effectively: Clear communication is essential during a workplace emergency. Make sure employees are aware of the situation and can follow instructions regarding evacuation, shelter-in-place, or other necessary actions. Use a mix of communication methods such as alarms, intercoms, and mobile apps to ensure that everyone is reached.
Coordinate the response: Designate an emergency management team or individual who can coordinate the response efforts and provide direction to employees. Ensure that the team is equipped with the necessary resources, such as emergency response plans and communication equipment, to respond effectively.
Evacuate if necessary: If an evacuation is required, make sure that employees are aware of the evacuation routes and procedures. Ensure that any individuals requiring special assistance are identified and that their needs are addressed promptly and effectively.
Effective workplace emergency response requires careful planning, sufficient resources, and a coordinated effort by all individuals involved. By following these steps, you can help ensure the safety and well-being of your employees and minimize the impact of workplace emergencies.
Importance of Employee Training
Providing employees with proper training on workplace emergency procedures is crucial to ensuring their safety and well-being during an emergency situation. Regular drills and simulations should be conducted to familiarize employees with the protocols and enable them to respond effectively in a real emergency.
Training programs should cover a range of emergency scenarios, outlining specific procedures for each type of emergency. Employees should know how to properly evacuate the building, use emergency equipment, and communicate with others during an emergency.
It is also important to ensure that all employees, including new hires, receive training on workplace emergency procedures. Regular refresher courses should be provided to keep the information fresh in employees' minds and to account for any changes in emergency response plans.
Emergency Communication Systems
During an emergency event, clear and timely communication can make the difference between life and death. It is essential for businesses to have robust emergency communication systems in place to ensure that all employees can receive the necessary alerts and instructions.
Emergency communication systems can take various forms, ranging from alarms and intercoms to text messages and mobile apps. The most effective systems provide multi-channel communication options to ensure that messages reach all employees, regardless of their location or the device they have access.
Employers should also have a well-defined plan for communicating with employees during an emergency. This can include establishing a chain of command for issuing alerts, defining clear and concise messaging, and providing regular updates as the situation develops.
Some businesses may want to invest in emergency notification systems that leverage advanced technologies such as geolocation and automated notifications to speed up the response time and improve the accuracy of communications. However, it is crucial to ensure that these systems are tested regularly to verify their effectiveness and to minimize false alarms.
Proper communication systems planning and implementation can help businesses minimize the damage caused by an emergency and ensure the safety of their employees.
Collaborating with Emergency Services
Effective collaboration with local emergency services and first responders is essential for workplace emergency preparedness. By establishing partnerships with these agencies, businesses can ensure a coordinated and effective response to emergency situations, resulting in increased safety for employees and reduced property damage.
Collaboration with emergency services entails more than just passive engagement; it requires an active effort on the part of businesses to communicate and coordinate with these agencies, involving them in every aspect of emergency planning, response, and recovery efforts. This includes:
Conducting joint emergency drills and exercises to test the effectiveness of response strategies.
Providing emergency services with access to facility maps and building plans to aid in response efforts.
Regularly updating emergency services on changes to the facility, such as new equipment or hazardous materials.
Building a strong partnership with emergency services can have significant benefits during emergency situations. These agencies bring valuable expertise and resources, enabling businesses to respond more effectively to emergencies as they happen. By working together, businesses and emergency services can save lives and limit property damage, ensuring a swift and organized response to any workplace emergency.
ONGOING EVALUATION AND IMPROVEMENT
Emergency preparedness is an ongoing process that requires regular evaluation and improvement to ensure its effectiveness. After a workplace emergency, it's important to conduct a post-incident assessment to analyze the response strategies and identify areas that need improvement. The assessment should focus on what went well, what could have been done better, and what changes can be made to enhance future emergency preparedness.
Additionally, regular training and drills are essential to keep employees familiar with emergency procedures and response strategies. By conducting regular drills and simulations, employees can become more confident and competent in their ability to respond effectively during a real emergency situation.
Another critical aspect of ongoing evaluation is the implementation of necessary changes and improvements. Organizations must be open and willing to make changes to their emergency response plans and procedures based on the result of their evaluations. Any changes should be communicated to all employees and emergency services personnel to ensure that everyone is on the same page during an emergency.
Legal and Regulatory Requirements
Workplace emergency preparedness is not only important for the safety and well-being of employees, it is also a legal requirement. Occupational Safety and Health Administration (OSHA) regulations mandate that businesses have emergency action plans in place to protect their employees in case of an emergency.
OSHA requires that these emergency action plans be in writing, be available to employees, and include specific elements such as emergency procedures, alarm systems, evacuation routes, and employee training.
It is important for businesses to comply with these regulations to avoid potential legal liabilities and ensure the safety of their workforce. Failure to adhere to OSHA's regulations can result in hefty fines and penalties.
Additionally, other federal and state-level regulations may apply to specific industries or types of emergencies. Businesses should research and understand these regulations to ensure they are fully prepared for any emergency situation that may arise.
Employee Wellbeing and Psychological Support
During a workplace emergency, employees may experience high levels of stress and anxiety. It is crucial for employers to provide psychological support and resources to help their employees through such traumatic events. The well-being of employees should be a top priority for all businesses, especially in the aftermath of an emergency.
Employers can provide psychological support for their employees by offering counseling services and mental health resources. This can include access to Employee Assistance Programs (EAPs), which can provide confidential counseling services and support for employees and their families. Employers should also encourage employees to take time off if needed to address any mental health concerns.
It is also important for employers to communicate and show empathy towards their employees during and after a workplace emergency. This includes checking in with employees to see how they are coping and offering support and resources as needed. Employers should make it clear that seeking help for mental health concerns is not a sign of weakness and should be encouraged.
Conclusion
Workplace emergencies can occur at any time, and it is essential to be prepared to respond effectively to these situations to ensure the safety and well-being of all individuals in the workplace.
As we have discussed in this article, workplace emergency planning, employee training, communication systems, and collaboration with emergency services are all critical components of an effective emergency response strategy. Regular evaluation and improvement of emergency procedures are also essential to ensure that they remain effective and relevant.
Additionally, it is crucial to recognize the psychological impact that workplace emergencies can have on employees and to provide the necessary resources and support for their well-being. Employers have a responsibility to prioritize their employees' safety and mental health during and after emergency situations.
By taking the necessary steps to prepare for and respond to workplace emergencies, employers can create a safer and more secure environment for their employees. Let's all work together to ensure that our workplaces are well-equipped to handle any emergency situation that may arise.
FAQ
What are emergency procedures in the workplace?
Emergency procedures in the workplace comprise a set of guidelines and actions to be taken during different emergency scenarios. These include evacuation plans, shelter-in-place protocols, communication strategies, medical response instructions, and coordination with external emergency services.
The most common workplace emergencies encompass fires, medical incidents, chemical spills, natural disasters (such as earthquakes or floods), and instances of workplace violence. These emergencies can immediately threaten the safety of employees, customers, and the public.
What are the 5 emergency actions?
There are five crucial emergency actions that need to be taken in a workplace emergency scenario. These include evacuating all personnel to designated assembly points, seeking shelter indoors during external threats (shelter-in-place), securing the premises and taking cover in response to security threats (lockdown), providing medical assistance and seeking professional help for injuries, and effectively communicating with emergency services and stakeholders to ensure coordinated response efforts.

How would you handle a workplace emergency?
When confronted with a workplace emergency, a prudent approach involves staying composed and evaluating the situation calmly. It's important to initiate alarms and promptly notify emergency services. Following established protocols for evacuation or safety procedures is paramount. Providing necessary medical aid, maintaining open communication with both employees and management and cooperating closely with emergency responders are key steps. Additionally, adhering to instructions from authorities and law enforcement personnel is crucial for a well-coordinated response.
How can you identify emergency workplace situations?
Identifying emergency workplace situations involves recognizing signs and circumstances that indicate an immediate threat. This includes detecting signs of fire, hazardous material leaks, structural damage, medical emergencies, or suspicious activities. Training employees to be vigilant and educating them about potential risks can enhance the ability to identify emergency situations promptly. Regular drills, safety audits, and communication among staff can contribute to an effective identification process.