Disclaimer: We sometimes use affiliate links in our content. For more information, visit our Disclaimer Page. 
Let's face it. Leadership is not merely about assigning tasks or managing a group; it's an art that requires a unique combination of leadership qualities, emotional intelligence, and communication skills. In today's fast-paced and dynamic business landscape, developing leadership skills is paramount, and playing leadership games can make this process enjoyable and impactful.
In this article, we will explore a variety of fun and engaging games aimed at enhancing leadership abilities. These activities are perfect for workplaces, schools, or team-building events. Get ready to play, learn, and grow!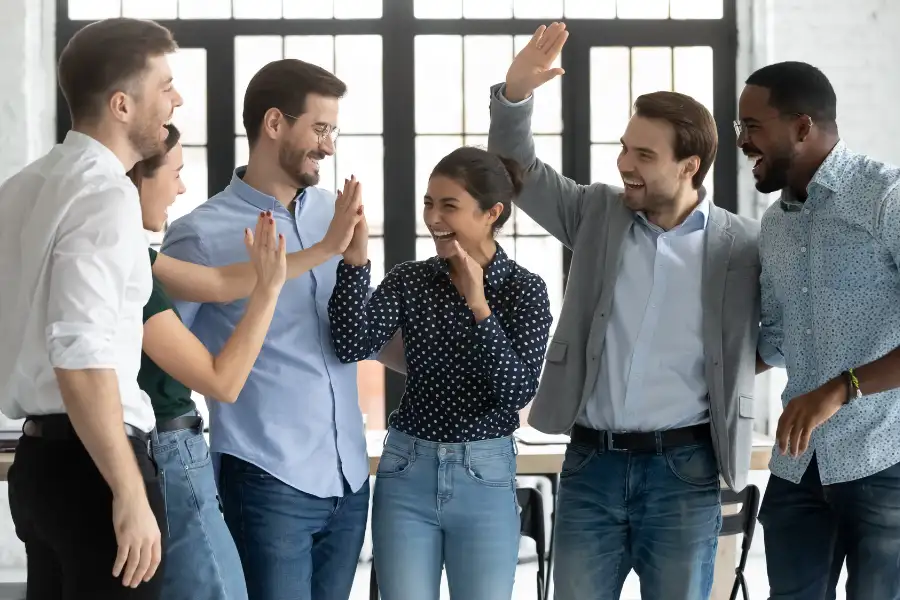 Why are Leadership Games Important?
Playing leadership games is a hands-on method of leadership training that stimulates strategic thinking and reinforces essential leadership skills. These games encourage participation and foster a cooperative spirit among team members. Moreover, they boost self-confidence and promote a positive attitude.
The practice of leadership through these activities can help individuals understand different leadership styles and identify their strengths and areas of improvement. It also brings forth the importance of emotional intelligence, self-awareness, and active listening – traits intrinsic to successful leadership.
Fun Leadership Games
The best way to cultivate leadership qualities is through experience, and what better way than through fun leadership games? These interactive activities make learning an enjoyable process and have a profound impact on team members.
1. The Leadership Race
The leadership race is a fast-paced and exciting group game that helps participants practice leadership in a competitive environment. It enables participants to communicate effectively and understand the concept of teamwork. Here's how the game works:
Divide participants into small groups. Each group chooses a leader.
Set up an obstacle course with a designated meeting spot at the end.
At the starting whistle, each leader guides their team through the course, overcoming hurdles and challenges.
The first team to reach the designated meeting spot wins. This game helps participants understand the value of a winning team, encouraging team members to collaborate and solve problems together.
2. Community Bingo
Community Bingo is an interactive leadership game aimed at high school students or team members in a workplace. The goal is to foster networking skills and productive communication among group members.
Every participant receives a bingo card with characteristics of potential leaders.
Participants then mingle and try to find individuals who match the qualities on the bingo card.
Once someone completes a line vertically, horizontally, or diagonally, they shout 'Bingo!'
This game emphasizes the importance of getting to know community members on a deeper level, encouraging students to discuss leadership values, attitudes, and behaviors.
3. All but One
A small group game, "All but One" promotes group discussion and encourages the development of critical thinking and problem-solving skills. The game begins by dividing participants into small groups, with one person stepping out.
The remaining group members decide on one action they will all perform when the excluded person returns.
The excluded person, now the leader, has to guess the agreed-upon action based on the group's behavior.
This leadership game encourages observation, strategic thinking, and effective communication – vital traits of an effective leader. It also underlines the importance of understanding and adapting to different leadership styles.
4. The Desert Island Scenario
This activity aims to nurture problem-solving skills and inspire creativity. Participants learn to prioritize and make decisions, valuable skills in leadership. Here's how it works:
Team members are told they've been stranded on a deserted island with a list of objects – but they can only take a few.
They must debate and agree on the items to ensure their survival.
The desert island scenario helps participants realize the significance of critical thinking and group discussion in problem-solving. It's also an excellent way to encourage communication skills, as each team member must express their ideas convincingly.
5. The Scavenger Hunt
This fun leadership game calls for teamwork, strategic thinking, and excellent communication. Team members must work together to find a list of items within a specific time limit. The group must communicate effectively and assign tasks based on each member's strengths, demonstrating the power of synergy and collective decision-making.
6. The Leadership Switch
The Leadership Switch is a compelling game that exposes participants to different leadership styles. It allows them to understand the dynamics of changing leadership and the associated challenges.
Teams are tasked with a project with a specific time limit.
Leadership is switched every few minutes.
New leaders must adapt to the group's dynamics and continue the task from where the last leader left off.
The game helps highlight the diversity of leadership styles and the need for adaptability in effective leadership. It's a fantastic way to help participants discover their leadership styles and understand the benefits and challenges of each style.
Leadership Games for Kids
Leadership skills can and should be nurtured from an early age. Here are some leadership games specifically designed for kids:
7. Captain's Orders
This is a fun game that also reinforces leadership qualities in children. One child, the Captain, gives orders to the rest of the group members. Orders can range from "Hop on one foot" to "Sing a song," and the game provides a safe environment for kids to practice leadership and communication.
8. Building the Tallest Tower
This leadership game encourages strategic thinking and teamwork. Children are divided into teams, each given an equal set of building blocks. The team that builds the tallest tower within a given time limit wins. The game subtly imparts valuable leadership skills, such as planning, delegation, and collaboration.
Developing Leadership Skills through Games
Leadership games are effective tools for leadership skill development. These activities present opportunities for individuals to exhibit leadership behaviors and learn through practice. Leadership training through games can yield the following benefits:
1. Enhancing Communication Skills
Communication is one of the essential leadership skills. Games that require group members to share ideas, negotiate, and reach a consensus help improve communication skills. As individuals engage in these activities, they learn to articulate their thoughts clearly and listen actively to others.
2. Developing Problem-Solving Skills
Many leadership activities involve resolving issues or overcoming challenges. By participating in these games, individuals develop their problem-solving skills. They learn to analyze the situation, brainstorm solutions, and implement the best option.
3. Fostering Teamwork
Leadership games often require participants to work together to achieve a common goal. This helps foster a sense of teamwork. As participants work together, they learn to value each other's contributions and realize that collective effort can lead to better results.
4. Promoting Critical Thinking
Games that require strategic decision-making can enhance critical thinking skills. These activities encourage individuals to evaluate different aspects of a situation and make informed decisions. This ability to think critically is an important leadership skill, helping leaders make sound decisions.
5. Boosting Emotional Intelligence
Leadership activities also foster emotional intelligence. As individuals interact with each other in these games, they develop a better understanding of their emotions and those of others. They learn to manage their emotions effectively and respond empathetically to others.
6. Encouraging Creativity
Leadership games often involve tasks that require creative solutions. As individuals engage in these activities, they learn to think outside of the box and come up with innovative ideas.
Conclusion
Leadership games are a powerful tool to help individuals develop leadership skills and enhance their leadership qualities. They offer a hands-on approach to learning, making the process of skill development engaging and enjoyable.
By encouraging participation and interaction, these activities allow individuals to practice leadership, develop critical thinking skills, and foster emotional intelligence. They create an environment that promotes communication skills, encourages teamwork, and allows individuals to experiment with different leadership styles.
Whether you're a manager looking to strengthen your team's cohesion and capabilities, an educator nurturing student leaders, or an individual aiming to improve your leadership skills, these games offer a valuable resource. Remember, though, the end goal of these games is not just to win but to understand and learn. Winning is a by-product of learning and executing the skills efficiently.
Most importantly, leadership games emphasize that leadership is not about commanding or managing; instead, it's about fostering a positive environment, encouraging team members to give their best, and leading by example.
So, roll up your sleeves and get ready to play your way to becoming an effective leader!
FAQs
What are leadership games?
Leadership games are interactive activities designed to enhance leadership qualities and skills. They provide opportunities for individuals to practice leadership, engage in problem-solving, and communicate effectively with team members.
How do leadership games help in developing leadership skills?
Leadership games offer hands-on experience in handling a team, making decisions, and solving problems. They create an environment where participants can experiment with different leadership styles, work on their communication skills, and learn to foster teamwork.
Are leadership games suitable for kids?
Absolutely! Kids can start learning essential leadership skills from an early age. Games like 'Captain's Orders' and 'Building the Tallest Tower' are specially designed for kids. They provide fun, safe environments for children to learn and practice valuable skills like communication, teamwork, and strategic thinking.
Can leadership games be used in professional settings?
Indeed, leadership games are not just for students or kids. They are a significant part of team-building activities in corporate settings. Games like 'The Leadership Race' and 'Community Bingo' can be great additions to your next team-building event.
What is the most important thing to keep in mind while playing leadership games?
The primary aim of leadership games is to learn and develop leadership skills. While winning can be a motivating factor, it's crucial to remember that the real victory lies in understanding and implementing leadership values, styles, and behaviors effectively.