Disclaimer: We sometimes use affiliate links in our content. For more information, visit our Disclaimer Page. 
As a leader, it's important to have qualities that make good leaders. Whether you're a new leader starting or an experienced leader looking to improve your skills, these 15 essential leadership qualities will help you succeed. By identifying and living by these qualities, you'll be able to lead with confidence and lead your team to success.
So, what are some of the most important leadership qualities? Read on to find out!
15 Good Leadership Qualities That Make Great Leaders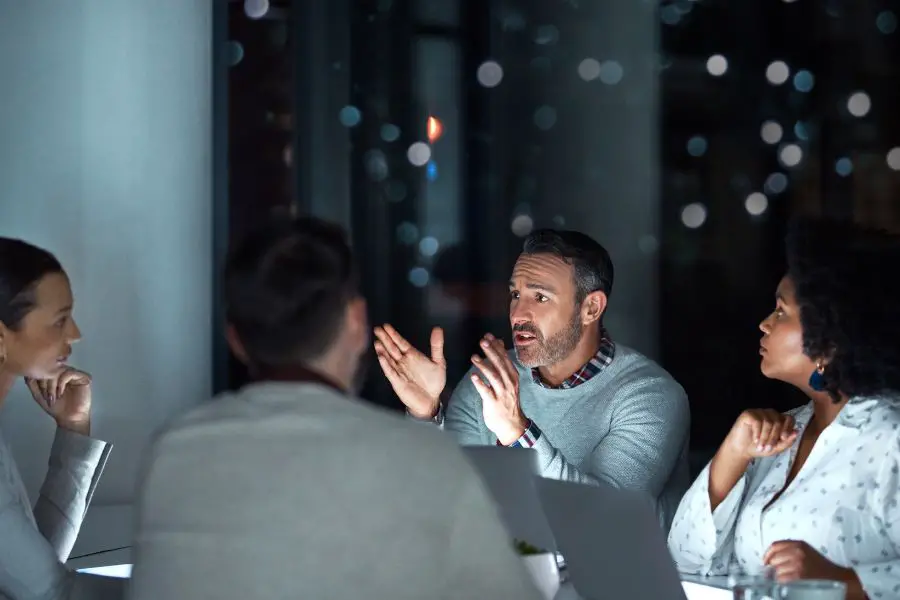 Leadership is not a position that is easy to hold – it takes a lot of determination, persistence, and creativity to be successful. However, with the right qualities and mindset, anything is possible. Here are 15 qualities of leadership that will help you succeed in the future:
1. Confidence
Leadership is a challenging role that requires great confidence. Leaders must be able to delegate effectively, give recognition where it's due, and stay calm under pressure. They also need to take charge and lead from the front – qualities essential in managing a team member or an organization.
2. Honesty and Integrity
Leaders need to be honest and uphold integrity at all times. This means they cannot violate their values, no matter how tempting. They must also be truthful in their communication with others- even if this causes conflict.
Good leaders have a clear vision for the future, which they are willing to share with those around them. They must always keep team morale high by being positive and constantly setting an example of what leadership should look like.
3. Good Communicator
Being a good communicator is essential for any leader. Not only do they have the ability to build strong relationships and teams, but good communicators are also never afraid to speak their minds. This helps them make better decisions and ensures that team morale is always high.
Leaders with good communication skills tend to be very successful in their careers- some of the most prominent ones being Barack Obama and Bill Clinton. This is because they're able to connect with others on an emotional level, which allows them to get their point across effectively without anyone getting offended or frustrated. A clear and concise speaker is another vital trait for a great leader- one that most good communicators possess abundantly!
4. Accountability
They are also accountable for their actions and results. They never stop thinking about how to get things done, and they always have a plan in place, even if it's just an idea in their head. This mindset ensures that everyone on the team, down to the lowliest customer, is accountable for their performance.
In addition, true leaders also have self-awareness means they take ownership of their decisions so that no one can blame anyone else when things go wrong. Being a good leader isn't easy – but anything is possible with a positive attitude, strong leadership skills, and unwavering commitment!
5. Empathy
Leadership is essential not just for a successful organization but also for empathetic employees. As leaders need to have a vision and communicate it effectively, they must also be good at empathizing with their team members.
This understanding can help them handle difficult situations smoothly and get everyone in line – no matter how dissenting opinions might seem at first glance. Empathy doesn't mean that leaders are soft-hearted or cuddly; on the contrary, effective leadership requires emotional intelligence skills, clear thinking, and decisive action qualities.
6. Emotional Intelligence
There is no doubt that emotional intelligence (EI) is another critical skill for leaders. Those who possess it can manage stress and stay calm under pressure, build strong relationships with their team, and motivate them towards collective goals.
Moreover, good EI leaders can also read, understand, and respond to the emotions of others accurately – essential skills in any leadership position. Effective leadership relies on building trust among team members; this might not be possible without good emotional intelligence. Effective empathy can often lead to better communication and increased team cohesion and motivation.
7. Vision and Purpose
A strong vision and message they can communicate effectively to the team is a green sign of great leadership. They must also be able to motivate team members to achieve collective goals, aligning their work with those values.
In addition, leaders need a clear understanding of their values to know how best to apply them in the workplace. Lastly, it is essential for leadership that they have a sense of purpose that guides them throughout their journey toward company success.
8. Innovation
Innovation is a key ingredient in any successful business. It can create new products and services, increase profits, and improve customer satisfaction. Here are some of the ways innovation can boost a company's performance. It helps companies stay ahead of the competition by developing new ideas that are better than theirs.
By innovating, companies can find new markets or tap into unexplored business areas. – Innovation also leads to faster product development times and reduced production costs. – In addition, it improves employee morale as they learn about new technologies and how to use them in their work tasks.
9. Strategic Thinking
Being a successful businessperson is all about making wise decisions and planning. This involves a good understanding of the current market situation, anticipating future changes, and developing effective strategies to address them.
It also requires staying flexible so that you can adapt your plans as new information becomes available. Without proper strategic thinking, it is tough for businesses to achieve long-term success.
10. Respects others
Respecting others is a necessary trait to have if you want to succeed in any field. It goes a long way in building good connections and creating positive karma. It is important to be mindful of this, especially regarding communication. When we respect the opinions of others, it helps ensure that discussions are civilized and productive. And as any good relationship knows, communication is key!
11. Prioritizes personal development
Leaders are constantly learning and growing. They know that to be successful, they must continuously improve their skills and knowledge. This means setting aside time for personal development activities such as reading, attending workshops and seminars, or taking online courses. It also involves being open to feedback to identify areas you need to work on.
12. Empowers team members
Empowering team members is another way to show that you trust them and believe in their abilities. When employees feel empowered, they are more likely to take the initiative and be creative in their work. This often leads to better results for the company as a whole.
13. Stays up-to-date on trends
Leaders who are well-informed about trends can make better decisions based on the latest information. They also understand teamwork is essential to success and lead by example. Furthermore, they quickly identify new opportunities and take advantage of them before anyone else.
Technology is a big part of their communication arsenal – from staying in touch with employees to keeping up with customer needs and wants. In a nutshell, leaders who stay up-to-date on trends keep everything moving forward smoothly – both inside and outside the office!
14. Transparency
Being transparent is another one of the critical leadership qualities of effective leaders. It allows team members to understand what's happening, builds trust, and leads to success. In addition, credible leaders are seen as reliable and good decision-makers, qualities that contribute to overall workplace productivity.
To be successful, Leaders must be open and honest with their team at all times – sharing information such as current challenges, successes, and goals. This way, they can build a strong working relationship that will foster mutual understanding and cooperation.
15. Patience & Tenacity
As we said above, leadership is not an easy task – it takes a lot of patience and tenacity to build a team capable of great things. Good leaders have a clear vision for the future and are unafraid of taking risks. While they may be impatient sometimes, they never give up on their goals or dreams. They stay the course even under challenging circumstances, working hard until success is achieved.
Related: Which Leadership Style is the Best
Conclusion
We hope this article inspires you to think about your leadership development, mean how you can lead your team and make them more successful. We recommend identifying the qualities that already resonate with you to get started. Then, ask yourself if those qualities align with the goals of your department or organization.
By recognizing your leadership style now, you'll be able to build a track record of success in no time!
Related: Best Leadership Styles in Management
FAQ
How can you become a better listener?
You can do a few key things to become a better listener: active listening, focus on understanding and responding appropriately. You need to be able to give your full attention to the person speaking to understand what they're saying. It's also essential to be able to ask questions and clarify anything you're unsure about. Finally, you should be able to provide feedback or a response that is relevant and helpful.
How can you create a clear vision for your team and lead them towards it?
The first step is to develop a clear and concise vision for your team. This means understanding what you want to achieve and communicating it effectively to your team. Once you have a vision, you need to be able to lead your team towards it by setting goals, providing support and resources, and giving feedback.
How can you increase your ability to delegate tasks?
Effective delegation is an important skill for any leader. When delegating tasks, you need to make sure that the person you're delegating to is capable of completing the task and that they understand what is expected of them. You also need to give clear instructions and provide support as required.
What kind of leader are you?
There are many different types of leaders, and the type of leader you are will depend on your personality and style. However, some common leadership styles include transformational, transactional, servant, and autocratic.
What qualities do leaders need to be successful?
Some essential qualities for any leader include vision, courage, integrity, decisiveness, and passion. In addition, leaders must inspire others, build relationships, and manage resources effectively.
Why is intuition important in leadership?
Intuition is crucial because it allows leaders to make decisions based on their gut feeling or instinct. This can be helpful in situations where there is not enough time to gather all the necessary information. Intuition can also help leaders to identify opportunities or potential problems.
Who is the world's best leader ever?
This is a difficult question to answer. Some might say Mahatma Gandhi or Nelson Mandela was the best leader ever, while others say it depends on the individual situation.
Who are some famous good leaders?
Some examples of famous good leaders include Rosa Parks, Martin Luther King Jr., and Barack Obama. These leaders were all able to inspire change and positively impact the world.