Disclaimer: We sometimes use affiliate links in our content. For more information, visit our Disclaimer Page. 
Navigating the complex dynamics of the corporate world requires a deep understanding of various leadership styles. One such style that piques interest is the delegating leadership style. Why, you may ask? Well, imagine a workplace where employees enjoy autonomy, a place where creativity thrives, and every team member plays a vital role in decision-making. Alluring, isn't it? That's the power of delegation leadership.
Yet, like every coin has two sides, this leadership style brings along its own set of challenges. This article demystifies the intriguing world of delegative leadership, laying bare its striking advantages and potential pitfalls. So, buckle up and delve deep into the essence of the delegation leadership style in the workplace, and unlock the secrets to a thriving organizational culture.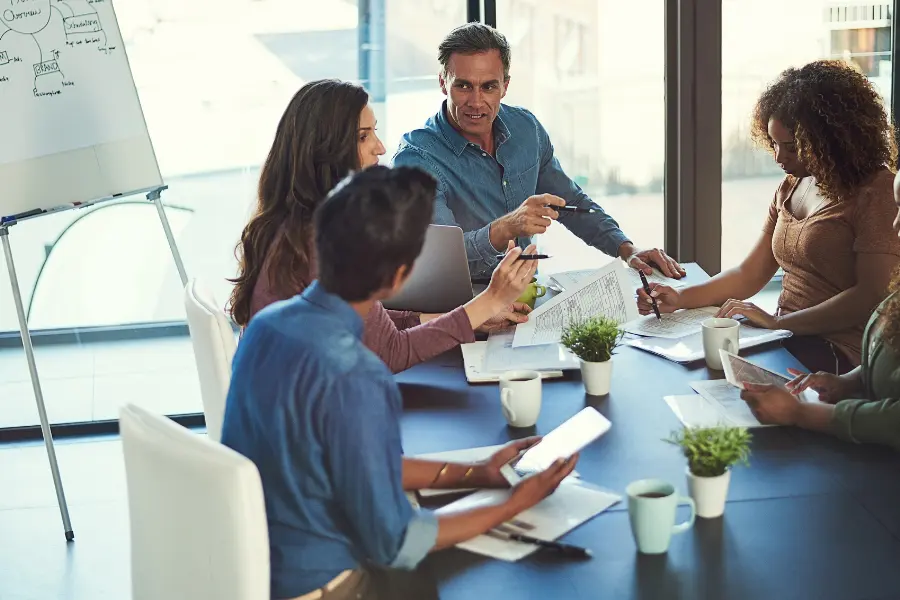 Understanding Delegative Leadership
Delegative leadership, also known as laissez-faire leadership, is a management style where leaders entrust tasks and decision-making responsibilities to their team members. This approach encourages employees to work independently and provides them with a high degree of autonomy to carry out their daily tasks.
Interestingly, delegative leadership is often contrasted with transformational leadership. While the latter style involves leaders actively inspiring and motivating their team, the delegative style is characterized by a lack of direct supervision. Leaders who adopt this style believe in their team's abilities to perform tasks without constant guidance.
This hands-off approach, however, does not mean that delegative leaders are entirely disconnected from their teams. Instead, these leaders stay informed about project outcomes and are available for consultation and advice when needed.
The Pros of the Delegative Leadership Style
Delegative leadership, with its unique set of advantages, offers a significant paradigm shift in organizational management. Here's a closer look at how it can fuel progress and cultivate a culture of growth and creativity in the workplace.
Encourages Employee Autonomy
One of the greatest pros of delegative leadership is the increased employee satisfaction derived from the high level of autonomy. Employees appreciate having the freedom to make their own decisions and the trust bestowed upon them by their leaders.
Fosters Innovation and Creativity
This leadership style often leads to a surge in new ideas as team members are free to think outside the box without the fear of constant critique. This fostering of innovation is a boon to businesses looking for fresh perspectives and ideas.
Develops Skills and Abilities
By allowing employees to take on responsibilities and handle tasks independently, delegative leadership encourages the development of skills. Team members rise to new challenges, thereby increasing their proficiency and enhancing their potential for career progression.
Frees Up Leaders' Time
Delegative leadership allows leaders to delegate tasks and focus on strategic planning and high-level business decisions. In other words, it enables leaders to concentrate on aspects of the business that require their specific expertise and attention.
The Cons of Delegative Leadership Style
While the merits of delegative leadership are indeed captivating, it's crucial to acknowledge that it's not without its own share of challenges. Let's delve into the potential pitfalls that need to be mitigated for a successful implementation of this leadership style.
Risk of Decreased Work Quality
One of the significant cons of delegative leadership is the potential risk of a decrease in work quality. Without direct supervision, some team members may not perform to their best potential, leading to subpar results.
Accountability Issues
While delegative leadership entrusts employees with tasks, it also holds them accountable for their actions. However, accountability without adequate support or guidance can lead to stress and burnout. Thus, maintaining a balance is crucial.
Miscommunication and Confusion
Delegative leadership relies on open communication. However, if poorly executed, the delegation process can lead to miscommunication, confusion, and mismatched expectations.
Possible Inefficiencies
Delegative leaders who don't monitor progress closely may miss signs of inefficiencies. For instance, if employees lack the necessary skills or resources, tasks might take longer to complete, hindering overall productivity.
Implementing Delegative Leadership: The Right Way
Understanding the pros and cons of the delegative leadership style is just the first step. The key is in strategic use, ensuring that its application fosters a productive, engaged, and motivated workplace.
Identify Highly Skilled Employees
The delegative style works best when team members are competent and experienced in their roles. Identify employees who have shown consistently high performance and who can handle tasks independently.
Clear Communication
Leaders should provide clear instructions when delegating tasks. Open communication helps avoid confusion and ensures everyone understands their responsibilities. A well-structured decision-making process also involves regular feedback sessions and an open-door policy, encouraging team members to share their thoughts and concerns freely.
Establish Accountability
While delegative leadership involves granting autonomy, it also requires establishing accountability. Leaders should set clear expectations regarding responsibilities and outcomes. Each team member should understand their role, the tasks they're accountable for, and the performance standards expected of them.
Regular Monitoring and Support
Although a delegative leadership style involves less direct supervision, leaders still need to monitor progress. Regular check-ins and feedback sessions can help identify potential issues early on and provide necessary support without impeding autonomy.
Employee Training
While delegative leadership encourages employees to learn on the job, providing regular training sessions is essential to equip them with the skills they need to succeed. Training not only ensures that employees are competent, but it also boosts job satisfaction and fosters employee motivation.
Delegative Leadership Style: A Balancing Act
Indeed, the delegative leadership style is a balancing act between granting autonomy and ensuring work quality. The key is understanding when to delegate, how to communicate effectively, and how to support your team members throughout the process. This balance can lead to significant benefits, including increased employee satisfaction, innovation, skill development, and more efficient use of leaders' time.
Real-World Examples of Delegative Leadership
To bring this discussion to life, let's look at some real-world examples of delegative leadership.
Warren Buffett, the CEO of Berkshire Hathaway, is a well-known delegative leader. He's famous for his hands-off approach, allowing the CEOs of companies he invests in to run their businesses without his direct interference. This strategy has proven successful, leading to increased innovation and autonomy within the firms.
Another example of a successful delegative leader is Mary Barra, CEO of General Motors. She believes in empowering her team members, encouraging them to take initiative, and make their own decisions. Barra's approach has fostered a culture of innovation and autonomy at GM, contributing to the company's ongoing success.
The Intersection of Delegative Leadership and Other Leadership Styles
While we've examined the pros and cons of the delegative leadership style, it's essential to remember that no leadership style operates in a vacuum. Many successful leaders often blend elements from different leadership styles to meet their organization's unique needs and challenges.
For example, leaders might combine delegative leadership with transformational leadership, using their vision and charisma to motivate and inspire their team while providing autonomy. Similarly, leaders might leverage elements of other common leadership styles, like autocratic or democratic leadership, adjusting their approach based on the situation, their team's skills, and the organization's culture.
This blending of leadership styles helps leaders remain flexible and adaptable, meeting their team's changing needs and driving their organization's success.
Related: Leaders of Democracy: A Look at Management Styles
Final Thoughts
Delegative leadership is a style that grants team members considerable autonomy, providing opportunities for skill development, innovation, and increased job satisfaction. However, this style also poses potential risks, such as a decrease in work quality, accountability issues, and the possibility of miscommunication and confusion.
Implementing delegative leadership effectively involves careful selection of competent employees, clear communication, established accountability, regular monitoring, and support through training sessions. Real-world examples, such as Warren Buffet and Mary Barra, show the potential success of this style when applied correctly.
Finally, effective leaders often blend elements from different leadership styles, meeting their team's unique needs and adapting to various workplace challenges. Delegative leadership, as part of a broader leadership strategy, can contribute significantly to a team's and organization's success.
Now that you're equipped with a thorough understanding of the pros and cons of delegative leadership style in the workplace, you have a powerful tool at your disposal. Embrace the challenge of leadership with confidence and enjoy the journey to success.
FAQs
What are the advantages and disadvantages of Delegative leadership style?
The key advantages of delegative leadership include fostering employee autonomy, encouraging creativity and innovation, promoting skills development, and freeing leaders' time for strategic activities. The main disadvantages include the risk of decreased work quality, potential accountability issues, and the possibility of miscommunication and confusion.
What are the disadvantages of delegating leadership style?
The potential disadvantages of delegative leadership, often leading to what is referred to as 'burnout delegative leadership,' include the risk of decreased work quality due to lack of supervision. Accountability issues may also arise where employees might feel overwhelmed without adequate support, and possible miscommunication or confusion without clear instructions during the delegation process.
What are the advantages and disadvantages of delegating?
Delegating tasks can empower employees, build trust, and free up leaders' time for strategic activities. However, it can also lead to decreased work quality if employees lack the necessary skills or resources. There may also be accountability issues, as employees are held responsible for the tasks they've been assigned, which can cause stress.
What are the advantages of delegating style?
The advantages of a delegating style include fostering a sense of trust and respect between leaders and team members, providing opportunities for employees to develop skills and take on new challenges, encouraging creativity and innovation by allowing employees to find their own solutions and freeing leaders to focus on higher-level strategic planning.