Disclaimer: We sometimes use affiliate links in our content. For more information, visit our Disclaimer Page. 
In a world filled with organizations and systems that thrive on power hierarchies, one concept often stands out as a beacon of hope and unity – democracy. Democracy symbolizes the leaders of democracy who believe in shared power, inclusivity, and collective decision-making. While we often discuss democracy in a political context, its roots have deep implications for organizational culture and leadership styles.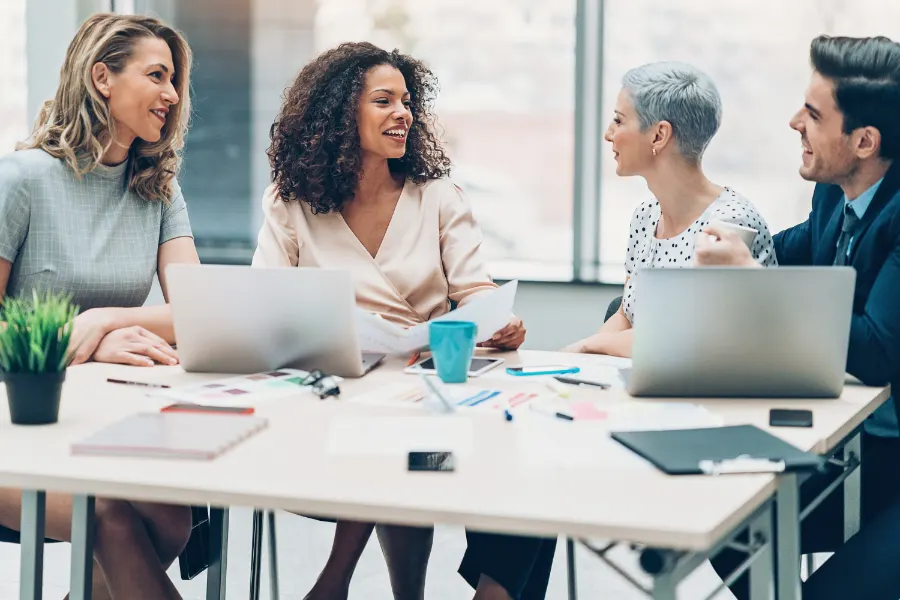 Understanding the Spectrum of Leadership Styles
Leadership, with its basic management styles, is a fascinating phenomenon. It does not follow a rigid formula but instead adapts to circumstances, teams, and individual leaders. Let's dig deep into the diverse world of leadership styles.
1. Democratic Leadership Style
The democratic leadership style, a preferred management style of democratic leaders, places power in the hands of team members. It fosters a culture of shared decision-making, where every member contributes to the formulation and execution of strategies. This leadership style is notable for its emphasis on employee engagement, boosting job satisfaction, and fostering team spirit.
2. Autocratic Leadership Style
Leaders employ an autocratic management style of command and control. They make the final decision independently, usually with little or no input from their team. They rely on their management skills to direct team members and maintain efficiency.
3. Laissez-Faire Leadership Style
The French term "laissez-faire" translates to "let them do". This hands-off approach permits team members to make decisions without significant oversight. Leaders offer guidance only when necessary, trusting the highly skilled team to navigate their roles and responsibilities.
4. Transformational Leadership Style
Leaders embodying a visionary management style, such as transformational leaders, motivate employees, inspire change, and champion innovation. They take an active role in professional development, challenging their team to grow and adapt.
5. Transactional Leadership Style
Transactional leaders operate on a system of rewards and penalties. Their leadership skills lie in managing routine tasks and maintaining the status quo.
6. Servant Leadership Style
Servant leaders prioritize the needs of the team above their own. They seek to serve rather than be served, fostering a supportive environment that encourages personal and professional growth.
Leadership Styles: A Deep Dive
Having an overview of the different management styles helps us grasp the broad spectrum of leadership. Now, let's explore these styles more closely.
Democratic Leadership: Empowerment and Collaboration
The democratic leadership style is all about involvement and collaboration. Democratic leaders foster an environment where team members participate actively in the decision-making process. They ensure that each person's voice is heard, opinions are considered, and innovative ideas are welcomed.
One significant advantage of this leadership style is that it facilitates a high level of employee engagement. By actively participating in the decision-making process, team members feel a sense of ownership and dedication toward their work.
However, the democratic management style has its limitations. It may lead to slow decision-making due to the time required to gather input from all team members. Democratic leaders, therefore, need to strike a balance between inclusivity and efficiency.
Autocratic Leadership: Efficiency and Control
An autocratic leadership style offers a sharp contrast to democratic leadership. The autocratic leaders' management style is characterized by unilateral decision-making and strict control over all aspects of the operation.
One advantage of autocratic leadership is its ability to provide clear direction. This management style can be particularly beneficial during crises when swift decisions are needed. However, its potential negative aspects include decreased employee morale and stifled creativity. Autocratic leaders must be mindful of these pitfalls and use their power responsibly.
Laissez-Faire Leadership: Autonomy and Trust
Laissez-faire leaders give their team members considerable freedom. They provide the necessary resources and guidelines, but the decision-making is predominantly in the hands of the team. This management style is most effective when team members are highly skilled, motivated, and capable of independent work. However, laissez-faire leadership can also result in lack of direction and inconsistency, especially if team members are not equipped to work autonomously.
Transformational Leadership: Vision and Change
Transformational leaders are agents of change. They use their leadership skills to motivate employees, challenging them to exceed their limits and transform for the better. They create a clear vision of the future, inspiring their team to share in this vision and commit to the company's success.
However, transformational leadership demands a lot of energy and commitment. Leaders must be constantly on their toes, assessing the team's progress, adjusting strategies, and maintaining the team's morale. The challenge for transformational leaders is to keep their drive and passion from becoming overwhelming or unmanageable.
Transactional Leadership: Structure and Reward
Transactional leaders thrive in structured environments where routines are well established. They excel at managing routine tasks, keeping the team on track, and ensuring that everyone knows their role and responsibilities. They use rewards and penalties to drive performance, fostering a culture where employees work to achieve clearly defined goals.
However, transactional leadership has its drawbacks. While it can lead to high levels of productivity, it can also stifle creativity and innovation. Furthermore, if the focus is solely on rewards, employees may feel less intrinsically motivated and more dependent on external validation.
Servant Leadership: Service and Empathy
Servant leadership turns the traditional power structure on its head, with the leader serving the team rather than the other way around. Servant leaders prioritize the growth and well-being of their team, fostering an environment of empathy, respect, and mutual care.
The challenge for servant leaders is ensuring they don't neglect their own needs and responsibilities in their desire to serve others. They need to maintain a balance between supporting their team and driving progress toward organizational goals.
The Effects of Leadership Styles on Team Dynamics
Every leadership style has a unique impact on team dynamics. Democratic leaders, for instance, foster a collaborative environment that values every team member's input. Such leaders promote decision-making processes that resonate with the principles of democracy, ensuring that everyone has a say in the team's direction.
Conversely, autocratic leaders exert control over decisions, providing clear direction but potentially stifling team members' input. The hands-off approach of laissez-faire leaders provides freedom but may lead to a lack of structure if not properly balanced.
The inspiring nature of transformational leadership can galvanize a team toward change and innovation. Still, it also requires a high level of energy and commitment from the leader. Transactional leadership's structure can be reassuring, but its reward-based focus might hamper intrinsic motivation.
Servant leadership creates a nurturing, supportive environment that can foster strong team cohesion. However, if leaders focus too much on serving others, they risk neglecting their own responsibilities and goals.
The Future of Leadership
Leadership is not static. It evolves with the changing demands of society, organizations, and individuals. As we look toward the future, we see the emergence of new leadership styles that reflect our changing world.
Coaching Leadership Style
The coaching leadership style focuses on the long-term professional development of team members. Coaching leaders invest in their team's growth, providing personalized guidance, support, and constructive feedback. They recognize each individual's potential and work to cultivate it.
The coaching management style fosters an environment conducive to continuous learning and improvement. However, it requires leaders to have advanced interpersonal and communication skills, as well as the patience and dedication to invest in each individual's development.
Visionary Leadership Style
Visionary leaders inspire their teams with a clear, compelling vision of the future. They are forward-thinkers who can paint a vivid picture of what the future could look like and inspire their team members to work towards this shared vision. These leaders are excellent at sparking enthusiasm and driving change, making them instrumental for companies looking to innovate and grow.
However, visionary leaders must also be careful to remain grounded. They need to balance their futuristic ideas with practicality and ensure that their visions can be realistically achieved.
Consultative Leadership Style
Leaders using a consultative management style seek the input of their team members before making decisions. They value the knowledge and expertise of their team, considering their perspectives during the decision-making process. This leadership style can foster a sense of trust and respect within the team, as members feel valued and heard.
However, similar to the democratic leadership style, the consultative approach can potentially lead to slower decision-making. Therefore, consultative leaders need to manage the decision-making process effectively to ensure efficiency.
Persuasive Leadership Style
Persuasive leaders are experts in influence. They use their communication skills to convince others to buy into their ideas or the decisions they've made. This leadership style can be particularly effective in situations where change is necessary but might face resistance.
The challenge for persuasive leaders lies in maintaining authenticity and ethical standards. They must use their influencing skills responsibly and ensure that they're leading in the best interests of their team and organization.
Developing Your Leadership Skills
Regardless of the leadership style you identify with, certain core leadership skills are universally beneficial. These include:
Decision-Making
Every leader, regardless of their style, needs to be able to make decisions. From the autocratic leader making decisions independently to the democratic leader who facilitates collective decision-making, this skill is paramount. Developing your decision-making skills involves enhancing your ability to analyze situations, evaluate options, and choose the best course of action.
Communication
Effective communication is crucial in leadership. Leaders need to be able to convey information clearly and effectively, whether they're providing clear direction, giving feedback, or inspiring their team toward a shared vision. Good communication also involves listening skills, as leaders need to understand the thoughts, feelings, and perspectives of their team members.
Emotional Intelligence
Leaders need emotional intelligence to understand and manage their own emotions and those of their team members. Leaders with high emotional intelligence can build stronger team relationships, manage conflict effectively, and foster a positive work environment.
Motivation
Leaders need to be able to motivate their teams towards achieving their goals. This involves understanding what drives each team member, providing recognition, and creating an environment conducive to high performance.
The Power of Adaptability in Leadership
While it's beneficial to understand different leadership styles and identify with one or more that align with your values and personality, it's also important to remember that leadership isn't one-size-fits-all. Effective leaders are those who can adapt their leadership style to meet the needs of their team and the demands of the situation.
Perhaps one day you might need to make a quick decision, calling on the autocratic aspect of your leadership. On another day you might need to facilitate a team discussion, drawing on your democratic leadership skills. Or maybe you'll be guiding your team through a significant change, requiring a dose of transformational leadership.
The ability to adapt is what sets great leaders apart. After all, at the heart of leadership lies the fundamental goal of guiding a group towards a common objective, and the path to that might require different approaches at different times.
Conclusion
Leadership is as diverse as the individuals who practice it. From the empowering democratic leader to the visionary who propels us into the future, each leadership style has its unique strengths and challenges. Understanding these different styles can help us become more versatile and effective leaders, ready to guide our teams toward success in an ever-changing world. Remember, a great leader is not defined by a single style but by their ability to adapt and employ the right approach at the right time.
We can all develop our leadership skills, whether we're just stepping into a leadership role or are seasoned leaders looking to expand our repertoire. Embrace the journey of leadership development, because every step forward benefits not only you but also your team, your organization, and the wider community.
To all current and future leaders out there, may your journey be filled with growth, success, and the fulfillment that comes from guiding others toward a shared vision. After all, leadership is not just about being in charge; it's about taking care of those in your charge.
FAQs
Who is the leader of democracy?
There isn't a single "leader of democracy." Democracy is a system of government where citizens hold power, typically through elected representatives. Thus, the leaders in a democracy are those elected officials chosen by the people.
Who is an example of a democratic leader?
An example of a democratic leader could be a manager or supervisor who emphasizes collaboration, team input and shared decision-making in their approach. In a broader context, politicians like Nelson Mandela are often cited as examples of democratic leaders due to their commitment to democratic principles.
What type of leaders do democracy have?
Democracies typically have leaders who are elected by citizens or representatives of the citizens. These leaders could be presidents, prime ministers, lawmakers, and others who hold a position of authority as a result of democratic processes.
Who are the members of the democratic leadership?
Members of democratic leadership can include anyone who practices this style of leadership, such as team leaders, managers, executives, and even teachers or coaches. They value the input and involvement of their team members in decision-making processes.
What are the 6 types of management styles?
Commonly recognized management styles include autocratic, democratic, laissez-faire, transactional, transformational, and situational. Each of these styles has its unique characteristics, strengths, and challenges.