Disclaimer: We sometimes use affiliate links in our content. For more information, visit our Disclaimer Page. 
Sticking to a regular workout routine is often daunting, but finding a suitable activity can make all the difference. The key is identifying a workout strategy that aligns with your personal goals, preferences, and lifestyle. This comprehensive guide explores five distinct workout strategies to help you discover what may work best for you.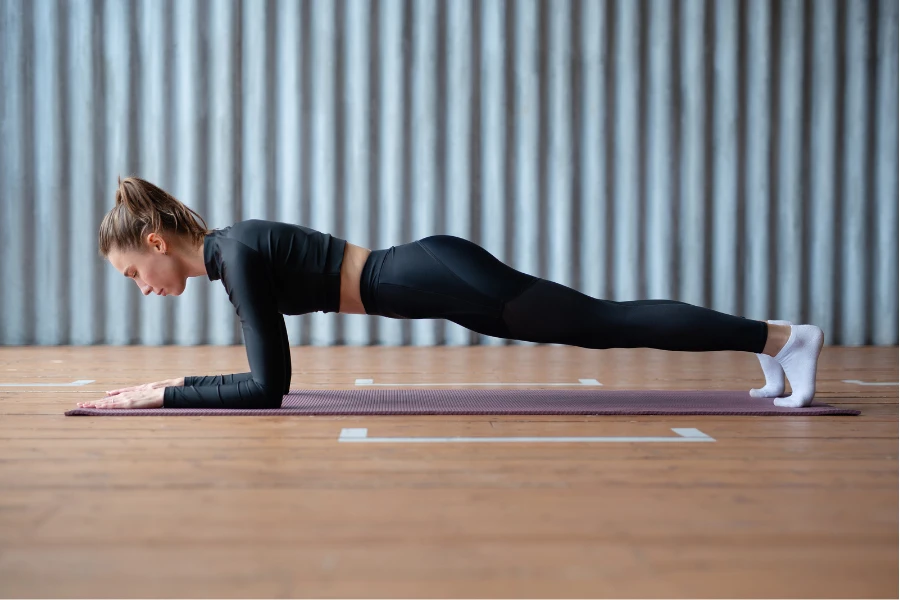 Understanding Your Fitness Goals and Preferences
Before delving into the different workout strategies, it's essential to understand and clearly outline your fitness goals. Are you aiming to lose weight, build muscle, or increase stamina? 
Aligning your workout strategy with these goals is pivotal to achieving them. 
Similarly, your preferences—what you find enjoyable and feasible—greatly influence your adherence to a workout plan. After all, we're more likely to stick with activities we enjoy.
5 Workout Strategies To Help You Lose Weight
One of the best ways to avoid fad diets and workout protocols is to center your health approach around science-backed, clinically researched fitness methods. Let's look at a few of them. 
High-Intensity Interval Training (HIIT)
Commonly referred to as HIIT, high-intensity interval training has become one of the most popular approaches to fitness. Some of the fastest-growing group fitness franchises worldwide support this methodology. HIIT is a form of exercise that involves cycles of high-intensity bursts followed by low-intensity recovery periods. Imagine running a minute-long sprint, then a two-minute jog, and repeating this several times.
Research suggests that HIIT can boost metabolism, burn more calories in less time, and even enhance cardiovascular health faster than moderate-intensity continuous training. In other words, HIIT can provide maximum benefits with minimum time investment—an excellent option for busy individuals who still want a robust workout. HIIT might be the right fit if you have a penchant for dynamic, fast-paced activities that push your limits. 
Strength Training
Strength training primarily focuses on building muscle mass and improving muscular strength. It's not just about the aesthetic benefits; strength training has significant health advantages beyond your mirror reflection. It can increase bone density, helping to ward off conditions like osteoporosis, improve posture, enhance balance, and reduce the risk of injury. 
Additionally, more muscle mass means a higher metabolic rate, which aids weight management, helping you burn more calories throughout the day. If you aim to build muscle, enhance physical strength, or benefit from a strong, well-balanced physique, strength training —with bodyweight exercises or weight lifting— could be your ideal workout strategy. 
Cardiovascular Exercise
Finally, let's turn to cardiovascular exercise—a classic, tried-and-true workout strategy for heart health and weight loss. Cardiovascular exercise can be as straightforward or as complex as you want and can include activities like running, cycling, swimming, or hitting the gym. Regular cardio can help manage body weight by burning many calories, reducing the risk of heart disease, and even helping improve mental health by boosting mood and reducing stress levels. 
Cardiovascular exercise may be ideal if you love the outdoors, find joy in rhythmic, repetitive activities, or enjoy the tranquility of a long walk or run. It's a time-tested method that can fit easily into your lifestyle, provide various options, and offer substantial health benefits.
Yoga and Flexibility Training
Yoga offers a holistic approach to fitness, combining elements of strength, flexibility, and mindfulness. Regular practice can enhance balance, flexibility, muscle tone, and mental well-being. 
There's a yoga style to suit almost everyone, from gentle restorative yoga to more intense forms like power yoga. For those who value a mind-body connection in their workouts or need stress relief, yoga can be an outstanding practice.
Sports-Based and Recreational Activities 
Sports and recreational activities, ranging from soccer and basketball to dancing and rock climbing, can burn calories, build strength, and improve coordination—all while being enjoyable. 
If you're a social person or someone who thrives on competition, using sports as a workout strategy can keep fitness fun and engaging. 
Additional Methods 
Some people need more than a trusted fitness program and a nutrition-focused diet to achieve their weight-loss goals. Thankfully, medical weight loss treatments can work together with diet and physical exercise to help provide an extra boost for those looking to reach their target weight. 
Sacramento Ozempic is a weekly, self-injectable medication designed to support long-term weight loss and management. This comprehensive treatment includes virtual consultations with medically trained staff and weekly Ozempic injectables delivered directly to you.
The Process of Experimentation and Adjusting Workout Strategies
Finding the right fit for workout strategies can sometimes feel like trying to solve a puzzle. There is no one-size-fits-all approach. Everyone's body, preferences, and goals differ, meaning your ideal fitness regimen might look entirely different from someone else's. This specificity is where the art of experimentation and adjusting comes into play.
One of the many beauties of fitness is the vast range of possibilities. You're not limited to a single strategy or type of workout. Feel free to dabble in various activities, whether combining HIIT and strength training or blending calming yoga routines with energizing runs.
However, experimenting is about more than just mixing and matching different workouts. It's about tuning into your body, observing how it responds to various forms of exercise, and noting what feels best for you. Does a morning HIIT workout make you feel energized for the day? Or do you prefer a calming yoga session to wind down in the evening?
Additionally, it's essential to be attentive to the results. Are you seeing the desired progress? Do you feel healthier, stronger, or more flexible? Your fitness journey is flexible and is meant to suit your preferences. Additionally, your exercise choices will likely change over time based on your evolving goals, interests, and lifestyle. 
Last Words
The fitness journey is a personal one; remember, what works for one person may not work for another. By understanding your goals and preferences and exploring different workout strategies, you can find a routine you'll stick with — making your fitness journey not just a temporary phase but a sustainable lifestyle change.
References: 
https://www.mdpi.com/1660-4601/18/13/7201
https://www.ncbi.nlm.nih.gov/pmc/articles/PMC4836564/
https://www.sciencedirect.com/science/article/abs/pii/S0091743501909090?via%3Dihub
https://www.frontiersin.org/articles/10.3389/fcvm.2018.00135/full