Disclaimer: We sometimes use affiliate links in our content. For more information, visit our Disclaimer Page. 
Electric vehicles (EVs) are revolutionizing the transportation sector and paving the way toward a sustainable future. With their increasing popularity and advancements in technology, EVs are playing a crucial role in decarbonizing road transport and mitigating global emissions.
In this article, we will explore the key findings from the International Energy Agency (IEA) report "Electric Vehicles – Analysis," providing an overview of the current state of EV technology deployment, energy impact, innovation, supporting infrastructure, investment, policies, international collaboration, and recommendations for a smooth transition towards a cleaner transport system.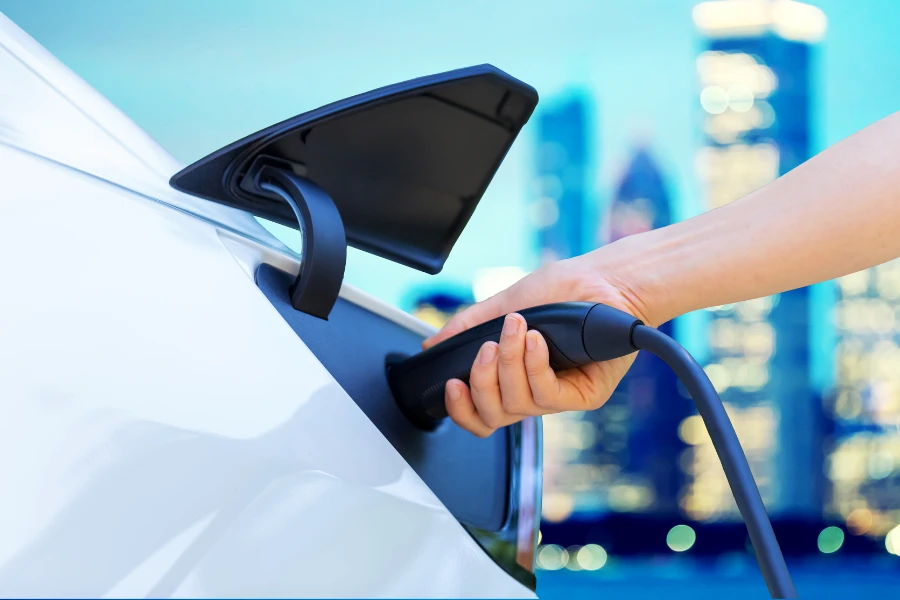 Technology Deployment
The adoption of electric vehicles has experienced remarkable growth in recent years, marking a significant shift in the automotive industry. According to the IEA report, electric car sales reached a record high of 6.6 million units globally in 2021, nearly doubling the sales figures from 2020. This surge in sales indicates the increasing popularity and acceptance of electric vehicles across major markets.
China stands out as the leader in electric car sales, with 3.3 million units sold in 2021. Europe follows closely with 2.3 million units, while the United States recorded sales figures of 630,000 electric vehicles. These numbers demonstrate that electric cars are gaining traction worldwide and are not limited to specific regions.
The total number of electric cars on the road also saw significant growth, reaching 16.5 million in 2021. This signifies a shift towards a more sustainable transportation system, reducing the reliance on traditional internal combustion engines (ICE).
Energy Impact
The adoption of electric vehicles has a direct impact on reducing oil consumption, which is a major contributor to greenhouse gas emissions. In 2021, the global EV fleet consumed approximately 50 TWh of electricity, accounting for less than 0.5% of the current total final electricity consumption worldwide. While this percentage may seem small, it is important to note that the growth in EVs is expected to result in a substantial increase in electricity demand in the coming years.
Furthermore, electric vehicles displaced around 0.3 million barrels per day (Mb/d) of oil consumption in 2021. This displacement contributes to reducing carbon emissions and reliance on fossil fuels. However, to achieve the Net Zero Scenario and limit global warming, EVs would need to displace over 7 Mb/d of oil consumption by 2030. This highlights the need for further acceleration in the adoption of electric vehicles and the phasing out of vehicles powered by internal combustion engines.
Innovation
One of the key drivers behind the growth of electric vehicles is the continuous innovation in battery technology. Batteries play a crucial role in determining the performance, range, and overall efficiency of electric vehicles. The IEA report highlights the significant advancements in battery technology over the past decade.
Battery energy density, which refers to the amount of energy stored per unit weight of the battery, has witnessed a remarkable improvement. Some of the most advanced battery cells now have an energy density of over 300 Wh/kg, compared to 100-150 Wh/kg a decade ago. This improvement has been achieved through continuous advancements in battery chemistry and cell design, making electric vehicles more efficient and increasing their range.
In addition to improved energy density, alternative battery chemistries have gained market share. Lithium iron phosphate (LFP) cathodes, for example, have gained popularity due to their lower cost, longer lifespan, and improved safety compared to traditional lithium-ion batteries. LFP batteries also require fewer critical minerals, making them more sustainable and less resource-dependent.
Another area of innovation in the electric vehicle sector is the development of sodium-ion battery technology. Sodium-ion batteries can potentially avoid using critical minerals such as cobalt and nickel, which are commonly found in lithium-ion batteries. This development paves the way for more sustainable and environmentally-friendly battery technologies.
Supporting Infrastructure
The availability of charging infrastructure is crucial for the widespread adoption of electric vehicles. The IEA report highlights the growth in publicly accessible charging points, which is a positive sign for electric vehicle owners. In 2021, there was a close to 40% increase in the deployment of charging points compared to the previous year.
China leads the way in charging infrastructure, accounting for approximately 85% of fast chargers and 55% of slow chargers worldwide. Europe and the United States have also made significant strides in developing charging infrastructure to support the growing number of electric vehicles on their roads.
However, while progress has been made, the pace of deployment needs to accelerate. The report emphasizes the importance of expanding charging infrastructure to ensure convenient and reliable access to charging for all-electric vehicle owners. This includes the development of fast-charging stations along major highways, as well as the installation of charging facilities in urban areas, residential complexes, and shopping centers.
Investment
The increasing demand for electric vehicles has resulted in a significant increase in investment in the electrification of transportation. In 2021, consumers worldwide spent an estimated USD 250 billion on the purchase of electric vehicles. This investment reflects the growing interest and confidence in the technology, as well as the willingness of consumers to embrace cleaner and more sustainable forms of transportation.
Furthermore, investment in electrification accounted for over 65% of overall end-user investment in the transport sector in 2021. This demonstrates a shift in investment patterns toward more sustainable and environmentally-friendly modes of transport. The IEA report forecasts that investment in electrification will account for more than 74% of overall transport sector investment in 2022, indicating a further increase in support for electric vehicles.
Battery production capacity has also seen significant growth to meet the increasing demand for electric vehicles. The report projects that global battery production capacity will exceed 1,200 GWh by 2024, highlighting the industry's commitment to scaling up production to make electric vehicles more accessible and affordable for consumers.
Policies
Governments worldwide have recognized the importance of electric vehicles in achieving climate goals and have implemented supportive policies and regulations. These policies aim to accelerate the transition to electric vehicles, provide incentives for consumers, and facilitate the development of supporting infrastructure.
Noteworthy examples of supportive policies include the executive order issued by the United States, which sets a target for electric vehicles to represent 50% of light-duty vehicle sales by 2030. In Europe, the European Commission passed regulations mandating fleet emission reductions and requiring zero-emission vehicles by 2035. These policies create a favorable environment for adopting electric vehicles and set clear targets for automakers to meet.
In addition to policy targets, governments have increased expenditure on electric car subsidies and announced funding packages to support the development of charging infrastructure. These financial incentives further incentivize consumers to switch to electric vehicles and help address barriers such as range anxiety and the availability of charging infrastructure.
International Collaboration
The global transition to electric vehicles requires international collaboration and collective efforts from governments, industry leaders, and organizations. At the recent COP26 summit, over 100 stakeholders signed a declaration to accelerate the transition to 100% zero-emission cars and vans globally by 2040. This commitment builds upon the Electric Vehicle Initiative's EV30@30 campaign, which aims to achieve a collective goal of 30% EV market share by 2030.
Furthermore, 15 countries signed the first global Memorandum of Understanding on Zero Emissions Medium- and Heavy-Duty Vehicles. This memorandum aims to facilitate international collaboration in achieving targets for new zero-emission truck and bus sales. This collaboration ensures that efforts to electrify transportation extend beyond passenger vehicles and encompass other modes of transport, leading to a more comprehensive and sustainable transition.
Recommendations
To further support the transition to an all-electric future, the IEA report provides recommendations for policymakers and the private sector. These recommendations focus on key action areas to facilitate the widespread adoption of electric vehicles and address existing challenges.
For policymakers, the report suggests maintaining and adapting support for electric vehicles, including incentives and subsidies, to ensure continued growth and affordability. Policymakers are also urged to kickstart the heavy-duty electric vehicle market through mandates and incentives, as electrifying commercial vehicles have tremendous potential for emission reductions. Furthermore, policies should promote the adoption of electric vehicles in emerging and developing economies, as these regions can benefit from leapfrogging to electrification and avoiding the pitfalls of fossil fuel dependence.
Expanding electric vehicle infrastructure and smart grids is crucial to support the growing number of electric vehicles on the road. Policymakers are encouraged to accelerate the development and deployment of charging infrastructure, prioritize fast-charging networks along major highways, and incentivize the installation of charging facilities in residential areas, workplaces, and public spaces.
Another essential recommendation is to ensure a secure and sustainable supply chain for electric vehicle components, particularly critical minerals and battery materials. Policymakers should promote responsible sourcing practices, encourage the recycling and reuse of batteries, and support research and development efforts to find alternatives to critical minerals. This will help mitigate the environmental and social impacts associated with the extraction and production of these materials.
For the private sector, the report emphasizes the importance of collaboration and partnership to advance rapid developments in technology and manufacturing. Collaboration between automakers, battery manufacturers, and technology companies can drive innovation, improve economies of scale, and make electric vehicles more affordable and accessible to a broader range of consumers.
Furthermore, the private sector should invest in research and development to enhance battery technology, improve charging infrastructure, and develop new business models that encourage shared and multimodal mobility. This includes exploring opportunities in vehicle-to-grid integration, where electric vehicles can act as decentralized energy storage systems, contributing to grid stability and renewable energy integration.
Related: Tesla's Biggest Competitor
Conclusion
The rise of electric vehicles represents a significant milestone in the decarbonization of road transport and the global efforts to tackle climate change. With exponential growth in sales, advancements in technology, and supportive policies and investments, electric vehicles are on track to play a crucial role in achieving global emissions reduction targets.
However, to accelerate the transition to an all-electric future, further collaboration between governments, the private sector, and international organizations is essential. This includes sharing best practices, aligning policies and regulations, coordinating research and development efforts, and jointly investing in infrastructure development.
By taking decisive actions and implementing the recommendations outlined in the IEA report, stakeholders can create a conducive environment for the widespread adoption of electric vehicles. This will not only help reduce harmful emissions and mitigate climate change but also drive innovation, create new job opportunities, and improve the overall sustainability of the transportation sector.
The success of the electric vehicle transition relies on the collective efforts of all stakeholders. By working together, we can build a more sustainable and cleaner future, where electric vehicles are the norm rather than the exception. The rise of electric vehicles is not just a trend; it is a paradigm shift toward a more sustainable and environmentally-friendly transportation system.