Disclaimer: We sometimes use affiliate links in our content. For more information, visit our Disclaimer Page. 
The growth of the electric vehicles (EVs) market has skyrocketed in recent years, and this trend shows no signs of slowing down. Several driving forces are behind this growth, such as heightened consumer interest, supportive government policies, and the auto industry's adoption and promotion of EV technology.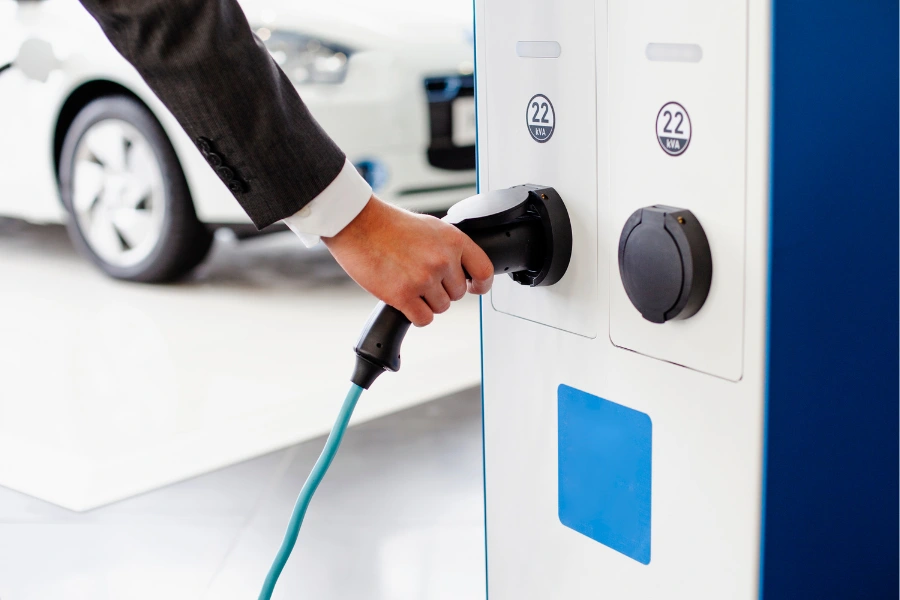 The Charging Factors Behind Increased Consumer Interest
Several factors contribute to the increasing attractiveness and viability of EVs as an alternative to conventional, combustion-engine vehicles:
Environmental Concerns: Increasing awareness about climate change is driving consumers towards greener vehicular solutions.
More Vehicle Choices: The availability of diverse EV models has enabled consumers to find suitable electric alternatives.
Improved Battery Capacity: Technological advances have greatly increased EV range, making them more practical.
Cost Savings: The potential for reduced maintenance, tax credits, and lower running costs serve to entice consumers towards EVs.
For further details, check out the research from the Bureau of Labor Statistics on this fascinating topic.
Role of Government Policies
Government commitments to reducing carbon emissions and policies advocating for a greener society have played an instrumental role in facilitating the electric shift:
Infrastructure Investments: Government spending facilitates the creation of the necessary infrastructure for supporting EVs, such as charging stations.
Tax credits: Government tax incentives make owning EVs more financially attractive. Major companies are also investing heavily in EVs, with plans to roll out dozens of new models in the upcoming years.
Occupational Opportunities in the EV Industry
The shift towards electric mobility has already started to create novel job opportunities within both established and emerging sectors:
Computer and Engineering Roles: These are necessary for the design and development of battery systems and automobile designs.
Manufacturing: There will be a demand for skilled labor in battery production for the manufacturing of these cars.
Electrical-Related Jobs: Installing and maintaining the nationwide charging infrastructure calls for a range of skilled electrical workers.
In addition to the direct job roles involved in EV production and maintenance, there are indirect roles necessary for the successful transition to electric vehicles:
Construction Workers: The installation of charging infrastructure will require skilled teams of builders and laborers.
Urban and Regional Planners: They play an essential role in strategically placing charging points to streamline their use for EV drivers.
The Future of the Electric Vehicle Market
Looking ahead, the future of EVs promises exponential growth and far-reaching impact.
Market Growth: KPMG projects that by 2030, EVs will represent over half of all car sales in the US.
Consumer Interest: A recent survey revealed that 23% of Americans consider purchasing an EV as their next car, further cementing the market's potential.
However, the transition to EVs is not without its challenges:
Range Anxiety: Consumers still harbor reservations regarding an EV's range capabilities and the availability of charging infrastructure.
Cost Concerns: The initial cost of EVs continues to hamper widespread adoption.
Nevertheless, constant advancements in technology, backed by government initiatives and automaker investments, continue to bulldoze these barriers to adoption:
Improving Battery Life: Research and development in battery technology are crucial in expanding the driving range of EVs.
Infrastructure and Policy Developments: From federal initiatives that boost clean energy jobs to states adopting clean vehicle policies and incentives, policy-level support is driving the electric shift forward.
Industry Investment: Automakers are heavily investing in North American EV and battery manufacturing facilities, readying the industry for the future.
Sustainability Challenges & Opportunities
While ushering in a new era of clean transport, EVs also present unique challenges in terms of recycling and waste management. The need for appropriate battery management extends from production through to the spent battery's end of life. Opportunities abound for sustainable practices in recycling and repurposing these batteries to optimally use valuable components and reduce waste.
Related: Tesla's Biggest Competitor
Conclusion
The electric vehicle industry is expanding rapidly and is set to drastically reshape our transportation landscape. With increasing consumer interest, supportive government policies, and the auto industry's commitment, the future of EVs looks bright. As the field continues to evolve, new opportunities and challenges will arise, promising an exciting future for all stakeholders in the industry.