Disclaimer: We sometimes use affiliate links in our content. For more information, visit our Disclaimer Page. 
Navigating the job market can be a rollercoaster ride, filled with anticipation and, at times, disappointment. One major challenge is deciphering whether or not you've landed that coveted position after an interview.
In this blog post, we'll unravel the mystery by decoding subtle signs indicating you might not have gotten the job. From lackluster communication to telling statements made by hiring managers, learning these indicators will help you better manage your expectations and focus on future opportunities.
Key Takeaways
Lack of communication from the company after an interview is a clear sign that you didn't get the job.
Receiving short and impersonal communication from the company, a lack of enthusiasm from the interviewer, no offer letter or contract, and delayed feedback or no mention of the next steps are all signs that you may not have landed the position.
Reasons for rejection may vary, including finding a better fit, budget cuts or internal restructuring, personal factors or preferences, and positions no longer being available.
To cope with rejection: acknowledge and process your emotions; request constructive feedback; keep networking and applying for other opportunities; improve skills and interview techniques.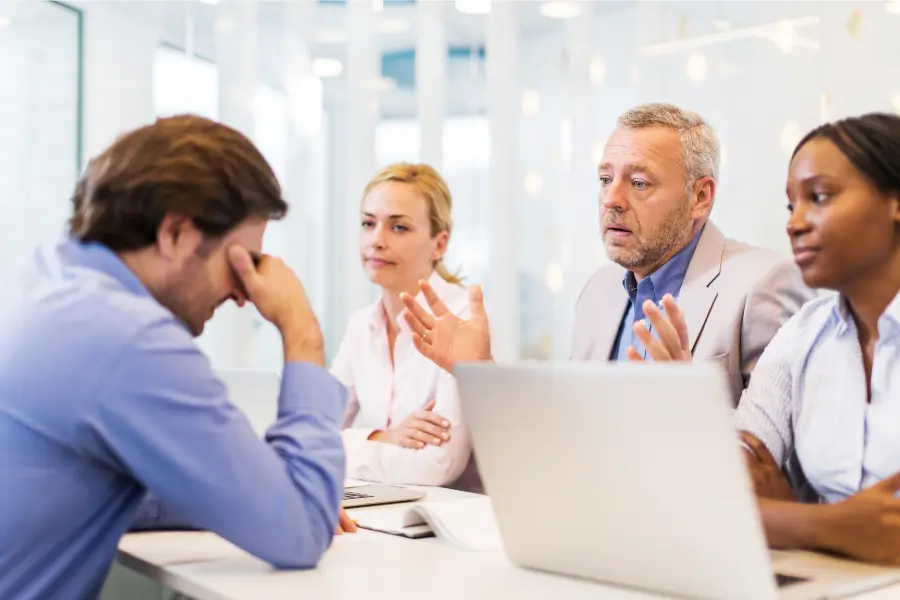 5 Clear Signs You Didn't Get the Job
Job hunting is a time of hope and uncertainty. The wait after an interview can be hard. You may ask, "Did I get the job?" While no method is foolproof, there are signs. These might hint that you didn't land the position. 
Here are five possible indicators of a negative outcome. Keep in mind; recruitment processes vary by company. These signs may not always be right. Until you hear from the company, keep job hunting.
No Communication After The Interview
One of the most obvious signs that you didn't get the job is a lack of communication from the company after your interview. Typically, hiring managers or recruiters will provide some form of follow-up within a reasonable timeframe, whether it's to inform candidates about their status in the process or simply to express gratitude for their time and interest.
For instance, imagine an applicant named Jane who was told she would hear back from the company within a week but still hasn't received any correspondence two weeks later.
This delay could suggest that Jane is no longer being considered for the position – perhaps due to her qualifications not meeting expectations or simply because another candidate edged her out.
Rather than dwelling on this lack of communication as definitive proof, it's essential for job seekers like Jane to keep applying elsewhere and consider reaching out proactively for updates on their application status.
Short Or Impersonal Communication From The Company
Another clear sign that you didn't get the job is receiving short and impersonal communication from the company. If the hiring manager or HR representative simply sends a brief email stating that they have decided to pursue other candidates without any explanation or personalization, likely, you were not selected for the position.
This kind of communication can be disappointing and frustrating, particularly after investing significant time in your application and interview process. However, it's important to remember that this is a common practice among companies that receive many applications for a single role.
Lack Of Enthusiasm From The Interviewer
One clear sign that you didn't get the job after an interview is a lack of enthusiasm from the interviewer. It could be a red flag if they seem uninterested in what you have to say or appear disengaged during the conversation.
For example, if your responses are met with monotone replies or no follow-up questions, this may indicate a lack of interest in you as a candidate. Additionally, if their body language suggests impatience or boredom – such as checking their watch frequently or avoiding eye contact – this may also be a bad sign.
No Offer Letter Or Contract
If you've gone through the entire interview process and haven't received an offer letter or contract, it could be a sign that you didn't get the job. Employers typically send these documents to candidates they wish to hire as a formal offer of employment.
Without one, the company has likely chosen another candidate for the role. This lack of communication can be frustrating but is not entirely uncommon in today's competitive job market.
Delayed Feedback Or No Mention Of Next Steps
If you haven't heard from the hiring company after your interview or if they didn't mention what would happen next, it could be a sign that you didn't get the job.
A company's failure to follow up with feedback or provide closure is unprofessional and can leave candidates feeling uncertain. This could mean that their hiring process is disorganized, but it might also indicate that they have moved on to other applicants.
It's important to remember that companies receive many applications for each job opening, so not hearing back does not necessarily reflect on a candidate's qualifications.
Reasons Behind The Signs
You may not have gotten the job for various reasons, such as finding a better fit, budget cuts or internal restructuring, a position no longer being available, or personal factors and preferences.
Finding A Better Fit
The company may have found a candidate whose skills and experience better match the job requirements, leading to your rejection. It's important to remember that it is not always about your qualifications but finding the perfect fit between the job and the employee.
For instance, if you were interviewing for a marketing role focused on social media. Yet, if you do not have any significant experience with social platforms, they might choose another candidate with more relevant expertise in this area.
Budget Cuts Or Internal Restructuring
A sudden change in a company's financial situation could result in budget cuts or internal restructuring, which may affect the hiring process.
If you didn't get the job after an interview, it is possible that budgetary constraints have prevented the company from extending any offers at this time. Alternatively, if there has been a recent reorganization within the company, some positions may no longer exist or be put on hold until further notice.
For instance, you might have applied for a marketing role, but due to budget cuts, the team needed to prioritize their spending elsewhere and had to halt hiring for that particular position.
The position Is No Longer Available.
If the position you applied for is no longer available, it could be a sign that you didn't get the job. This might happen if the company has decided not to fill the role at all due to budget cuts or internal restructuring.
In some cases, companies may create job postings as a way to gather resumes and assess their options without any intention of filling that specific role. This can be frustrating for candidates who invest time and effort into applying and interviewing but ultimately don't get the job because of factors beyond their control.
Personal Factors Or Preferences
Sometimes, a candidate may not make it to the next round of interviews or receive an offer for reasons unrelated to their qualifications. Personal factors or preferences can play a role in the hiring decision, such as if the interviewer did not feel a cultural fit between themselves and the candidate or if another applicant had more personal connections within the company.
It's essential for job seekers to remember that these rejections do not reflect their abilities and shouldn't deter them from continuing to apply and interview for other positions.
Candidates should focus on finding companies that align with their values and where they would be happy working long-term rather than trying to appeal to every employer.
Coping Strategies For Dealing With Rejection
Acknowledge and process your emotions by giving yourself time to reflect on the situation. Request constructive feedback from the employer and keep networking, applying for other opportunities, and improving skills and interview techniques.
Acknowledge And Process Your Emotions
Job rejection can be tough, and it's normal to feel disappointed or upset. The first step in coping with rejection is acknowledging and processing your emotions.
Taking some time for self-care activities like exercising, spending time with friends and family, or doing something you enjoy is okay.
Reflect on the aspect of the interview that did not go well, including your responses, lack of preparation, or discomfort during the interview process. Turn these negative experiences into opportunities for self-improvement by analyzing where things went wrong and working towards rectifying them before your next interview opportunity arises.
Request Constructive Feedback
One of the ways to cope with rejection after not getting a job offer is by requesting constructive feedback. Here are some steps you can take:
Politely ask the employer or interviewer for feedback on your interview performance and application materials.
Seek specific examples of areas where you could improve, such as communication skills, technical abilities, or work experience.
Take note of any patterns or common critiques that multiple interviewers mention.
Use this feedback to adjust and improve your resume, cover letter, and interviewing techniques.
Consider following up with the employer after implementing changes to show that you took their feedback seriously.
Receiving feedback may be difficult initially, but being open to suggestions can help improve your chances in future job applications.
Keep Networking And Applying For Other Opportunities
Networking and applying for other opportunities are essential to dealing with job rejection. Here are some tips on how to do it:
Reach out to your network: Let your professional contacts know that you're looking for a new job. Attend career fairs, industry events, and networking groups to expand your network.
Maintain good relationships: Even if you didn't get the job, stay in touch with the hiring manager or recruiter. Thank them for their time and ask if they would be willing to provide feedback on your interview.
Stay active on job search platforms: Keep updated resumes on popular job search platforms like LinkedIn, Indeed, or Glassdoor.
Research companies: Look up companies that interest you and see if they have any openings available that match your skills or background.
Tailor applications: Customize each application by carefully reading the job description and highlighting how you meet their requirements, thus making your application stand out.
Improve skills: Focus on developing or enhancing new skills through training programs, courses, or certifications.
By keeping these tips in mind, you can continue pursuing other opportunities while staying positive and motivated despite a setback in one interview process.
Improve Skills And Interview Techniques
Improving your skills and interview techniques can make all the difference when it comes to securing a job offer. Here are some ways you can sharpen your abilities:
Research: Do extensive research on the company, its culture, and the position you're applying for. This will give you a clear understanding of what the employer seeks.
Practice: Practice common interview questions and your responses. Ask a friend or family member to conduct mock interviews with you.
Body Language: Pay attention to your body language during the interview. Maintain eye contact, sit up straight, and avoid fidgeting.
Dress Code: Make sure you dress appropriately for the interview. This will show that you take the opportunity seriously.
Soft Skills: Develop your soft skills such as communication, problem-solving, and teamwork abilities.
Follow-up: After the interview, send a thank-you note to express gratitude for the time spent interviewing you and reiterate why you are perfect for the role.
By implementing these improvements in your skill set and interview techniques, employers will see how dedicated and capable you are as a candidate in securing employment opportunities in today's competitive job market.
Turning Rejection Into Opportunity
Explore new industries or roles by researching other companies and job postings. Consider additional education or training to improve your qualifications. Volunteer or freelance for experience while continuing the job search.
Explore New Industries Or Roles
If you didn't get the job, exploring new industries or roles might be a good opportunity. This is the perfect time to take stock of your skills and interests and explore different career paths.
Perhaps there is a field that has always intrigued you, but you never had the chance to pursue it before.
For example, if you have experience in marketing but have always been interested in healthcare, consider exploring opportunities in healthcare marketing. There are many ways to pivot into new areas, whether through additional education or training, volunteering, or freelancing for experience.
Keep an open mind, and don't be afraid to try something new – this could lead to unexpected opportunities and career growth.
Consider Additional Education Or Training
One way to turn a job rejection into an opportunity is by considering additional education or training. This can help you enhance your skills, make you more competitive in the job market, and increase your chances of landing your dream job.
For instance, if you were rejected for a marketing position due to a lack of experience with digital marketing strategies, you could enroll in an online course and add digital marketing certification to your resume.
Similarly, if the feedback was that you lacked specific qualifications for a particular role, then pursuing additional education or training in that area could be helpful.
Volunteer Or Freelance For Experience
Another way to deal with job rejection is by volunteering or freelancing. Volunteering can help you gain new skills and experiences within a particular field, while freelancing allows you to work on projects that interest you and build your portfolio.
Both options are great ways to expand your network, meet potential employers, and demonstrate your abilities.
By engaging in these activities outside of permanent full-time positions, people may demonstrate their passion and creativity in various fields without any restrictions.
Stay Positive And Persistent
After experiencing job rejection, staying positive and persistent in your job search is essential. Rejection is a normal part of the hiring process, and it doesn't mean that you are not qualified or capable.
One way to stay positive is by focusing on personal growth and development. Take this opportunity to reflect on what you learned during the hiring process and work on improving your skills and interview techniques.
Additionally, continue networking with professionals in your industry and exploring new opportunities.
Conclusion
Realizing that you didn't get the job after an interview can be disheartening. However, identifying the signs of rejection can help you move on and focus your energy on other opportunities.
Remember that rejection is a natural part of the job search process, and there are always ways to turn it into an opportunity for growth and development.
By staying positive, seeking feedback, and improving your skills and techniques, you'll be one step closer to landing your dream job.
FAQs:
What are some signs that I didn't get the job after an interview?
Several signs indicate that you didn't get the job after an interview, such as not receiving any follow-up communication from the employer, a lack of enthusiasm or positive feedback during the interview, and being told that they would contact you if there is another position to consider.
Should I call or email for feedback if I'm not selected for a job?
It's appropriate to send a brief and polite message via email to request constructive criticism from recruiters on what could have been improved upon or done differently in future interviews but avoid making phone calls since recruiters typically prefer emails so they can respond at their convenience.
How should I respond if I receive a rejection notice?
While it's understandable if one feels disappointed upon receiving news of rejection, responding professionally & with appreciation will reflect positively on one's character & may help extend relationships within the industry. Sending a simple thank-you note thanking them for their time and consideration while acknowledging other opportunities allows everyone involved closure.
Is following up with employers about my application status okay, even if it's been weeks since submission?
Usually, sending follow-up messages every week is unnecessary because companies often take weeks – sometimes months -to review all applications submitted. If no further updates have come through regarding positions needing to be filled after extended periods without a response, HR professionals generally suggest reaching out via email or LinkedIn messaging system rather than personal phone lines unless specifically requesting such information already provided electronically.