Disclaimer: We sometimes use affiliate links in our content. For more information, visit our Disclaimer Page. 
As a business owner, you understand how vital it is to monitor your inventory. The ideal inventory software can make life easier by saving time and money while helping avert costly blunders.
In this blog post, we'll dive into why inflow inventory software is your best choice for businesses of all sizes. We'll cover its features, pricing structure, pros, and cons and provide a comprehensive list of benefits so that you can make the most educated decision about whether or not it's right for you. Let's get started!
What is inFlow Inventory Software?
It is a well-known fact that inFlow inventory management software, or inventory software, is one of the best inventory management systems on the market, providing an easy and convenient way for businesses to manage and run their operations. 
Utilizing this cloud-based inventory and order management system allows you to keep pace with your stock-keeping and ordering processes from anywhere in the world at any time.
If you own a business of any kind, from manufacturing to eCommerce, inFlow inventory management software is the perfect answer. This app enables you to monitor stock across multiple locations and handle purchases and sales through one streamlined platform – streamlining your operations so that they are faster than ever before.
This user-friendly tool simplifies the order management process, streamlining it from start to finish. Additionally, you can use Pick-up and Packaging as well as Shipping services. Moreover, with its connection to over 35 leading eCommerce platforms, this product ensures your business's success.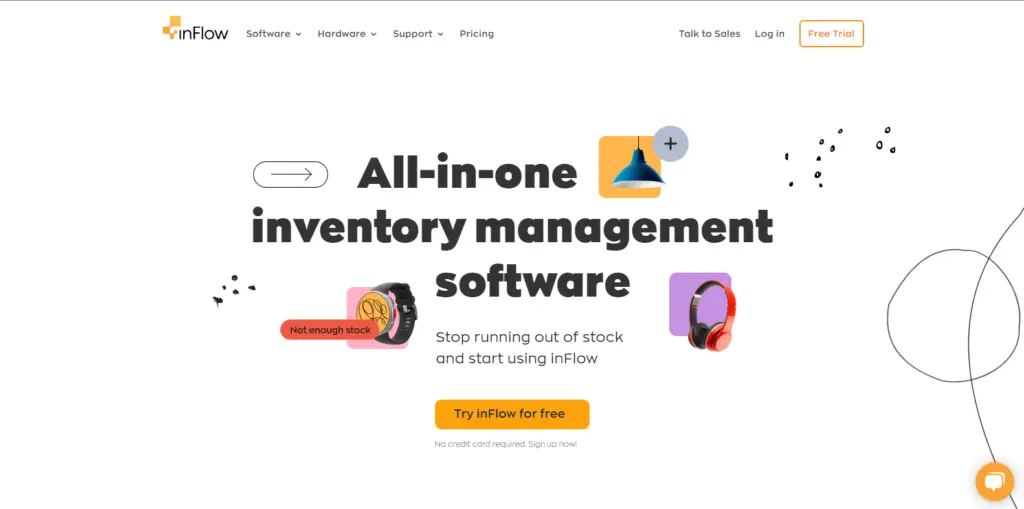 What are the benefits of inFlow software?
inFlow Inventory offers a variety of benefits to businesses that use it to manage their inventory. 
1. Set reorders quantities:
One of the key benefits is the ability to create purchase orders and restock products quickly. With InFlow Inventory, businesses can set order points and reorder quantities, ensuring they always have the products they need to fulfill customer orders. This can help prevent stockouts and lost sales.
2. Multi-location inventory management
Another benefit of InFlow Inventory is its ability to manage inventory across multiple locations. This feature allows businesses to track inventory levels and manage purchase orders for multiple locations from one central location, making it easy to keep track of inventory and make informed decisions about which products to keep in stock.
3. Accessible on desktops and mobiles
A mobile inventory management solution that redefines convenience, InFlow Inventory provides mobile apps for desktops and mobile devices to access, maintain, and modify inventory anywhere.
With InFlow Inventory, businesses can manage inventory information, create purchase orders, and perform other essential tasks even when away from their office computers, making it possible for businesses to conduct operations remotely without any difficulty.
4. Inventory management for e-commerce
Managing multiple sales channels and keeping track of customer orders can be an uphill task when you have multiple apps for inventory, orders, and shipping.
InFlow Inventory makes this process much easier with its multiple features, such as the ability to scan barcodes, pick, receive, transfer or ship products, assemble products from a bill of materials and integrate their omnichannel e-commerce accounts on Shopify, Amazon, and more.
Related: Best Shipping Companies for Small Businesses
inFlow Inventory Pros and Cons:
User-Friendly Interface: The user interface is exceptionally intuitive and easy to use.
Comprehensive Features: All-in-one software with sales, purchase, and inventory management tools.
Customer Service: The support staff is helpful and quick to respond.
Easy to Learn: New users will find the system easy to use with a flat learning curve.
Free trial: There is a seven-day free trial available with any subscription plan
Expensive for Small Businesses: It is only suitable for large businesses because it has a pricing structure based on orders.
Multi-Warehouse Use: Cannot handle multiple warehouse properties or inventory storage locations.
Key Features of inFlow Inventory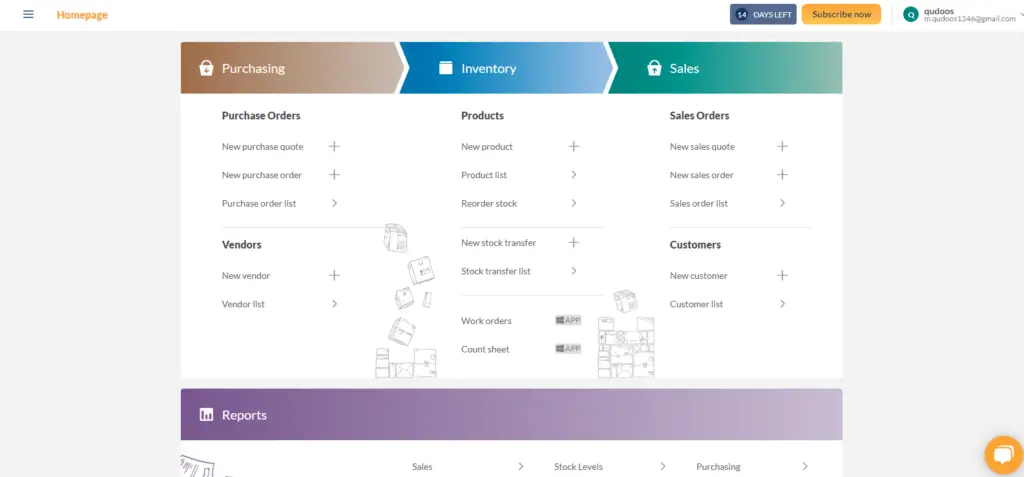 1. Inventory control
InFlow consolidates inventory and orders in one comprehensive system, providing a clear view of every SKU entering your warehouse and how much is being dispensed.
With this data at hand, enterprises can accurately order the precise amounts necessary for each distribution center ahead of time – while relying on customizable reorder points to remain proactive about restocking before you reach zero supplies.
2. Barcoding
By leveraging inFlow's built-in barcoding feature, any business can easily create and manage its sophisticated system of barcodes. Not only that, but they can also quickly generate unique codes and print professional labels using compatible hardware with the program.
Furthermore, your staff members can save valuable time by utilizing price scanners or simply downloading an app on either iPhone or Android devices when counting items or fulfilling orders.
3. Manufacturing
With InFlow, you can rest easy knowing that your inventory is updated automatically and accurately in real time. With one look, business owners can gain insight into the number of products they create based on available supplies and their costs.
Furthermore, whenever a finished assembly is completed, it shows up instantly within your inventory so that fulfillment teams can efficiently process ready orders.
And if these benefits weren't enough already – its comprehensive capabilities include work order/item kitting, Bill of Materials track assembly costing features too!
4. Sales and invoice tracking
With inFlow, users can generate sales from the comfort of their laptop or smartphone while managing customer relationships with full access to purchasing history and inventory levels.
This software also brings eCommerce sales into view by integrating Shopify, Amazon, WooCommerce, and Squarespace. Additionally, through its partnership with EasyPost, customers can compare carrier rates for USPS, UPS, DHL, and FedEx without leaving their browsers.
When an order is shipped out, a tracking number will be sent automatically via email, making it convenient for customers who can pay invoices directly on their browsers.
5. Stock and order management
Regarding traditional inventory management features, inFlow Inventory is surprisingly robust, considering its price point.
With inFlow, you can manage your stock more efficiently. The software automatically tracks inventory based on your daily tasks, so the platform will adjust your inventory levels automatically every time you receive or fulfill a customer order. You can also track stock movements between locations, set custom-to-reorder points, and organize your inventory by category and serial number.
Also, inFlow allows easy order management. In addition to daily alerts about low-stock items, the inFlow dashboard lets you see all items with low stock on a single screen. You can create new purchase orders for all your low-stock inventory items with a single click.
6. Reporting
Unlike other inventory software, inFlow doesn't hold back on its reporting—you get full access to all 38 inFlow reports regardless of which plan you sign up for.
inFlow gets you access to 13 different sales reports, 7 purchasing reports, and 14 different inventory reports. That gives you tons of insight into your business so you can drill down into your product inventory and find what's working free version.
The Support System of inFlow Inventory Software
Inflow Inventory Software provides customers with a host of resources to aid them with their needs. During business hours from 10 am – 6 pm EST, users can contact an experienced expert for additional support and promptly accept callback service.
In addition, the Inflow Inventory Software provides a helpful contact option via email on its support page. Also, they offer training resources, such as free video tutorials and webinars, to help users quickly get more out of this software.
To top it off, their searchable knowledge base provides an even more in-depth guide to ensure you maximize your software use. Inflow Inventory Software assures an efficient inventory management system that offers extensive support by providing users with a wide range of tools and aids.
Pricing: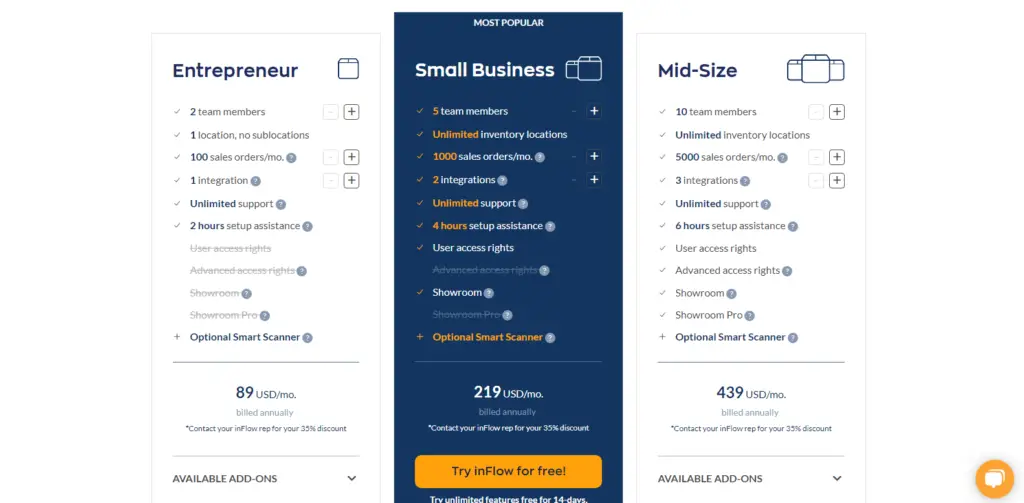 There are four pricing plans available for this software.
Entrepreneur: The monthly subscription of this plan is $110/month, and the annual subscription costs $89/month for two team members, one location, 100 sales/orders per month, 1 integration, unlimited support, and installation assistance for up to two hours, and optimal scanners.
Small business: Purchasing this plan will cost you $219/annual or $279/month, which includes 5 team members, unlimited locations, 1000 sales/orders per month, 2 integrations, unlimited support, installation assistance for up to 4 hours, user rights, a showroom, and optimal scanners.
Mid-size: In the case of purchasing this plan, you will have to pay $439/annual or $549/month, which includes 10 team members, unlimited locations, 5000 sales/orders per month, 3 integrations, unlimited support, installation assistance for up to 6 hours, user rights, a gallery, advanced access rights, and optimal scanners.
Enterprise: It will cost you $1055/month to purchase this plan, which includes 25 team members, unlimited locations, 10,000 sales/orders per month, 4 integrations, unlimited support, installation assistance for up to 10 hours, user rights, a gallery, API access, advanced access rights, premium database, and optimal scanners.
inFlow alternatives
1. Zoho Inventory
With Zoho Inventory, small to medium-sized companies can strategically plan and maximize their sales. This cloud-based solution facilitates the purchase order process while providing thorough product tracking with its accounting and CRM features.
Furthermore, it supports warehousing activities and multichannel selling, allowing users to control inventories without much effort. With such comprehensive capabilities, businesses can craft effective reorder points for products that eventually lead them toward success in today's competitive environment.
2. Sortly
Sortly is a cloud-based, intuitive inventory management and asset tracking system for businesses. It allows you to easily track your items based on parameters like name, description, code, price, or other relevant information. Its streamlined features make it perfect for businesses that need an efficient way to manage their assets and inventory.
It offers a free and a premium version for businesses looking for more options, making Sortly accessible to everyone. Among Sortly's most notable features are its ability to create notifications and reminders that keep companies informed about their inventory levels. As a result, essential items will always be present.
3. QuickBooks Commerce
Businesses of all sizes can unlock their multichannel e-commerce potential with QuickBooks Commerce. You can automate time-consuming and tedious tasks, reducing costs and boosting accuracy with this platform. 
Your business can grow to its fullest potential with QuickBooks Commerce's powerful ability to integrate multiple channels, simplify inventory management processes, and boost operational efficiency.
With intelligent reports, forecasting capabilities, mobile selling applications, and more, businesses hoping to scale quickly will appreciate the platform's scalability. Staying ahead of the curve is easy with these tools in your back pocket.
4. Fishbowl Inventory
An organization of any size can maximize its warehouse operations and resolve inventory issues with Fishbowl Inventory. In addition to boosting manufacturing efficiency, improving warehouse accuracy, and tracking assets better, this powerful software integrates with QuickBooks, Amazon, ShipStation, and others to streamline supply chain processes.
Additionally, it automatically resolves several inventory management tasks that enhance critical aspects of your supply chain. With Fishbowl Inventory, you can save time across boardroom tables everywhere.
Related: Best Inventory Software for Small Business
Conclusion
All in all, InFlow Inventory is an excellent choice for businesses of all sizes. It's feature-rich, has a great price point, and offers numerous benefits that can save you time and money. So if you're looking for a quality inventory software solution, we recommend trying InFlow Inventory. And be sure to let us know how it goes – we love hearing from our readers!
FAQ
What is meant by inventory management?
Inventory management ensures that a business has the right amount of inventory on hand at any given time to meet customer demand. This includes forecasting future demand, calculating how much inventory is needed to meet that demand, and then ordering and stocking that inventory.
How does inFlow Inventory work?
inFlow Inventory is software that helps you manage your inventory. It's an easy-to-use program that allows you to track your products, sales, and customers. inFlow can also be used to create invoices and track payments.
What are the benefits of using Inflow Inventory?
With Inflow Inventory, you can save time and money thanks to its automated features. It also helps you manage your inventory more efficiently and accurately. Additionally, it integrates with popular software like QuickBooks to keep your data in sync.