So, you've got another job offer. And it's a perfect one. Now what? Do you just quit your job without warning and hope for the best? Probably not. You'll need to tell your boss that you're leaving and want to do it in a way that doesn't make them feel like you just stabbed them in the back.
This blog post will give you ten tips on breaking the news respectfully and professionally. So whether you're planning to quit tomorrow or you've already handed in your notice, read on for some helpful advice.
When should you inform your boss that you have another job offer?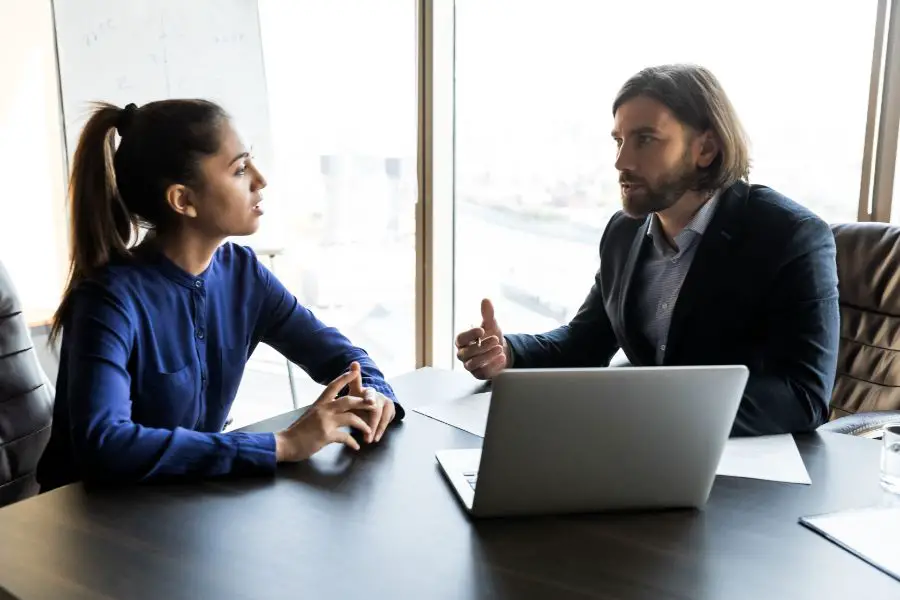 Whenever you are confident that you have made your final decision and are 100% certain that you wish to resign and take a new position, notify your employer that you intend to do so.
You must make sure that this is the right move for your career and employment situation, that you are prepared to accept the risks associated with a job change, and that you can cope with these risks.
As soon as you accept the new job offer, you'll need to inform your employer, who is in charge of your career and decision. Of course, the best way to be close to your boss would be to do it in person, but if you are very distant from your boss, you can send a polite email before sending an official resignation letter.
Moreover, it is not a good idea to let your supervisor know that you leave your position at the end of the week. No one enjoys being told disconcerting news right before the weekend.
Related: How to Quit Your Job Immediately
10 ways how to tell your boss you got another job offer
It can be tricky to tell your boss that you have another job offer; here are some ways you can use to tell him about another job offer.
1. Plan your strategy
Suppose you are considering leaving your current employer. In that case, you should first contemplate what you want out of the situation before preparing your resignation letter or your parting speech. A new, better job offer should not necessarily be a sign that you need to leave your previous employer behind. 
As a result of your supervisor's evaluation of your performance and work relations, they might challenge the terms offered by your competitor in a counteroffer. If you are not inclined to leave your current job environment but are offered better pay and benefits in the new contract, it may be a good idea to work on a negotiation tactic. 
Keeping a friendly, professional relationship with your soon-to-be ex-employer is still a good idea, even if you don't plan on staying there.
Your preferences may still be unclear. If this is the case, you will need to sit down and write down the specific criteria that would make one offer stand out from the rest. Then, if you want to respond quickly to any counteroffer, you need to prepare a resignation meeting with some predetermined standards in advance.
As a result, you can predict which tactic would work best for them. For example, some employers might prefer a gentler, humble delivery, while others may consider it a weakness. Find out which negotiation tactics would be most effective for your boss by analyzing them.
2. Evaluate your objectives and be honest with yourself
The best way for you to navigate smoothly through the delicate situation of telling your boss that you've got another job offer is to take a moment to clarify in your mind why you are making a move in the first place.
It might be that you need to move on to a more responsible position or a more lucrative position. Or maybe you have had enough of working for your boss, and you can no longer deal with his micromanagement style.
You can plan an effective strategy for your future career goals before you meet with your employer by knowing what you want out of it.
You do not want to find yourself at a loss for words when you suddenly receive an offer for a substantial pay raise if you stay, but at the same time, you cannot stand your toxic coworkers any longer, so you don't know what to do.
3. Arrange to meet your boss in person
If possible, arrange a meeting with your employer or direct manager to inform them of your intention to accept another job offer. However, it may not always be possible.
Doing so can provide a more detailed explanation of why you decided to leave your current position.
Face-to-face conversations usually give you better scope for negotiation (if that's what you're hoping to achieve) or give you a greater chance to leave on amicable terms and keep the door open in case of things with your new job do not turn out as you planned.
Alternatively, if you cannot meet with your boss, you can text them to inform them of your decision. If you haven't been with the company for that long and decided to leave, you should give them a written notice of resignation.
If your manager highly regarded you, they might be sad to see you go, especially if they liked you. If this is the case, make sure to pursue your career elsewhere.
4. Make sure the timing is correct
If you want to keep negotiating and working for your current company, you must find the right time to communicate a new job offer. To avoid dragging out the process and losing interest in the new company, you will want to announce your decision to your boss at your earliest convenience.
When penciling in the conversation with your boss, give them as little information about the topic as possible, as you do not want to give them too much time to reflect on the negotiation strategy they will use for the conversation.
When scheduling the meeting, make sure it is two weeks before your last day to avoid legal issues. You do not have to follow this timeline if you do not feel comfortable at your current workplace and have doubts about leaving. However, this is a professional courtesy you should follow.
Suppose you would like to maintain a cordial, professional relationship with your superior during the two weeks you have been asked to leave. In that case, you must ensure that you organize your affairs and train the replacement, if necessary.
When in doubt, the best time to schedule an important meeting is usually mid-week. Mondays and Fridays are generally the most difficult days for scheduling an essential meeting since they're generally the least effective days to schedule it.
5. Stay confident and respectful
When you inform your manager that you have accepted another job offer, your approach and demeanor are very important, regardless of how sure you will leave your current position.
If you decide to leave a company on bad terms, do not be tempted to leave on the wrong term since you never know when you will need a positive reference from a company you used to work for in the past. Therefore, speaking about your new career objectives confidently and positively is always essential.
You must express gratitude to the company for allowing you to work and develop your expertise. Leaving a good impression is always a good idea. 
6. Make a list of your talking points and memorize them
Nothing is worse than being stressed, tense, or having awkward silence during your meeting because you didn't know what to say or how to communicate. However, proper preparation can also help you feel and appear more confident during your meeting. 
To make a good impression, you should maintain the right tone and demeanor. As important as communicating with the right attitude during a negotiation, choosing the right tone is even more critical if you have decided to leave your company but still want to maintain a good relationship with the manager.
You will generally want to maintain a kind but confident demeanor to convey your needs and goals. Always avoid expressing negative comments about the workplace or your colleagues to avoid appearing rude or unprofessional to your potential new employer.
If you don't prepare your talking points in advance, you might fail to obtain a lucrative counteroffer. However, you will also be able to communicate clearly and calmly because you will keep your emotions under control.
To effectively express your wants and needs to your supervisor, you must keep your talking points short and straight to the point. If you are willing to give them the chance to fight for your position, you should let them know precisely what you are looking for to secure them as your employer. 
7. Write a resignation letter
Whenever you meet with your boss to share the news of a new job offer, you will always have to open the meeting with a resignation letter.
No matter your plans, such as negotiating or resigning from your current position, it is always a good idea to write your resignation letter. This shows that you are serious about your new endeavor. Remember that you should also be kind and amicable in your written words.
You will need to cover a few paragraphs when you announce your resignation, but if you have no idea where to start or can't come up with an appropriate structure for your letter, I will quickly walk you through the few paragraphs you need to cover.
It is a good idea to begin with a warm greeting, followed by a few sentences stating your intention to rule. Afterward, you can write a short paragraph thanking the employer for the opportunity and highlighting the importance of the skills and experience you have acquired while working with them. 
→ Sample email to tell your boss you got another job offer:
There are several components to creating the correct email for this type of message, as, through text, many tonalities and sentiments can get lost.
Nevertheless, by following this simple yet straightforward template, you will be able to ensure that your new job offer is communicated flawlessly to your boss.
Dear (boss's name),
This email is to inform you that I intend to consider a competing offer I received on (date). Although I have thoroughly enjoyed my time as part of your team, I feel that the contract you have presented me (benefits offered) has the potential to vastly enhance my professional and personal lives.
Despite this, since I greatly appreciate my colleagues, supervisors, and this work in general, I am having difficulty reaching a final decision. Therefore, if there will be a chance for you to match the terms and conditions of this contract, please let me know as soon as possible.
Looking forward to hearing from you.
Sincerely,
(your name)
8. Prepare for a counteroffer
If you share your news with your supervisor, there is a possibility that they will try to keep you in the workplace by suggesting a counteroffer. For example, your supervisor may ask about your new salary and offer you a salary increase to keep you in your current job.
To field a counteroffer, you must determine your career goals for the position. Of course, if you want to leverage your offer into a raise, you'll be thrilled to do so. Nevertheless, suppose you are eager to move on and accept a new opportunity. If you are excited about the move, you may decline the counteroffer, even if the salary is higher than the new job.
If you wish to do so, you can tell them that your long-term career goals will be better served by the new position, even though you appreciate the opportunities today.
9. Keep your tone positive
No matter your goal, whether it's making more money at your current employer or leaving on a high note with a vital reference for your future career, you can set the tone for a positive experience by explaining your new opportunity.
It's essential to remember that even if you are eager to leave your current job and move on, you shouldn't come across as eager to leave. It's also essential to avoid expressing negativity about your current company, coworkers, or boss, as you will want to keep the door open for a positive reference in the future, so you should try to avoid it.
Instead, keep your message simple, let your boss know whether you plan on accepting a job offer from an outside company or if you would like to discuss a raise with your boss.
10. Make a decision based on your goals
As soon as you've read the announcement and the possible negotiation, you will be armed with all the necessary information to conclude. However, if you are already convinced of the outcome of this meeting, there won't be much left to do after you've read the announcement.
You should compare what each company offers with your goals and ambitions if you are unsure what to choose to support your professional growth.
When comparing alternatives, the highest-paying bidder may not always be the best choice for your career or personal life. Take into account the workplace environment, growth potential, free time, and commute time.
In addition, you should also consider the impacts your decision will have on the image you project as a professional during your career.
Nevertheless, if your current workplace offers excellent financial and non-financial decision-making opportunities, you wouldn't need to reject the offer to protect your image. As with most career decisions, it is essential to take your time to review the whole picture before making your final decision.
Related: How To Tell a Potential Employer You Have Another Job Offer
Conclusion
So, you've decided to move on. Whether you're quitting tomorrow or have already handed in your notice, we hope the following tips will help make the process smoother for you and your boss.
Also, remember to stay professional and respectful throughout the conversation – after all, it's not easy saying goodbye. Let us know how it goes in the comments section below!
Related: How To Ask Someone For a Job Opportunity
FAQ
Should you tell your boss you have another offer?
If you have a good relationship with your boss, then it may be worth having a conversation to see if there's anything they can do to keep you at the company. However, it may be best not to say anything if you don't have a good relationship with your boss or if you think they're likely to react negatively.
How do you professionally tell a job you have another offer?
Here are a few tips:
• Keep your explanation brief and to the point.
• Be courteous and grateful for the opportunity your current employer has given you.
• Give them plenty of notice.
• Communicate clearly and politely.