Disclaimer: We sometimes use affiliate links in our content. For more information, visit our Disclaimer Page. 
In a perfect world, we would all enjoy a harmonious and productive working environment. But unfortunately, many of us have to deal with toxic people at work. The presence of just one toxic person can have far-reaching implications on the entire team, spreading negativity and often leading to a decline in productivity.
As the term implies, a toxic person at work behaves in ways that make others feel uncomfortable, belittled, or undervalued. This article will provide a comprehensive guide on how to identify, manage, and deal with toxic people effectively, aiming to steer your work experience in a more positive and productive direction.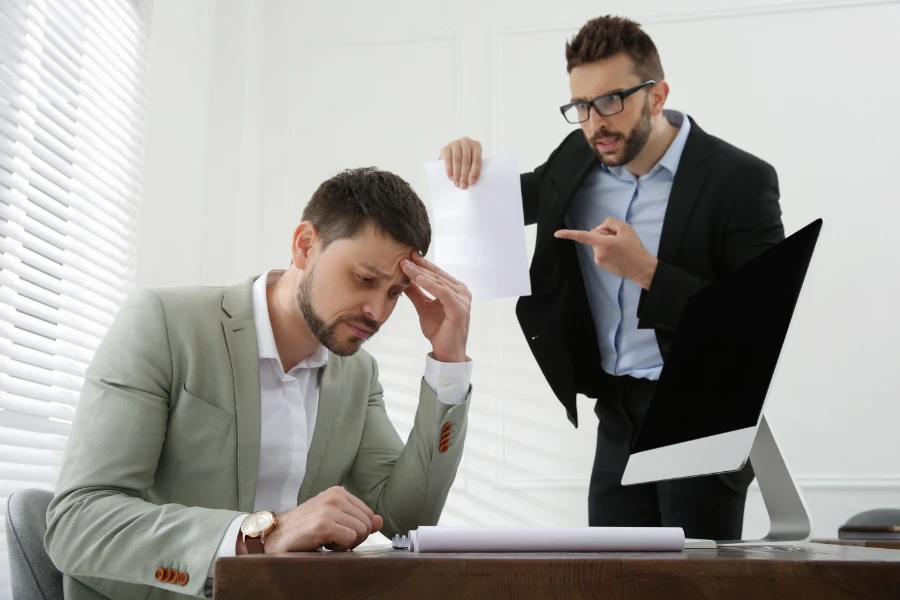 Spotting the Signs: Recognizing a Toxic Person
The first step towards dealing with toxic people is to identify their behavior. By recognizing the signs of toxic behavior, you can better prepare yourself to address the issue and minimize its negative impact.
Constant Criticism: A toxic person is often excessively critical, always pointing out others' faults, and rarely recognizing their achievements.
Spread Negativity: These individuals tend to spread negativity and pessimism, which can dampen the mood of the entire team.
Irrational Behavior: Toxic people may display irrational behavior and mood swings that can make others uncomfortable.
Undermining Success: They often try to undermine the success and happiness of others, stemming from a deep-seated sense of insecurity.
Once you identify a toxic person at work, the next step is learning to manage their impact on your mental health and overall well-being.
Related: Dealing with Difficult Colleagues
On Guard: How to Manage Toxic People
Dealing with toxic people isn't easy, but here are some strategies to help you manage these situations while maintaining your self-confidence and sense of self-worth.
Establish Boundaries
It's crucial to set clear boundaries when dealing with toxic people. Don't let them invade your personal space, both physically and emotionally. By establishing boundaries, you can limit the toxic person's influence and prevent them from affecting your mental health negatively. Remember, you're not obligated to tolerate everything a toxic person does.
Practice Emotional Distance
Create emotional distance between yourself and the toxic individual. This doesn't mean avoiding them entirely, but rather not letting their negativity and toxicity influence your mood and behavior. By keeping emotional distance, you can protect your mental health and keep stress levels in check.
Don't Take it Personally
Remember that a toxic person's behavior reflects their inner turmoil and not their worth. Don't let their criticism or negativity impact your self-confidence or self-worth.
Avoid Engagement in Negative Conversations
Avoid engaging in negative conversations with toxic people. Most people find it challenging to win an argument with a toxic person, as their perspective is often off base. Avoiding these kinds of conversations can save you a lot of stress and negativity.
Related: How To Deal With Hostile Coworkers
Harnessing Positivity: Building Healthy Relationships at Work
Amid dealing with toxic people, it's essential not to overlook the importance of building positive relationships at work. Cultivating these relationships can serve as a buffer against the negative emotions brought on by toxic individuals.
Surround Yourself with Positive People: Spend time with coworkers who uplift you and create a positive working environment.
Foster Open Communication: Maintain open lines of communication with your colleagues. This can help in addressing issues related to toxic coworkers before they escalate.
Show Empathy and Understanding: Try to understand others' perspectives and display empathy. This can build trust and foster healthy relationships.
A Matter of Choice: Deciding When to Address the Issue
After understanding how to manage a toxic person's behavior, it's crucial to decide when to address the issue. If a toxic coworker's actions are causing undue stress or hampering productivity, it might be time to take action. Remember, when dealing with toxic people, it's not about winning an argument but about maintaining your peace and productivity at work. So, how should you handle a confrontation with a toxic coworker? Let's delve into some strategies.
Use Constructive Feedback
When dealing with a toxic person, it's essential to provide constructive feedback. Frame your points in a way that focuses on their behavior and its effects, rather than attacking them personally. For instance, you could say, "I've noticed that when we're in team meetings, you often criticize my ideas. This makes me feel undervalued and affects my contribution to the team."
Stay Calm and Composed
When engaging with a toxic person, maintain your composure. Keep your tone neutral and non-confrontational. It's not uncommon for a toxic person to provoke reactions. However, staying calm helps you control the conversation and steer it in a productive direction.
Seek Mediation if Needed
In situations where a toxic coworker's behavior continues unabated, consider seeking mediation. Engage your supervisor or the HR department to facilitate a conversation. This intervention can help maintain a sense of professionalism and resolve any persisting issues. When approaching your boss or HR, frame the issue in terms of its impact on the team and the workplace, rather than a personal complaint.
Related: How to Protect Yourself from Toxic Coworkers
Building Resilience: Coping Strategies for Dealing with Toxic People
Handling a toxic person can be stressful, no doubt. This is particularly true when you're working with toxic people on a daily basis. So it's essential to arm yourself with coping strategies that safeguard your emotional and mental health.
Practice Mindfulness
Mindfulness involves staying present and conscious of your thoughts, feelings, and surroundings without judgment. Practicing mindfulness can help you maintain focus on your work and not let the toxic person's behavior dominate your thoughts.
Physical Exercise
Physical activity is a proven stress-buster, especially helpful when you have a toxic co-worker. Regular exercise can help reduce the stress associated with dealing with toxic coworkers and boost your mood.
Leverage Your Support Network
Discussing your experiences with trusted friends, family, or a mentor can provide emotional relief. They can also provide alternative perspectives, helping you handle the difficult situation more effectively.
Empowering Others: Spreading Positivity in the Workplace
While it's crucial to protect yourself from toxicity, it's equally important to foster a positive workplace environment. If left unchecked, one person's toxic behavior can cast a shadow over the entire team. However, you can counteract this by spreading positivity.
Encourage Team Bonding Activities
Team bonding activities can foster a sense of unity and positivity among employees, diluting the toxic person's influence.
Be a Positive Influence
Take it upon yourself to be a positive influence at work. This doesn't mean you need to ignore the reality of challenges, but rather focus on solutions instead of problems, and motivate your coworkers to do the same.
Display Kindness and Empathy
Kindness can go a long way in fostering a positive workplace, even amidst negative people. Express empathy towards your coworkers' challenges and offer help when possible. Even simple actions like acknowledging a coworker's efforts can contribute to a positive environment.
Related: Empathy in Management and How to Develop It
Setting a Course: Steering Clear of Toxicity at Work
With a clear understanding of how to deal with toxic people at work, it's crucial to remember that your happiness and mental health matter. Stand your ground and know that you're not alone in your struggle against workplace toxicity.
Remember, the influence of toxic individuals can be likened to second-hand smoke – it's not just the direct recipient who's affected, but those around them too. Much like an afternoon spent inhaling second-hand smoke, time spent around a toxic person can impact everyone in their vicinity.
Having a hard time dealing with a toxic colleague at work is not a reflection of your capabilities or worth. If anything, it reflects the need for more discussions about maintaining a healthy workplace environment. By being prepared, setting boundaries, practicing resilience, and promoting positivity, you can navigate around toxic people effectively and maintain healthy relationships at work.
Conclusion
Dealing with toxic people at work can be challenging, but with the right strategies, it's certainly manageable. Keep in mind that their behavior is a reflection of them, not you. Protecting your mental health, setting boundaries, and focusing on your work is key to maintaining a positive work environment. Remember, every difficult situation is an opportunity for growth. So, harness these challenging experiences to build resilience and improve your interpersonal skills.
Hopefully, you now have a clear understanding of how to deal with toxic people at work, enabling you to navigate your professional life more effectively. If you have any further questions or insights, feel free to comment below. After all, sharing our experiences and supporting each other is what makes us stronger. Let's foster a healthy and positive workplace together!
FAQs
How do you identify a toxic person at work?
Identifying a toxic person at work involves recognizing certain patterns of behavior that make the work environment uncomfortable. This could include constant criticism, spreading negativity, displaying irrational behavior, or undermining others' success.
How do I deal with a toxic coworker?
Dealing with a toxic coworker involves setting boundaries, maintaining emotional distance, not taking their behavior personally, and avoiding negative conversations. If their behavior persists and affects your work, consider addressing the issue directly or seeking mediation.
How do you outsmart a toxic person?
Outsmarting a toxic person is about maintaining control over your reactions to their behavior. By setting boundaries, focusing on positive relationships, and not engaging in negative discussions, you can protect your mental health and well-being.
How do you know if a coworker is toxic?
Toxic coworkers are often characterized by their tendency to criticize, spread negativity, behave irrationally, and undermine others. They may create unnecessary drama, resist accountability, and consistently put their needs before the team.
How do you outsmart a toxic coworker?
Outsmarting a toxic coworker is about understanding their behavior and responding in a way that protects your mental health. This might involve setting clear boundaries, not engaging in their negativity, and focusing on your tasks and responsibilities.