Disclaimer: We sometimes use affiliate links in our content. For more information, visit our Disclaimer Page. 
Effective management is crucial for the success of any organization. Managing employees with dominant personalities, however, can be a challenging task. Dominant employees can display high dominance traits, such as a competitive drive, impatience for progress, and an inclination towards innovation and change.
On the other hand, some dominant personalities may have lower dominance traits and can benefit from a mix and match of personality types in a team for maximum efficiency. This article will explore strategies for managing dominant employees effectively and leveraging their strengths for the team and organization's success.
Key Takeaways:
Effective management is essential for success.
Dominant employees can pose a challenge.
High and low dominance traits can be observed in dominant personalities.
A mix of personality types can maximize team efficiency.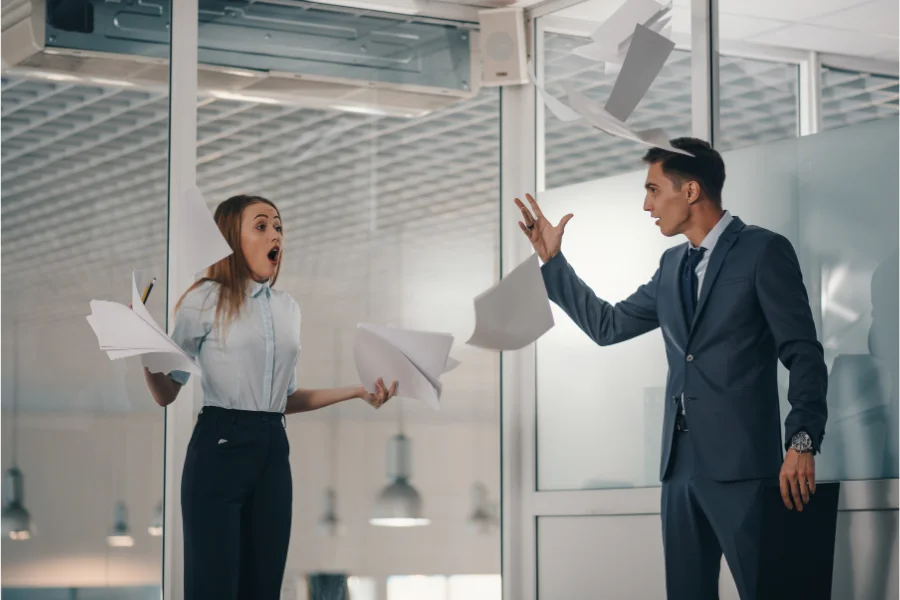 Understand How to Manage Dominant Employees Effectively
When working with dominant employees, it's important to understand their unique set of traits and characteristics that shape their behavior in the workplace. These individuals often have a competitive drive and a desire for innovation and change, leading to their impatience for progress and attention to detail. They also tend to make significant contributions to the success of the team and the organization as a whole.
Their competitive drive is one of their most notable traits, and it helps them strive for success and achieve their goals. They are constantly seeking new and innovative ways to improve processes and achieve results. Additionally, their tendency towards change orders is a product of their desire for progress and their willingness to take risks to achieve their objectives.
However, their impatience for progress can sometimes lead to frustration when results don't occur as quickly as they'd like. Their focus on details and making significant contributions can also make them appear critical of others who don't share their vision or work ethic.
Despite these challenges, dominant employees can bring a lot of value to any team. They have the potential to be influential leaders, driving positive change and inspiring others to be their best selves. By understanding their traits and working to leverage their strengths, you can effectively manage dominant employees and create a high-performing team.
The Importance of Communication in Managing Dominant Employees
Managing dominant employees can be challenging, but effective communication can make all the difference. Here are some key strategies to keep in mind:
Resolve conflicts proactively: Dominant personalities often thrive on competition and can be quick to engage in conflicts. As a manager, it's important to address conflicts as soon as they arise and work towards a resolution that satisfies all parties involved. Encourage open discussion and active listening to ensure that everyone feels heard and understood.
Delegate responsibilities: Dominant employees may have a tendency to take charge and try to do everything themselves, which can lead to burnout and resentment. Encourage delegation and trust your team members to take on tasks that align with their strengths. This will help to foster a sense of ownership and accountability.
Show empathy: Dominant employees may come across as tough and unemotional, but they still have feelings and may struggle with personal challenges. Show empathy and understanding for their situation, and offer support when needed. This will help to build trust and respect.
Provide feedback: Dominant employees may have a high level of confidence and may not recognize areas where they could improve. Offer constructive feedback that is specific and actionable, and be sure to acknowledge their strengths as well.
By prioritizing communication, conflict resolution, delegation, empathy, and feedback, you can effectively manage dominant employees and create a positive working environment for everyone.
Leveraging the Strengths of Dominant Employees
Managing dominant employees requires a delicate balance of recognizing their strengths while also ensuring they do not overpower the rest of the team. The key is to leverage their dominant traits in ways that benefit both the individual and the organization as a whole.
Recognition
Dominant employees thrive on recognition and being acknowledged for their contributions. Ensure their efforts are recognized and appreciated, and they will be motivated to continue to deliver top-notch results. Creating a recognition program that highlights their accomplishments can be a powerful motivator.
Coaching and Mentoring
Providing coaching and mentoring opportunities to dominant employees can effectively develop their skills and guide them toward leadership roles. Encouraging them to share their knowledge and experiences can also foster a collaborative work environment.
Aligning Job Function with Strengths
Assigning tasks aligning with dominant employees' strengths can increase job satisfaction and improve performance. Understanding their natural talents and providing opportunities for growth and development in those areas can lead to significant results.
Setting Behavioral Targets
Setting behavioral targets for dominant employees can help to channel their energy toward specific goals. This can be particularly effective in sales or business development roles where a "winning" mentality is critical. Providing specific targets and metrics can help to motivate and focus their efforts.
Organizing Work for Maximum Impact
Effective organization of work can ensure that dominant employees' strengths are leveraged for maximum impact. This can include delegating tasks that require strong leadership skills, utilizing their problem-solving abilities, and encouraging them to take ownership of critical projects.
In summary, leveraging the strengths of dominant employees requires a nuanced approach that recognizes their unique traits while ensuring balance within the team and organization. Recognition, coaching, and identifying their strengths are some of the strategies that can be used to manage dominant employees effectively.
Managing Instability and Risk-taking Tendencies
Managing dominant employees can be challenging due to their tendency towards instability and risk-taking. However, this trait can also be harnessed to drive creativity and innovation within a team.
The entrepreneurial spirit is a common trait among dominant employees, and it is important to provide them with opportunities to experiment and take risks while also mitigating any unnecessary risks. Multitasking abilities should be supported, as they often have the drive to work on multiple projects simultaneously.
Creating a supportive environment that encourages risk-taking while also providing clear boundaries and guidelines can help manage instability. Providing recognition and rewards for successful risk-taking can also help reinforce positive behavior.
Effective Communication Strategies for Managing Dominant Employees
Managing Dominant Employees requires a unique set of skills, especially when it comes to communication. Adopting effective communication strategies can help you lead your dominant employees better. Here are some communication strategies that you can use:
Be a direct communicator: Dominant employees prefer straightforward communication. Being direct and to the point is essential in effectively communicating with them.
Foster positive energy: Dominant employees tend to feed off positive energy in their work environment. Creating a positive atmosphere can help keep them motivated and productive.
Acknowledge their natural leadership skills: Recognizing their innate leadership qualities can help you gain their respect and trust, which is essential in managing them effectively.
Emphasize the development of soft skills: While dominant employees often excel in technical skills, developing and honing their soft skills is critical in helping them work better with their colleagues.
Promote emotional regulation: Emotions drive dominant employees, which can be both beneficial and detrimental. Promoting emotional regulation can help them stay in control and make better decisions.
Practice active listening: Listening to their perspectives can help you better understand their motivations and needs, leading to a more productive and successful team.
Setting Clear Goals and Expectations
In managing dominant employees, setting clear goals and expectations is crucial. These individuals are results-driven and thrive on winning, making them top sales and business development producers. You can harness their drive and ambition to benefit the entire team and organization by aligning their objectives with these targets.
However, it is also important to balance their dominance with the needs of the team. While they may be successful individually, it is vital to ensure their success does not come at the expense of others. By setting clear expectations for collaboration and teamwork, you can ensure that everyone benefits from their success.
Developing Leadership Skills in Dominant Employees
One of the most significant advantages of having dominant employees in a team is that they possess a natural leadership ability. However, developing their managerial and supervisory skills is essential to effectively guide and inspire the team. Here are a few strategies for developing leadership skills in dominant employees:
Identify specific strengths: To develop leadership skills in dominant employees effectively, it is crucial to determine their strengths. By identifying their areas of expertise and natural abilities, you can tailor their leadership approach and responsibilities to match their skills and increase overall productivity.
Enhance interpersonal skills: Dominant employees often struggle with finesse and interpersonal skills, which can hinder their leadership potential. Encourage them to develop better communication and active listening skills to understand and respond constructively to their team members' concerns.
Use leadership words: Encourage dominant employees to incorporate leadership words, such as motivated, spearheaded, and guided, into their language and work. This will reinforce their position as a leader and inspire their team to follow their example.
Provide supervisory and managerial training: Dominant employees may not possess all the skills required for proper supervision and management. By providing them with additional training and resources, they can learn to delegate tasks effectively, resolve conflicts, and manage their team members efficiently.
Encourage inspired leadership: Dominant employees are often motivated by success and winning. Capitalize on this by fostering a work environment that inspires and motivates your team members to challenge themselves and perform at their best.
By implementing these strategies, you can help your dominant employees develop strong leadership skills that will benefit both them and your organization.
Conclusion
Managing dominant employees can be a challenging task, but it is crucial for the success of any team or organization. In order to manage them effectively, it is important to understand their traits, communication styles, and strengths. Balancing their dominance traits with the needs of the team is crucial for creating a cohesive and productive work environment.
Effective communication strategies can help resolve conflicts, delegate tasks, provide feedback, and promote empathy. Additionally, leveraging dominant employees' strengths can help achieve organizational goals and recognize their contributions.
Setting clear goals and expectations, developing leadership skills, and managing their instability and risk-taking tendencies are essential for the success of dominant employees and the organization.
FAQs
How do you deal with a dominant manager?
Open Communication: Initiate open and respectful communication with your manager to express concerns or feedback.
Seek Common Ground: Find common goals or interests to build a positive working relationship.
Set Boundaries: Establish clear boundaries and expectations for your working relationship.
Collaborate: Offer constructive suggestions and solutions while working together.
How do you manage employees with strong personalities?
Recognize Their Strengths: Acknowledge their skills and contributions to the team.
Provide Challenges: Assign tasks that utilize their strengths and challenge them.
Effective Communication: Maintain open and clear communication channels.
Conflict Resolution: Address any conflicts promptly and impartially.
Feedback: Give regular feedback to help them grow and develop.
What are the weaknesses of a dominant person?
Impatience: They may become frustrated when things don't go their way quickly.
Difficulty Listening: Dominant people may struggle with active listening.
Overbearing: They might come across as too authoritative or controlling.
Risk-Taking: A strong desire for control can lead to taking excessive risks.
Resistance to Authority: They may resist authority figures or hierarchical structures.
How to minimize the negative effects of dominant behavior?
Open Dialogue: Encourage open and honest communication with the dominant individual.
Feedback: Provide constructive feedback on their behavior and its consequences.
Set Expectations: Clearly define roles and expectations for everyone on the team.
Mediation: If conflicts arise, consider involving a mediator or HR professional.
Teamwork: Promote collaboration and teamwork to balance dominant behavior.
What are some strategies for managing a dominating employee on your team?
Private Conversation: Speak with the employee privately to discuss their behavior.
Feedback: Offer constructive feedback and explain how their dominance affects the team.
Team Meetings: Encourage equal participation during team meetings.
Assign Roles: Allocate specific roles and responsibilities to distribute influence.
Professional Development: Provide opportunities for the employee to develop soft skills like teamwork and communication.
Credits
Featured Image: Credits SeventyFour via Canva.com
In-article Image: Credits WinThom via Canva