Disclaimer: We sometimes use affiliate links in our content. For more information, visit our Disclaimer Page. 
In today's competitive job market, acquiring new skills and certifications can be a game-changer in advancing your career. But with countless options available, you might wonder: are Google Certifications really worth it?
This blog post will dive into the world of Google Career Certifications to help you understand their value, benefits, and how they can boost your career prospects.
Key Takeaways
Google Career Certifications offer professionals and job seekers an opportunity to gain valuable skills in various fields of technology like digital marketing, data analytics, cloud computing, and more.
Obtaining a Google certification can boost career prospects by making individuals more credible, demonstrating expertise in their field, and providing access to exclusive resources and support channels.
Although acquiring a Google Career Certification may come with challenges such as cost, time commitment, level of difficulty, or limited job opportunities. Nonetheless, the benefits of obtaining one outweigh them.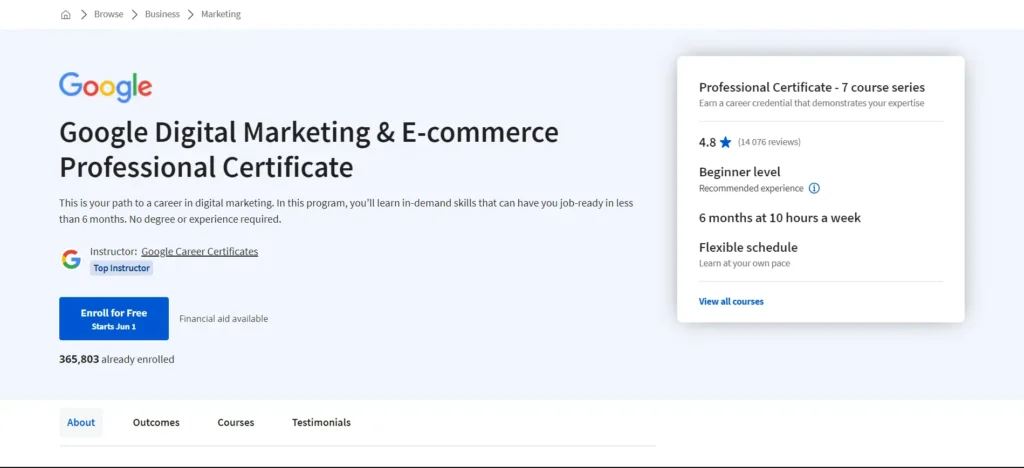 Understanding Google Career Certifications
Google Career Certifications offer professionals and job seekers the opportunity to gain expertise in various areas of digital marketing, data analysis, project management, and more.
Overview Of Google Certifications
Google certifications are a range of online learning courses developed to help grow your career and improve your skills in various fields, from digital marketing to data analytics.
For example, Google offers certifications such as Google Ads for advertising specialists, Google Analytics for web analysts, or even their new IT Support Professional Certificate designed for those looking to start a career in IT support.
These courses are hosted on Coursera – a popular e-learning platform – enabling learners worldwide access to high-quality education material.
Benefits Of Obtaining Google Certifications
As someone who has obtained multiple Google certifications, I can attest to the many benefits they offer. Here are some key advantages of obtaining Google Career Certifications:
Boost in Career Opportunities and Salary
Many job postings list Google certification as a preferred or required qualification
Certified professionals may be considered for higher-paying roles within their current companies
Increased Credibility and Expertise
A Google certification demonstrates proficiency in a specific area of technology or digital marketing
Employers and colleagues will recognize your expertise, giving you added credibility in your field
Access to Exclusive Google Resources and Support
Certified individuals get access to exclusive resources like webinars, peer groups, and support forums
This support can help you stay up-to-date with industry trends and tools
Staying Up-to-Date with Industry Trends and Tools
Google certification courses are designed to provide the latest information on industry trends, best practices, and new tools
Staying up-to-date can help you stay ahead of the competition.
Overall, obtaining a Google certification is an excellent investment in your career. It can help boost your resume and establish you as an expert in your field while providing access to valuable resources and support.
Challenges And Considerations In Obtaining Google Certifications
Obtaining a Google Career Certification comes with its challenges and considerations. Here are some of them:
Time commitment – Some courses may take weeks or months to complete, which can be time-consuming for busy individuals.
Level of difficulty – Some certifications require advanced knowledge in specific areas, making the course challenging for beginners.
Cost – Although Google Certificates are comparatively cheap, they still come at a cost that may be difficult for some individuals to afford.
Access to technology – Completing online courses requires access to an internet connection and a computer, which may not be feasible for everyone.
Keeping up with updates – As technology evolves, the information provided in Google Certificates constantly changes; thus, students must stay current with updates to remain relevant in their field.
Staying motivated – Online learning requires self-discipline and motivation as there is no physical class or instructor to keep you motivated throughout the process.
Limited job opportunities – While Google Certificates can make one stand out in a competitive job market, it does not guarantee job placement or advancement within the company.
Finding the time around work schedule – Busy working professionals may find it challenging to balance obtaining Google certification with their work schedule and other commitments.
In spite of the above-listed challenges, obtaining a Google Career Certification is worth considering given the benefits that come with it.
Advantages Of Google Career Certifications
Obtaining a Google Career Certification can significantly boost career opportunities, increase credibility and expertise, provide access to exclusive resources and support, and keep professionals up-to-date with the latest industry trends and tools.
Boost In Career Opportunities And Salary
Obtaining a Google career certification can lead to a significant boost in career opportunities and salary. Holding a Google Ads certification opens the door to substantial earnings. Your income potential can range broadly, generally falling between $40,000 and $100,000 annually, influenced by factors such as your professional background and geographical area.
Additionally, having a Google certification can open up doors for job seekers. For example, students who complete the IT Support Professional Certificate offered by Google on Coursera are eligible to apply for entry-level roles at companies like Walmart or Hulu.
These partnerships show that employers recognize the value of these certifications and actively seek out individuals who hold them.
Increased Credibility And Expertise
One of the biggest advantages of obtaining a Google career certification is the enhanced credibility and expertise it brings to your professional profile.
Employers can trust that you have acquired specialized knowledge, skills, and experience in specific areas of digital marketing like SEO, PPC, or Analytics from an industry-leading provider like Google.
For example, if you're looking for a job as an SEO specialist or consultant, holding a Google Analytics Individual Qualification (IQ) certificate can help demonstrate your expertise in using this vital tool effectively for data-driven decision-making.
Similarly, those who obtain advanced Google Ads certifications can showcase their ability to design successful ad campaigns across various platforms such as search engines and social media sites.
Access To Exclusive Google Resources And Support
One significant advantage of obtaining a Google career certification is access to exclusive Google resources and support. This includes access to official forums, webinars, video tutorials, and documentation that can help you stay up-to-date with the latest tools, trends, and best practices in your field.
For instance, if you're pursuing a Google Ads or PPC certification, you'll gain access to Google Ads Academy – an online learning center that provides free training on how to use Google Ads effectively.
Additionally, by joining the official Google Ads community forum after earning your certificate(s), you can connect with other certified professionals and receive support from Google experts in real-time discussing topics like optimization techniques for ad campaigns.
Staying Up-to-Date With Industry Trends And Tools
One of the key advantages of obtaining a Google Career Certification is staying up-to-date with industry trends and tools. Through these certifications, students have access to exclusive Google resources that share information on the latest technologies and techniques in their field.
For example, those pursuing a certification in digital marketing could benefit from learning about new social media platforms or emerging trends in online advertising.
Furthermore, given that Google is always at the forefront of technological innovation, its certifications give students unparalleled access to cutting-edge tools.
Which Google Career Certification Is Worth It?
Explore an overview of different Google certifications and factors to consider when choosing one, along with examples of job roles that benefit from these certifications.
Overview Of Different Certifications
Google offers a variety of certifications tailored to different fields and industries. These certifications range from digital marketing to IT support and data analysis. Here's a quick overview of the various Google Career Certifications available:
| Certification | Industry/Field |
| --- | --- |
| Google Ads | Digital Marketing |
| Google Analytics | Web Analytics |
| Google Cloud Platform | Cloud Computing |
| Google IT Support | Information Technology |
| Google Data Analytics | Data Analysis |
| Google Project Management | Project Management |
| Google UX Design | User Experience Design |
Each of these certifications is designed to help professionals gain valuable skills and knowledge in their respective fields, making them more marketable and competitive in the job market.
Factors To Consider When Choosing
When choosing a Google Career Certification to pursue, there are some factors to consider that can help determine which certification is worth obtaining. These factors include:
Job Requirements: Research the job roles you're interested in and find out what certifications employers are looking for. This can help you choose a certification that will make you stand out as a potential candidate.
Personal Interests: Choose a certification that aligns with your personal interests and career goals. This will help keep you motivated throughout the learning process.
Skill Level: Consider your current skill level and choose a certification that will challenge you, but won't be so advanced that it's too difficult to complete.
Time Commitment: Some certifications require more time than others, so consider how much time you're willing to commit to earning the certification before choosing which one to pursue.
Cost: While Google Career Certificates are comparably cheap, some programs may come with additional expenses like textbooks or software needed for coursework.
By considering these factors when choosing which Google Career Certification to pursue, you'll be able to select the right certification for your career goals and personal interests while maximizing the value of the certificate on your resume.
Related: List of Skills for Resume
Examples Of Job Roles That Benefit From Google Certifications
As someone who has obtained several Google certifications, I can attest to their value in boosting my career opportunities. Here are some job roles that can benefit greatly from Google Certifications:
Digital Marketing Specialists – The Google Ads certification and Google Analytics certification are both extremely valuable for those working in digital marketing. These certifications offer insights into search engine marketing (SEM) and pay-per-click (PPC) advertising strategies, as well as email marketing and mobile advertising.
SEO Specialists – Google's Search Console Certification is particularly helpful to anyone working in the field of search engine optimization (SEO). This certification provides a comprehensive understanding of how to optimize websites for maximum visibility on search engines like Google.
Web Developers – The Mobile Web Specialist certification from Google provides in-depth knowledge of best practices for building mobile-first web applications. This is beneficial for web developers who want to create optimized sites that work seamlessly across devices.
Project Managers – The Professional Cloud Developer certification from Google is useful for project managers looking to develop cloud solutions that are secure and scalable. It covers topics such as designing, building, testing, and deploying cloud-based applications.
Data Analysts – The Data Analyst Certification from Google delves deep into Big Query and SQL databases and helps individuals understand how data aligns with business objectives such as decision-making by providing insights through visualization charts.
Overall, obtaining a Google Career Certification can significantly boost your career prospects and demonstrate your expertise in the industry you're interested in pursuing.
Related: Exploring Careers in Executive Coaching
Conclusion – Are Google Certifications Worth It?
In conclusion, Google certifications are definitely worth the time and effort as they provide numerous benefits for career development, skill acquisition, and industry recognition.
The Value And Benefits Outweigh The Cost And Time Investment.
As someone who has obtained Google Career Certifications, I can confidently say that the value and benefits of these certifications far outweigh the cost and time investment.
Not only that but having a Google certification on your resume can also make you stand out to potential employers. It shows that you have taken the initiative to invest in your professional development and acquire new skills.
FAQs
What are the benefits of getting a Google certification?
Getting a Google certification can make you stand out among other professionals in the industry, as well as provide you with valuable knowledge and skills that can be applied to your work. It also shows potential employers or clients that you are committed to staying current with industry standards.
Will having a Google certification guarantee me a job?
While having a Google certification is definitely beneficial when it comes to finding employment, it does not guarantee that you will get hired solely based on having this credential. Employers often consider other factors such as experience and personality fit when making hiring decisions.
Are there any downsides to getting a Google certification?
The only notable downside to obtaining a Google certification may be the time and financial investment required upfront for earning the credential, especially if it's something you're doing outside of your regular work hours.
Which Google certifications should I pursue?
It really depends on what field within digital marketing or advertising you want to specialize in; there are various certifications available from Ads and Analytics (for PPC) through Digital Sales (for sales reps). Research which ones align most closely with your interests and career goals before deciding which one(s) to pursue first.