Disclaimer: We sometimes use affiliate links in our content. For more information, visit our Disclaimer Page. 
Everyone experiences disappointment at work at some point in their lives. Whether you've been passed over for a promotion, received a negative performance review, or simply feel stuck in a dead-end job, disappointment is an unavoidable part of the professional landscape.
In this blog post, we'll explore strategies for dealing with disappointment at work and offer tips for turning negative feelings into positive solutions.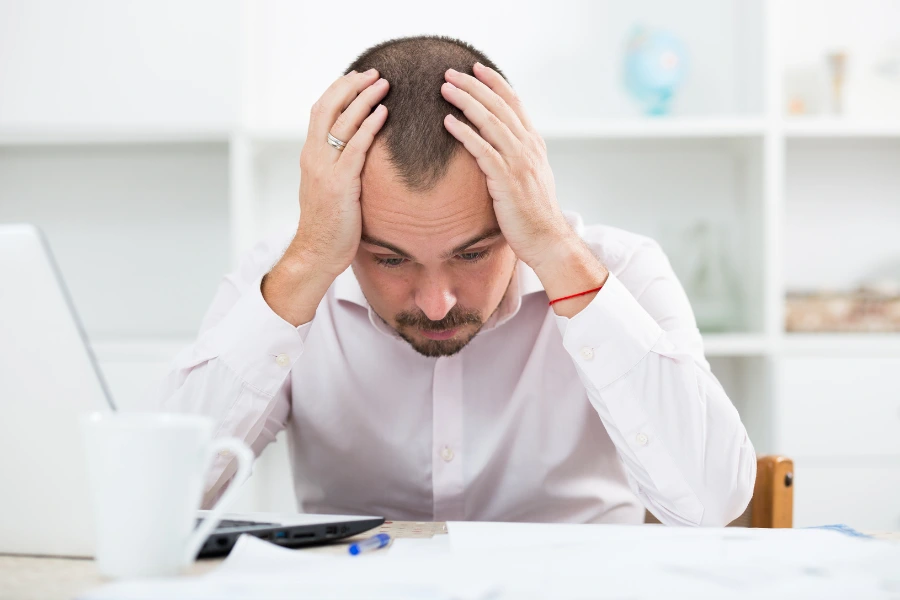 Dealing with Disappointment at Work
Dealing with disappointment at work can be a challenging experience, but it's also an opportunity for personal growth and development. By understanding the root causes of your disappointment and adopting a proactive approach to managing your expectations and emotions, you can effectively handle disappointment and emerge from it stronger than before.
Recognize and Validate Your Feelings
The first step in handling disappointment is to recognize and validate your feelings. Disappointment can manifest as a range of emotions, including sadness, anger, and frustration. Acknowledging these feelings is crucial to processing them in a healthy way and moving forward with your career path.
Sadness: It's normal to feel sad when you experience disappointment, particularly if you had high hopes or expectations for a certain outcome. Allow yourself to feel this emotion without judgment or shame.
Anger: Feeling angry about a disappointing situation is also normal, especially if you feel you've been treated unfairly or overlooked. However, it's important not to dwell on this anger for too long, as it can lead to unnecessary stress and negative thinking.
Frustration: Frustration can arise when you feel stuck or powerless to change your situation. Rather than letting this emotion consume you, use it as motivation to seek positive solutions and take control of your professional life.
Reflect on the Situation
Once you've acknowledged and validated your feelings, take some time to reflect on the situation that led to your disappointment. Consider the following questions:
Were your expectations realistic? Sometimes, we set high expectations for ourselves and our careers that can be difficult to achieve. Reflect on whether your expectations were too lofty or unrealistic, and adjust them accordingly.
Did external factors contribute to your disappointment? In some cases, disappointment arises from factors beyond our control, such as economic downturns or company restructuring. Recognize that you may not be solely responsible for your disappointment and try not to take it personally.
What can you learn from this experience? Disappointments can often provide valuable learning experiences. Identify any lessons you can take away from your disappointment and use them to inform your future decisions and actions.
Develop a Plan to Move Forward
With a clear understanding of your feelings and the factors that contributed to your disappointment, you can develop a plan to move forward. This may involve setting new personal goals, seeking out new opportunities, or adjusting your expectations to be more in line with reality.
Set realistic expectations: In order to avoid future disappointment, it's essential to set realistic expectations for your career path. This may involve reassessing your long-term goals and breaking them down into achievable milestones.
Seek out new opportunities: If your disappointment stems from feeling stuck or unfulfilled in your current role, consider seeking out new opportunities within your company or in a different industry. This may involve updating your resume, networking, or even exploring the possibility of starting your own business.
Adjust your perspective: Sometimes, disappointment can be the result of a negative mindset or a narrow view of success. Try to adopt a more positive outlook and recognize that setbacks and disappointments are a natural part of life and can often lead to growth and new opportunities.
Seek Support and Maintain a Healthy Work-Life Balance
Dealing with disappointment at work can be emotionally draining, and it's important to seek support and maintain a healthy work-life balance during this time. Here are some tips for coping with disappointment and ensuring that it doesn't negatively impact other areas of your life:
Talk to a trusted friend or mentor: Sharing your feelings and experiences with someone you trust can help you process your disappointment and gain valuable insights and advice. This might be a close friend, family member, or professional mentor within your industry.
Practice self-care: Prioritize your mental and physical well-being by engaging in regular self-care activities, such as exercise, meditation, or spending time with loved ones. This can help you manage stress, boost your mood, and maintain a sense of balance amidst the challenges of dealing with disappointment at work.
Set boundaries between work and personal life: It's essential not to let your professional disappointment spill over into your personal life. Set clear boundaries between work and home, and be sure to allocate time for hobbies, relaxation, and socializing with friends and family.
Focus on your accomplishments: Even in the face of disappointment, it's important to remember and celebrate your successes and accomplishments. This can help you maintain a positive outlook and remind you of your abilities and achievements.
Embrace a Growth Mindset
Adopting a growth mindset can be a powerful tool in dealing with disappointment at work. Instead of seeing setbacks and disappointments as failures, view them as opportunities for growth, learning, and improvement. This mindset can help you cultivate resilience and adaptability in the face of challenges, ultimately setting you up for long-term success in your career.
Learn from your mistakes: Instead of dwelling on what went wrong, focus on the lessons you can take away from the experience. This can help you grow and improve, making you better prepared for future challenges.
Stay open to feedback: Constructive criticism can be a valuable resource for personal and professional growth. Be open to feedback from your colleagues and superiors, and use it as an opportunity to learn and develop your skills.
Cultivate resilience: Disappointment can be an opportunity to develop your resilience and ability to bounce back from adversity. Embrace the challenges and setbacks that come your way, and use them to become a stronger, more adaptable professional.
Remember, You're Not Alone
Finally, it's important to remember that you're not alone in experiencing disappointment at work. Everyone faces setbacks and challenges in their professional lives, and learning how to handle disappointment is a vital skill for long-term success and happiness in any career.
By acknowledging your feelings, reflecting on the situation, developing a plan to move forward, and maintaining a healthy work-life balance, you can effectively manage disappointment and continue on your path to personal and professional fulfillment.
Setting Realistic Expectations
Setting realistic expectations is a crucial aspect of managing disappointment at work. When we have high expectations that aren't met, it can lead to crushing disappointment and negative feelings. To avoid this, it's important to have a clear understanding of your capabilities and the realities of your job or industry.
Assess your abilities and skills: Take an honest look at your skillset, experience, and knowledge. Ensure that the goals you set for yourself align with what you can realistically achieve.
Research industry norms and trends: Stay informed about your industry's norms, trends, and expectations. This will help you set goals that are in line with what is achievable and reasonable within your field.
Break down goals into smaller milestones: Breaking your long-term goals down into smaller, achievable milestones can make them feel more manageable and help you maintain a sense of progress and momentum.
Adjust expectations as needed: Recognize that circumstances may change, and it's essential to be flexible and adapt your expectations accordingly.
The Importance of Managing Expectations
Managing expectations is a vital part of dealing with disappointment at work. By setting and maintaining realistic expectations, you can reduce the likelihood of experiencing disappointment and maintain a more positive outlook on your career.
Communicate with your boss and colleagues: Maintain open lines of communication with your boss and coworkers to ensure that everyone is on the same page regarding expectations and goals.
Establish clear objectives: Clearly define the objectives and expectations for each project or task, ensuring that they are attainable and aligned with your abilities and resources.
Monitor your progress: Regularly assess your progress toward your goals and adjust your expectations as needed to stay on track and avoid disappointment.
Celebrate small victories: Recognize and celebrate your achievements, no matter how small, to maintain a sense of accomplishment and satisfaction in your work.
Exploring New Opportunities and Embracing Change
If disappointment at work is a recurring issue, it may be time to explore new opportunities and embrace change. This can include seeking out new roles within your company, changing industries, or pursuing additional education or training.
Network and build connections: Networking with professionals in your industry or desired field can open up new opportunities and provide valuable insights into potential career paths.
Update your resume and LinkedIn profile: Regularly update your resume and LinkedIn profile to showcase your skills, experience, and accomplishments, making you more attractive to potential employers.
Consider additional education or training: Pursuing further education or training can help you develop new skills, stay competitive in your industry, and open up new career paths.
Be open to change: Embrace the possibility of change and be willing to take risks in your career. This can lead to new opportunities and help you overcome feelings of disappointment.
Overcoming Disappointment Through Personal Growth
One of the most effective ways to overcome disappointment at work is by focusing on personal growth and self-improvement. By continuously striving to learn and grow, you can transform disappointment into valuable learning experiences that can propel you forward in your career.
Identify areas for improvement: Reflect on your strengths and weaknesses and identify areas where you can improve. This will help you set goals for personal growth and development.
Seek out professional development opportunities: Attend workshops, conferences, and seminars to stay current in your industry and develop new skills.
Request feedback from colleagues and superiors: Regularly solicit feedback from those around you to identify areas for improvement and make necessary changes.
Embrace lifelong learning: Foster a love of learning and continuous improvement by staying curious and seeking out new information and experiences.
Related: How to Work in Europe as an American
Conclusion
Dealing with disappointment at work can be challenging, but by following the strategies outlined in this blog post, you can effectively handle disappointment and turn it into an opportunity for growth and learning.
Remember to validate your feelings, reflect on the situation, develop a plan to move forward, seek support, maintain a healthy work-life balance, embrace a growth mindset, and keep in mind that you're not alone in your experiences.
FAQs
What are some common causes of disappointment at work?
Some common causes of disappointment at work include unmet expectations, feelings of being undervalued or overlooked, lack of career growth or advancement, and external factors such as company restructuring or economic downturns.
How can I prevent disappointment at work?
While it's impossible to completely avoid disappointment, you can minimize its impact by setting realistic expectations, maintaining open communication with colleagues and superiors, seeking out new opportunities for growth, and cultivating a positive outlook.
Is it normal to feel disappointed at work?
Yes, it's completely normal to feel disappointed at work from time to time. Disappointment is a natural human emotion that arises when our expectations or hopes aren't met. It's essential to acknowledge and validate these feelings, as well as learn how to handle disappointment in a healthy and constructive manner.
How can I support a colleague or friend who is dealing with disappointment at work?
Offer a listening ear, empathy, and understanding when your colleague or friend shares their feelings of disappointment. You can also provide encouragement, share your own experiences with overcoming disappointment, and suggest helpful resources or strategies for managing their feelings and moving forward.
What are some long-term strategies for dealing with disappointment at work?
Some long-term strategies for dealing with disappointment at work include cultivating a growth mindset, focusing on personal and professional development, seeking out new opportunities for growth and advancement, and maintaining a healthy work-life balance.