Disclaimer: We sometimes use affiliate links in our content. For more information, visit our Disclaimer Page. 
Coaching employees is an integral part of every organization's success. It helps employees reach their full potential, improves their job satisfaction, and enhances overall productivity. However, not every situation calls for coaching, and knowing when to initiate it can be challenging.
In this article, we'll discuss When Should You Coach an Employee? and as well as the importance of employee coaching, creating a coaching timeline, identifying opportunities for coaching, best practices for coaching employees, implementing coaching strategies, overcoming common coaching challenges, and evaluating the effectiveness of coaching.
Key Takeaways
Employee coaching is essential for employee development and contributes to overall organizational success.
A structured coaching timeline and process are necessary for consistent employee development.
Identifying opportunities for coaching can include addressing performance issues or targeting potential for growth.
Best practices for coaching employees include active listening, providing constructive feedback, and setting SMART goals.
Implementing coaching strategies can address specific employee needs, such as skill-building, career development, and leadership training.
Common coaching challenges include resistance from the employee or time constraints.
Evaluating coaching effectiveness is crucial for continuous improvement and employee growth.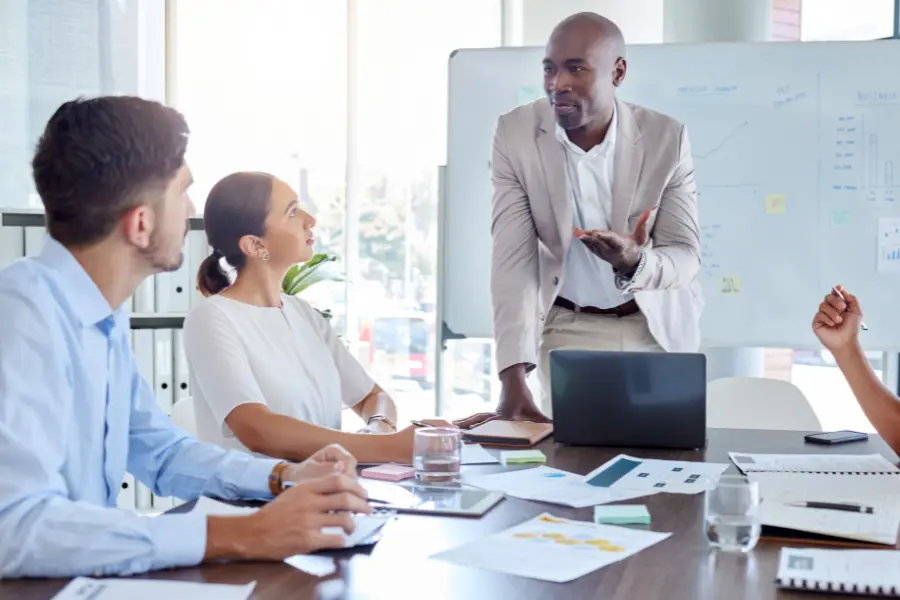 The Importance of Employee Coaching
Coaching employees is an essential tool for their development and the success of any organization. By providing individualized feedback, guidance, and support, managers can help employees learn new skills, improve their performance, and prepare for future opportunities.
Employee coaching is a crucial aspect of performance management that enables managers to identify and address areas where employees need improvement. It also provides a platform for ongoing communication between managers and employees, helping to build strong relationships and foster a positive work environment.
The Benefits of Employee Coaching
Effective employee coaching offers numerous benefits, including:
Improved performance: Coaching can help employees identify areas for improvement and develop strategies for enhancing their skills and knowledge.
Enhanced communication: Coaching sessions provide a platform for open and honest communication between managers and employees, helping to build trust and strengthen relationships.
Increased motivation: Coaching can help employees set clear goals and objectives, creating a sense of purpose and motivation to achieve them.
Better retention: Coaching can help employees feel valued and supported, reducing turnover and retaining top talent.
When Should You Coach an Employee? (Creating a Coaching Timeline)
Coaching an employee is a process that requires structure and planning to be effective. Creating a coaching timeline helps to ensure that the coaching process is consistent and that employees receive the support they need to develop their skills and reach their goals.
When creating a coaching timeline, it is important to:
Define objectives: Clearly define the coaching objectives and what you hope to achieve through the coaching process.
Set a timeline: Determine the length of the coaching process and establish specific milestones to evaluate progress.
Establish a communication plan: Plan how you will communicate with your employee throughout the coaching process, including how often you will meet and how you will provide feedback.
Identify resources: Identify any resources that may be necessary to support the coaching process, such as training materials or additional support from other team members.
By creating a coaching timeline, you can ensure that the coaching process is effective and that your employees receive the support they need to grow and succeed.
Identifying Opportunities for Coaching
Coaching can be an effective tool for addressing various employee needs, including enhancing performance, developing skills, and preparing for career advancement. Identifying the right opportunities for coaching is crucial for the success of the process.
One common scenario where coaching is necessary is when an employee is struggling with performance. In such cases, coaching can provide an opportunity to identify the root cause of the problem and develop a plan for improvement. Similarly, coaching can be beneficial when an employee shows potential for growth or when they take on new responsibilities that require additional skills.
Another area where coaching can be helpful is in leadership development. Coaching can help develop critical leadership skills, such as communication, delegation, and problem-solving, which are crucial for success in managerial roles.
It's important to note that coaching should not be used as a punitive measure or solely for correcting mistakes. It should be approached as a positive and constructive process that is focused on employee development and growth.
Best Practices for Coaching Employees
Coaching employees can be a challenging task, but it can yield beneficial results for both the employee and the organization. Here are some best practices to help you coach employees effectively:
Active Listening
Active listening is a crucial element of effective coaching. It involves paying attention to the employee, acknowledging their ideas, and responding with empathy. By actively listening, you will create a productive coaching session and build trust with your employees.
Constructive Feedback
Providing constructive feedback is an important component of coaching. Feedback should be specific, actionable, and delivered in a respectful manner. By providing feedback, you help employees understand how their behavior impacts their work, and provide guidance on how to improve.
Setting SMART Goals
Setting Specific, Measurable, Achievable, Relevant, and Time-bound (SMART) goals is an essential step in the coaching process. SMART goals give employees a clear understanding of what is expected of them, helping them stay motivated and focused on their tasks.
Encouraging Self-Reflection
Encouraging employees to engage in self-reflection can be a powerful coaching strategy. By asking employees to reflect on their behavior and progress, they will be more likely to take ownership of their actions and seek ways to improve their performance.
Recognizing Achievements
Recognizing the achievements of your employees can be a powerful motivator and a rewarding experience for both the employee and the organization. By acknowledging their successes, you show them that their efforts are valued, and encourage them to continue striving for excellence.
Implementing these best practices can help you create a positive coaching experience for both you and your employees, and ultimately lead to a more productive and successful work environment.
Implementing Coaching Strategies
Coaching employees effectively requires a tailored approach that addresses their unique needs and goals. Here are some coaching strategies that managers can use to enhance employee development:
Skill-building: Identify areas where the employee can improve their skills and knowledge, and provide relevant resources or training programs to help them achieve their goals. This can include on-the-job training, mentoring, or job shadowing.
Career development: Encourage employees to create personal development plans that align with their career aspirations. This can involve setting short- and long-term goals and discussing opportunities for advancement within the organization.
Leadership training: Develop leadership skills in high-potential employees by assigning them leadership roles or delegating responsibility. Provide constructive feedback to help them improve their leadership abilities.
When implementing coaching strategies, it is important to:
Set clear objectives and expectations for the coaching process.
Establish a timeline for progress reviews and evaluate the effectiveness of the coaching efforts.
Communicate effectively and actively listen for feedback from the employee.
Provide constructive feedback and support their growth throughout the coaching process.
By implementing these coaching strategies, managers can help employees build their skills, advance in their careers, and contribute to the success of the organization.
Overcoming Common Coaching Challenges
Employee coaching can be a challenging process, with several hurdles that can impede progress and hinder overall effectiveness. However, with the right approach and mindset, these challenges can be overcome, paving the way for successful coaching sessions and positive employee development.
Resistance from the Employee
One of the most common challenges faced in coaching is resistance from the employee. This can occur due to various reasons, including a lack of trust, fear of criticism, or simply being unsure of the coaching process.
To overcome this challenge, it's essential to create a safe environment for the employee, where they feel comfortable expressing their thoughts and concerns. This can be achieved by actively listening to them, providing constructive feedback, and ensuring that their goals align with the overall organizational objectives.
Time Constraints
Another common challenge is time constraints, where managers or coaches struggle to find the time to schedule and conduct coaching sessions regularly.
To overcome this challenge, it's essential to prioritize coaching and make it an integral part of the overall performance management process. This can include setting aside dedicated time for coaching sessions, integrating coaching goals into the employee's work plan, and actively monitoring progress and development.
Lack of Managerial Support
Finally, a lack of managerial support can also impede the effectiveness of coaching efforts, with managers failing to provide the necessary resources or failing to prioritize employee development.
To overcome this challenge, it's essential to create a culture of coaching within the organization, where coaching is seen as a critical tool for enhancing employee development and fostering a positive work environment. This can include providing training and resources for managers and coaches, recognizing and rewarding successful coaching efforts, and integrating coaching into the overall organizational strategy.
Evaluating the Effectiveness of Coaching
Measuring the effectiveness of coaching efforts can help you identify areas of strength and improvement in your coaching process and maximize employee development.
One way to evaluate coaching effectiveness is by setting specific metrics to track progress. For instance, you can measure the number of goals achieved or track improvements in employee performance over time. You may also want to consider collecting feedback from employees or managers involved in the coaching process to gain a more holistic perspective of the impact of coaching on overall business outcomes.
Another consideration is the use of feedback loops. Regular check-ins with employees can help you gauge their progress and identify any challenges or obstacles they may be facing. Encouraging open communication and constructive criticism can also establish trust between you and your employees, which is essential for effective coaching.
Conclusion
Coaching employees can be a highly effective way to foster a positive work environment, enhance productivity, and contribute to organizational success. By identifying opportunities for coaching, creating a structured coaching timeline, and implementing coaching strategies, managers can help employees develop important skills, gain greater confidence, and achieve their career goals.
It is important to focus on best practices for coaching, such as active listening and providing constructive feedback, and to overcome common challenges, such as resistance from employees or time constraints. By regularly evaluating the effectiveness of coaching efforts, organizations can ensure continuous improvement and employee growth.
Overall, investing in employee coaching can lead to a more engaged, motivated, and productive workforce, as well as a stronger bottom line. By prioritizing coaching as a key component of performance management and employee development, organizations can reap the rewards of a highly-skilled, motivated, and successful team.
FAQs
When should you not coach an employee?
Coaching may not be appropriate when an employee lacks the skills or ability to complete a task and requires more training than coaching. It's also not ideal when the employee is resistant to feedback and improvement efforts.
Why should you coach an employee?
Coaching an employee can help them improve their performance, develop new skills, and enhance their job satisfaction. It can also lead to increased engagement, productivity, and growth within the organization.
When a manager coaches an employee?
Managers should coach employees when they observe performance or behavior that needs improvement. They should also coach when an employee expresses interest in personal or professional development.
When should managers coach?
Managers should coach employees in various situations, such as when an employee's attitude, motivation, confidence, energy, or focus is affected. Coaching is also beneficial during times of change or transition.
When should you coach or mentor?
Coaching is suitable for addressing specific performance issues and helping employees enhance their skills. Mentoring, on the other hand, involves providing guidance and sharing experiences to support an employee's overall growth and career development.