Disclaimer: We sometimes use affiliate links in our content. For more information, visit our Disclaimer Page. 
As a manager or supervisor, dealing with an underperforming employee can be challenging. However, providing effective coaching can help turn the situation around and improve the employee's performance.
In this article, we will explore how to coach an underperforming employee. We will discuss the importance of setting clear performance expectations, building trust and rapport, providing constructive feedback, and developing action plans. Additionally, we will cover strategies for monitoring progress and recognizing successes.
Key Takeaways
Understanding the underlying reasons for underperformance is the first step in the coaching process.
Setting clear performance expectations and goals is crucial for guiding underperforming employees toward improvement.
Building trust and rapport is essential for creating a supportive coaching environment.
Active listening, effective communication, and constructive feedback are essential tools for coaching.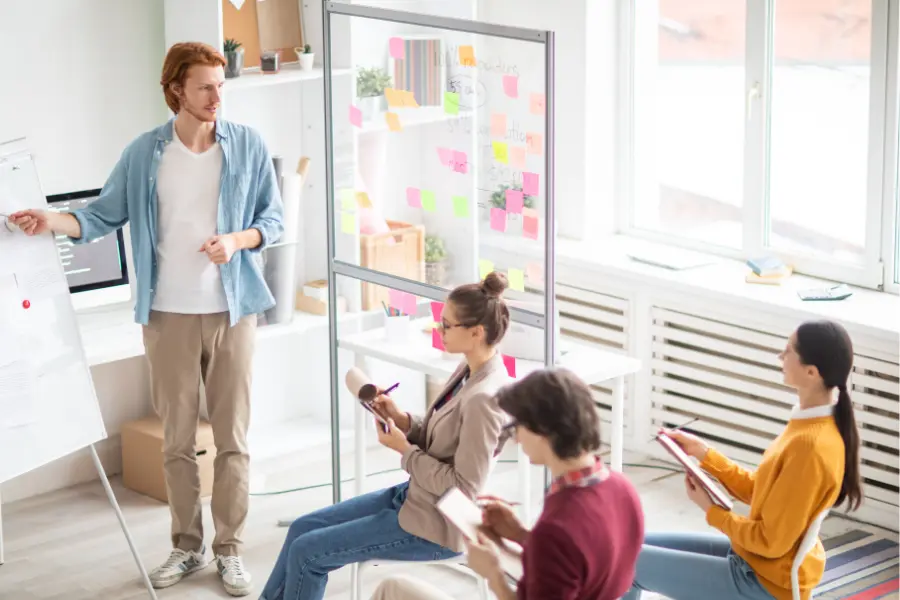 Understanding the Underperformance Issue
Addressing underperformance with coaching requires a thorough understanding of the underlying reasons for an employee's struggle. In many cases, underperformance is not caused by a lack of effort or motivation, but rather by external factors such as unclear job expectations, inadequate training, or communication barriers.
As a coach, it's crucial to identify the root causes of underperformance and create a sound foundation for effective coaching. By doing so, you'll be better equipped to develop a tailored coaching plan that addresses the specific challenges faced by the underperforming employee.
Setting Clear Performance Expectations
Coaching underperforming employees can be challenging, but setting clear performance expectations is a fundamental step toward success. When expectations are well-defined, employees are more likely to understand what is expected of them and how to achieve their goals.
One effective way to set performance expectations is to use the SMART approach:
| Specific | Measurable | Achievable | Relevant | Time-bound |
| --- | --- | --- | --- | --- |
| Clearly define the goal | Use metrics to track progress | Ensure the goal is realistic | Align the goal with company objectives | Set a deadline for achieving the goal |
Communicating expectations effectively is also crucial. Avoid vague or confusing language and be specific about what is expected. Use positive language and emphasize the benefits of meeting the expectations. Encourage employees to ask questions and seek clarification if needed.
Building Trust and Rapport
Establishing a strong rapport and building trust with your underperforming employee is vital in order to create a safe and supportive coaching environment. Without trust and rapport, the employee may be less willing to open up about their challenges and may feel hesitant to work together with you.
One way to build trust is by actively listening to your employee. Encourage them to express their concerns, challenges, and ideas. Listen without interrupting and make it clear that their opinions and thoughts are valuable. Additionally, sharing your own experiences and challenges can help build a sense of mutual understanding.
Another way to establish rapport is by showing empathy towards your employee. Acknowledge that their underperformance may be a difficult situation for them and that you're there to provide support and guidance. Consider their perspective and work together to find solutions that work for both of you.
Active Listening and Effective Communication
Coaching underperforming employees requires active listening and effective communication skills. This means not only hearing what the employee is saying but also paying attention to their body language and emotions. Here are some tips to improve your communication skills:
Listen actively: Listen to the employee without interrupting and ask open-ended questions to clarify their statements. Paraphrase what they say to demonstrate that you understand their perspective.
Stay focused: Avoid distractions and give the employee your full attention. This shows that you value their input and are fully engaged in the coaching process.
Be empathetic: Put yourself in the employee's shoes and avoid being judgmental. This helps create a safe coaching environment where the employee feels comfortable expressing their concerns.
Use positive language: Use positive language and avoid negative or critical remarks. This helps to build trust and rapport with the employee.
Encourage feedback: Encourage the employee to provide feedback on the coaching process. This helps you understand if they feel supported and valued.
Improving your communication skills is essential for successful coaching. By actively listening and using effective communication techniques, you can create a supportive coaching environment where the employee feels valued and motivated to improve.
Providing Constructive Feedback
Offering constructive feedback is crucial for coaching underperforming employees. When providing feedback, it's essential to focus on specific behaviors and outcomes, rather than personal characteristics.
For example, instead of saying "You're not a good team player," say "I noticed that you didn't contribute to the group project and didn't attend the team meeting. This affected the group's overall performance."
It's also important to deliver feedback in a positive and helpful manner, rather than sounding critical or negative. Use "I" statements to express your observations and feelings, and avoid blaming or accusing the employee.
For instance, instead of saying "You're not meeting the company's expectations," say "I noticed that there were some areas where you could improve, and I'd like to work with you to help you achieve your goals."
Additionally, feedback should be timely, specific, and actionable. Provide clear guidance on what the employee needs to do to improve, and offer support and resources to help them meet their goals.
Developing Action Plans
Once you have identified the areas of underperformance and set clear performance expectations, the next step is to create an action plan to guide the employee toward improvement. Action plans should be specific, measurable, attainable, relevant, and time-bound (SMART).
| Step | Description |
| --- | --- |
| 1 | Identify specific goals and objectives for improvement. |
| 2 | Break down the goals and objectives into actionable steps. |
| 3 | Assign responsibilities and timelines for each step. |
| 4 | Set up regular check-ins to monitor progress and make necessary adjustments. |
The action plan should be a collaborative effort between you and the employee, with both parties contributing ideas and feedback. It is essential to ensure that the employee feels invested in the plan and understands the steps they need to take to achieve their goals.
Providing Training and Support
The underperformance may sometimes result from insufficient knowledge or skills. As a coach, it is essential to identify these areas and provide additional training and support to the employee.
Tip: In this process, it is essential to provide clear and concise instructions to the employee. Encourage them to ask questions and seek further clarification when needed.
You can also offer resources such as online tutorials, workshops, or coaching sessions to help them improve their skills. Providing ample opportunities for practice and feedback can also be beneficial.
| Methods for Providing Support | Benefits |
| --- | --- |
| Pairing the employee with a mentor or coach | Allows the employee to receive personalized guidance and support |
| Offering job shadowing opportunities | Allows the employee to observe and learn from successful colleagues |
| Encouraging participation in training programs | Provides the employee with opportunities to learn new skills and knowledge |
Tip: It is crucial to monitor the employee's progress and offer feedback on their development and growth. Ensure that the training and support you provide align with the employee's specific needs and goals.
Monitoring Progress and Providing Ongoing Guidance
Once the action plan has been created and agreed upon, it's essential to monitor the employee's progress regularly. This helps determine whether the coaching efforts are effective and enables any necessary adjustments to be made.
During progress reviews, provide feedback on what the employee is doing well, and identify areas that still require improvement. This not only helps the employee stay on track but also reinforces the importance of regular feedback in the coaching process.
Providing ongoing guidance is also important. Regular check-ins can help identify any roadblocks, offer support and guidance as needed, and keep the employee motivated to continue improving. Encourage open communication to address any concerns or questions that may arise along the way.
Recognizing and Celebrating Success
It's important to celebrate the successes of underperforming employees, no matter how small. Recognizing achievements and providing positive reinforcement can motivate and encourage them to continue improving. Here are some tips for celebrating success:
Publicly acknowledge their accomplishments, such as in a team meeting or email announcement.
Offer specific praise and highlight the positive impact their achievements have had on the team or company.
Provide small rewards, such as a gift card or extra time off.
Show genuine enthusiasm and excitement for their progress and growth.
Celebrating success can help create a positive, supportive work environment and build confidence in underperforming employees. By consistently recognizing and celebrating progress, you can help them reach their full potential.
Addressing Persistent Underperformance
Despite your best efforts, some employees may continue to underperform even after receiving coaching. This can be frustrating for both you and the employee. However, it's important to address the issue head-on and determine the appropriate next steps.
If an employee's underperformance persists, it may be necessary to have a more formal meeting to discuss the situation. This meeting should aim to:
Clarify the expectations that were set at the beginning of the coaching process.
Reiterate the importance of meeting these expectations.
Discuss the reasons why the employee's performance has not improved.
Explore other potential solutions, such as additional training or support.
Set a clear deadline for improvement and establish a plan of action.
It's important to approach this meeting with empathy and understanding. Remember that the employee may be experiencing personal or professional challenges that are affecting their performance.
If, after this meeting, the employee's performance still does not improve, it may be necessary to consider more serious consequences, such as a performance improvement plan or termination. However, these should always be a last resort and only implemented after all other options have been exhausted.
Remember, addressing persistent underperformance is never easy, but it's essential for maintaining a productive and high-performing team.
Conclusion
Coaching underperforming employees can be challenging, but it is a vital part of effective people management. By following the tips and strategies outlined in this article, you can help employees who are struggling to meet performance expectations.
Remember to approach coaching with empathy and an open mind. It's essential to build a supportive and safe coaching environment that encourages open communication and feedback.
Setting clear performance expectations, providing constructive feedback, and developing action plans are fundamental aspects of the coaching process. Ongoing monitoring and guidance are necessary to ensure continuous improvement and progress.
FAQs
What are the 4 keys to coaching underperforming employees?
When coaching underperforming employees, focus on these four key elements: explaining the situation, asking for their input, involving them in finding solutions, and showing appreciation for their efforts. This approach can help address the underlying issues and facilitate their improvement.
How do you coach an employee to improve performance?
To coach an employee for performance improvement, start by setting clear expectations. Then, work collaboratively to create an action plan that includes specific steps and goals. Provide regular feedback, offer training or resources, and maintain open communication to support their growth.
How do you coach a struggling employee?
Coaching a struggling employee involves identifying the root causes of their struggles. Have open discussions to understand their challenges and offer guidance. Develop a personalized action plan with measurable goals and provide consistent support throughout the process.
How do you coach someone with poor performance?
When coaching someone with poor performance, follow a structured approach. Diagnose the reasons behind their poor performance, resupply the necessary resources, retrain if required, refit them into a role that suits their strengths, and consider reassigning tasks. Set clear goals, provide feedback, and monitor progress.
How do you tell a staff member they are underperforming?
Approach the conversation with empathy and focus on the facts. Use specific examples to illustrate areas of concern, and express your belief in their potential for improvement. Offer your support in addressing the issues and creating a plan for growth.