Disclaimer: We sometimes use affiliate links in our content. For more information, visit our Disclaimer Page. 
Performance reviews are crucial in assessing employee performance, determining promotions, and developing employee potential. But how can you ensure your rating system effectively differentiates between top-performing and low-performing employees? The answer lies in understanding different performance rating scales examples and choosing the most suitable one for your organization.
In this article, we'll explore various performance review rating scales and help you make an informed decision to enhance your performance management process.
What Are Performance Rating Scales?
Performance rating scales are tools used to evaluate an employee's performance based on certain criteria. They provide a standardized reference metric to compare employees, assess their progress, and make appropriate assessments. Rating scales are critical to performance reviews, allowing management teams to measure employee progress and make data-driven decisions.
Why Are Performance Rating Scales Important?
Establishing a solid understanding: Performance rating scales offer a straightforward method for managers and employees to understand individual performance and areas for improvement.
Facilitating communication: Clear, concise rating scales encourage open communication between employees and managers during the review process.
Supporting decision-making: Performance review ratings help management teams make informed decisions about promotions, corporate rewards, and employee development.
Fostering employee growth: By identifying areas of strength and weakness, performance rating scales enable employees to focus on their development and growth.
Related: Annual Performance Reviews Sample Comments
Key Considerations for Choosing the Right Performance Rating Scale
Before diving into performance rating scales examples, it's essential to consider the following factors when selecting a suitable rating scale for your organization:
Organization's culture: The chosen scaling method should align with your organization's culture and values.
Ease of use: A simple, easy-to-understand rating scale can minimize confusion and ensure accurate employee evaluations.
Consistency: The same rating scale should be used across the organization to maintain fairness and consistency.
Effectively differentiating performance: The rating scale should effectively differentiate between high-performing and low-performing employees to make informed decisions.
With these factors in mind, let's explore some popular performance rating scale examples.
Traditional Point System Scales
Traditional point system scales are widely used in many organizations for employee performance reviews. They assign a numerical value to each employee's performance based on certain criteria, such as meeting expectations, quality of work, and teamwork. The most common point rating scales are the three-point, four-point, and five-point scales.
Three-Point Rating Scale
The three-point rating scale is a simple, straightforward method for rating performance. It includes the following response options:
Exceeds expectations
Meets expectations
Below expectations
While this scale is easy to use, it may not effectively differentiate performance differences systematically, as it offers limited response options. This can lead to biased evaluations, such as leniency bias, where managers may be hesitant to give poor performance ratings.
Four-Point Rating Scale
The four-point rating scale expands upon the three-point scale by providing more response options for better differentiation of employee performance. The four levels include:
Exceeds expectations
Meets expectations
Needs Improvement
Poor performance
This scale eliminates the neutral option, forcing evaluators to choose between positive or negative performance ratings. It can be effective in differentiating top-performing employees from low-performing ones, but it may still not be ideal for organizations that require more nuanced assessments.
Five-Point Rating Scale
The five-point rating scale offers a broader range of response options for performance reviews, making it a popular choice among organizations. The scale consists of the following rating levels:
Exceptional
Exceeds expectations
Meets expectations
Needs Improvement
Unsatisfactory
This scale allows for a more accurate representation of employee performance and helps organizations identify performance differences more effectively. However, the presence of a neutral option (meeting expectations) may lead to leniency bias or cause evaluators to default to the middle option, resulting in less informative performance reviews.
Related: How To Deal With An Underperforming Employee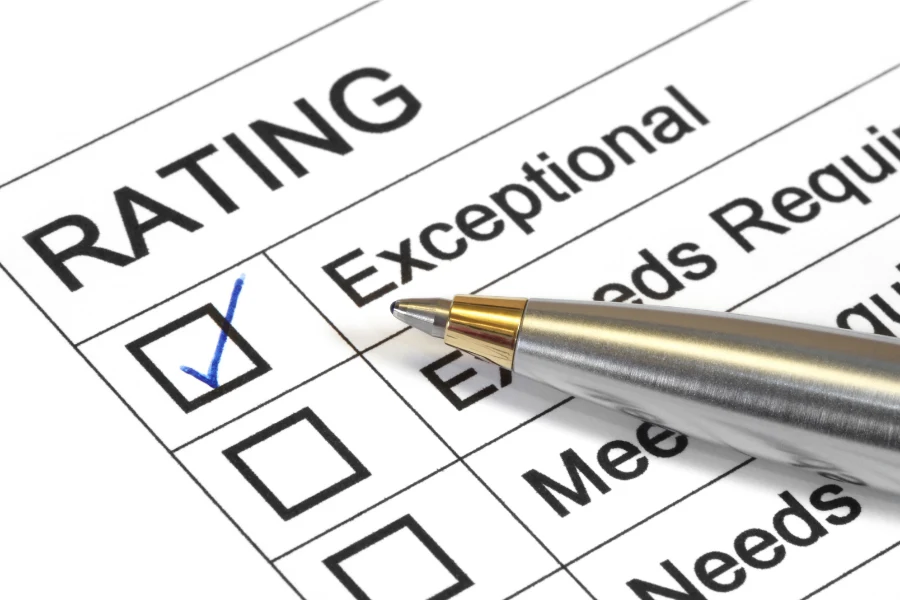 Likert Scale
The Likert scale, often used in survey research, can also be applied to performance reviews. This scale typically includes five or seven response options, ranging from "strongly disagree" to "strongly agree." When used for employee performance appraisals, the Likert scale can assess various aspects of performance by asking managers to rate their agreement with specific statements.
For example, the scale could include the following response options:
Strongly disagree
Disagree
Neither agree nor disagree (neutral)
Agree
Strongly agree
The Likert scale allows for a more in-depth evaluation of an employee's performance by considering multiple dimensions, such as communication, teamwork, and problem-solving skills. However, the scale may be more time-consuming to complete and could still be subject to biases, such as leniency or central tendency bias.
Customized Rating Scales
Customized rating scales allow organizations to develop their unique scales tailored to their specific needs, culture, and values. These scales can be designed to assess specific competencies, behaviors, or performance metrics relevant to the organization. Customized rating scales can include a mix of numbered scales, descriptive response options, or even a combination of both.
When designing a customized rating scale, organizations should consider the following best practices:
Keep the scale simple and easy to understand.
Include clear, concise descriptions for each rating level to minimize confusion.
Ensure the scale effectively differentiates performance levels.
Maintain consistency by using the same rating scale across the organization.
Customized rating scales can offer several advantages, such as better alignment with organizational values, improved accuracy in assessing employee performance, and increased employee engagement. However, designing and implementing a customized scale can be more resource-intensive and may require ongoing adjustments to refine its effectiveness.
Related: Examples of Positive Feedback for Employees
Overcoming Common Performance Review Rating Scale Challenges
To maximize the effectiveness of your chosen performance rating scale, it's essential to address potential challenges and biases that can impact the review process. Some common issues include:
Leniency bias: Managers may be reluctant to give low ratings, leading to inflated employee ratings. To mitigate this bias, provide clear guidelines on rating criteria and encourage honest feedback during performance reviews.
Central tendency bias: Evaluators may default to selecting the middle option on a scale, resulting in a lack of differentiation between employees. Address this issue by offering training to help managers accurately assess performance and understand the importance of differentiating between various performance levels.
Halo effect: Managers may rate an employee highly in all areas based on one positive aspect of their performance. To counteract this bias, encourage evaluators to consider each performance criterion separately and provide examples to support their ratings.
Recency bias: Evaluators may focus on an employee's recent performance instead of considering the entire review cycle. Remind managers to take a holistic approach when evaluating employee performance and to consider achievements and challenges throughout the entire review period.
By addressing these challenges, organizations can ensure a more accurate and fair performance review process, leading to better-informed decisions about employee development, promotions, and rewards.
Related: What to Say in a Performance Review 
Conclusion
Selecting the right performance rating scale is crucial for effective performance management and accurate employee evaluations. By understanding different performance rating scales examples, such as traditional point system scales, the Likert scale, and customized rating scales, organizations can make informed decisions to enhance their performance review process. Additionally, addressing common challenges and biases in the review process can help ensure fair and accurate employee performance assessments.
Frequently Asked Questions (FAQs)
What are the main advantages of using a performance rating scale in employee performance reviews?
Using a performance rating scale provides a standardized method for evaluating employee performance, facilitates communication between managers and employees, supports decision-making regarding promotions and development, and fosters employee growth by identifying areas for improvement.
How can I choose the most suitable performance rating scale for my organization?
Consider your organization's culture, ease of use, consistency across the organization, and the scale's ability to effectively differentiate performance levels. Evaluate different performance rating scales examples, such as traditional point system scales, the Likert scale, and customized rating scales, to determine the best fit for your organization.
How can I minimize biases in the performance review process when using rating scales?
To minimize biases, provide clear guidelines on rating criteria, encourage honest feedback, offer training to help managers accurately assess performance, and remind evaluators to consider the entire review cycle when evaluating employee performance.
Can I use a combination of different rating scales for my organization's performance reviews?
Yes, organizations can choose to use a combination of different rating scales to assess various aspects of employee performance. For example, you could use a traditional point system scale for overall performance and a Likert scale for assessing specific competencies or behaviors. However, ensure that the chosen scales are consistent and easy to understand for both managers and employees.
How often should performance reviews be conducted using performance rating scales?
The frequency of performance reviews using performance rating scales depends on your organization's preferences and needs. Many organizations conduct annual performance reviews, while others opt for more frequent reviews, such as quarterly or bi-annually. Frequent reviews can provide more timely feedback, support employee development, and help address performance issues promptly. However, the chosen frequency should strike a balance between providing meaningful feedback and avoiding excessive administrative burden on managers and HR teams.